Welcome to Vegas.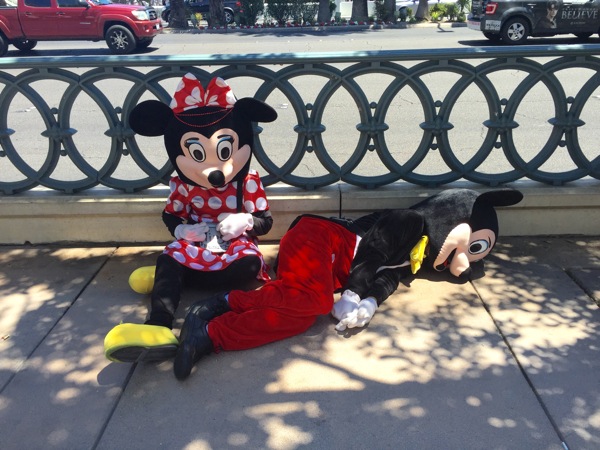 (Insert crying-laughing emoji here)
Hi friends! How are you? I'm so glad you're stoked about the giveaway. Keep those entries coming!
We are back from Vegas after a quick trip to spend time with friends, and enjoy Mother's Day with our little family.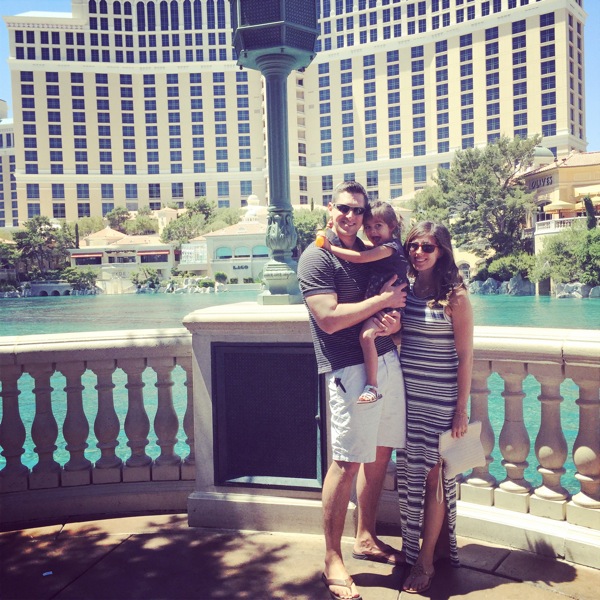 It was a friends' birthday -we've known them since the good ol' Valdosta days- and he wanted to celebrate in Vegas, so friends from all over the US came to join in the fun. It was so great to see familiar faces that we've known for so long, and somehow our paths always seem to cross again. We stay in touch and tend to pick up where we left off. 🙂 The Pilot went to Vegas on Friday to participate in the shenanigans, while Livi and I stayed in San Diego so I could teach Saturday Zumba. After class, we hopped on a plane to meet up with everyone!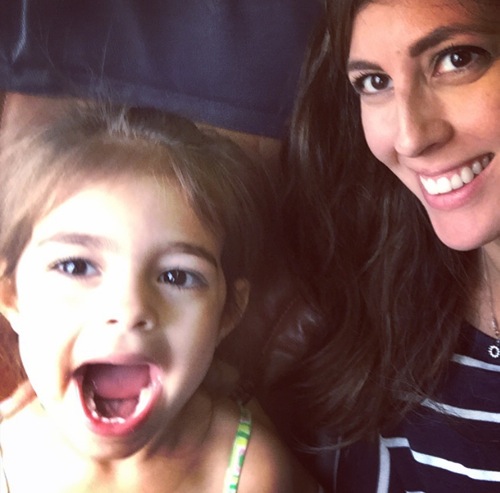 It's funny because traveling with a little one, especially by myself, used to feel so intimidating. Now, once we're through security and on the plane, it feels somewhat… relaxing (you know, besides the fact that I'm white-knuckling the arm rests because I don't like flying). She watches movies on the iPad with her kiddo headphones while I read magazines or the Kindle, and we share some snacks. It's pretty glorious. I'm enjoying this little relaxing travel time before we change it up a bit in the fall. 🙂
The Pilot picked us up at the airport, we headed to the hotel,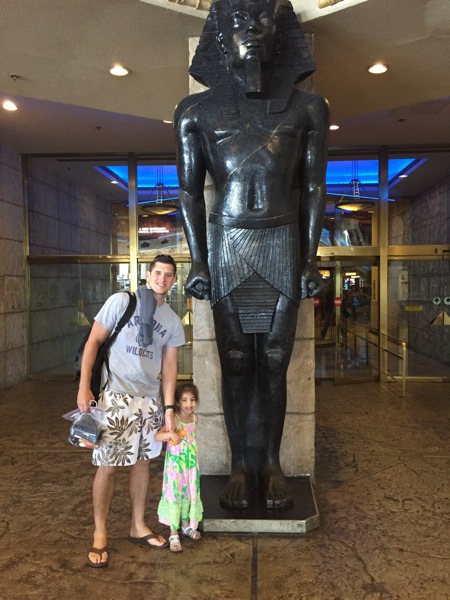 and spent the afternoon out at the pool. The pool area was pretty mellow -minus the hilarious inebriated dudes dancing out on the platforms- and they had a great 1-ft. deep kid-friendly area. After hanging out with everyone, swimming and relaxing, we got ready for a delicious dinner at Mesa Grill.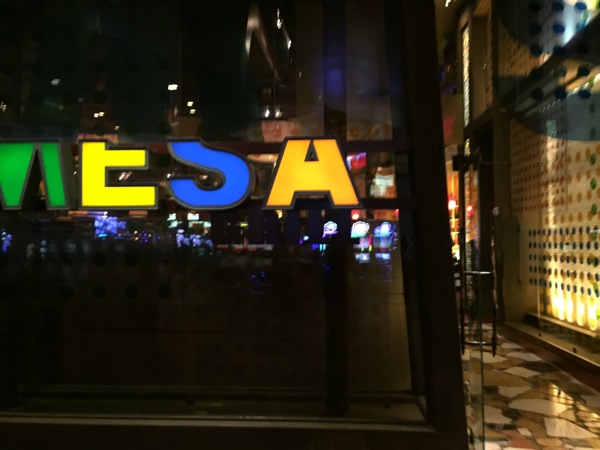 Last time we went to Mesa Grill, it was kind of meh (which makes me so sad to say because I looooove Bobby Flay). The food wasn't as good as usual and the service was super slow. We had a large party -13 people- and while the service wasn't exceptional (but way better than last time), the food was the amazing Mesa Grill standard that made it one of our favorites.
The Pilot and Rita: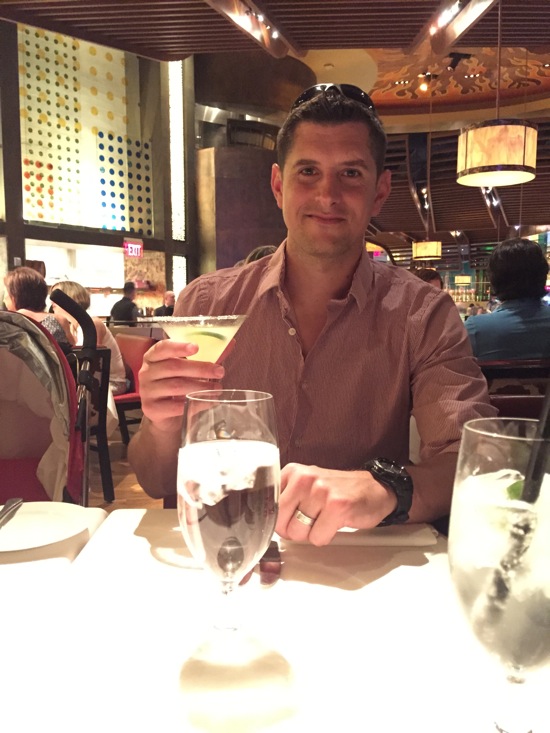 and me, pretending my club soda was a Cactus Pear margarita.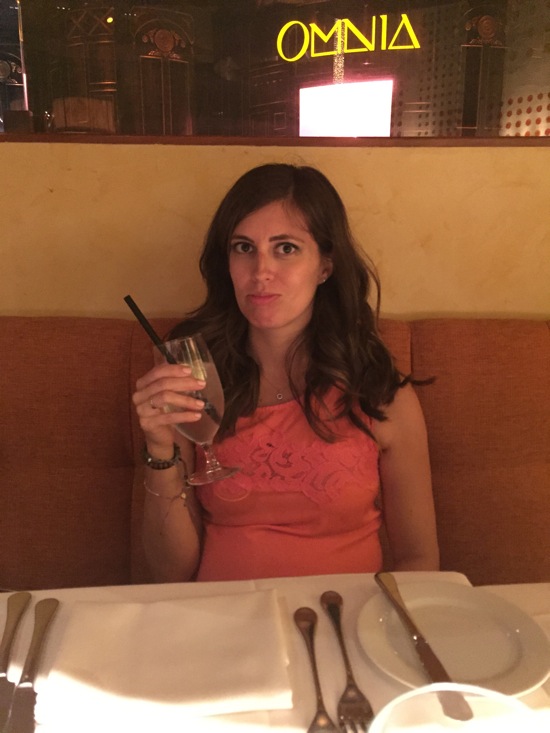 We shared some goat cheese queso fundido (the best!!), Sophie's chopped salad,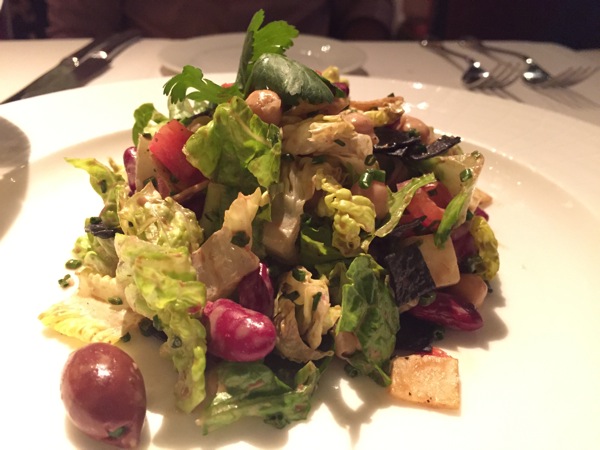 and for my entree, I chose the shrimp tamales, which were just as mouthwatering as this picture. They were perfection!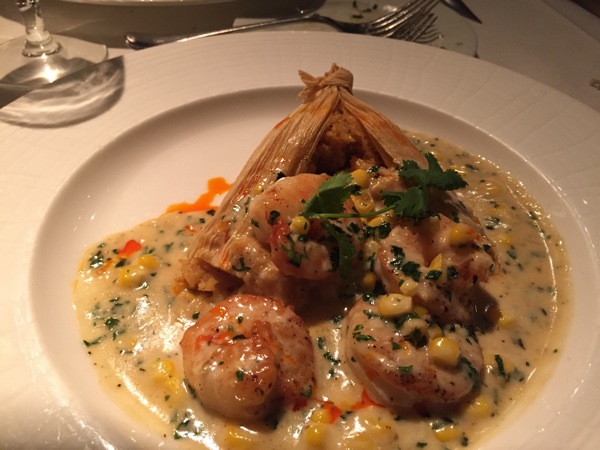 Livi was so tired from swimming, she crashed out in the stroller on our walk to Caesar's Palace. She spent about 3/4 of our meal absolutely zonked in the stroller at our table until she woke up to have some quesadilla. Party hard. 🙂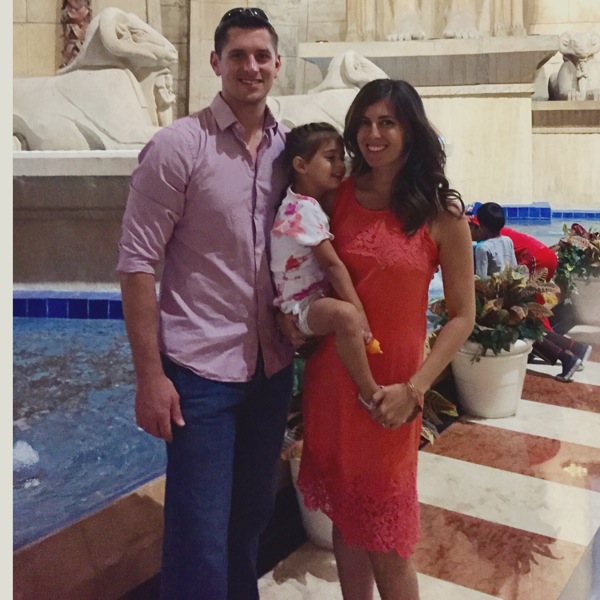 After dinner, everyone went to see the Anthony Cools show at Paris (which the Pilot said was HILARIOUS), while Liv and I headed back to the hotel for jammies, tea and movies. We watched Song of the Sea before bed, and it was wonderful. It's a children's movie based on Irish folklore with exquisite animation. It was a beautiful story with serene music; highly recommend it.
Sunday morning was breakfast at our one Vegas must-eat spot: Mon Ami Gabi.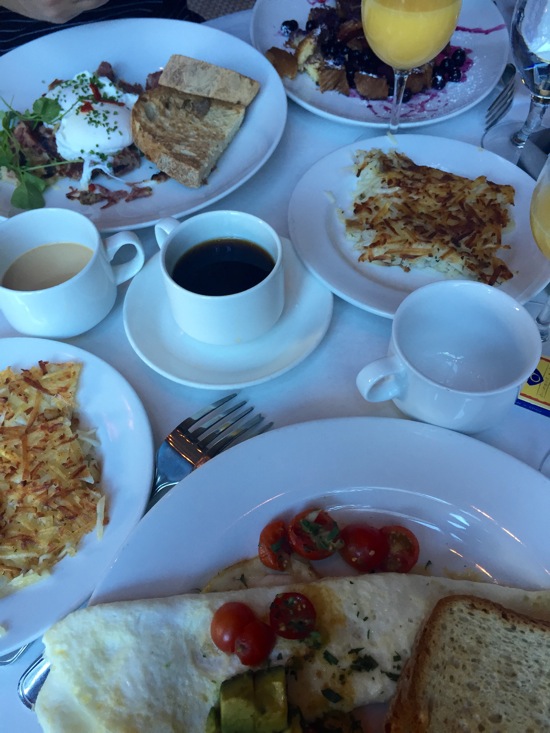 The Pilot and I have been quite a few times, but we had to introduce it to Liv. Needless to say, she was a fan.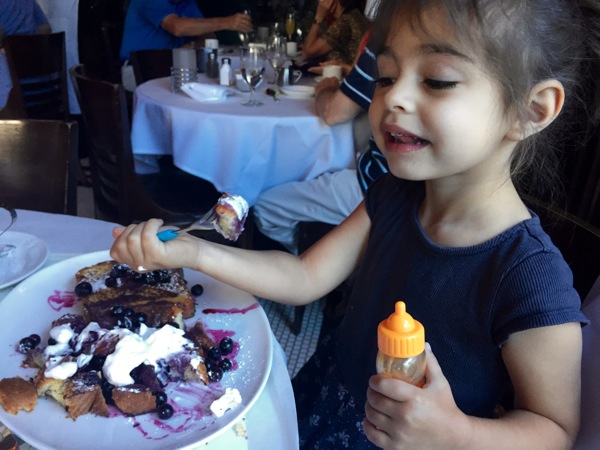 During our quick stay in Vegas, we spent some time walking around the strip, taking pictures with rough-looking characters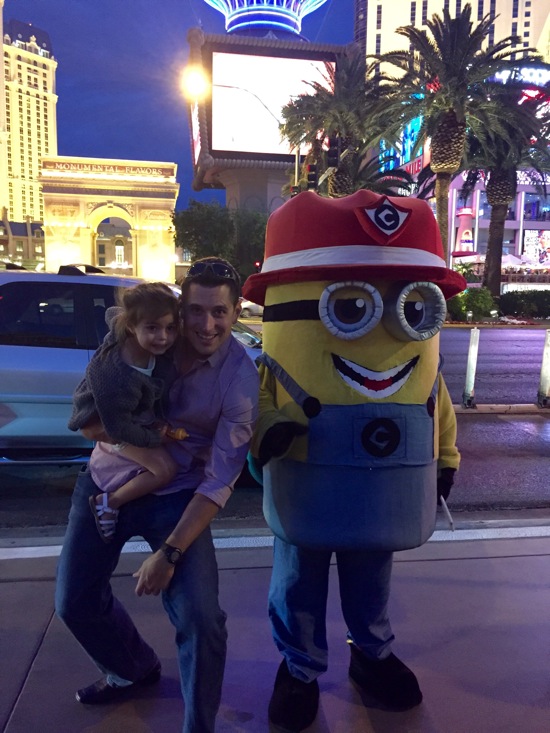 enjoying the Bellagio fountains,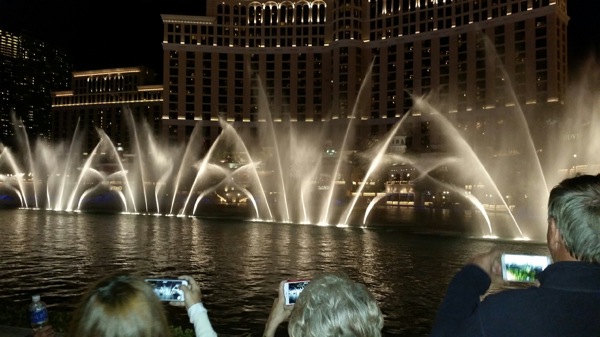 a little shopping,
and we also checked out the giant M&M shop, which Liv thought was the coolest place ever.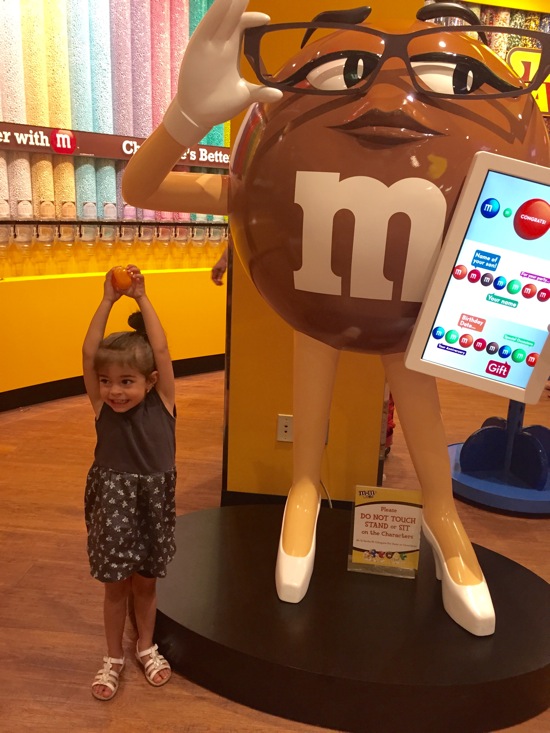 Ok, I liked it too… 😉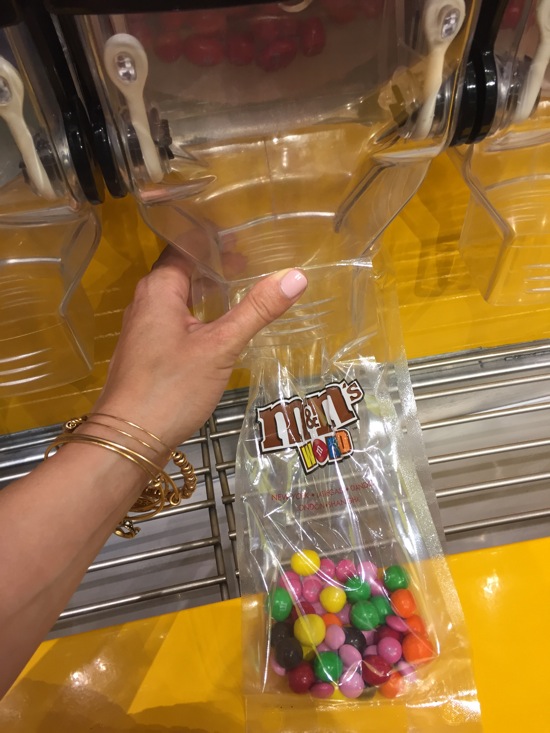 Now it's back in the swing of things over here! I taught a nice and sweaty BODYPUMP class this morning, and now it's time for spin.
Hope you're having a great day <3
xoxo
Gina
Don't forget to check in with today's workout here!