Hi guys! Happy Sunday! Hope you're having a beautiful and relaxing Sunday.
We are slowly, but surely, eating our way through the city of Las Vegas.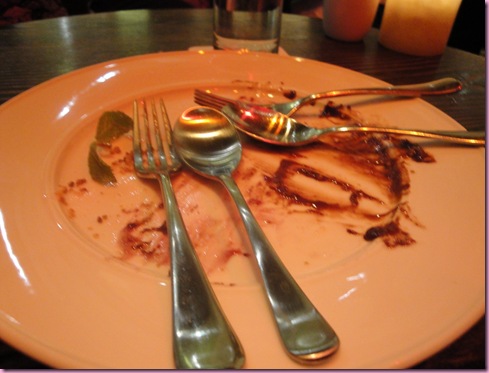 After our day at the pool yesterday, we came back to the hotel to chillax before going out. I did a lovely 30 minute Detox Challenge flow from YogaDownload.com. It felt SO good to stretch and twist.
For dinner, we wanted to do something *low key* since we're going to B-flizzle's (aka Bobby Flay's) restaurant Mesa Grill tonight and also had epic plans for bfast this morning 😉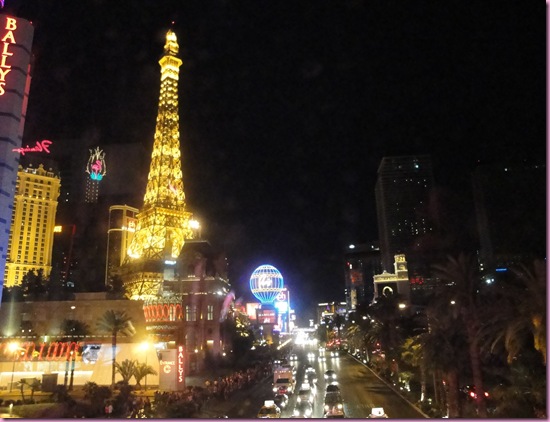 Somehow, our plans for something light and casual went down the drain and we ended up at Yellowtail at The Bellagio.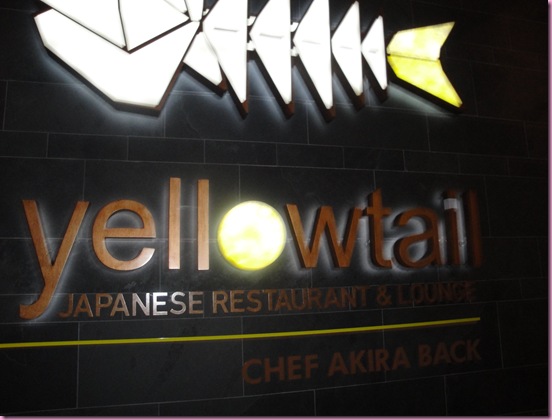 My beverage of choice was the Essence cocktail, which had cucumber and lemon- so light and refreshing.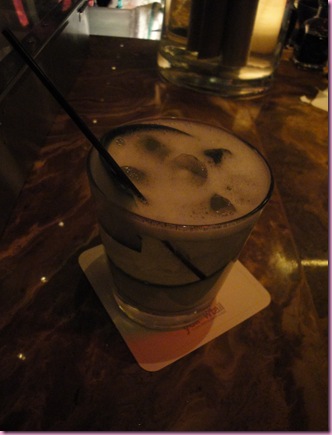 We started with the edamame- one had sea salt and the other had a sweet chili sauce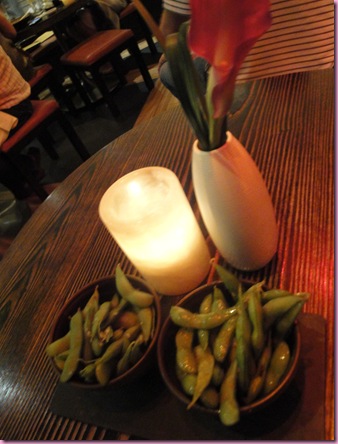 The pilot's miso soup came out in a little cauldron 🙂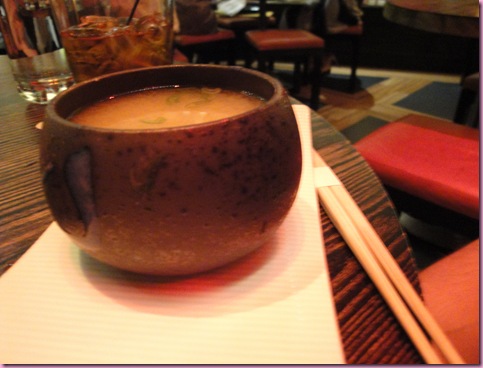 I had the best seaweed salad I've ever feasted on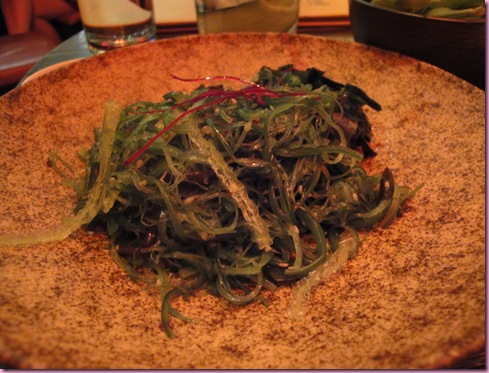 The pilot ordered a crab roll and a salmon roll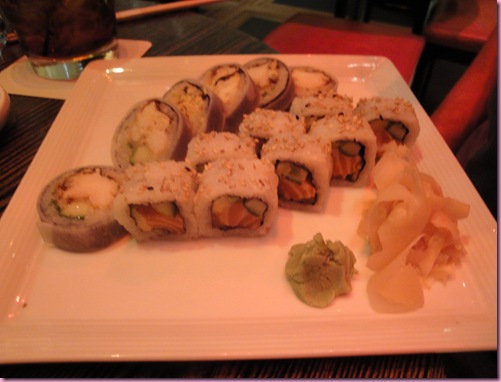 And fresh, beautiful salmon sashimi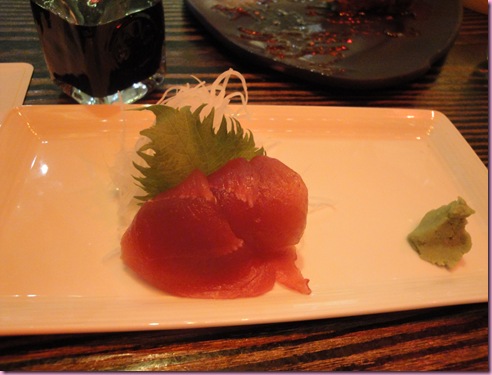 I chose the grilled eggplant, which had a glorious soy ginger sauce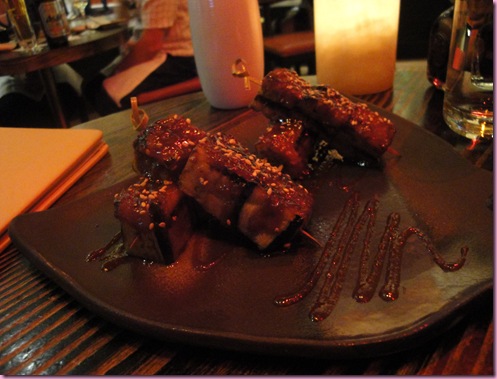 And we just rolled with it and got dessert for kicks 😀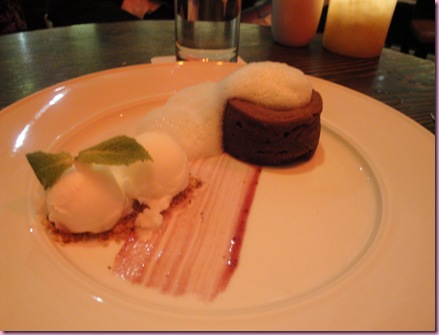 Chocolate lava cake with banana foam and mint ice cream.
For realz.
I have no words. It was amazing.
Since we were at the Bellagio, we had to stop and watch the fountains, which are choreographed to music and put on a show every 15 minutes at night.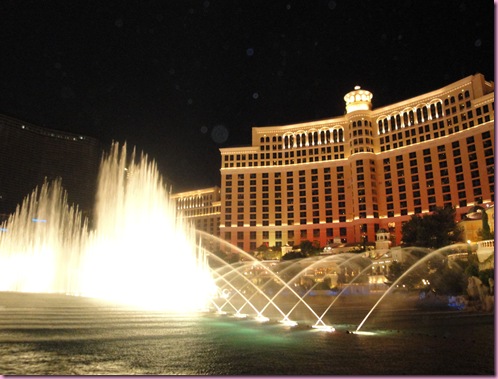 If you ever find yourself in Vegas (which I hope you do! It's pretty baller), the #1 thing (IMO) that you *have* to do is watch the fountains. It's perfect 🙂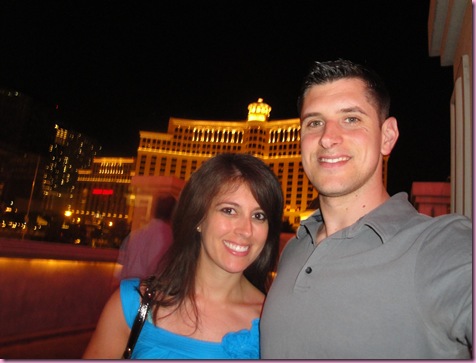 We ended up being little party animals (for us!) last night. We went two-step dancing with the gang at a country bar, booty-shaking at a club (are you proud, Snacky??) and had some wine at Parasol Up in the Wynn later on (thanks for the recommendation, Beth!).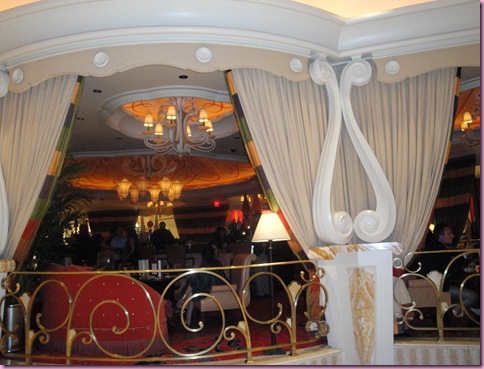 I had a glass of Riesling: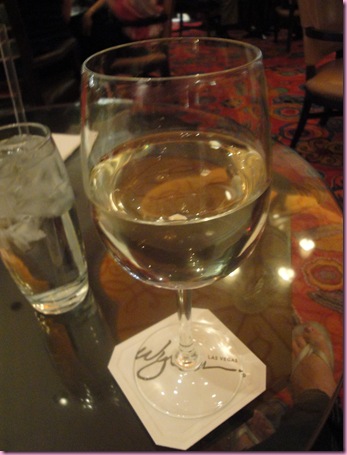 Not a bad night 😉 And yup, I only had two drinks even though we were out til 4am. The little granny managed to stay awake past 11pm and had a blasty 😀
We just got back from our breakfast feast –they had MILLET BREAD- (more on that to come) but are going to get ready for the day and explore the city before heading to Bobby Flay's restaurant for dinner.
Have a wonderful day!
Gina