*All of my second pregnancy updates can be found on the Family tag above, and are also categorized by trimester <3
Bumpin' along!
27 weeks: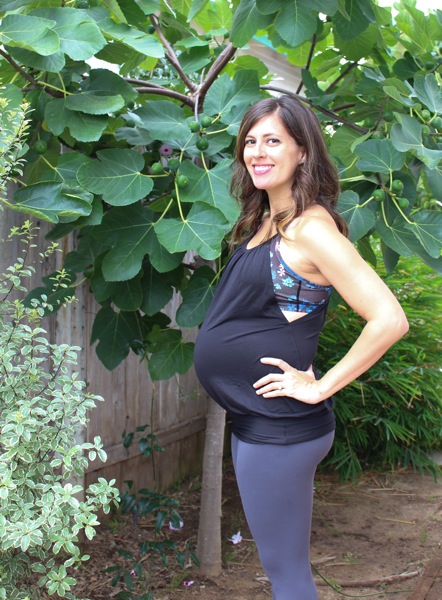 Random thoughts/ things I noticed:
-I continue to be obsessed with baby kicks. I just walk around rubbing my belly all day, and savoring the movements. It's funny because I used to think a baby in my belly would be like having an alien in there. It's not like that at all. There's something so magical about having a little buddy with you all the time, and the tiny games you can play gently pushing against each other, and having never met. It's pretty incredible! I keep wondering what she'll look like, too. When I was pregnant with Liv, I had dreams about her and saw her face, and she ended up looking exactly like that. I'm still waiting to have some dreams where I can see this baby's face. I've had some about when she's older, but none in the newborn phase.
-It's been an interesting couple of weeks with insurance stuff. I feel very blessed to have medical care and insurance, but it was a little bit alarming when I got a phone call last week stating that I needed to go to an entirely different provider and deliver at a different hospital, even though my care through the midwives was previously approved (and had to be authorized before they would let me make a first appointment). It was a little stressful since they're monitoring my low placenta, and since I was basically in provider limbo, my ultrasound to get it checked was denied. I'm confident that it will all work out, and have been making a ton of phone calls, but I'll be thankful when this is all taken care of. One of the biggest things that I learned from yoga teacher training was to look at challenges as an opportunity to grow, so this is just a small bump in the road.
-Gestational diabetes test is done! Last time, I'm pretty sure the liquid was clear, and this time it was NEON ORANGE. I asked if they had a clear option, and they didn't, so I got to chug this stuff…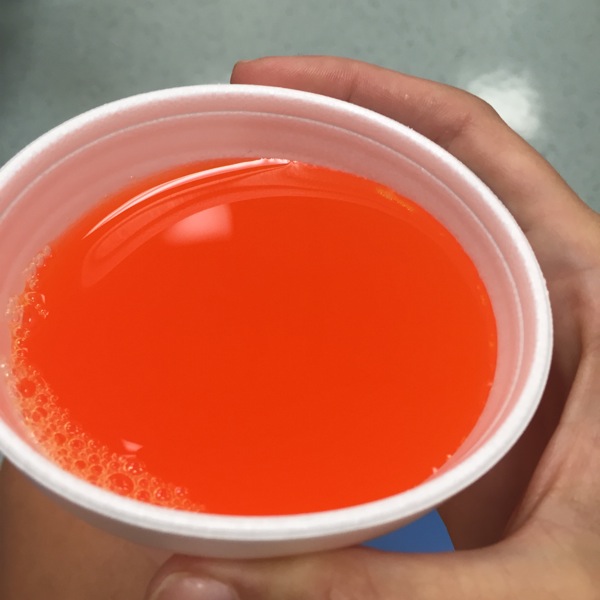 (I pictured it staining my organs as it went down.)
The first couple of sips were pretty delicious, but after that, it was pretty gnarly. That is a LOT of sugar! The hardest part was sitting around for two hours after the test, but thankfully, I passed, which is all that really matters. And, things that make no sense: afterwards, I went to Whole Foods for a gluten-free COOKIE. A cookie. I guess I was mad that I had to consume that much sugar and it wasn't even the delicious kind of sugar.
-I feel like my face looks pregnant when I'm pregnant. After Liv was born, it went back to normal in a couple of months. My face is now pregnant again. Does this happen to anyone else? Also, while I continue to grow, Tom is continuing to bulk and shred because he's on month 5 of an intense strength training program. Thanks a lot, Pilot. 😉
-Wondering if we need to do anything extra to prepare for birth. I've been brushing up on my Bradley Method books (we did Bradley Method classes with our first pregnancy), Your Best Birth and Ina May's amazing books, and have an awesome doula. One thing I really didn't do for our first pregnancy was read or study anything about C-sections. In my dream world, a second intervention-free birth would be awesome, but if things progress to a C-section route, I think I want to be better-prepared for that possible scenario. Fellow mamas: what did you do differently to prepare for a second birth? Was your second birth similar to your first, or entirely different?
-Workout-wise, things are still going well! My second trimester workout update will be up next week, but I've been sticking with my teaching schedule and reducing some of my weights for BODYPUMP. Walking on the treadmill is still painful with my hip flexor and round ligament pain, but BODYPUMP, Barre, and Spin still feel fantastic. It always feels good to move and get some endorphins in! As my schedule winds down over the next couple of months, I'll be getting back into my own workouts (TRX and Kettlebell) and am going to try 21dayfix or PiYo. <— my coach link, since so many have asked me for it! (If I do either of these programs, I'll post all of the pregnancy modifications that I use!)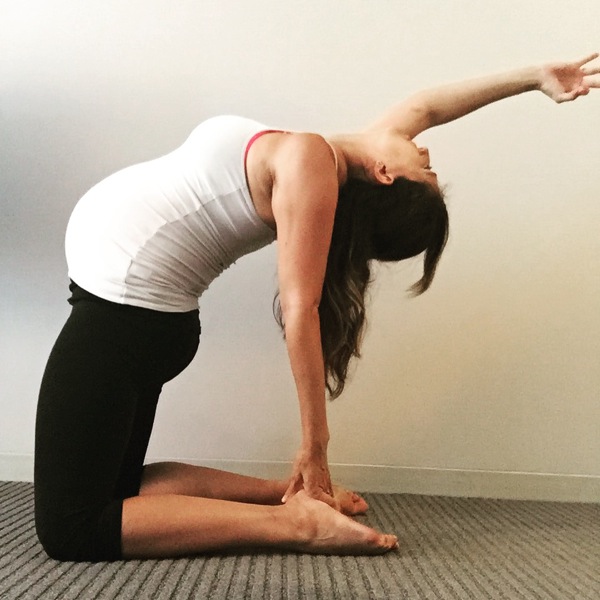 -Maternity wear faves:
Dl1962 maternity jeans (I have a dark pair and white pair <— on super sale that are amazing. Three cheers for elastic waistbands!)
Tunics and loose-fitting tanks
Maxi dresses or tunic shirt-style dresses
These Target sports bras. The best!
Belly button status: Long gone, and pushing out! Looks like outie is on the way.
Cravings:
Fruit
Pizza
Midnight Moon goat cheese (from Whole Foods. Try it. So good.)
Banana pudding or pie
Aversions:
Super spicy food (gives me heartburn and I usually love it!)
Raw bell peppers
Pickles (it's funny because I was obsessed with them in my first trimester and right now I don't love them)
Looking forward to:
-Our next ultrasound, which will be our last one if all looks good!
-One more family vacay to Tucson before baby is here
-Getting the belly henna tattooed 🙂
Keep on growing, little one <3 We love you so much.
xoxo
Gina