This post is sponsored by The Quaker Oats Company. All opinions are my own.
Hey friends! How's the day going? I hope you're enjoying the morning. I thought I'd stop in and share a WIAW post, especially since this particular day was an off day from teaching and training. On my active recovery days, I tend to crave lighter meals, with satisfying staples and fresh veggies. Here's what a full day of eats looked like for this particular weekday:
7:15am: I eat Quaker Overnight Oats while I get Liv ready for school. Usually I'll wait until later to eat breakfast, unless I think quickly to prep something the night before. The mornings are super busy, and I'm lucky to get the 3 of us out the door in *real clothes* and on time.
Thankfully, I remembered to prep Quaker Overnight Oats before bed. All you do is add your dairy or non-dairy milk of choice, let the mixture cold steep overnight, and it's waiting in the morning!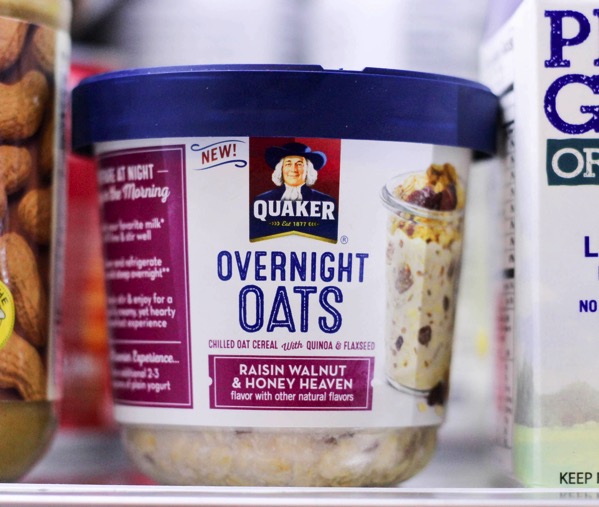 My breakfast is done in less than five minutes, and I love that it's a good source of fiber, and free of artificial flavors and added colors.
We eat and get dressed, then I wake up miss P so we can head to school drop-off.
8:15: P and I are back at the house playing, and we both enjoy some eggs together (she also has some waffles) before heading to music class.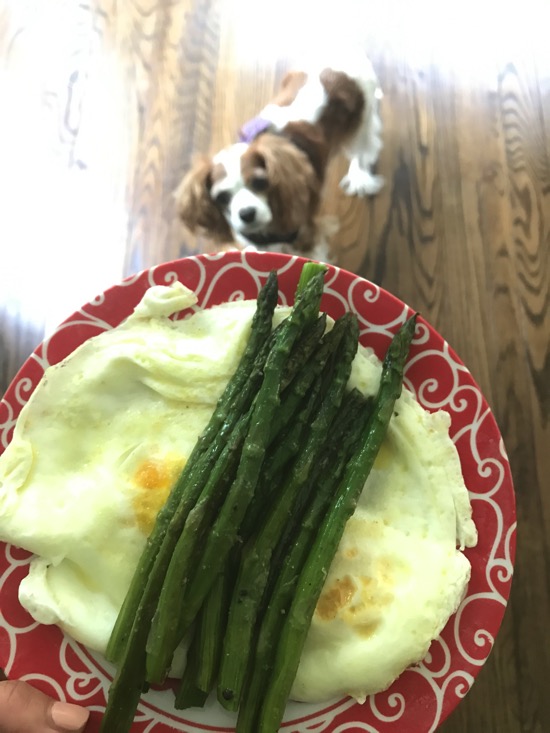 (2 eggs, 1 egg white, leftover asparagus from the night before)
12:30: I make lunch for P and a quick smoothie for myself before she goes down for nap. She has turkey roll-ups with cheese, berries, crackers, and I enjoy this: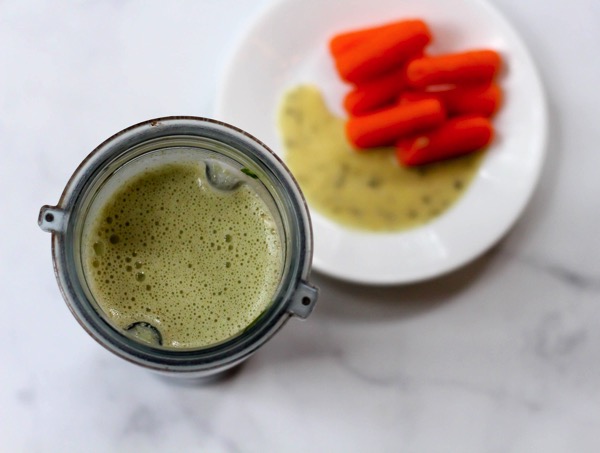 1 cup of almond milk with protein powder, collagen, spinach, frozen cauliflower, MCT oil and cinnamon
+ carrots with Ranch dressing
3:45pm: a couple of energy bites while watching Liv's gymnastics class. I took these photos before we left to gymnastics, and the photo session ended up with some awesome blooper pics of P sitting on the photo background, in her diaper, eating two energy bites at the same time.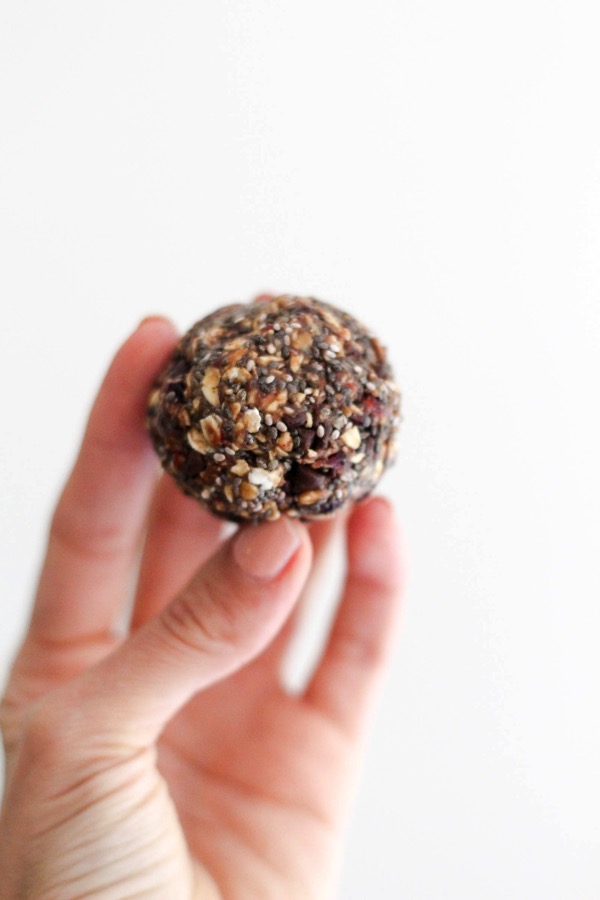 Here's the recipe if you'd like to give these a try. They're toddler-approved, too.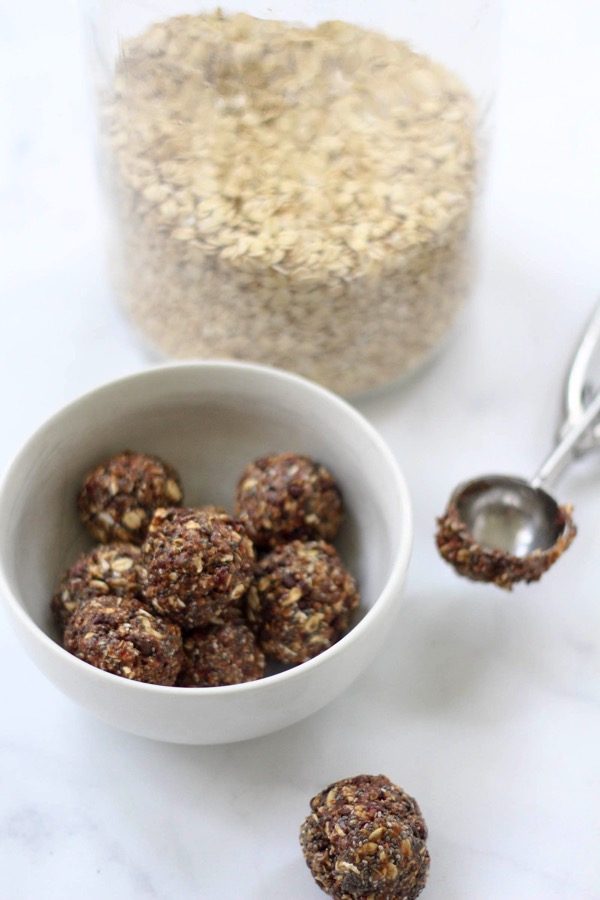 -1/2 cup sunflower seed butter
-1 cup old-fashioned oats
-1/4 cup dried cranberries
-2 tablespoons cup chia seeds
-1/4 cup maple syrup
-generous pinch of sea salt
-1/2 teaspoon vanilla
-1/4 cup chocolate chips
Pulse all ingredients in a food processor until a dough forms. Scoop into 6 equal servings and roll into balls. Store covered in the fridge.
6:00 Dinner! Chicken coconut curry cooked in the Instant Pot, with jasmine rice, and spinach.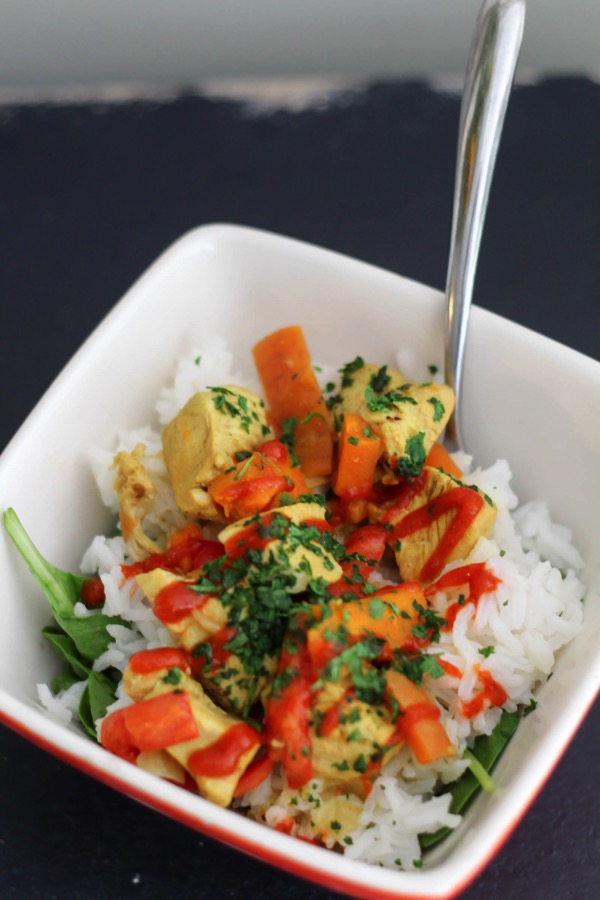 To make this, I used the sauté function on the Instant Pot, and heated up some butter with half a chopped sweet onion and 2 chopped chicken breasts. I seasoned the mix with:
3 cloves of minced garlic
A 2-inch piece of ginger, grated
1 red sliced bell pepper
2 carrots, peeled and sliced
Salt
Pepper
1 tablespoon curry powder
2 teaspoons dried basil
1/4 teaspoon coriander
1/2 teaspoon cumin
Once the chicken was fragrant and browned, I turned off the sauté function, and stirred in 8 oz of chicken bone broth. I attached the lid and set it on manual high pressure for 12 minutes. When it was finished cooking, I did quick pressure release and stirred in a can of coconut milk. We enjoyed it over brown rice with chopped cilantro. It was so easy, and so good.
9:30pm: A piece of dark chocolate while watching Grey's Anatomy.
What's your favorite quick, nutritious breakfast? Any treats that you like to enjoy at the end of the day? Have you tried the new Quaker Overnight Oats yet??
Have a great morning and I'll see you soon!
xoxo
Gina