WIAW (What I Ate Wednesday)
How is it only Wednesday?! I'm already counting down to the weekend. 😉
I thought I'd share a full day of eats, especially since it was one of our busier days. I always love getting new inspiration for quick and healthy meals, so I hope you enjoy this little post. On this particular day, I trained, the girls had gymnastics and swim, and the Pilot was flying late so we were on our own for dinner and bedtime. These kind of days are usually in the theme of survival mode, but I managed to eat real meals, and capped it off with a glass of wine, so I'm calling it a win.
Here's a whole day of eats from start to finish!
8:15am: I've made breakfast for the fam (Annie's cinnamon rolls, bacon, eggs, and fruit), and munch half a cinnamon roll with green tea before getting ready to head to the gym.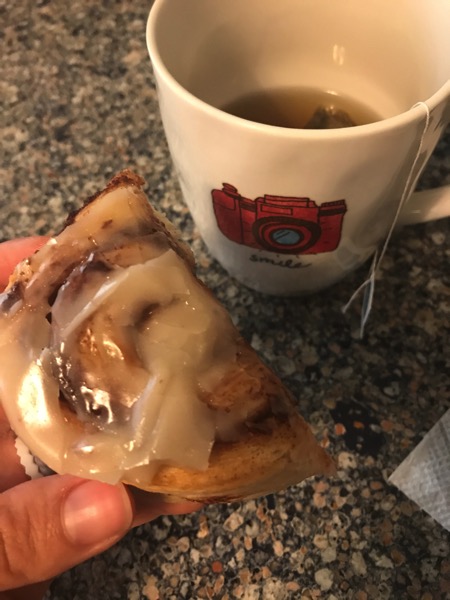 I get in a quick strength training (upper body)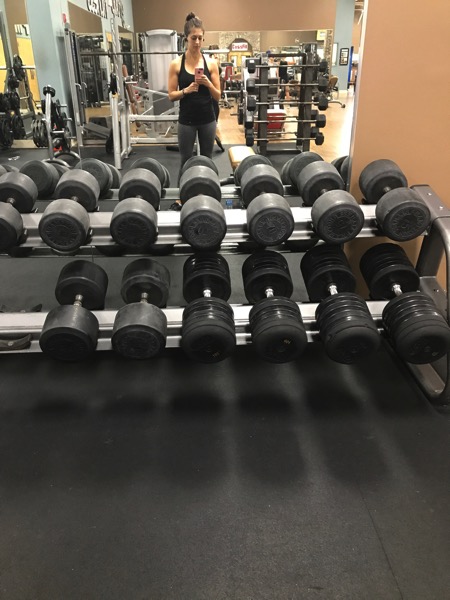 (when you don't smile because someone will know you're taking a gym pic)
train a client,
and then head back home.
10:45am: time for real breakfast! I eat the inner part of another cinnamon roll (the best part!) while I cook some food and the girls chase each other around the dining room.
2 eggs, 2 egg whites, and oatmeal (the unsweetened Trader Joe's brand with chia and amaranth. A friend made a TJ's run and I was SO PUMPED), with cinnamon and maple syrup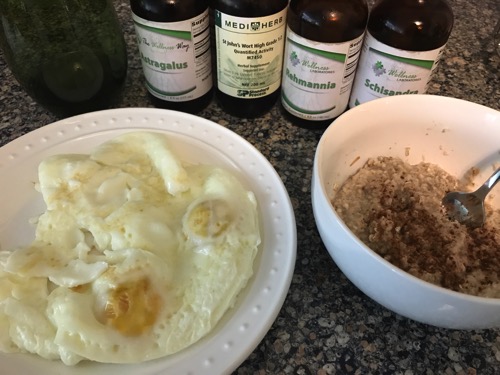 + supplements from my naturopath (ashwaghanda, schisandra, St. John's wort, rehmannia, and aloe vera juice)
Quick selfie with these little noodles before swim 🙂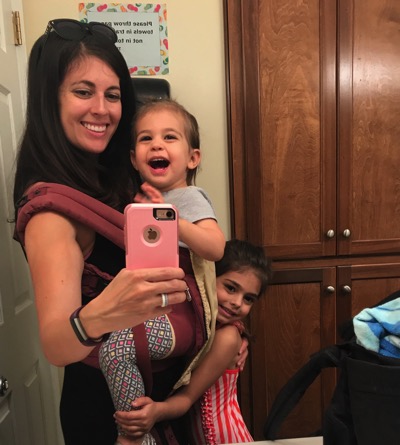 1:00pm: P is napping, Liv is enjoying quiet time (during P's nap I usually let her watch a couple of shows for quiet time), and I make some lunch
I picked up frozen organic turkey burgers from Publix and they have been AWESOME for lunches. 6 minutes on each side in a skillet, plus a salad with feta, roasted red pepper, greens and chopped carrots. I also finish off the last of the Paleo mayo on the burger, and drink a coffee with almond milk and MCT oil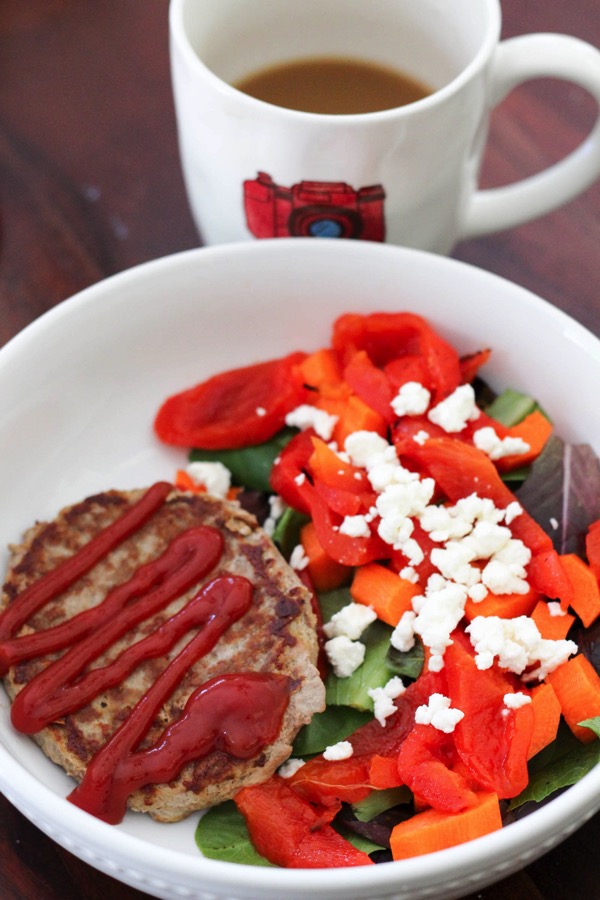 3:20pm: afternoon snack! Smoothie with 1 1/2 cups almond milk, 2 scoops raw cacao whey, a huge spoonful of almond butter, handful of spinach, about a cup of frozen berries and cinnamon.
I also threw about 1/2 a teaspoon of this stuff into it.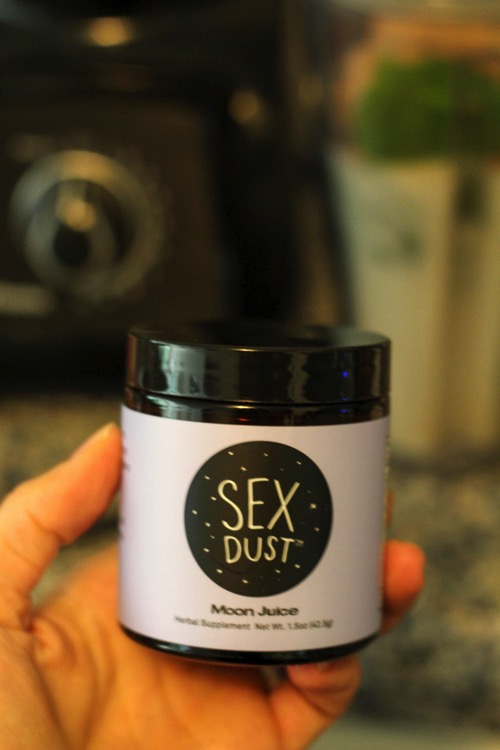 I'd been curious about the Moon Juice dusts for a while, and after Brittany's post last week, I decided to pick one up. A majority of the dusts contain herbs I'm already taking from my naturopath, except for this one, which has a Chinese herb as the first ingredient (Ho Shou Wu <— thorough post explaining some of the possible benefits is here). While I'm not yet sure of alllllllll of the benefits of it haha, I will say that it gave me a ton of energy. I was feeling so exhausted from the previous night -my allergies kept me awake sniffling and sneezing my face off- and this took that awful zonked feeling away. Maybe it was a placebo effect, but I'm a fan so far.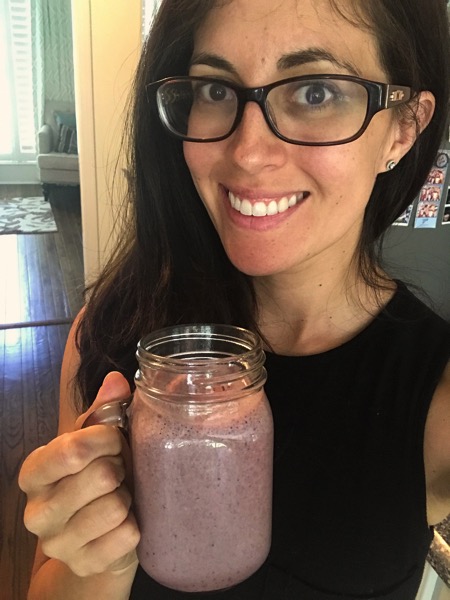 6:15pm: dinner with Liv and P at Longhorn Steakhouse. For all of my OG reader friends (yay, thank you!) you may remember Longhorn from our last stay in Valdosta. My friend Jeni and I used to go to Longhorn almost once a week, and I'd always get the salmon with veggies and a sweet potato. It was just as amazing as I remembered.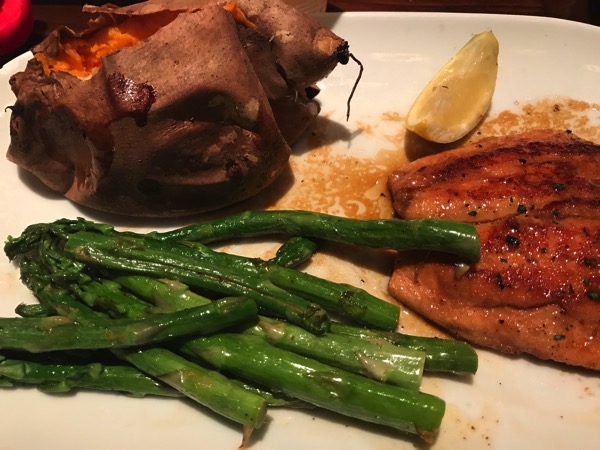 (Unpictured: piece of the warm, fresh bread, and most of a house salad. I was too busy getting bread to the girls to snap a pic! We were all hangry by that point)
10pm: glass of wine with the Pilot + laundry folding and Big Little Lies.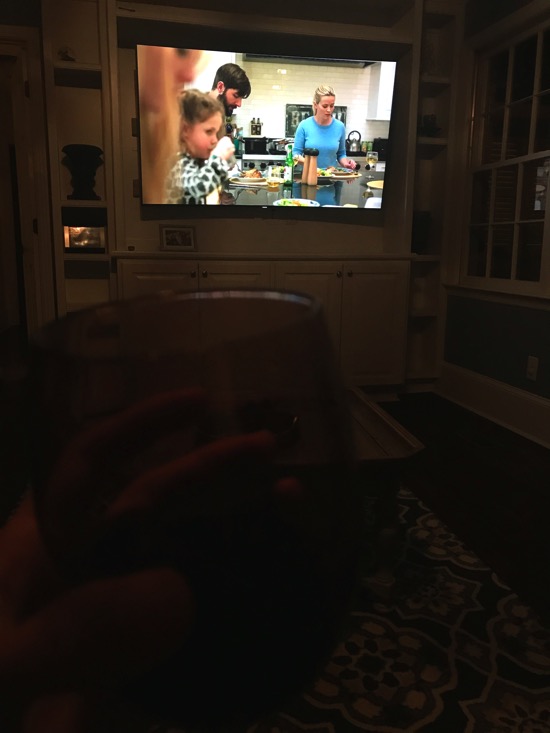 I read the book quite a while ago -Liane Moriarty is one of my all-time faves- and the show is SO.GOOD. We've only seen two episodes and are totally sucked in.
What I liked about this day of eats: lots of protein! I didn't feel hungry or have sugar cravings. Despite the fact that it was a busy day, I was happy that I ate real food. Sometimes on hectic days, I'll forget to eat and have a giant meal to make up for it, or survive off random snacks from my gym bag.
What I didn't like about this day of eats: no chocolate. At least there was wine.
Happy Wednesday, friends!
What did you do for your workout yesterday? Best thing you ate?
xo
Gina
More WIAW posts here, here, here, here and here. For the original WIAW fun, check out Peas and Crayons.