WIAW (What I Ate Wednesday)
On a Thursday because days don't matter right now. 😉
Hi friends! How are you? I hope you're having a good morning and hanging in there. We're still doing our thing over here. Yesterday, the girls were asked to decorate our neighbors' driveway with chalk, so that was one of our big adventures. One of our other neighbors ran over and gave them ice cream drumsticks as they were finishing. Even though we're here at home, I feel SO blessed to be surrounded by such amazing people. The neighbors here in Tucson are unlike anything I've experienced. We didn't even know our neighbors in some of the other places we've lived, and here, it's not unusual at all for someone to ring the doorbell with a plate of brownies or water your plants when you're out of town. (You know, back in the day when we could go out of town.)
For today's post, I thought I'd share a little What I Ate Wednesday post since it was so commonly requested in my annual survey. I always love getting new ideas for quick and healthy eats, so here's a little peek into our day of eats. I always love to hear any family-friendly or quick healthy meals you've been enjoying!
When I'm super stressed one of two things will usually happen: I snack on a lot of sugary sweets and salty processed food, or food sounds totally unappealing. Right now, it's the latter. (Ok, except for chocolate and tacos. Those always sound appealing.) I've been making myself full meals and even if I don't want it at the time, once I start eating, I can usually finish my serving. Nutrition is so important for so many different factors: mood, blood sugar levels, hormones, immune system function… it's worth it to fuel yourself even when there's a lot going on and you may not quite feel like it. Just wanted to throw that out there if anyone else is also feeling kinda blah right now, too.
8:00am: Two pieces of Hu chocolate while I make breakfast for the girls. They have blueberry Morning Rounds with cream cheese, berries, and chicken sausage.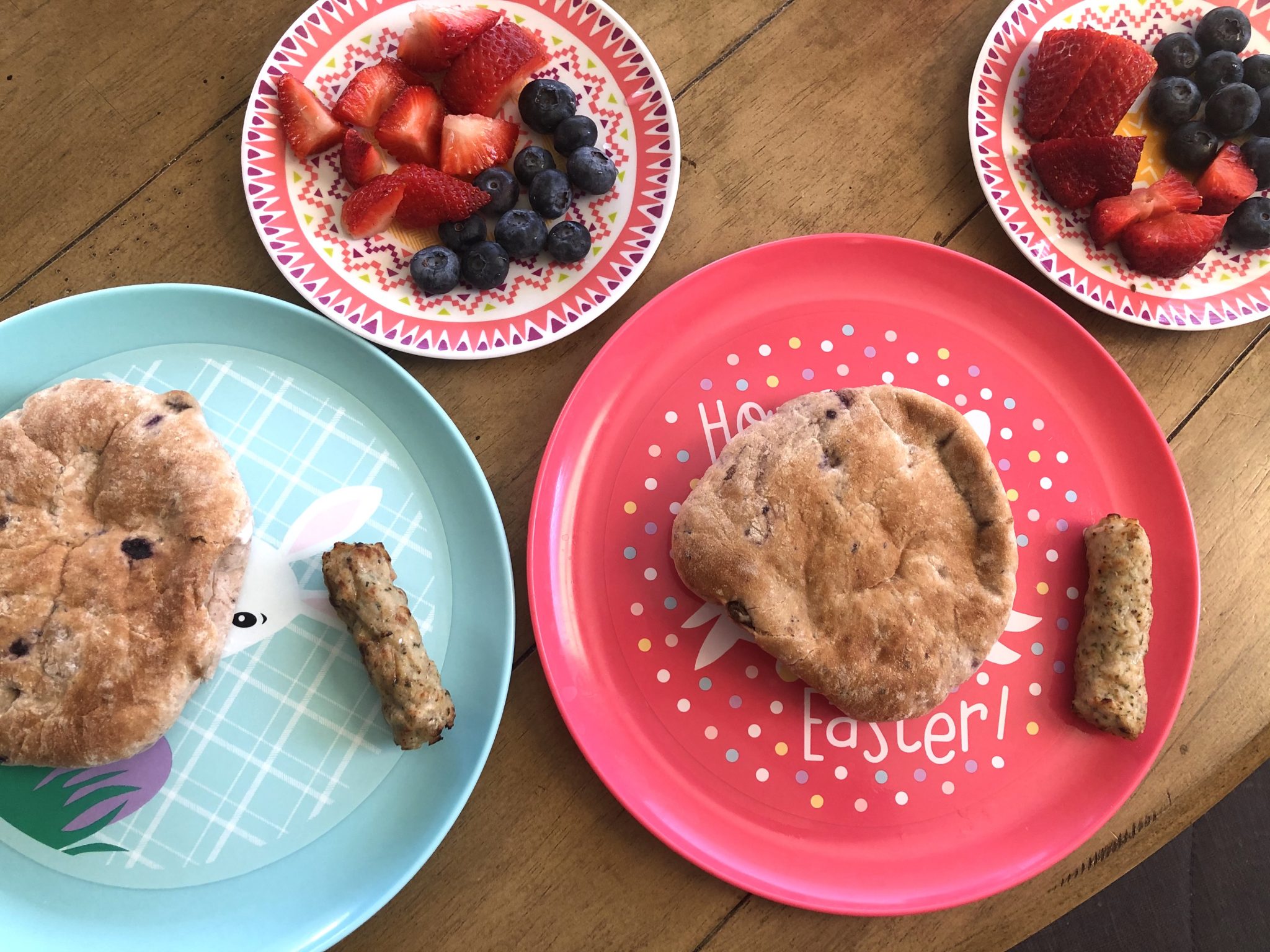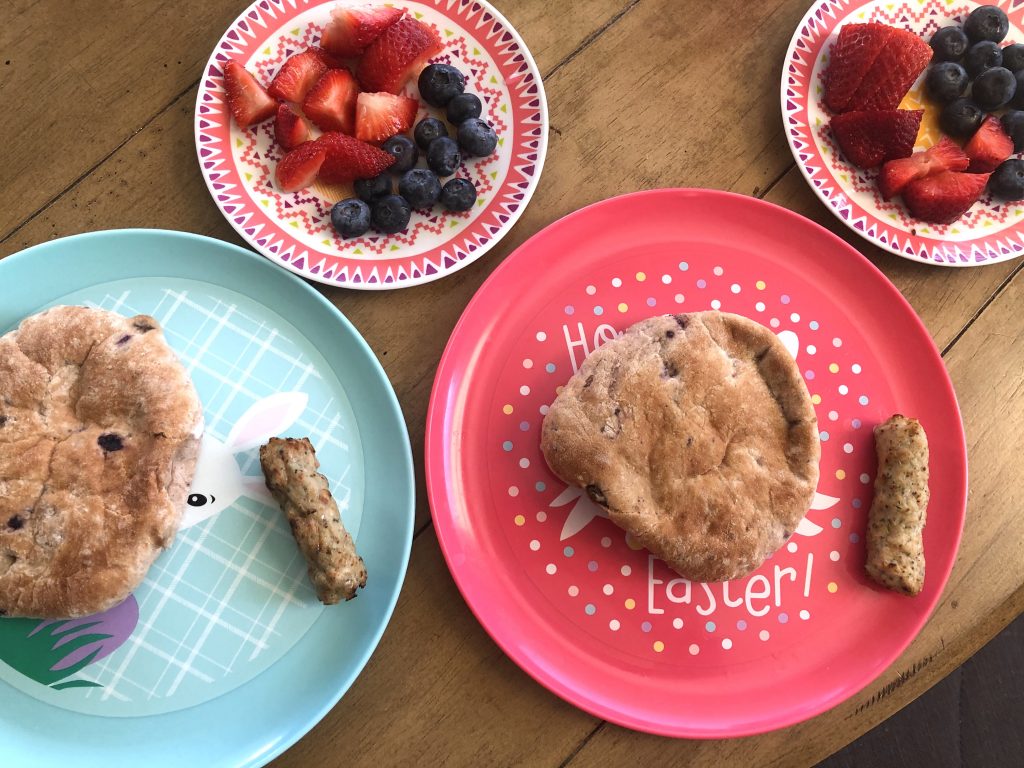 I make myself a collagen decaf coffee while pondering a profound question from Liv,
"Are you more of a future person or a past person?"
I'm glad I asked her what she meant because it sounded like things were going to get deep right before I'd had any coffee but she said,
"I mean would you rather be a robot or a cowgirl?"
*sigh of relief*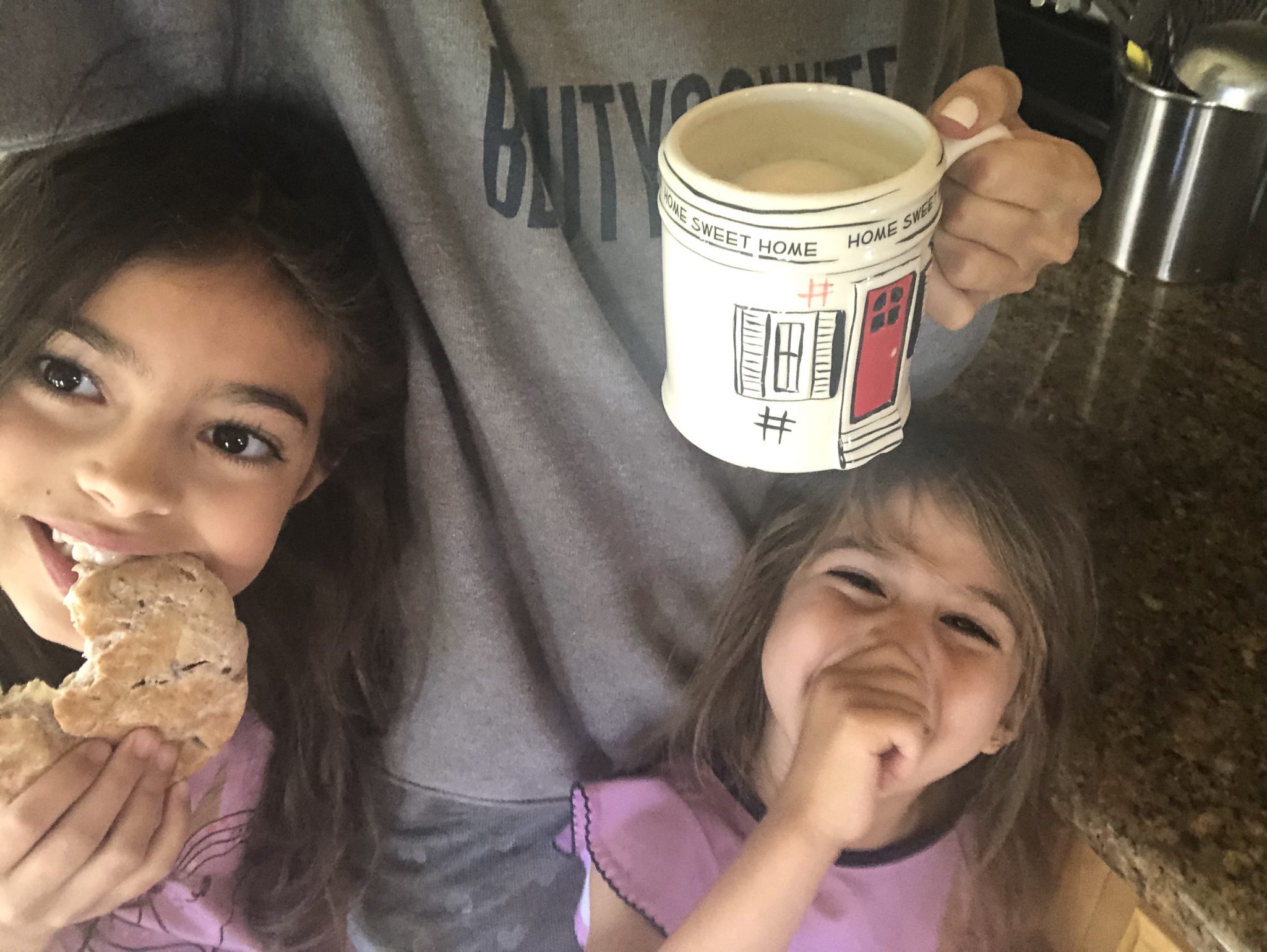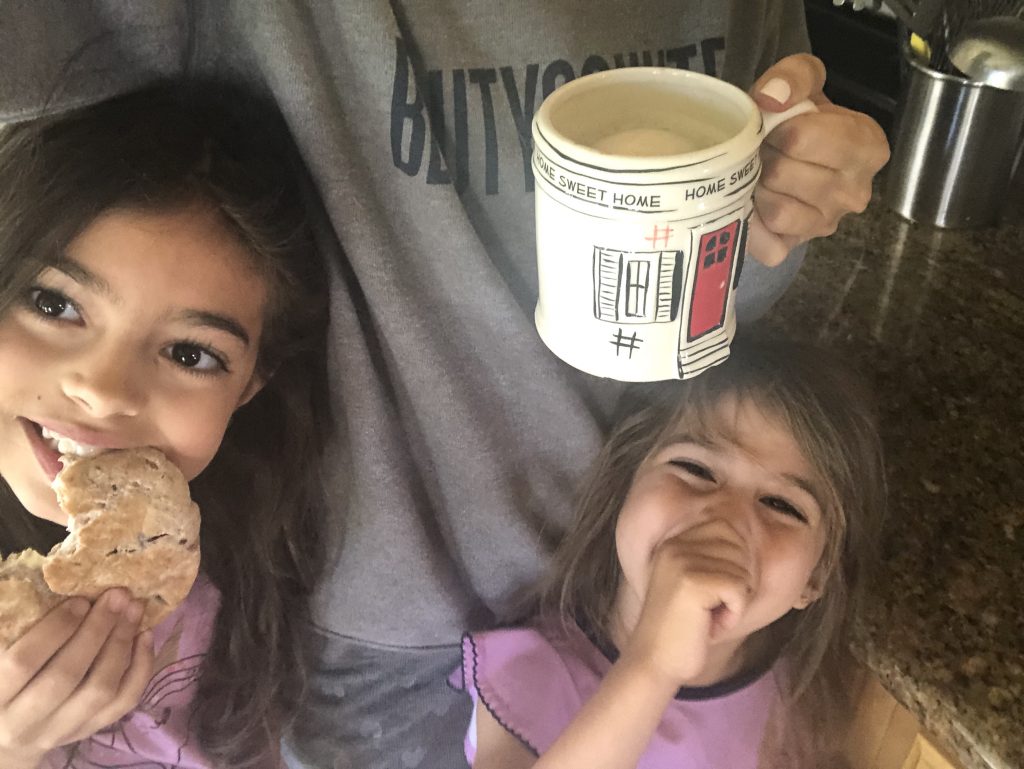 (P started sucking her thumb again and I'm just like, "Live your dreams.")
For my collagen coffee, I use the decaf Peruvian coffee from Whole Foods and add a scoop of collagen, a splash of almond milk, liquid monk fruit, and froth it up with the coffee frother.
I set up this activity for the crew to do with the girls and they get a kick out of it. It's the ball drop from Busy Toddler. Savin' my bacon with all her great ideas.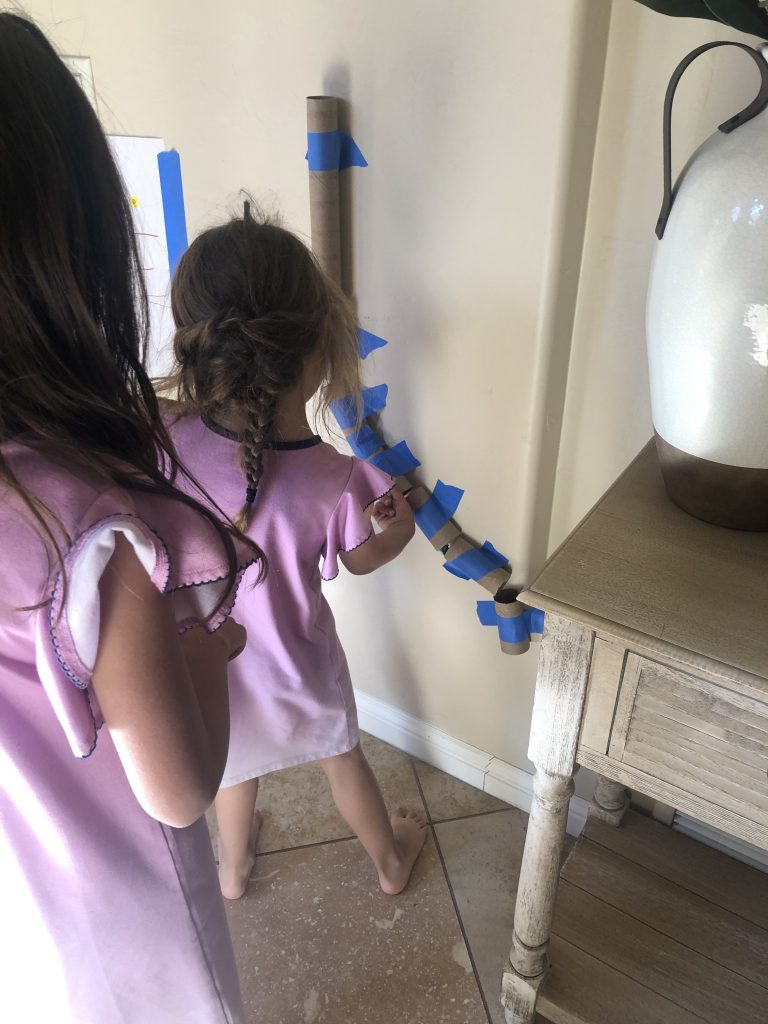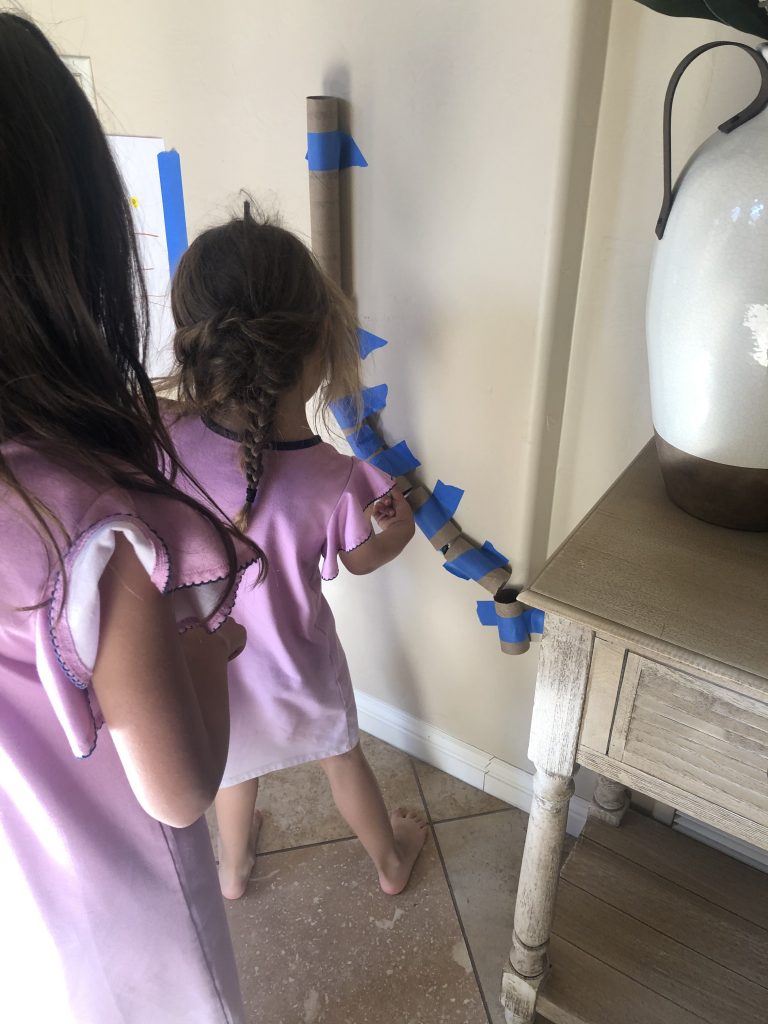 The girls alternate having Zoom meetings with their classes – while Liv is on her call, P and I practice letters and numbers, and I clean the kitchen, and while P is on her call, Liv works on some homework. I throw in a load of laundry, make the beds, and feed all of the animals in the house.
10:50am: I decide to make some bfast for myself and have a bowl of protein oats: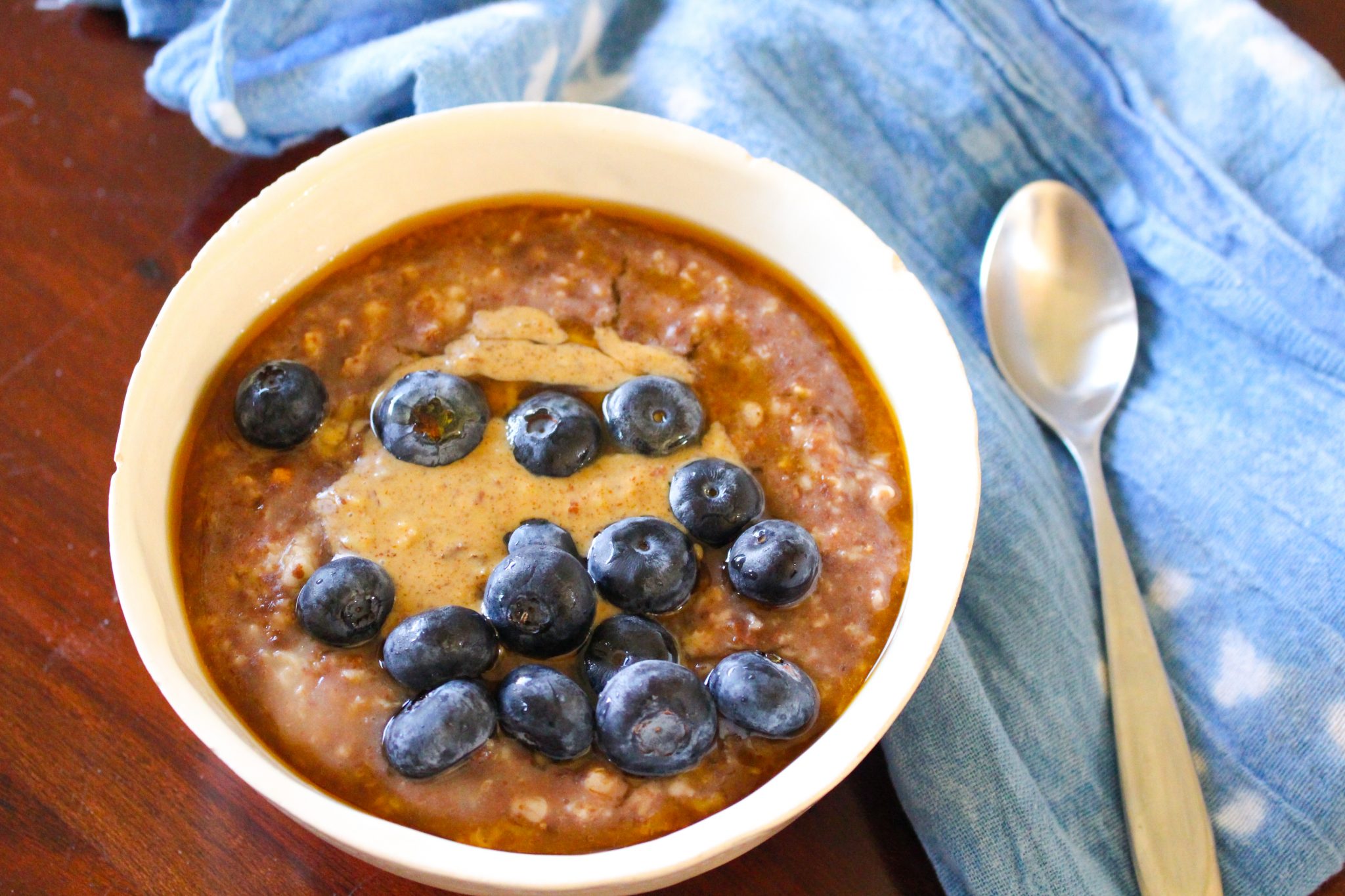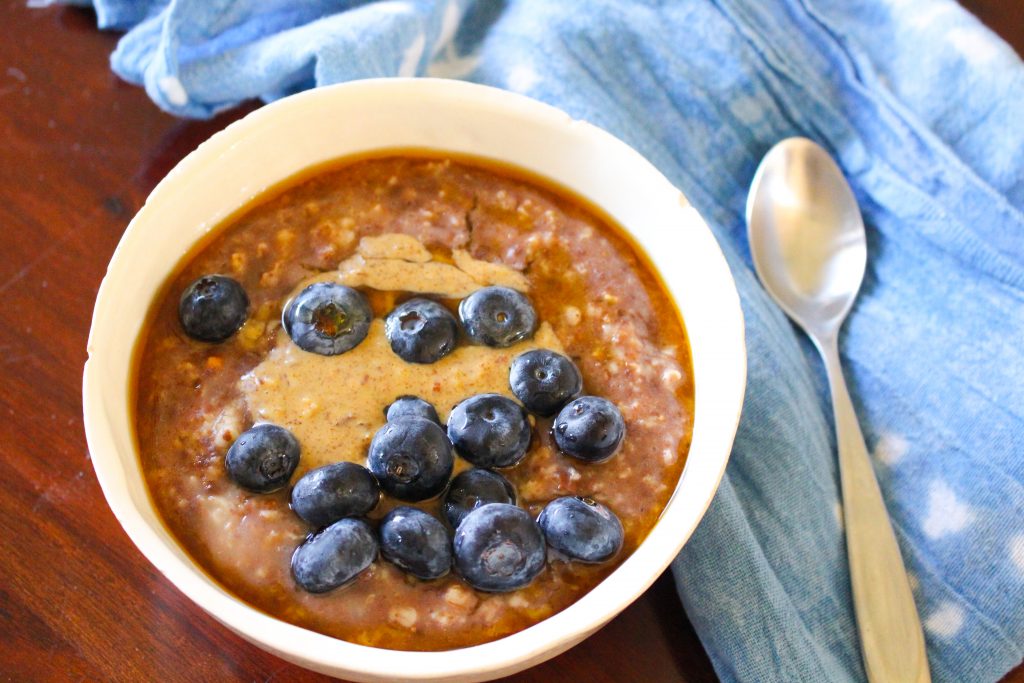 (I cook 1/2 cup of oats in water and then stir in 1/2 scoop of Truvani protein powder, about 1 teaspoon of maca powder, cinnamon, and top with blueberries, a tablespoon of Nuttzo, and a drizzle of maple syrup)
I make the girls a quick stack (a bar and some carrots) and they play downstairs while I take care of some cleaning: the upstairs bathrooms, wood floors and dusting. I also disinfect the most commonly-used surfaces, like doorknobs, the fridge door, the dishwasher handles, etc.
12:30: Lunchtime for the crew. They have a frozen Amy's Margherita pizza with apple slices and garbanzo beans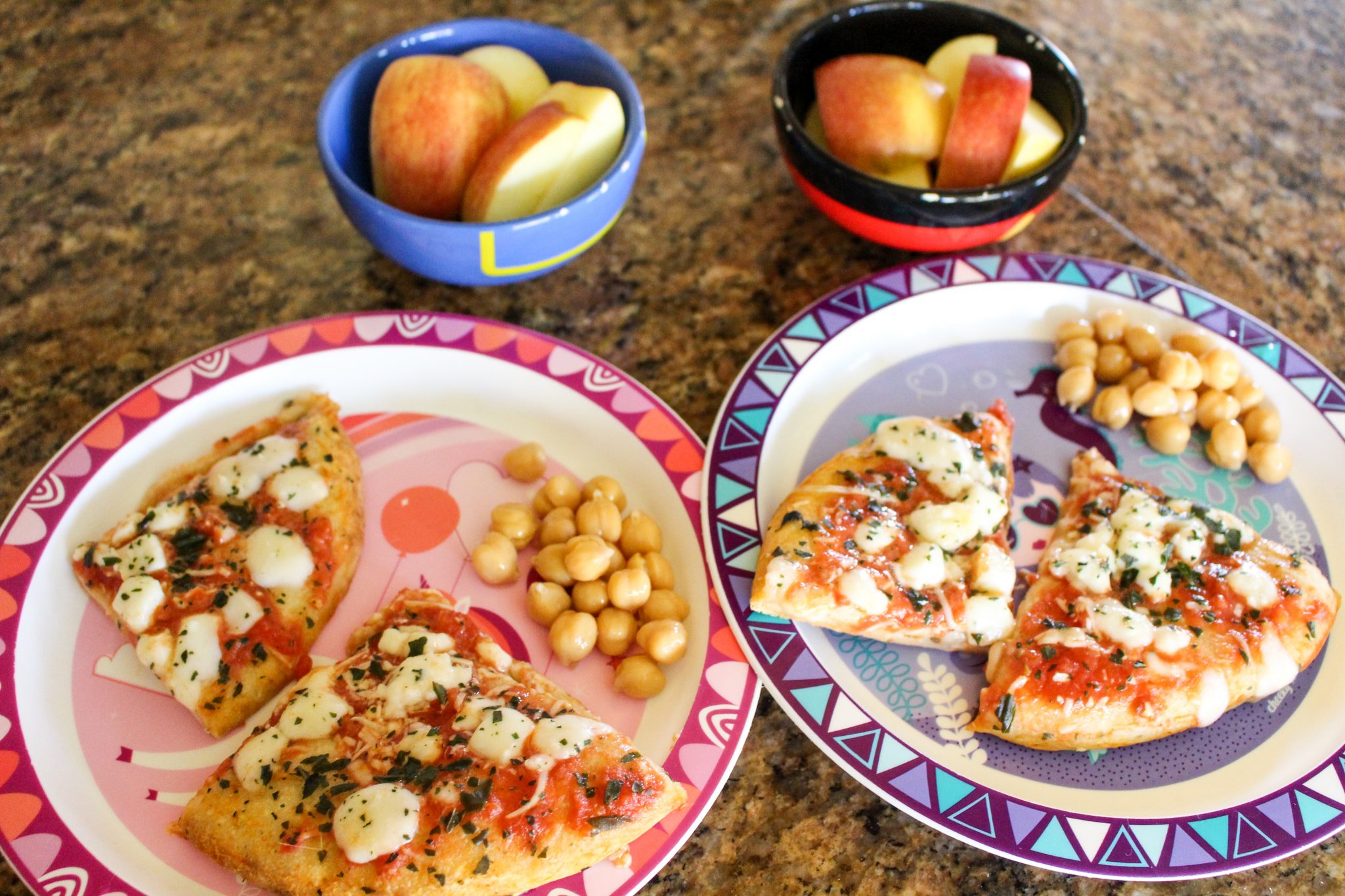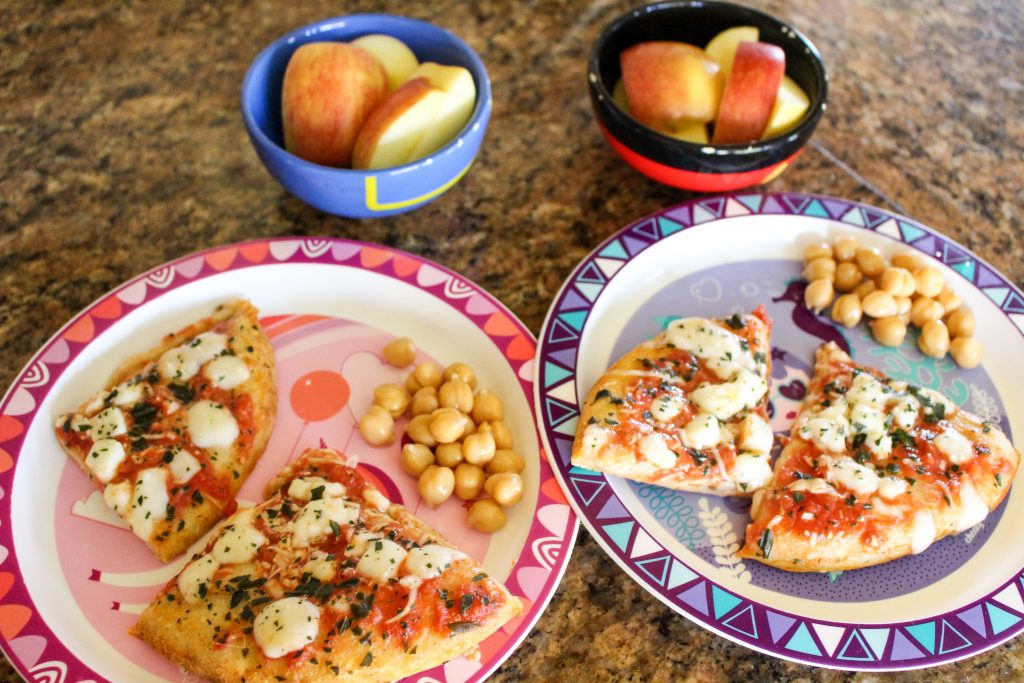 We head outside for a long walk and come home. The girls scooter in the driveway for a bit while I catch up on emails from my computer, and then I turn on a show for them while I head upstairs for a 30-minute Peloton class. I put on "real clothes" – jean shorts and a Madewell t-shirt- for the first time in a couple of weeks and it feels normal and nice.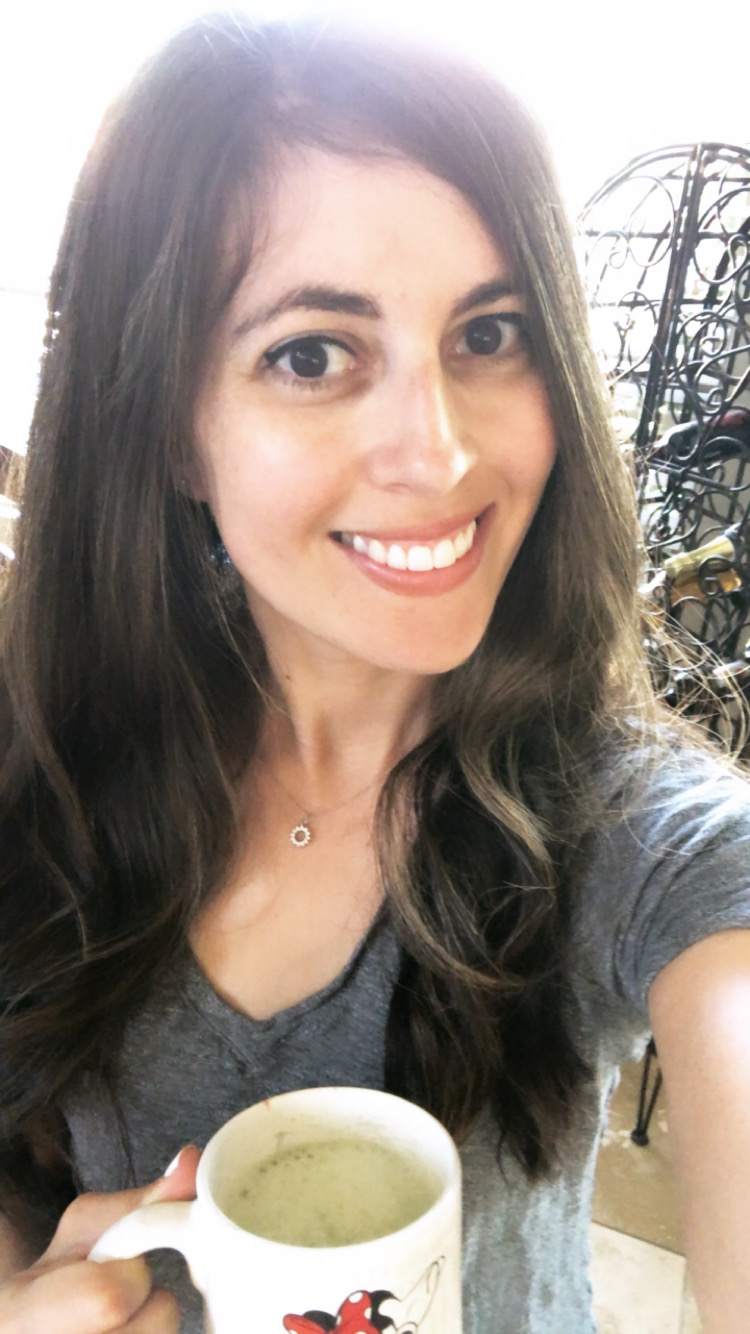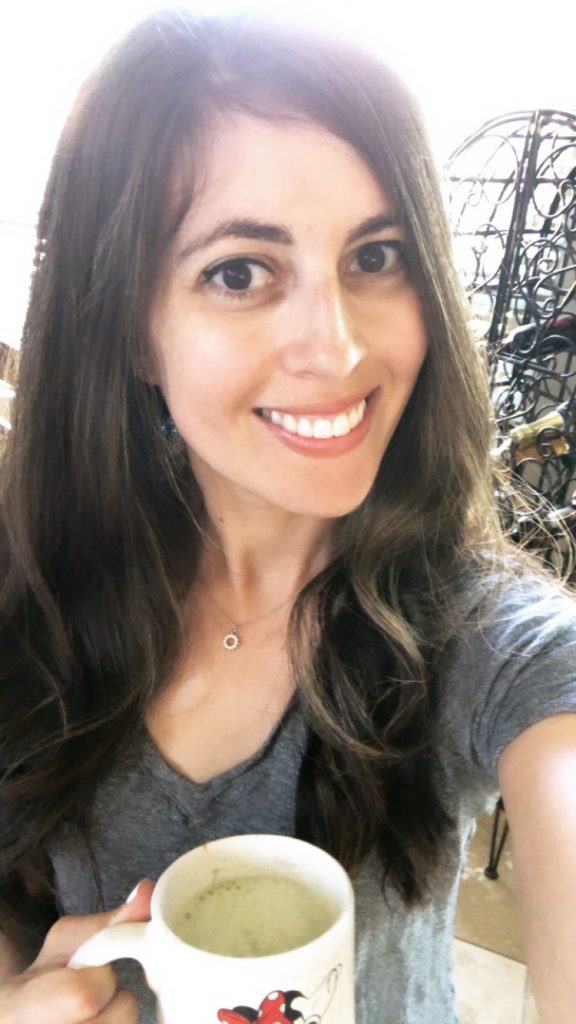 (A matcha latte with almond milk, organic matcha powder, collagen, and monk fruit)
2:30pm: Lunchtime for me, a snack for the girls. I enjoy a mixing bowl salad with tuna, greens, broccoli, bell peppers, carrots, and Primal Kitchen dressing. On the side, I have a piece of toast with vegan cream cheese and Everything But the Bagel Seasoning.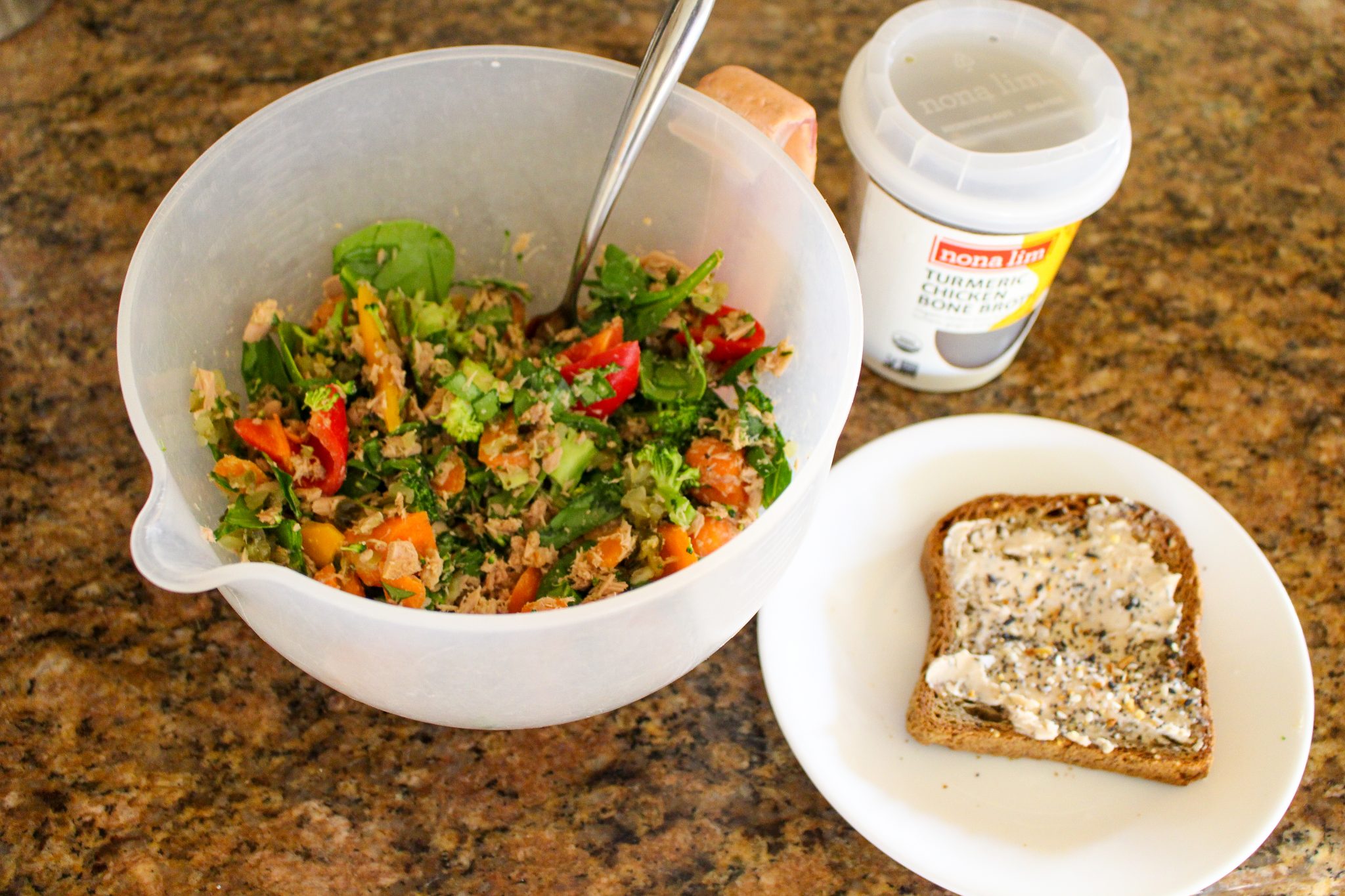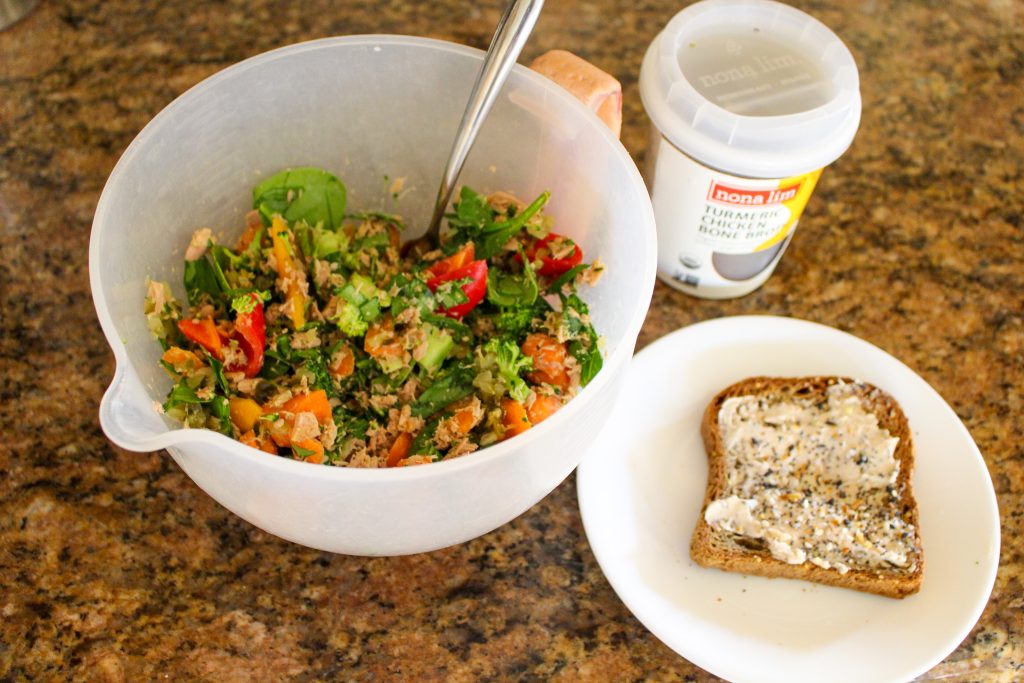 (The girls each have cheese and jerky sticks)
We pick up a quick Target drive-up order – I try to minimize them as much as possible but it feels like a safer option than taking the girls to the store with me when the Pilot is out of town – and come back to decorate the neighbor's driveway. It ends up taking about an hour and it's nice to be outside so much during the day. The girls are being nutty and come up with some really fun and cute designs.
When we get home, the girls ride their scooters in the driveway while I sit and watch them and catch up with madre on the phone.
5:30 We're back in the house and the girls play on the floor of the kitchen while I cook dinner. I'm extra thankful for Sunbasket right now. They've always been game changers, but even more now since I can add groceries onto our delivery shipment and it simplifies the meal planning process. (My link gets your $40 off your first box. I'm not sure if they'll hit any shortages or delays with everything going on, but wanted to share it in case you were thinking of giving it a whirl.)
Two Reese's eggs while I'm chopping all the veggies: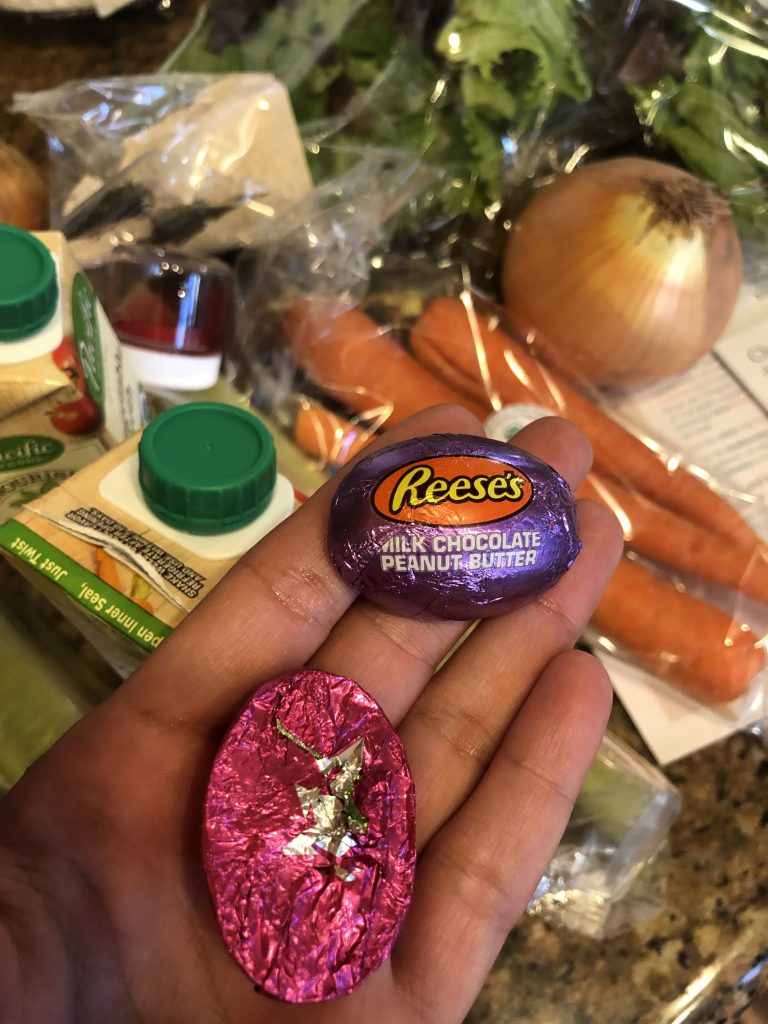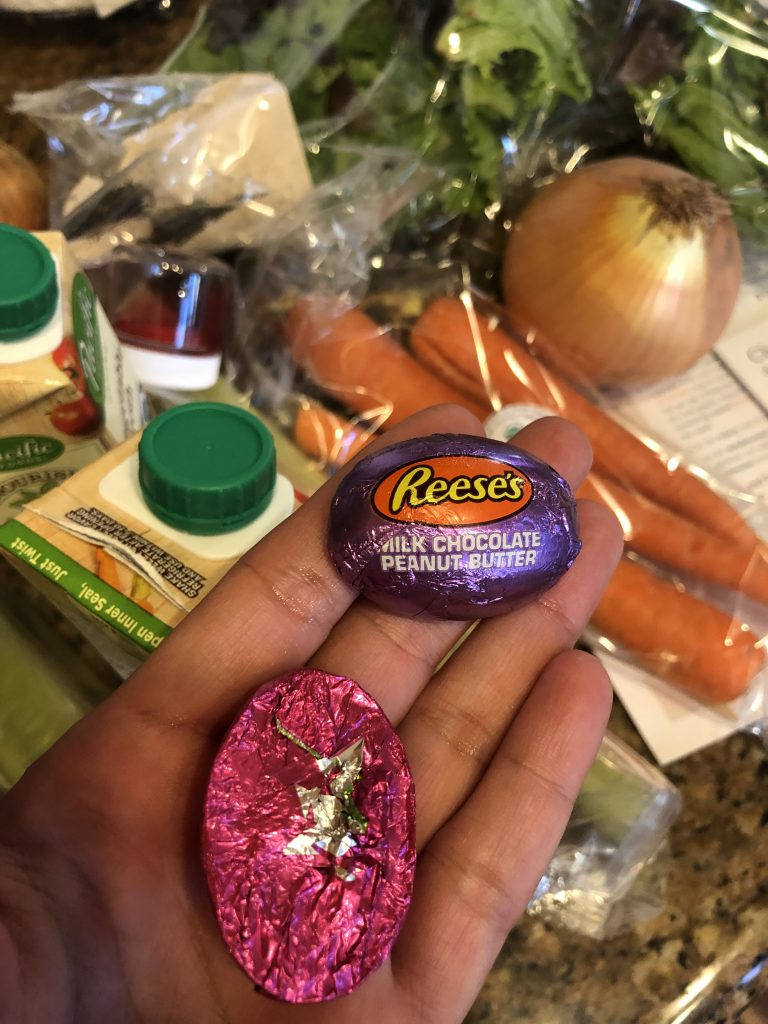 We have crustless chicken pot pie (it's not the most photogenic meal but tastes like Thanksgiving) along with salads: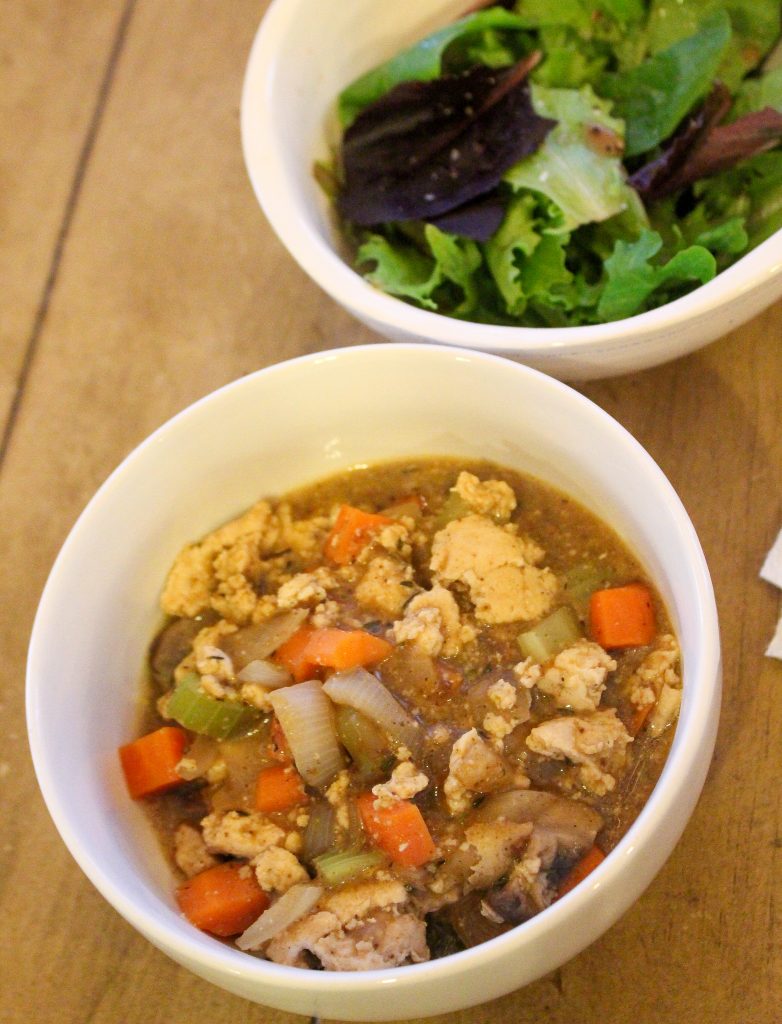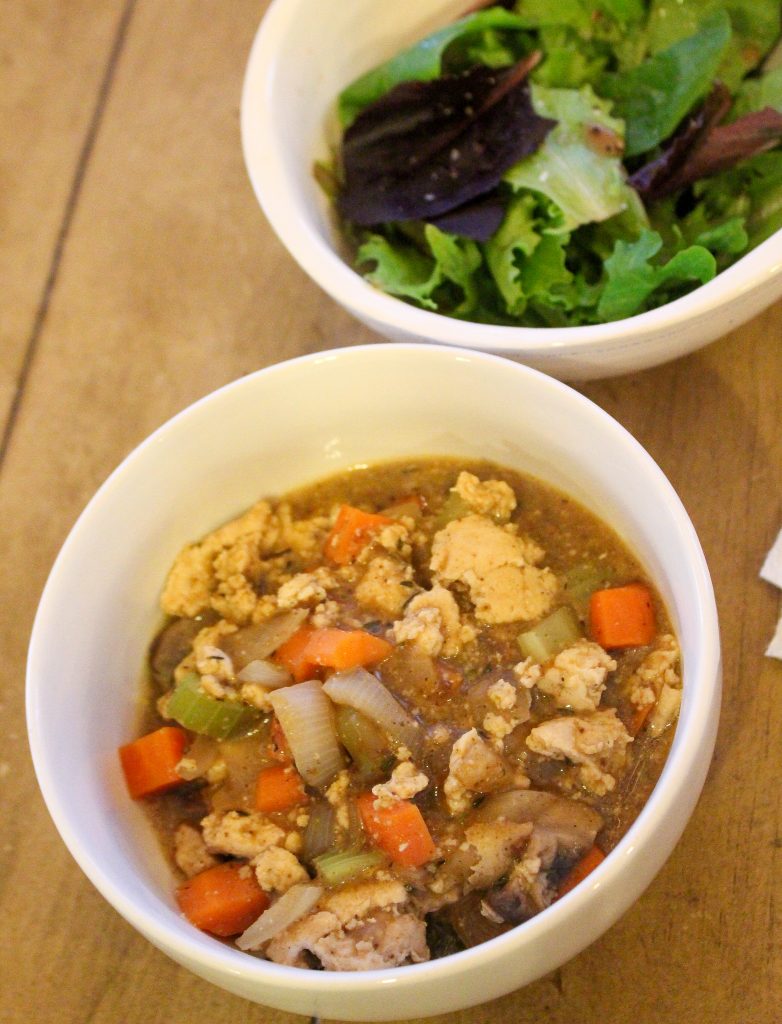 and after we've had dinner and played a couple rounds of Jenga, the Pilot comes home from his trip! He braved Trader Joe's for some of the necessities and said it was AWESOME. It wasn't busy at all – the evening must be a good time to go – and they had everything we needed. (The did cut him off at one butter. I'd asked him to buy three so we could bake cookies but they have a limit. I'm glad, though, because it's probably the reason why they still had butter and many other necessities at the store!)
I used to joke that chores, like emptying the dishes and doing laundry were parent foreplay. Now with everything that's going on, a bag of Trader Joe's groceries does the same thing haha. I was SO stoked when he came home with the goods. We clean up the kitchen together and get the crew ready for bed.
8:30pm: the Pilot takes over bedtime duty while I fold laundry mountain and then write up this post.
10:45pm: a glass of red while while watching the end of Love Is Blind on Netflix. I'm so sad it's over already and it's been such a welcomed distraction. Why do the brightest stars burn the quickest? 😉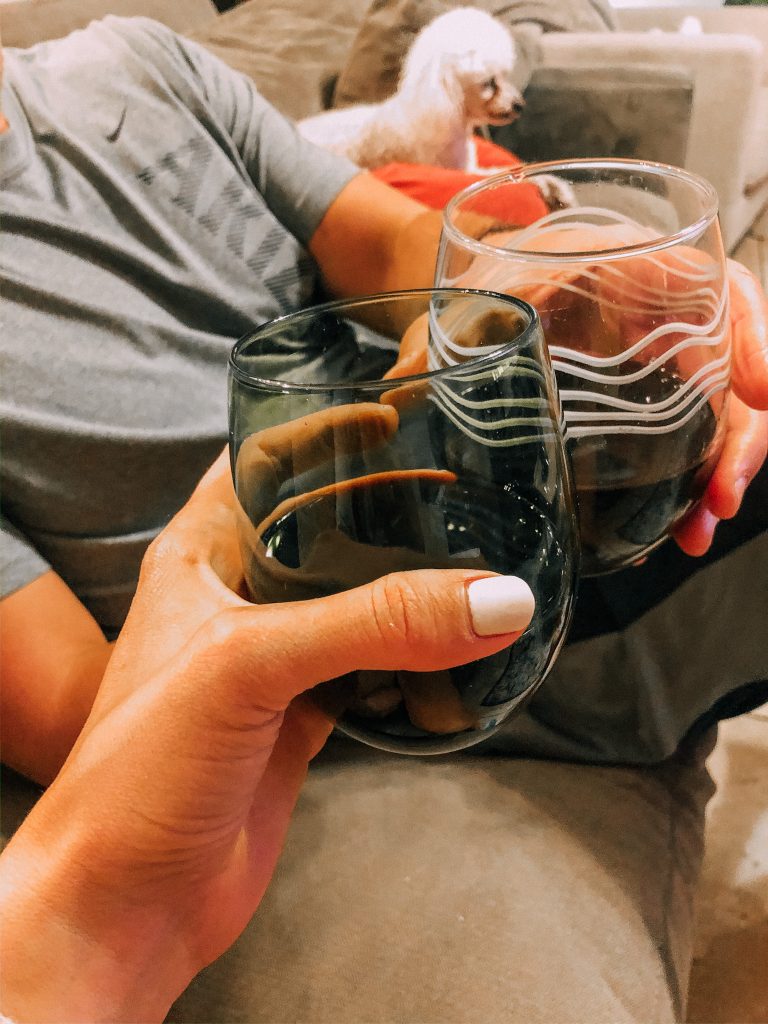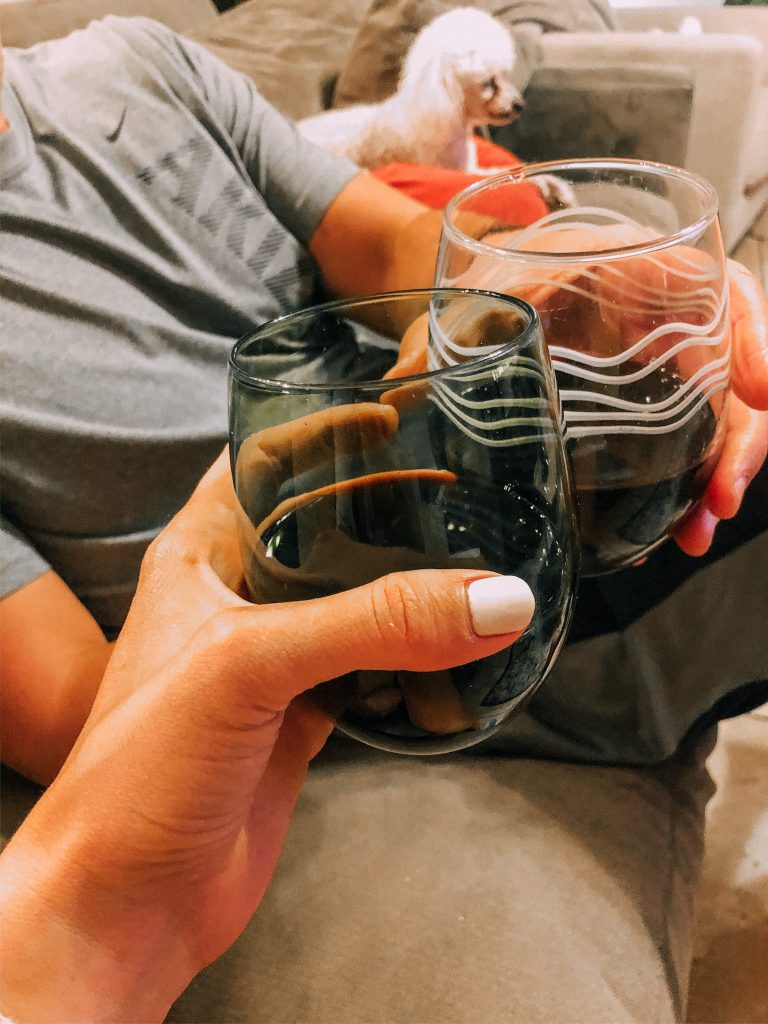 11:30pm: lights out and ready to do it all over again.
Tell me friends: what was the best thing you ate yesterday? Have you discovered any new snack faves? I forgot how much I love toast with vegan cream cheese and EBTB seasoning.
Thanks for stopping by the blog today and sending you a virtual hug. <3
xo
Gina
More WIAW posts:
More WIAW posts here, here, here, here and here. For the original WIAW fun, check out Peas and Crayons.