Hi everyone! How's your day going?? Mine has been full of training appointments and a small shopping blitz at TJ Maxx –our TJ Maxx here is surprisingly awesome….oh, and a mountain of carrots.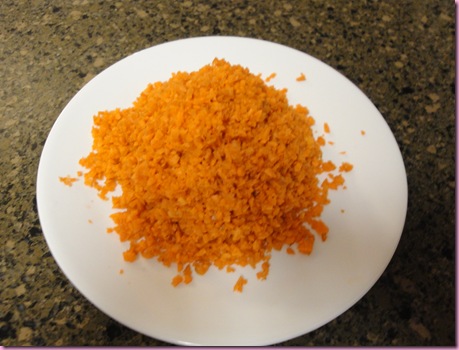 Since I couldn't get that sweet, tasty Indian carrot dish (which, thanks to you guys, I found out was called "Gajar Halwa") out of my mind, I decided to make my own.
Before I got started, I had the urge to juice some things.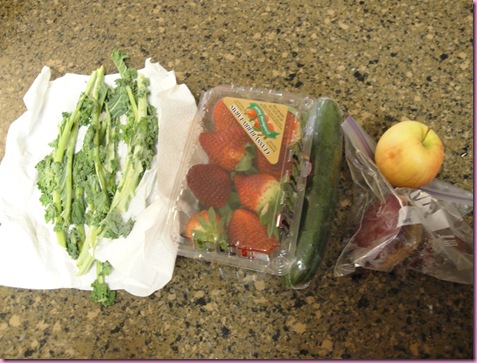 Blurry kale ribs, 6 strawberries, an organic cuc, 1/2 beet and an apple
It was probably the coolest looking Cullen juice I've made.
Layers!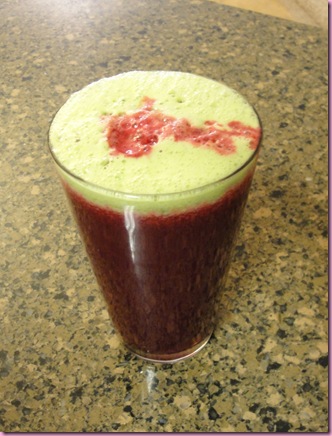 I chugged that bad johnny down and got to work.
Vegan Gajar Halwa

Serves two normal people as a side dish; serves one Gina as a snack

Ingredients:

-8 large carrots

-1 T Earth Balance (I use soy-free; roll with any vegan butter of choice)

-sea salt

-1 C almond milk

-1 t vanilla extract

-pinch each of nutmeg and saffron

-1/4 t cinnamon

-7 drops liquid Stevia (or sweetener to taste)

Directions

1. Heat a skillet just over medium heat (one 1-10, ours was set at 6) while you prep the carrots

2. If you have a lot of time, grate the carrots. If you're impatient like me, throw them in the food processor and pulse until crumbly but not mushy

3. Add 1/2 T of the Earth Balance to the skillet, the carrots and sprinkle with a pinch of sea salt. Cook the carrots, stirring occasionally for 7-10 minutes.

4. Reduce heat to medium low and add the almond milk, the other 1/2 T Earth balance, the saffron, vanilla, cinnamon, Stevia, nutmeg and saffron.

5. Cook for 15 minutes until mixture is thick and creamy, almost like a pudding. If you can stand it anymore, it's perfectly edible after 10 minutes

6. Feast… and wish you had made more

©2010 The Fitnessista
Please let me know if any of you give this a whirl!

Conference call, core body fusion (just abs and stretching) and then meeting the girls for dinner and a movie. We're seeing Remember Me- I'm thinking that I'll love it

xoxo,
G$