044: Healthy living and business inspiration with Teami founder Adi Arezzini
Hi friends! Today, I'm excited to be chatting with Adi Arezzini, who founded the popular tea and lifestyle brand Teami.
Download the full transcript here.
In today's episode, we talk about:
– How she founded Teami
– The importance of gut health
– Plant-based skincare
– How to make exercise part of your life
– Advice she would give to business owners or aspiring business owners
and so.much.more!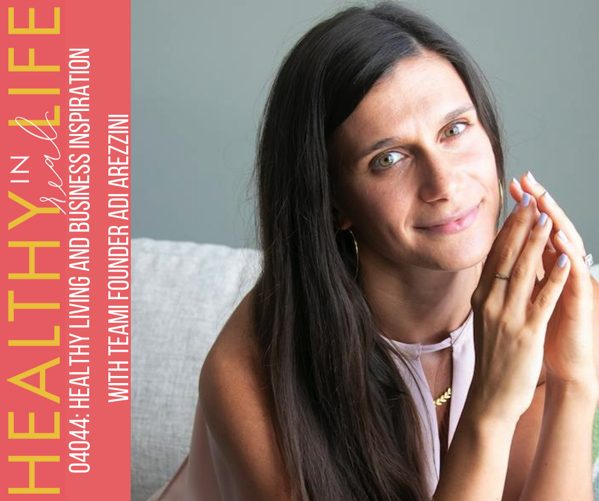 Here's a bit about Adi if you haven't met her yet:
From a young age, Adi was taught the benefits of holistic health and plant-based eating by her health-conscious mother. At 19, Adi served as a combat trainer for the Israel Defense Force and after years of living in the army barracks, Adi realized her gut wasn't functioning properly due to a lack of access to quality nutrition. Adi began experimenting with loose-leaf tea blends as a natural remedy to handle excess of toxins built up in her digestive tract. Teami was created out of a need for Adi to solve her own health problems and it led to helping hundreds of thousands of customers worldwide with their wellness and beauty needs.
Today, Adi has grown the lifestyle tea brand backed by celebrities like Demi Lovato, Kylie Jenner and Cardi B to include tea-infused beauty oils and green tea mask + scrub. Teami is quickly outgrowing their 17,000 square foot office-warehouse hybrid located in Seminole, Florida and is sold nationally at Ulta Beauty, Urban Outfitters, Anthropologie, Riley Rose, Revolve Beauty, Francesca's, Vitamin World, Lucky Vitamin and so many more!
Teami Blends made the INC 5,000 in 2018, with $9.8 Million in Revenue, has 45 employees and has grown by over 2,000% in the last three years. Between her account and Teami's account on Instagram, they have over 1.1 million followers.
Resources from this episode:
– Enroll in HIIT Bootcamp here and use the code podcast for $5 off. If you order before tomorrow, you'll get everything for $29!
– Shop Teami here
Thank you so much for listening and for all of your support with the podcast! Please leave a rating or review if you enjoyed this episode. If you leave a rating, head to this page and you'll get a little "thank you" gift from me to you.
You can listen and subscribe to the podcast on iTunes, Stitcher, and Google Play.