046: Nutrition for Cancer Prevention (and overall health)
Today I'm chatting with Lauren Larson, RDN about nutrition for cancer prevention.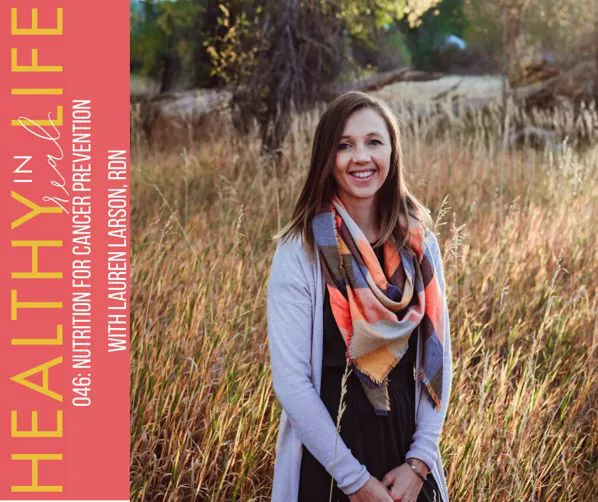 Full transcript is available here.
Unfortunately so many of us have been affected by cancer in some capacity. While there are many circumstances we can't control, I'm all about taking the steps we can when possible to protect our health. I'm thankful to have Lauren Larson, RDN on the show today to share her tips on cancer prevention and nutrition.
Here are some of the things we discuss in this episode:
– How many people are diagnosed with cancer each year? What types of cancer are considered preventable?
– 10 cancer prevention recommendations
– How can you assess your risk?
– Recommended diet for overall health and longevity in addition to cancer prevention
– Her thoughts on animal protein and how much protein shed recommend
– A little bit about CBD
and so much more.
Here's a little bit about Lauren:
Lauren's journey to becoming a Registered Dietitian Nutritionist (RDN) began after volunteering to teach nutrition to kids. This experience inspired her to leave her Engineering career and pursue an MS in Nutrition from Colorado State University and become an RDN. Since then, she has been working in inpatient clinical and outpatient oncology. She lives in the mountains of Colorado and enjoys trail running, mountain biking, skiing, yoga, and barre. Her and her husband have two young children, ages 1 and 4, and a rescue dog.
If you have specific questions for Lauren, please leave them in the comments section and I'll be happy to pass them along for you.
Resources from this episode:
Get 21 days of Les Mills workouts for free here
Thank you so much for listening and for all of your support with the podcast! Please leave a rating or review if you enjoyed this episode. If you leave a rating, head to this page and you'll get a little "thank you" gift from me to you.
You can listen and subscribe to the podcast on iTunes, Stitcher, and Google Play.