$14, 40 minutes, 4 make-ahead toddler snacks
Even though the days of pouches, purees and bite-sized offerings of our food -along with the constant worry of potential allergies and or/choking- we're 100% in the toddler food stage. This means that Liv can eat pretty much anything I eat (ok, so I'm still afraid to give her shellfish) and it's so much fun to ask her what she's in the mood for. Even though snacking and meals are easier in theory, I still plan ahead as much as I did during the solids introduction phase. Since we're often out and about, I'll have some snacks and water bottles on hand in the car with us. Just like during the our puree days, I still like to get as much bang as possible for our bank and proverbial time buck.
Here are 4 snacks I made (with multiple servings) in less than 40 minutes for less than $14. You can freeze almost all of them to quickly reheat throughout the week.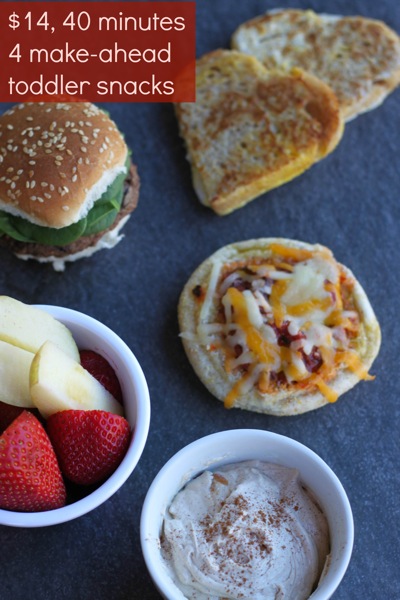 The snacks:
-Peanut butter cinnamon dip
-French toast sticks
-Pint-sized pizzas
-Baby black bean burgers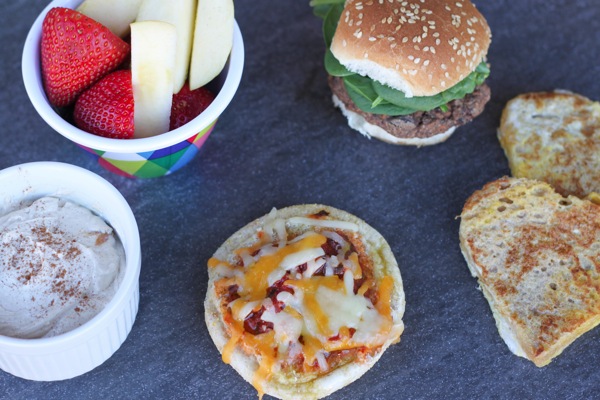 Many of the ingredients I already had on hand, but are inexpensive to stock up the missing pieces. I was able to get all organic ingredients at Trader Joe's (minus the English muffins) for less than $14.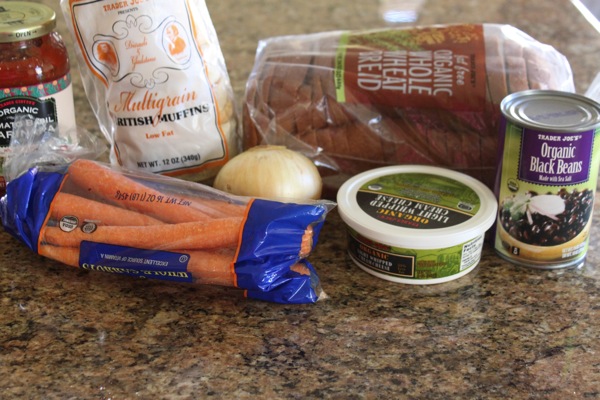 -1 can (14 oz) black beans, drained and rinsed
-1 carrot
-1/2 yellow onion
-1/2 cup "dry" ingredients (almond meal, oat flour, and oatmeal all work nicely)
-garlic powder, sea salt, pepper, cumin
-One container of cream cheese, softened
-2 heaping tablespoons nut butter of choice
-cinnamon and honey
-2 eggs
-4 slices of your favorite bread (optional: cut into shapes or sticks)
-1 tablespoon milk
-1 teaspoon vanilla
-nutmeg and cinnamon
-4 English muffins
-1 jar of your favorite marinara sauce
-Toppings and cheese of choice
Grab your ingredients, set the oven to 350 and your timer for 40 minutes!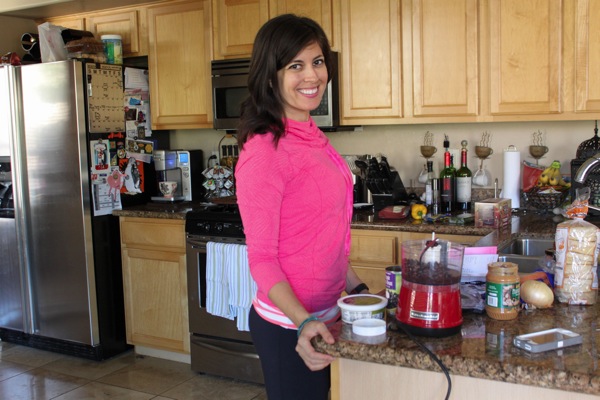 Here are the steps to make everything:
1) Set the oven to 330 degrees and spray and cookie sheet with nonstick spray.
2) First, focus on getting the black bean burgers in the oven. In a small food processor, add 1/2 the can of black beans, the carrot (roughly chopped), the onion (roughly chopped), sea salt, pepper, and seasonings of choice (cumin and coriander are lovely; I used 1/4 teaspoon garlic powder and 1/4 teaspoon of taco seasoning I had on hand from TJs). Process until you have a smooth puree. Transfer the mixture to a bowl and stir in the dry ingredients and remaining beans (keeping them whole for texture variation).
3) Using a melon ball scooper, make burger patties (smaller ones- I got 8 from the batch) on the cookie sheets and place in the oven. They'll be in the oven for 30 minutes, flipping once halfway through.
4) Next, wash the food processor out and make the cream cheese dip. Place the entire serving of cream cheese into the food processor along with 2 heaping tablespoons of your kiddo's favorite nut butter, 1/2 teaspoon of cinnamon and 1 tablespoon of honey. Blend until smooth. A little tip: store this in the now-empty cream cheese container. (If you need to eat a little to make it work, do what you need to do.)
5) Prep the pizzas to get them in the oven with the black bean burgers. Take 4 English muffins and slice them in half before placing each half cut-side up in a roasting dish. Top with marinara sauce, cheese and any toppings. Flip the black bean burgers and get the pizzas in the oven, too. (By this time you should have about 10 minutes left of cooking time.)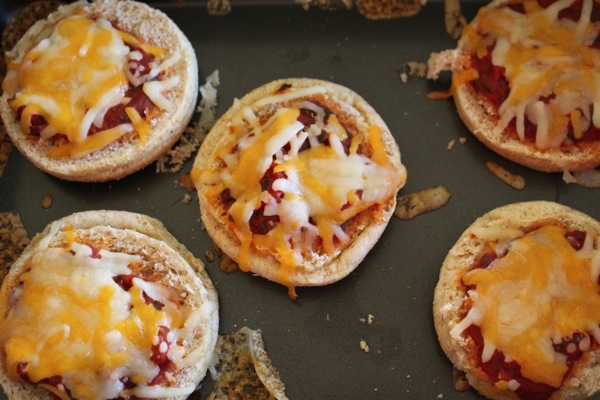 6) Make the French toast sticks. Heat a pan to medium low while you whisk the eggs in a bowl with the milk, vanilla, and a little cinnamon and nutmeg. Add the bread slices or shapes to the egg mixture, coat well and cook in a little butter for about 1-2 minutes per side, golden and fully-cooked.
That's it!!
If you want to freeze anything, make sure to allow the food to come to room temperature before freezing in sealed freezer bags or freezer containers.
To reheat: place the pizzas or burgers in the toaster oven. The burgers also reheat well on the grill or stove top.
For the French toast sticks, microwave, heat in a pan on the stove or place in the toaster oven.
The cream cheese dip should easily last a week, if it isn't eaten by then 😉 Liv thought the fruit and her hands were equally wonderful dippers 😉 You could also serve it with crackers, berries, banana, on graham crackers, bagels or pancakes. Another delicious option would be to spread the mixture onto a tortilla, add fresh fruit, roll up and cut into bites.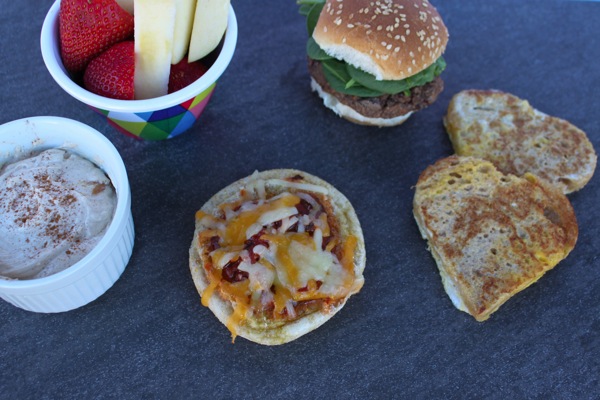 Hope you enjoy!! <3
xoxo
Any favorite make-ahead toddler snacks??
More:
1 month of baby food, 1 hour, $20