Thank you so much to those of you who entered the Baby K'Tan giveaway! I was cracking up reading your funny stories… they were hilarious.
Here's the winner:

It totally reminded me of the scene from Four Christmases (I love that movie, can ya tell?) where the mom says "when he hurts inside and can't use his emotion words, he takes to streaking."
Anyway,
Catie, please send me your info and which K'Tan carrier you'd like and I'll forward it along to the Baby K'Tan fairy 🙂
Thanks again to everyone for entering and stay tuned for future Family page giveaways! <3 There are SO many awesome products out there, so I'm stoked to be able to share them with you guys.
Guess who is growing like a little weed over here?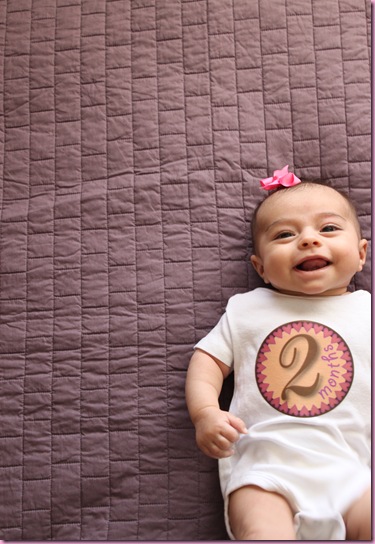 Ms. Smiley Face, herself 🙂
Whenever she's snoozing, I can't wait for her to wake up. The second she lets me know she's awake, I look in her eyes and say "Good morning" or ask how her nap was, and she'll give me the biggest, gummiest, most perfect smile. My heart can't even handle it. We'll have conversations now, where she'll coo and make noises at me, I'll repeat them or make up my own little noise, and we go back and forth. I've officially crossed over into "goo goo ga ga" land, and there's no turning back 😉
Liv was full of smiles even throughout the night, where she only took tiny cat naps and would wake up ready for a fresh diaper or some food. I'd go take her out of the bassinet, she'd stop crying and smile at me while I talked to her, and then remembered she was crying and went right back to it. Funny girl. I think she's going through a growth spurt this week, so even more eating and snoozing than usual. She' also extra cuddly and just wants to be held, so I'm taking advantage.
Since Tom has been working night weeks for the past two weeks, it's been our first time consecutively doing the bedtime routine with just the two of us. I've mentioned it before, but it makes me feel confident that I could do this by myself if Tom were to deploy or if we get stationed far away from family for our next little one. My mom came over a couple of nights to do the bedtime routine with me, but she's been sick (we miss you, madre!), so it's been Liv and myself over here at night.
I wasn't quite sure how to give her a sink bath without an extra set of hands, so I started taking a bath with her in our big tub. I'll put on my swimsuit and fill up the tub with a few inches of water, set her next to the tub in the babysitter balance in her diaper, get in, reach over, pick her up, and give her her bath with myself in the tub, too. So much easier, and she LOVES it. We'll do the usual lotion, brush hair, jammies, book, Jewel lullaby and rock/bounce to sleep routine, and I've successfully gotten her to bed at her usual bedtime minus my favorite guy.
Two things I still have yet to get the hang of: clipping her nails and getting the boogies out of her nose. I don't want to cut her tiny fingers, so I'll file her nails instead of clipping them and as far as the nose thing goes, the brain sucker (aka bulb syringe) freaks me out. I've been using saline swabs for babies, which work ok, but the NoseFrida should be here tomorrow.
Liv got her first set of shots last week, which was hard for everyone. We originally planned to split up the vaccinations, but our pediatrician's office didn't buy individual vaccines- just "cocktails" of multiple shots in one. Instead of getting 4 shots + an oral medication, she got two, which contained all of them + the oral. She sucked that Rotavirus down like it was candy. As far as the shots go, seeing your baby get pricked with the shots and the sad face and tears that follow is the worst thing ever. She cried, I cried a little as soon as the nurse closed the door and we cuddled her, took her to the private breastfeeding room so she could nurse afterwards and then came home. No fever or fussiness, just very sleepy all day.
She's grown so much over the past two months and every day, I'll see her do something new. Yesterday while she was on her play mat –she lays there while I brush my teeth and put my contacts in each morning- I walked back over to her and she was on her side. I thought there was no way she would have flipped to her side already, so I put her back on her back, and talked to her for a second. She kicked her leg out to propel herself, rolled onto her side again, and started to grunt as she used her hand to try to push onto her stomach. Watching her grow, develop and how much she's changed over the past two months has been truly incredible.
Over the past two months, I've had quite a few "I can't believe we have a baby" moments. I'll look at her, look at her dad and feel like it's too good to be true. <3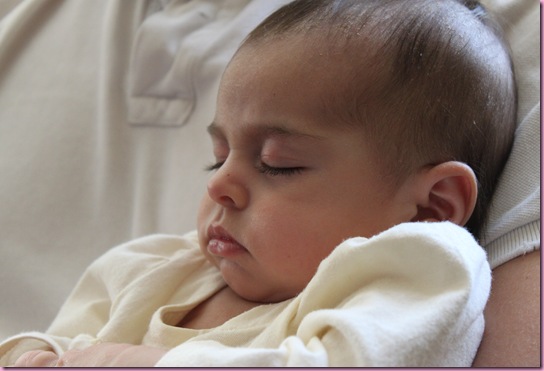 I'm a very lucky girl.