Hey hey! Happy Thursday! Thank you so much for all of the "get well" wishes. Thankfully, the cold was zapped quickly and I'm on the ups. Thank you to those of you who took the time to listen to this week's podcast episode, too. I'm so happy you enjoyed the episode— this one was SO much fun to put together.
For today, I have an all-new workout for you! This is one you can do anywhere in 20 minutes. I'm a huge fan of AMRAP (As Many Rounds As Possible) workouts because they encourage me to work HARD. I know I have a set time to go after it, so I feel extra motivated to crank out as many rounds as I can within the time block. This one is body weight only, so no excuses!
(As always, check with a doctor before making any fitness changes. Honor your body and modify as needed.)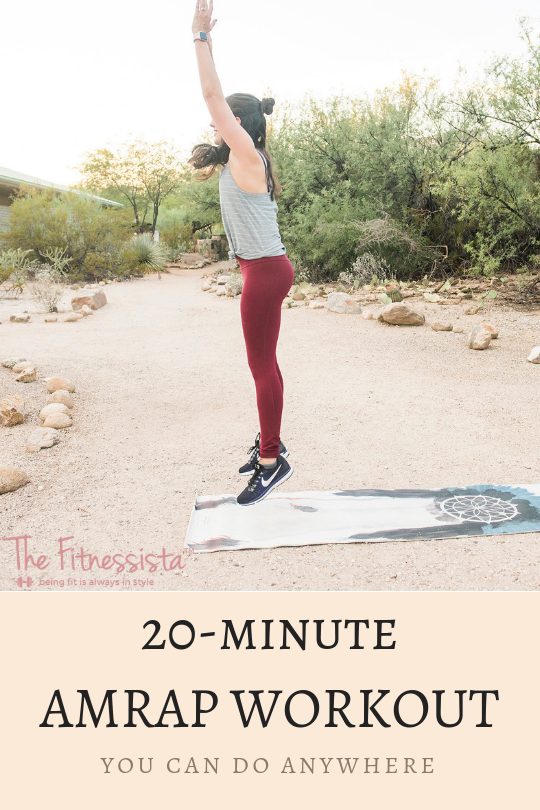 (wearing Zella leggings and lululemon tank)
Here's what the workout looks like:

Form cues and tips:
Run .25 miles or power walk .12 miles: challenge yourself on this one!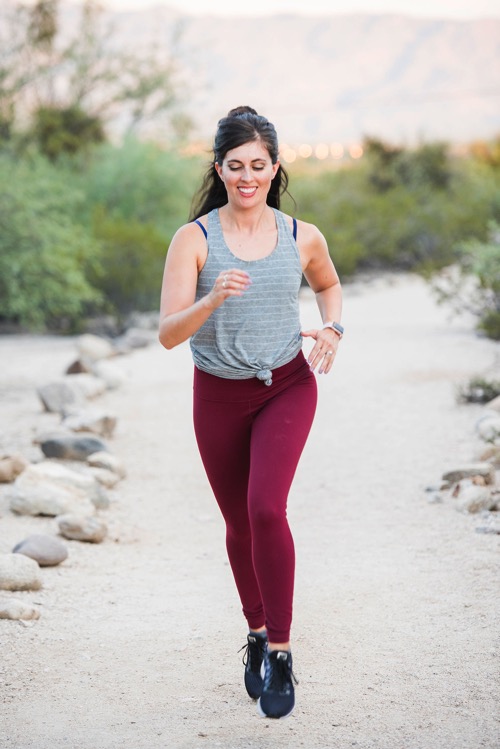 Burpees x 10: Sit into your squat and bring both hands to the floor, firmly planting your entire hand. Walk or hop back to a plank position (push-up here optional), walk or hop your feet back to your hands, and jump vertically, raising your arms overhead.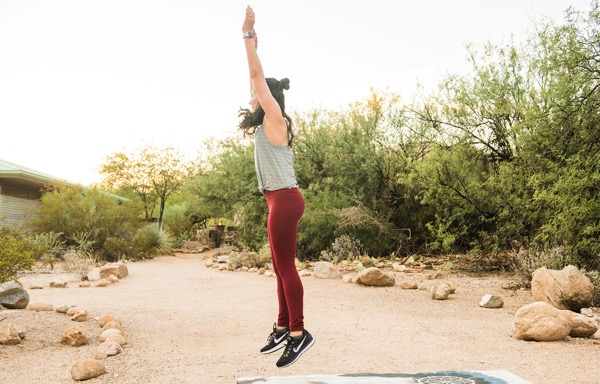 Push-up and shoulder tap x 10 total: Start on your knees or toes, with hands wide and knuckles pressing into the floor. Keep your hips down as you perform your pushup, exhaling on the way up. As you rise, tap your opposite shoulder with one arm. Place the hand back down before your next pushup and repeat on the opposite side.
Mountain climbers x 20 total: Get in plank position with your wrists under your shoulders. Bring one knee towards the elbow on the same side. Move back to plank and switch to the opposite side. For more of a challenge, move as quickly as possible.
X abs x 20 total: Lie on your back with your arms and legs out in an "X" shape and off the ground. Lift one arms and the opposite leg up, reaching towards your toes, lower back down and repeat on the other side.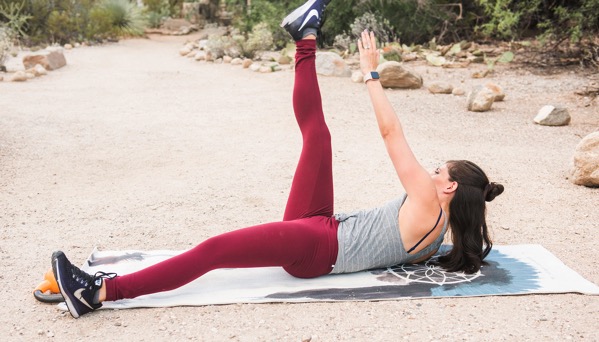 Please let me know if you give it a try!
Workout check-in: what did you do for your workout today, or what's on the plan later? I'm taking a FLAMENCO class! AHH. I'll be sure to report back in Friday Faves.
Have a wonderful day!
xoxo
Gina
Wearing: Zella leggings and lululemon tank
Photos: Photography by Jacquelynn
More bodyweight workouts:
Collection of bodyweight workouts you can do anywhere