One of my favorite ways to switch up a usual weights routine is to play with reps; often pyramid-style workouts. It makes the workout fly by, and something about getting to the last round feels so triumphant. Here's something fun I recently tried.
"Fun."
As Tina says:
"It doesn't have to be 'fun' to be fun" 😉

The moves:
-squat jumps: get into a squat position (booty LOW and back), and touch the floor. Keep your abs engaged and chest lifted. Powering through your heels, spring up, reaching your arms towards the ceiling. Land with a soft knee. Repeat.
-windmill lunges: step forward into a lunge position, with your chest lifted, core tight, and sink straight down into a lunge. Watch your front knee to make sure it doesn't extend past your toes, and focus on sinking down instead of forward. While you're in your lunge, rotate through your torso to "chop" your opposite hand to the inside of your front foot. Reach up towards the ceiling with the same hand as the lunging leg. Step your foot back together, to a starting position before repeating on the other side.
-pushups: walk your hands out from your feet, so you come into a plank position. Make sure to squeeze EVERYTHING and keep your hips in line with your body; you're a straight line from your head to your ankles. Feel free to drop to your knees if you need to, but make sure you don't raise your hips up. Sink into a pushup, squeezing your chest and exhaling to rise up.
-leg lift and cross tap: in your plank position, lift one leg of the floor (squeeze your glute to lift your leg). Cross it over the stabilizing leg, tapping the floor if you can. Bring it back up behind you, lower down and repeat.
-frog crunch: keep your elbows wide (in line with your ears) and come into a crunch, bending your knees towards your body. (Like a frog!) As you inhale, lower your shoulders down and extend your legs straight in front of you, into a hover. Exhale to repeat.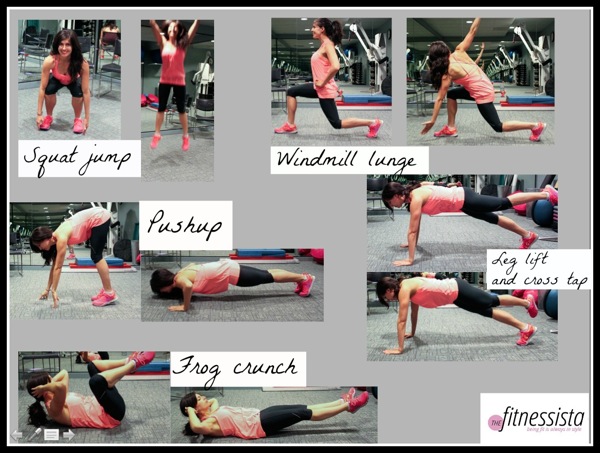 How it works:
-You'll go through the circuit, completing 2 reps (on each side, if applicable) for each move
-Go through again doing 4 reps
-Then 6 reps
-8 reps
-and finally, 10 reps!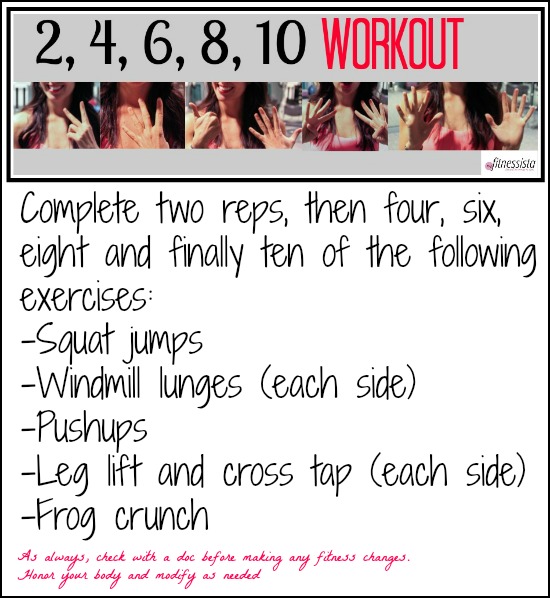 It looks nice on screen, but I promise it's a killer; the perfect exclamation point to a strength circuit or cardio workout. Do you play with reps? What's one of your favorite strategies? Remember, anything we can do to keep the body from kicking into cruise control is a good thing. One of my favorite methods: 10, 9, 8, 7, 6, 5, 4, 3, 2… 10!
Enjoy <3
xoxo
Gina
PS. I wanted to show you the back of my new top! I'm kind of in love with it.