We had our third birth class this week, and I have to say it was the best one yet. I know I learned a lot, but I couldn't tell you much about it since we ended class with a 20 minute relaxation massage. I left feeling like a noodle, with a goofy smile on my face. Always the joker, Tom said while he was rubbing my back "isn't this what got us into this situation?" and everyone got a good laugh out of it. The husbands learned different pressure points and techniques to focus on while we're in labor, and having him press on my lower back felt absolutely amazing. I know it's going to help a lot when I'm trying to breathe through labor –and shrieking profanities in between contractions.
Lately, I've been thinking about fun things I can do with the baby and playtime type stuff. I know that they need tummy time and they enjoy having books read to them, but what else do you do with a baby? I remember the little Spanish songs my mom and nana would sing to me, and all the other babies in our family, but I'm thinking of other ideas. I used to babysit a lot in high school and college, but the kids I babysat were older, not babies.
One of the books I read said that babies don't need to be entertained all day and that for every 10 hours, they're only really alert for 1. They're happy just to be near you, looking around and taking everything in.
We'll be spending a lot of time together, and I want to help her learn and enjoy the day as much as possible during the times she is alert and wants to play.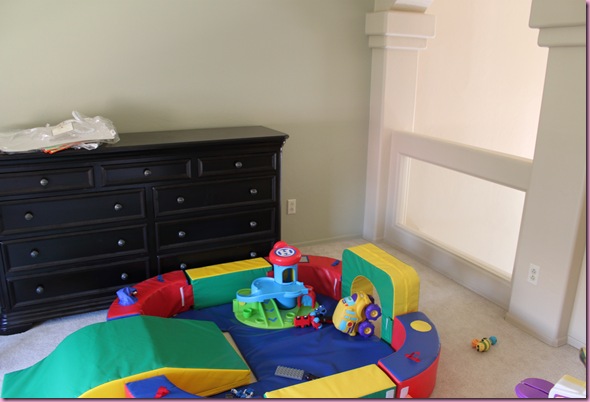 [The family who lived here before us had that playset in the nursery. Now I think it would be awesome to get one similar]
Here are some of the things I've found online to do with the little one when she's here:
1) Toys. Rattles or other infant-friendly toys
2) Make funny faces at them. [I'm pretty good at this one]
3) Put on soft, soothing music, and sway while you hold the baby.
4) Talking to the baby, showing them different objects and colors.
5) Swing time
6) Teaching them "eyes", "nose" and "mouth."
7) Practice smiling
8.) Hang a mobile or let them swing in a swing.
What was your favorite way to spend quality time with your baby? When are they old enough to go for walks in the stroller?
Friends sans kids, do you remember any of the little songs your mom would sing to you when you were little?
Something to read: Stephanie sent this to me on my 24-week update, and I sent it along to Tom. It made me a little teary to read, and he loved it too:
50 Rules for Dads of Daughters