and feeling sleeeeeeeepy.
20 weeks:                                                                           26 weeks:
28 weeks: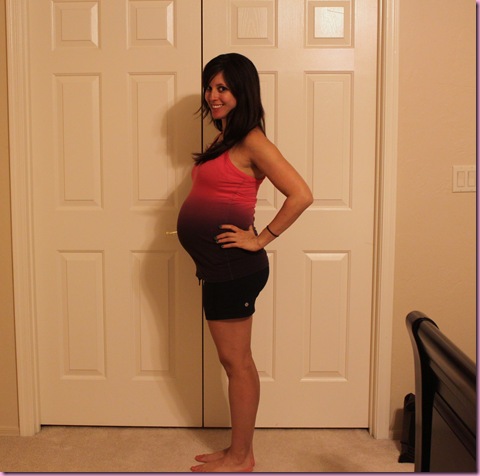 I don't know where it came from, but I'm definitely starting to feel dragged down a little bit. It's funny because I'll have CRAZY bursts of energy, and then suddenly feel like I got hit by a truck. I'm definitely taking advantage of extra resting and occasional naps. To the people who told me to sleep as much as I can during the pregnancy: I'm taking your advice to heart. In college, I used to do fine –maintain my grades/scholarships, teach and take dance classes at night- on just a couple hours of sleep, and since I haven't had to do that anymore after college, I've lived up my nightly 7-8 hours of zzzzzz's. However, I feel like when the time comes, my body will switch back to that mode and do what it needs to do on little sleep. My mom said that her mantra was always "sleep is overrated."
New this week:
-I officially have no bellybutton. In the beginning of all of this, I was worried because my bellybutton turned into a small swimming pool. It's gone now. There's just a tiny tuck of skin where my bellybutton used to be, and I'm still wondering if it will stay a no-bellybutton or pop into an outie. Also [sorry, this is weird but this is also my TMI page] my belly is covered in blonde peach fuzz. I heard that this was a side effect of pregnancy, and am thanking my lucky stars that the one physical characteristic I got from my dad –he's blonde with blue eyes- is blonde leg hair, arm hair and now.. belly hair.
-I have my gestational diabetes test tomorrow morning. I'll report back on how it goes, and in a strange way, I'm kind of excited to try the infamous orange flat soda drink. Of all of the artificial flavorings out there, orange is my favorite, and I'm taking a trip to Nordstrom Rack as a reward for getting robbed of blood [it opens today!].
-Taking Bradley Method classes has been one of the best things we've done to prepare for a healthy pregnancy and birth. I thought it would be a smart move since Tom doesn't have a lot of outside time to read baby books, and we could spend some extra time together and learn the necessities during our classes [we have 12 two-hour classes]. What makes me most excited is the fact that he really understands why having a natural childbirth is important to me.
I wondered if it would end up being one of the things he just decided to go along with since I was so adamant about it, but he really gets it from all of the information he's learned in our classes. The other night, our instructor asked each husband why he wanted a natural childbirth and Tom's response was amazing. [We're also learning about all of the other birth options and procedures so if something else needs to happen, we'll be prepared for that, too. We're going into this whole thing with the goal of having a natural childbirth, but if that doesn't happen, a healthy mom and baby are the #1 priority]
-We watched the Happiest Baby on the Block DVD and loved it. I think that it will be good to have those strategies in our back pocket, and now know how to swaddle. It's really just like wrapping a burrito 😉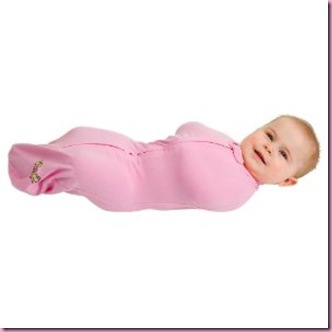 Source
I always thought that swaddling looked so counterintuitive –"want to feel comfy and secure? let me wrap your arms to your body so you can't move"- but apparently it works. I've already stocked up on quite a few Aden + Anais blankets, courtesy of the amazing BabySteals deals.
-All of her newborn – 3-month clothes are put away in the changing table dresser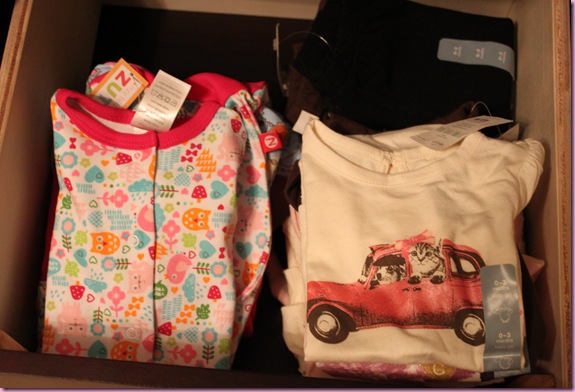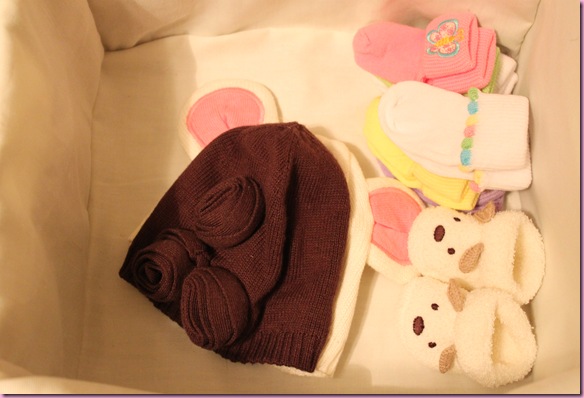 and still need to be washed. The rest of her clothes are in her "big girl" room and we'll just wash and transport them to the nursery as she grows into them.
-There's a feeling I have that she's going to come earlier than her due date- around 38 or 39 weeks instead of the full 40. Maybe that's something every first-time mom says, and maybe it's just the fact that I'm so anxious to meet her, but I have a feeling she'll surprise us. She better just wait until she's fully-baked and ready, though.
Two links that have been sent to me this week: [warning: both made me cry. One out of sadness, one out of happiness]