and feeling… good.
(Random: the Pilot recently found a video on his old computer of my friend and I doing our pointe dance to that song. It was one of my faves)
Is there some kind of pre-labor euphoria that hits? If so, maybe that's what's going on. Even though my hips still hurt like the dickens and I'm not sleeping as well, I feel pretty great this week.
15 weeks:                                                                    26 weeks:
34 weeks:                                                                  36 weeks:
Thar she blows, my friends: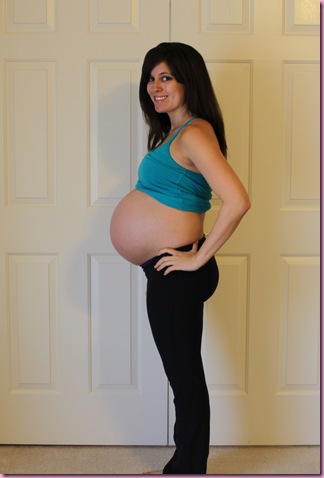 I'm kind of boring this week. Not too many changes –just excited to be full-term next week!- but here's what's been going on:
-I don't expect my brain to come back anytime soon.. it's been gone for so long. Tom was talking about all of the things we have to do this weekend to make sure we're ready and I can't remember 90% of them. Sticking out in my mind: installing the car seat and packing the suitcase.
-He's officially on baby watch. I called him earlier to say hi, and didn't leave a message. He called me back instantly.
"Are you ok?!"
"Yes, just calling to say hi and see how your day was going."
"Ok good, just making sure!"
His boss was asking him about when we're due, so until game day he'll only be flying locally and will be available via radio if anything goes down.
-The baby bag you guys twisted my arm into getting (heh heh) just arrived as I started typing this.
I LOVE it.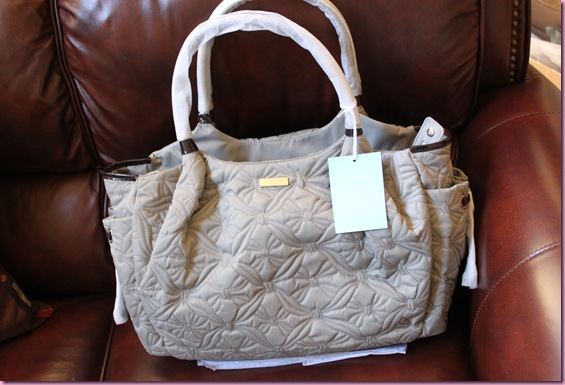 It's large without being too big –bigger than most of my lulu bags- and has a changing pad + tons of compartments. I know I'll get very good use out of it.
-Eats are pretty much the same, but right now I'm craving more bland and salty foods.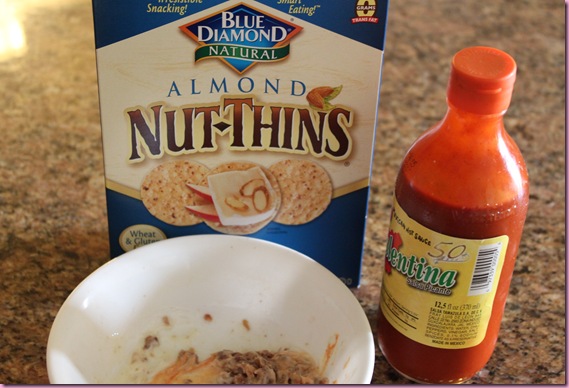 I'm still loving spicy, but it's started to give me heartburn, which I've never experienced pre-pregnancy.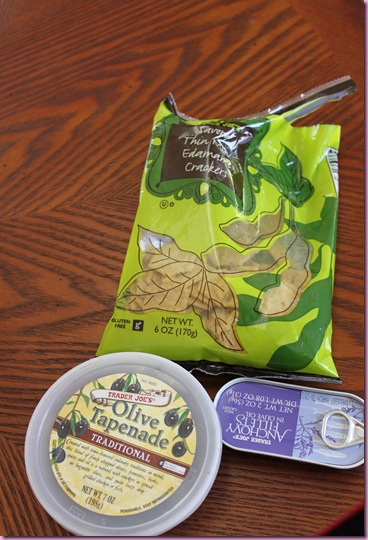 Seafood sounds absolutely horrendous to me, except for anchovies. I'm kind of obsessed with them. In front of the crackers in the pic above, I made a paste out of a can of anchovies, lemon juice, mayo, hot sauce, sea salt and garlic, and scooped it onto crackers. I also like them in pasta sauce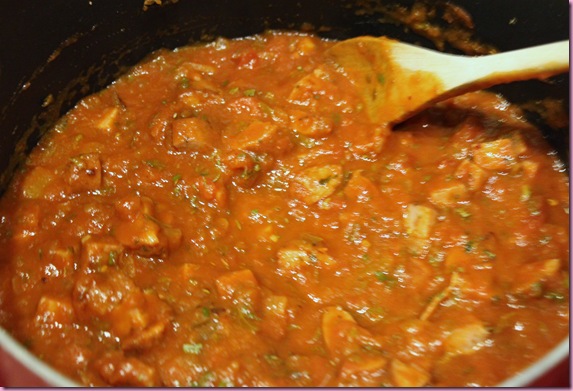 and plain, which I never thought would happen. The idea of little fish in a can always seemed so gross to me, but I guess don't knock it until you try it 😉
Also, lots of trail mix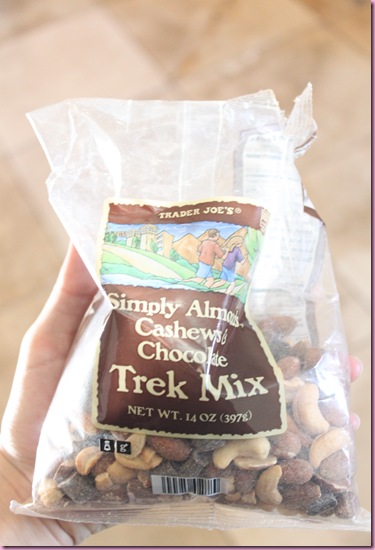 (a chocolate chip in every bite)
chicken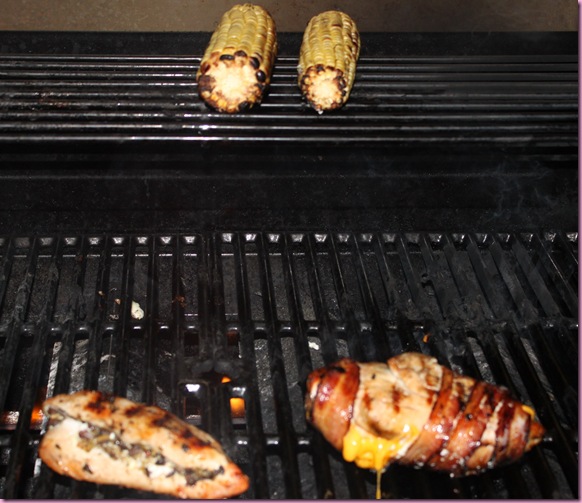 and yogurt, in addition to the usual fare.
Bonus: when little bro the cheffer makes gf cookies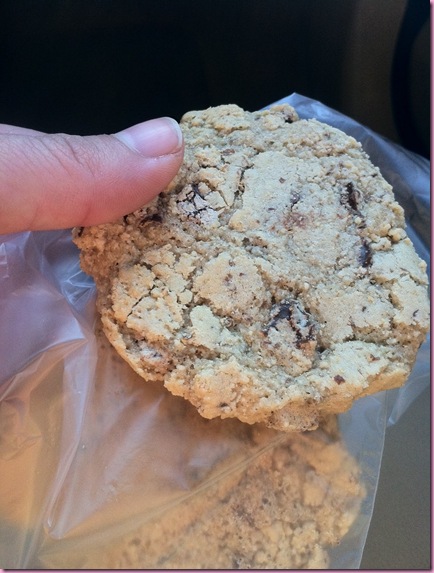 Some pregs crave ice cream… I'm more of a cookie/cake/brownie girl 🙂
-Sleep is hit or miss. Either I'm crashed out for the entire night, or will toss and turn uncomfortably. Last night, I tossed and turned, got up twice to go to the restroom, and then woke up again when I somehow ended up flat on my back and the baby's entire foot was prodding out of my stomach. I think she was trying to wake me up and tell me to get back on my side… it worked. Then I laid there for a while rubbing her little foot, and she would kick back.
-Baby will be in her second dance show at work this week. I was in one shortly after I started teaching, and remember driving to the recital, feeling so gross and weird – I found out that week that I was pregnant. I'll ask the girls if it's cool to post a video of our dance- it's a fun one 🙂
-Still sappy. I cry really easily, out of happiness, when I read or hear something sad, or for no reason at all. Yesterday I lost it while watching this video – I know what it's like to see a little tail shake so hard you think it's going to fall off. Last time Tom came home from deployment, Viesa jumped high enough to kiss him on the mouth.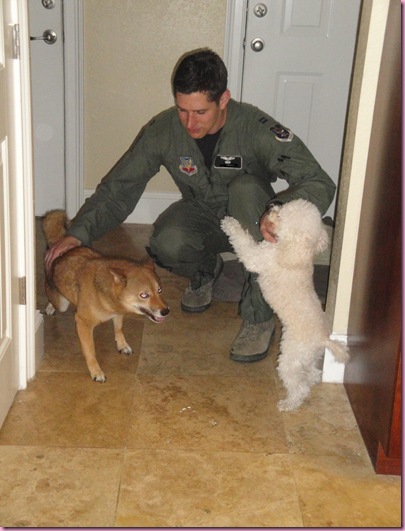 -Total weight gained: 27 lbs. as of last Friday's midwife appointment
-I have midwife appointments every week from now on. It's kind of a pain because the office is far, and all they do is check your blood pressure, weigh you, and see if you have questions, but the fact that I get to hear the baby's heartbeat makes it 100% worth the trip. They're supposed to start internal exams next week, but told me if there are no signs of labor and I'm feeling good, we can skip it. Apparently it's not the most fun thing in the world :/
Keep growing strong and healthy, little baby. Can't wait to meet you <3