and feeling a little anxious.
12 weeks:                                                                17 weeks:
30 weeks:                                                        32 weeks:
It's really fun to be able to look back at past pictures. The little baby and the belly have grown so much, and the belly has also changed shape. This week's pic looks a little rounder and less pointy than last week.
So back to the anxiety thing…
Anxiety is something that I've struggled with in the past. When I first moved to North Carolina to be with Tom, I was hit by a very intense bout of anxiety. I  had moved to entirely new surroundings, wasn't used to the culture or people, had no idea where anything was, and after being in Tucson my whole life, it was a huge adjustment for me. It was also a GOOD thing for me because it helped me to give up control and go with the flow, discover and explore on my own (instead of just knowing where everything was and having the comfort of all of my friends and family), especially after a lifetime of being suuuuuuper Type A [which I've written about a few times before. I have eased up so much over the years, and being with Tom has helped me in many ways. He's taught about what's worth stressing over, and the fact that he flies and puts his life in his own hands everyday really puts things in perspective]
Anyway,
I'm at a turning point in my life which will bring a great deal of change (good change!), and it's starting to become more *real* every single day. I'm ready and excited for the new challenges, but change is change and always creates an onset of uncertainty and fear of the unknown. Being pregnant has also been very helpful for me because there are so many things I have no control over, so I've had to go with the flow and remain optimistic this entire time. Any stress or sadness that I feel, the baby can also feel, so having her depending on me has been my #1 motivation to just relax and enjoy this time instead of fretting over the "what-ifs."
I'm also anxious to meet her. I had another incredibly realistic dream last night where I went into labor 2 weeks before my due date, Tom was flying, so the midwife, our doula and I delivered the baby… in our backyard. The last part was kind of weird, but the baby looked the same as she does in each dream… a head full of black hair, big brown eyes and the sweetest little face. I just can't wait to snuggle and hold her.
I'm also anxious about the birth. I'm excited to be able to see what my body is capable of and the fact that we'll finally get to meet her when it's all over, but one of my friends said to me last week "you're going to realize that the baby has to come out somehow, and it's going to freak you out." And I did. And it did. I can't believe I'm going to admit this, but I think it's a fear that many women have… but I'm afraid to die giving birth. I always have been, and while I know the chances of that happening are very small, it still scares me.
We watched a video of a birth in our Bradley class last night and when it was over, Tom looked at me and said "Uh, your face is a little white. Are you ok?" Yeah I'm ok. I've just never seen an up-close look of a vajayjay delivering a baby.. and all of the "stuff" that comes with it. Wow. Let's just say when they offer me a mirror to have a lookie, I will not be taking it.
Notes from the week:
-I'm not as tired as I have been, which I think has a lot to do with the iron. I feel pretty great, the only thing is that I can definitely feel the extra 25 lbs I have on me + the change in my center of gravity. Other than taking breaks a little more often than I used to, things are bueno on the energy front.
-Baby is still kicking and dancing away, and I'm pretty sure I'll never get sick of it. I may take a little video of my dancing belly when I play her a Zumba song- it's pretty amazing
-My sweet tooth is outta control! I just want cookies and cake and brownies… all day. In order to satisfy my cravings without going too buck wild (baby likes sugar but she needs nutrients, too), I take a serving of frozen gluten free cookie dough from the freezer, plop it onto a plate and microwave for a minute.
Instant homemade cookie: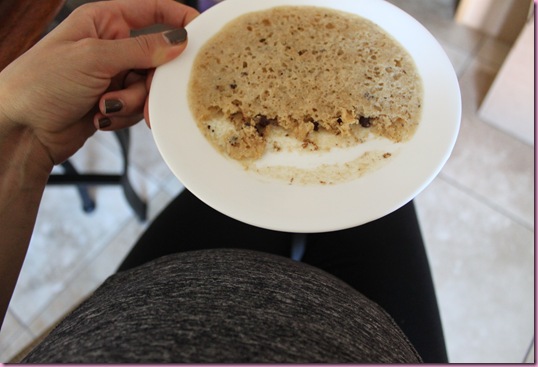 -My brain is still gone. If you see it, please let me know. I done and forgotten a lot of silly little things, but left the burner on "low" on Sunday morning.. and noticed it was still on on Monday morning. I'm very thankful we still have a house.