Good morning <3 Happy humpday- hope it's an amazing day for you. I loved reading your pet peeves and tips for gym etiquette- keep 'em coming!
Since it's still pretty chilly over here –we turned the heater on last night- all I wanted was something hot and toasty for breakfast.
Bowl of oats and hot dark chocolate almond milk: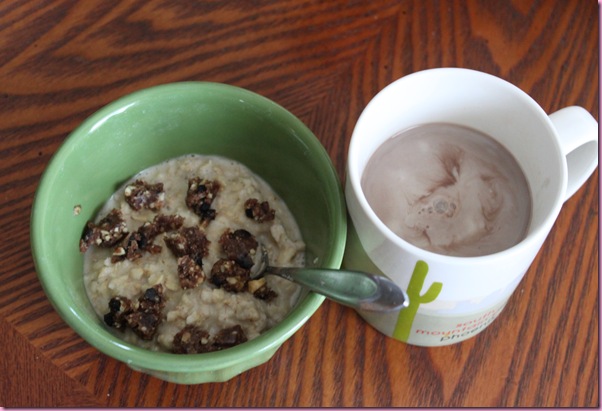 -1/2 C oats
-1/2 scoop vanilla Sun Warrior
-1/2 Larabar
Since I've had to be more mindful of protein intake lately (for the class we're taking), I was excited to see that this meal had 19g of protein. Not too shabby for something that wasn't dependent on animal protein.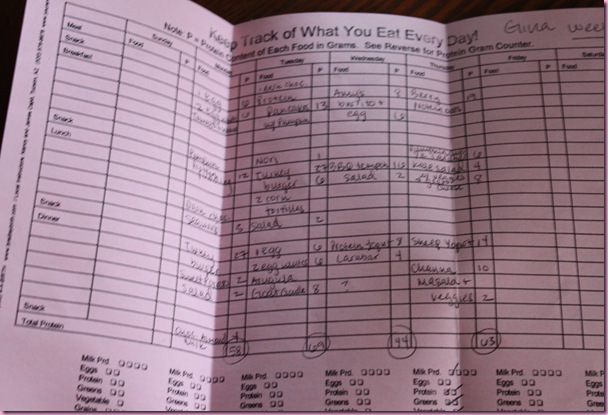 [That was my first week of tracking. We've been encouraged to get at least 75g per day, and I was low for a little while]
Keeping track of protein intake has also made me more aware of the hidden protein gems. Of course we all know about animal proteins, dairy, nuts, seeds and beans, but here are some of the more unique ones I've discovered:
Whole grains can be surprisingly high in protein. This morning's oats: 7g

1 C cooked broccoli: 4g

Avocado: 4g

Sea vegetables- dulse is one of my favorites: 3g

1 C cooked spinach: 5g

Baked potato (with skin): 4.5g

Nutritional yeast: 1.5 T contains 8g of protein (70 calories + essential amino acids)

So while these aren't staggeringly high numbers (like 20g in half a chicken breast), it just goes to show that throughout the day, we're getting little bits of protein here and there from many of the foods we consume.

So what's the deal with amino acids and complete proteins?

A "complete protein" is referred to a balance of nine amino acids, which our bodies require everyday. Usually animal-derived proteins are considered complete, while a few plant-based sources (including quinoa, hempseed, buckwheat and spirulina) can also contain the proper balance of amino acids. This is why it's important to get a balance of many different types of proteins (variety is the spice of life!) to ensure that your amino acid needs are met.
Here's a challenge for you today, friends: check out the labels on the foods you're eating (or Google a few meals to see what the protein content is like) and see if you're surprised by any hidden protein gems. It's fun to see how protein can sneak in there.
Have a great day <3
xoxo
Gina