Helloooooo! Happy weekend to ya 😀 Hope you're having a great morning!
Jacksonville was a blasty! If you can believe it, I actually didn't go there to shop. [Feel free to pass out in shock, haha] As you guys know, I have a couple of side things I've been working on FOREVER, one of which I've just been conjuring in my brain and hadn't sat down to get started. The thing is, it's really hard for me to focus here. I forget that Valdosta has a university, because there are no coffee shops or decent places to study. Our only Bizzle is off the freeway and is a little on the shady side. So the pilot drove me two hours so I could park myself at Beefcake and Noble for the day and WORK. What a guy, right?? And I only bought one thing 😉
We made a stop at heaven on earth for dinner.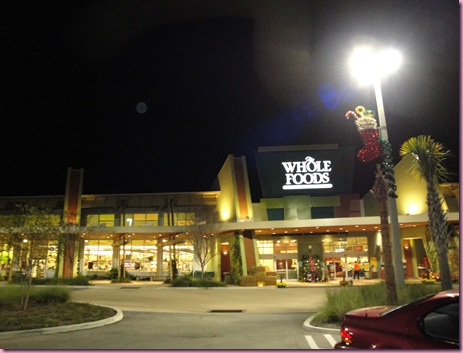 *sigh* It's just so beautiful 😀
I loaded up my container with salad, hummus, hearts of palm, carrots, sesame green beans and mushrooms (which were GROSS), chili marinated broccoli (which was delicious), squash, brown rice, coconut adobo black beans and two plantains.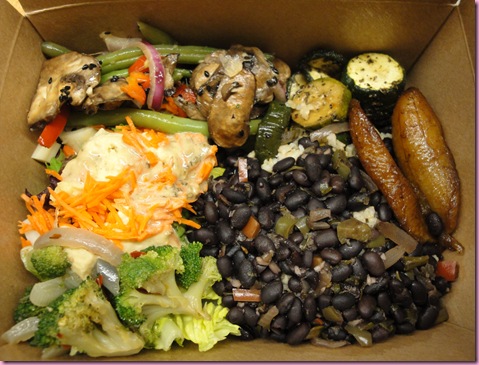 Ahhhhhmazing.
While I was getting some groceries and hot bar, an employee found the pilot to let him know they were having a wine and beer tasting in the cafe. I think he appreciates Whole Foods a little more now 😉
We stopped at Meara's to pick up Bella and ended up staying for a glass of vino with Meara and her pilot. Came back to the casa, crashed out and slept in. So nice 😀
Bfast was a lovely bfast cookie I put in the fridge last night.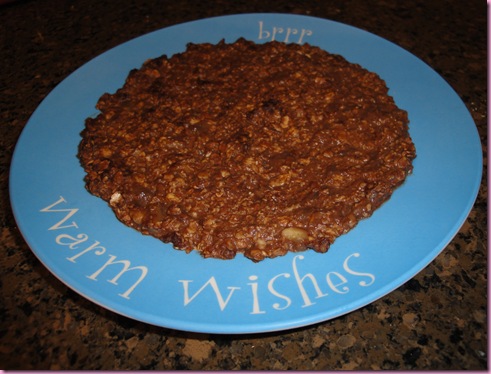 1/2 cup multigrain oats, 2 T raw cacao, a smashed banana, splash of almond milk, Stevia, cinnamon, sea salt and 1 T almond butter, all on a snoman plate 😀
I spent the morning baking vegan superfood cookies (with goji berries and cacao—recipe to come):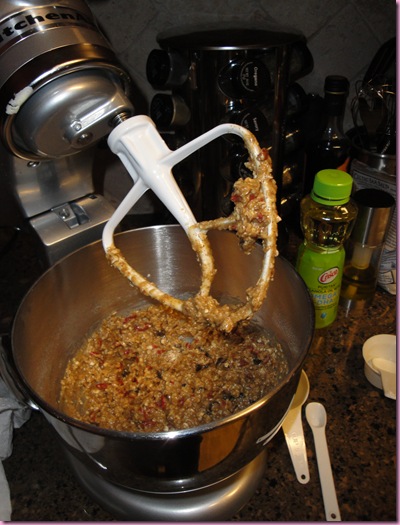 The bummer is that the new flour I bought is a dud. I got a giant bag of Vitaspelt White spelt flour –I don't care for white flour at all, but thought it would be the same thing as using regular spelt flour with a lighter texture- and it was not a smart move. The cookies are dense, flat, salty and disgusting. Note to self: if it ain't broke, don't fix it.
Good thing the macaroons I put in the dehydrator yesterday came out well 😀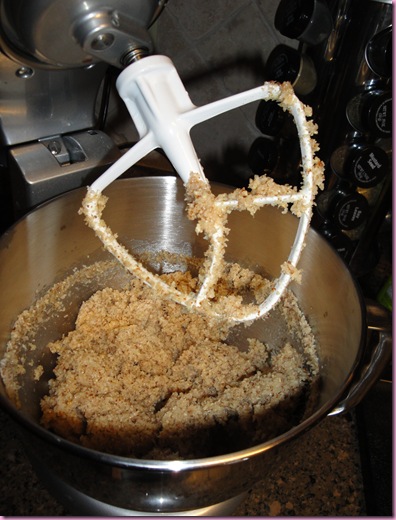 I'm about to take some cacao ones over to my friends at the health food store and the juice bar 😀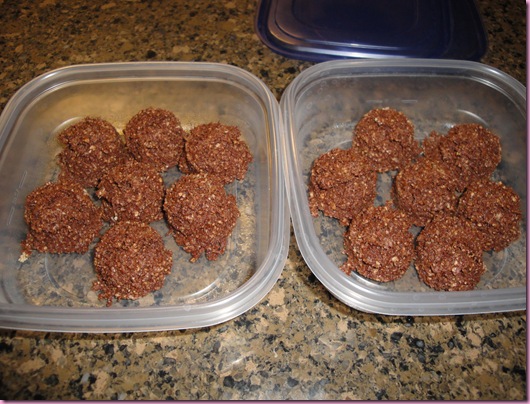 The plan for the rest of the day is to:
-Put out Christmas decorations!
-Long run (10 miles… I don't know why, but I've been so nervous about long runs. So nervous. It just feels like every time I go out there, I get really discouraged and don't want to do it. But I feel SO GOOD when it's over!!!! The pilot gave me a pep talk last night, so I'm going to really try and conquer that run today. It's just funny because I could Zumba, spin, yoga or lift weights all day but running is a totally different thing)
And I'm outttttt 😀
Don't forget to enter the Spawesome Giveaway! Winner will be announced tomorrow AM.
xoxo,
Gina
Something to think: "The hardest part is getting started" That's going to be today's mantra for the beastly long run. Once I'm in my running gear and out there, that's half the battle.