Guest Post: Recipe from Brittany
Hey everyone!
I'm Brittany, the lady behind Eating Bird Food, the place where I blog about what I eat, recipes, yoga, running and all that jazz. I've maintained a healthy weight loss of over 20 lbs for 6 years and I've been blogging for a little over 2. I like sharing my experience and hope to perhaps help or motivate others along the way!
This is how pumped I am to be guest posting for Gina today!!!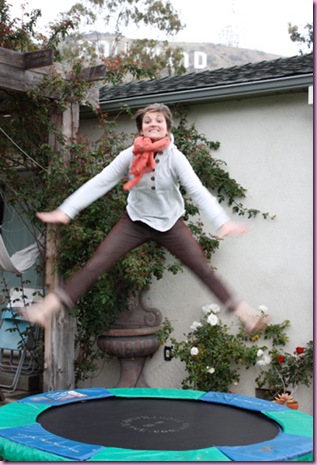 I've been following her blog for what seems like forever and she's truly an inspiration. I always look forward to her amazing workout tips and recipes, plus the photos of Bella and Viesa. 🙂 As I'm sure you do as well, hence the reason you are reading…
So today I want to share with you all a simple, yet delicious recipe that was inspired by a side dish at M Cafe, a Macrobiotic Restaurant I had the pleasure of eating at while in Los Angeles a couple weeks ago. Here's a recap of my visit.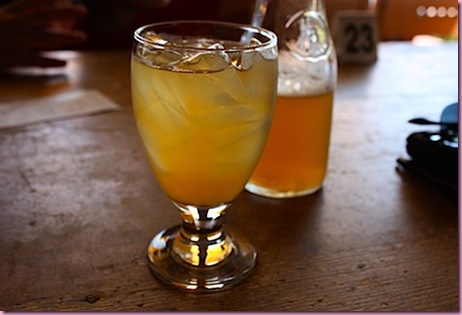 I got a mint iced tea and a salad.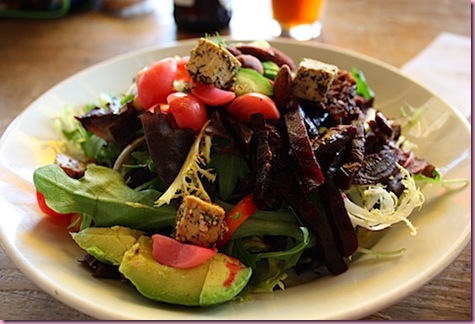 Isaac got a burger. For some reason he was on a burger kick while in CA. I think he ate at least 4 over the course of the week. This one was definitely the healthiest of them all.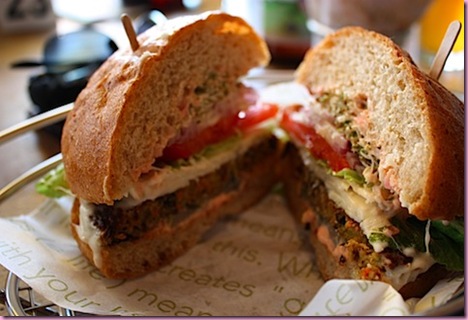 I also tried a tiny bite of my cousins kale with spicy peanut dressing and fell in love. I even jotted down a note to remind myself to recreate the dish once I got home! It worked because a week later I whipped up my own version and it was just as tasty.
So I know the Gina thinks Kale is quite stinky, and let's be honest- it kind of is. But as it turns out kale can be fixed up and be quite a treat – think kale chips, green monster smoothies, and massaged kale salads! The recipe I'm about to show is another winner as it turns stanky kale into a nutty and delicious side dish. And, don't just take my word for it, try it out for yourself!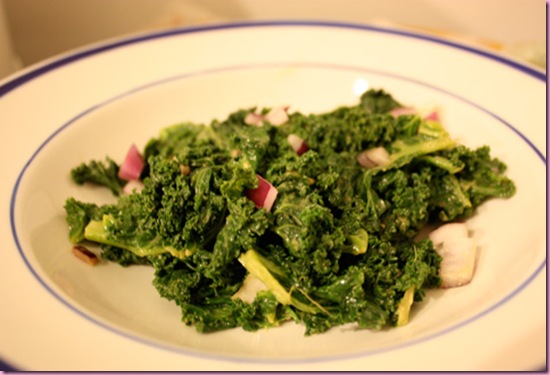 Kale with Peanut Sauce
1 bunch kale, blanched
1 cup crunchy peanut butter
2 cloves of garlic, chopped
¾ – 1 tbsp. ginger, chopped
¼ cup rice vinegar
¼ cup tamari
¼ cup brown rice syrup
a smidge of cayenne pepper (optional)
¼ cup red onion, chopped
Directions
Blanch the Kale
1. Wash kale well. Remove large, tough stems and cut or break large leaves into pieces.
2. Blanch in boiling water for about 2-3 minutes. Transfer the kale with a slotted spoon to a bowl full of ice water to cool it immediately.
3. Drain well and squeeze out all the liquid with your hands.
Peanut Sauce
1. Place the remaining ingredients (expect the red onion) into a blender and blend until the mixture becomes smooth.
2. Drizzle the desired amount of sauce on top of the kale and mix the two together.  Garnish with chopped red onions.
The sauce is quite thick and rich so you'll probably find that you don't need to use all of it. Store the leftover sauce in the fridge and reuse it later. I've added water and re-blended the sauce to make a peanuty salad dressing (holy yum!) or veggie sauce. It works nicely on other vegetables besides kale and it will probably keep for about 1 week.
I made this recipe for a skilled chef (no I'm not talking about Isaac) and he raved about how good it tasted. I hope you enjoy the recipe as much as I do and if you're ever in Los Angeles be sure to check you M Cafe – they have a plethora of delicious options! I already want to go back.
A big thank you to Gina for letting me guest post and to you for reading! If you're feeling up to it, please do check out my blog, I promise I don't actually eat bird seed everyday.