Hey everyone! How's your day going??
Thank you so much for making my first OpenSky promo a success! If you haven't gotten your glorious foam roller yet, you have until tomorrow at midnight to get the $16 deal.
Today has flown away from me! I can't even say anything crazy has happened, but before I knew it, it's 5pm. Wowzers.
Some of today's eats:
Butternut squash fries and salad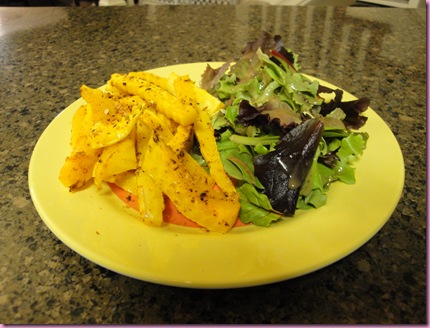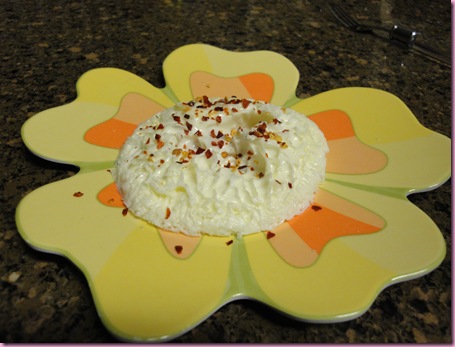 Gum.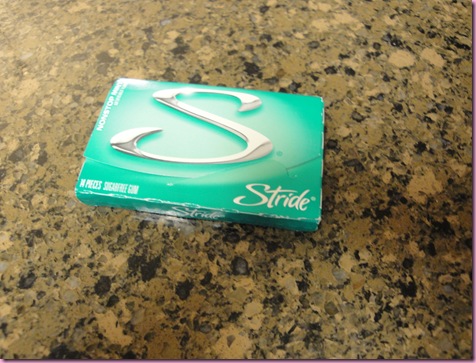 That's right guys, I brought the faker back for this week.
As in, fake sugar.
You all know that I prefer to chew mint leaves instead of gum, which has been pretty bueno since I gave up gum quite a while ago. I love Spry (which they have at Whole Foods and it's sweetened with Xylitol), but since it's not sold in Valdizzy, I roll with mint leaves.
I'm not sure if it's the "giving up sweets for Lent" thing or that I'm a little stressball lately, but this week I really wanted some *real* gum. So Stride it was…and it was delicious.
I have mixed feelings about gum:
-I used the chew a pack a day (Orbit was the choice) and it really helped me during my weight loss journey. If I wanted to chew on something instead of snacking out of boredom, I had gum.
-While it tastes great, many sugar-free gums have aspartame which has led to the development of cancer in laboratory rats.
-Sugar-free gum can make you bloated and also sends false signals to our brain. Our brain expects calories when we eat sweet foods, and when we don't receive them we can often end up searching for calories in other sources, like a bag of chips
-Chewing gum can also stimulate brain function and increase concentration (maybe this is one of the reasons why I did well in school??)
-I really think that there are worse things that we could be doing to our bodies than chewing gum
So as ya'll know, I prefer real foods instead of fakers and have really re-vamped my diet in the past couple of years to get rid of processed and artificial foods. I used to be the fat-free, sugar-free, low-carb QUEEN. I'm very happy to have taken off my crown for that one 😉
Do you chew gum?? Do you love it? Hate it? Are you a gum-aholic like I used to be???
Mint leaves really do make an awesome substitute, but like I said, I think that there are far worse things than chewing gum in the world.
I'm off to meet the girls <3
xoxo,
Gina