Hey everyone! IT'S FRIDAY! Wahooooooo! Any fun plans for the weekend?
Sorry I'm a little later posting this morning. I was sleeping 🙂
Since the guys flew late last night, my friend Ashley and I decided to meet up for dinner and drinks at Bleu Cafe when we got off work.
Bleu is one of the places that I forget about here –very few restaurants have excellent food in Valdizzy. But when it's good, it's REALLY good- and hadn't been in over a year. They have awesome food…and drinkies.
I was stoked to try to Cucumber Martini and see how it compared to 306 North's.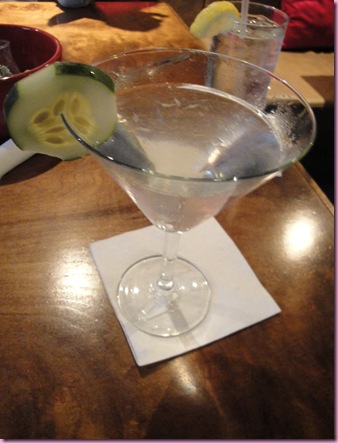 It was light, refreshing and delicious. 306's was better though 😉
The salad rocked my face off.
I ordered the entree-sized Greek salad, with goat cheese instead of feta, dressing on the side, adding a shrimp skewer.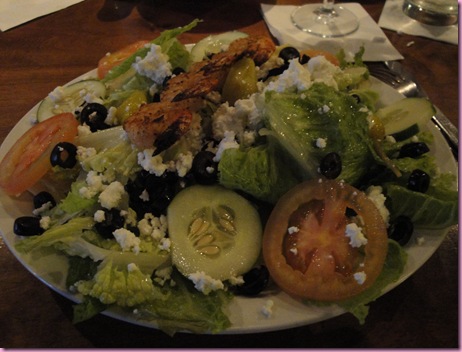 Fan-freaking-tastic.
It was nice to get out of the casa instead of being a bum and waiting for the pilot to get home. Good thing I didn't wait up- he didn't land until midnight and got home at 4. Um, yeah.
I had to get up when it was still dark to meet my Lifestyle Challenge group (we talked about balance today. Eating balanced meals of carbs, healthy fat and lean proteins and a balance of meals, every 3-4 hours, throughout the day).
Bfast was a glorious maca-goji bfast cookie.
Usually I would work out after meeting with my group, but today it wasn't going to happen.
I came back to the casa, crawled into bed with the puppies and pilot, then woke up two hours later. Muuuuuuuch better 🙂
Since I only have one training appointment today –I always schedule one slower day during the week- and the weather is GORGEOUS (hello, Spring!), we're going to walk the puppies and then I might have to go read by the pool 🙂
Hope you have a wonderful Friday and I'll see ya later with a reader's request post. (send 'em my way: fitnessista at gmail dot com, or feel free to leave requests in the comments section)
xoxo,
G$
Newsworthy:
Whole Foods 365 Brand Made in CHINA (Whaaaaat?! Mayjah thanks to the lovely bloggy who pointed this out to me)