a mickey mouse treat state of mind
Hi friends! Happy Monday! Hope was the weekend? Hope you enjoyed a wonderful mix of family time, productivity, relaxing, and all things fall. Speaking of fall, have you seen this video? I've been singing it every time I eat something pumpkin spice-related, which is fairly often. The Pilot looooooves it hahah.
Friday afternoon, I got in a killer Orangetheory workout (and got my highest amount of splat points ever!), we took the kiddos to Soup Plantation, and Saturday morning after Liv's ballet class, we hit the road to Disney. We told her we were going on a fun adventure, and of course, she guessed Disney right away.
We enjoyed the rides and shows,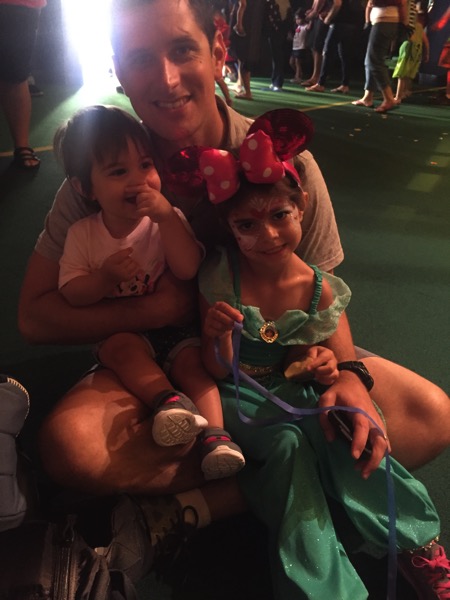 the treats,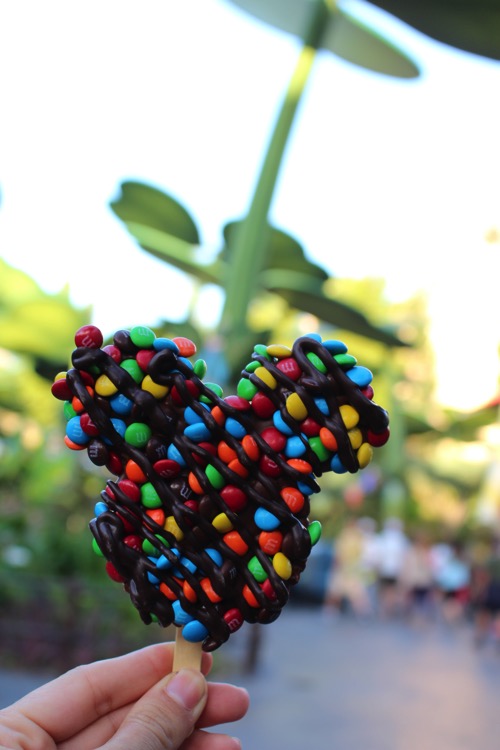 and got to see Kyle, Meg, and Meg's side of the family. That was by far the best part. We loved riding the rides with them, meeting up throughout the day, and catching a show.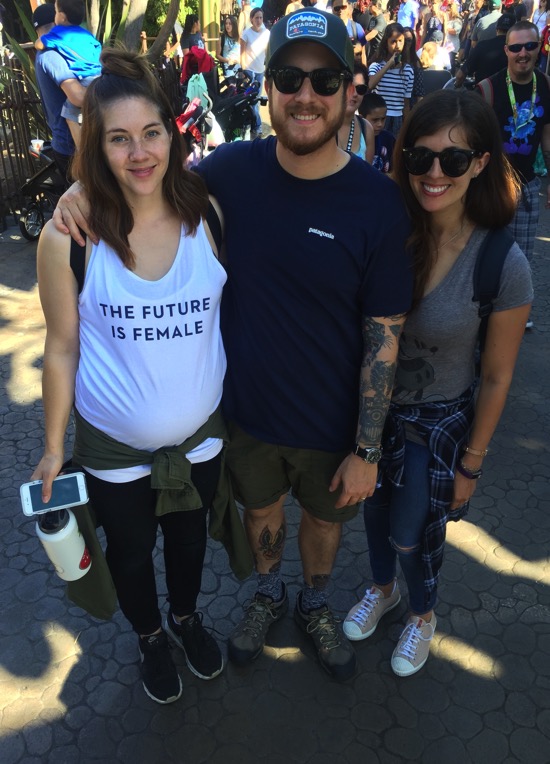 (Yes, Meg's shirt means they're having a girl! The avalanche of cousin hand-me-downs has already begun.)
We've lived up our close distance to Disneyland since we've been in San Diego, and each time, I feel like we see and do something completely different. Of course, the classics are always in there, like Small World, Disney Junior Show (if you have a toddler/preschooler, this is a must-do), and the parades. P was clapping and signing "more" the entire time we were on Small World. When it was over, she cried. Both girls are both Small World fanatics…. it's like a rock concert for kiddos.
Some of the new things we did that will become traditions:
Lunch at Ariel's Grotto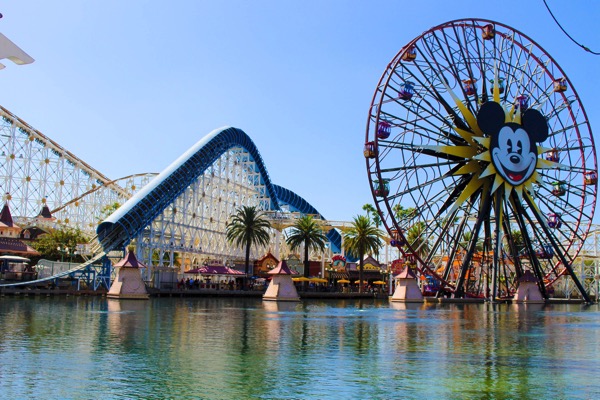 This is reservations-only (book online in advance), but we were drawn to it because it's one of the few sit-down restaurants in the park. While the grab-and-go type places are excellent, we find that the girls enjoy a restaurant atmosphere, and there are more menu options. Ariel's Grotto is a character dining experience, so all of Livi's favorite princesses were there. Tiana, Belle, Rapunzel, and Sleeping Beauty perform a brief bit on the patio, and meet and greet at each table. Needless to say, it was a huge hit.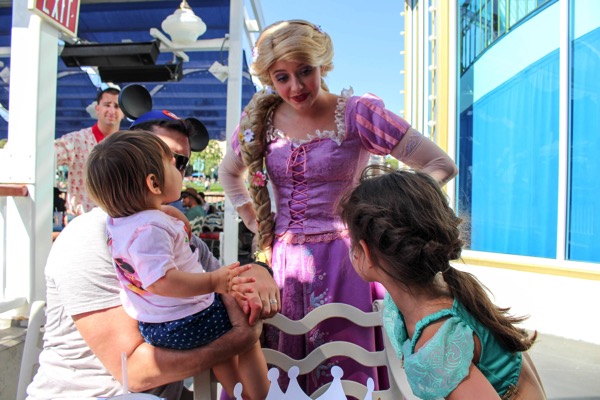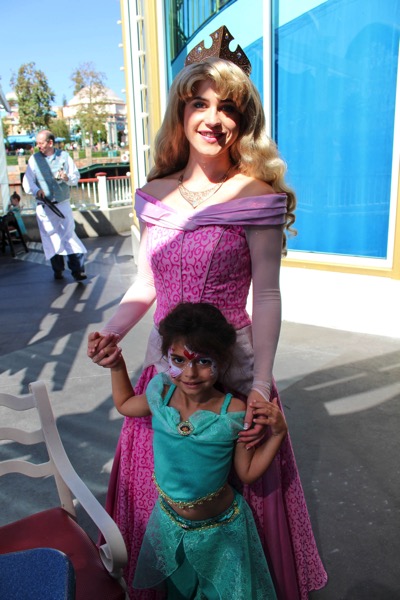 While the princess aspect increased the entertainment aspect for the girls, the food was surprisingly delicious. It's funny because I have a Delicious Disney cookbook that I LOVE, and I always wonder where these restaurants are that have this amazing food. This is definitely one of those spots. It started with a soup or salad course, followed by an entree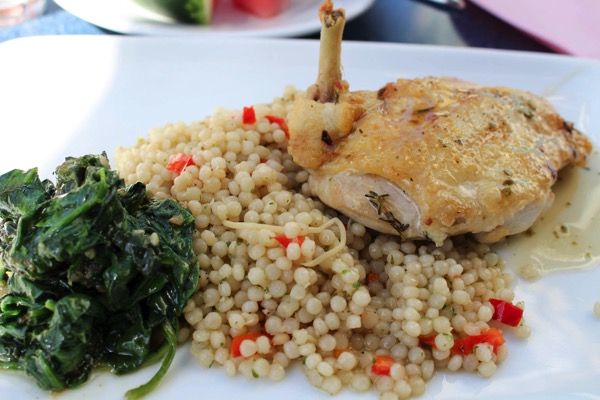 (I chose the chicken with couscous and spinach. Turns out P loves couscous.)
and desserts.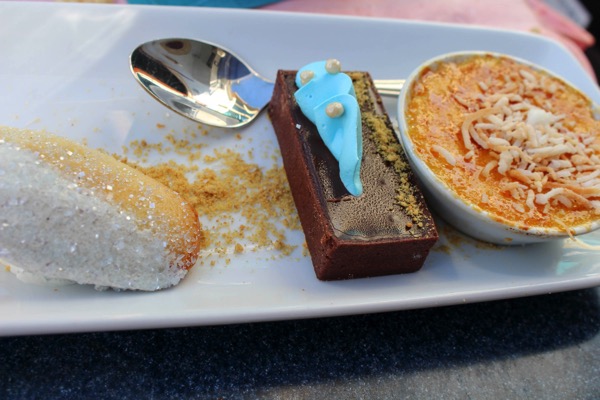 (Madeline with frosting and sparkle sugar, toffee espresso brownie, and a coconut-citrus creme brûlée)
My plan for dessert was to taste each one and eat whichever one I liked the most, but they were equally delightful, so there ya go.
Also for all the parents out there: they have drinks.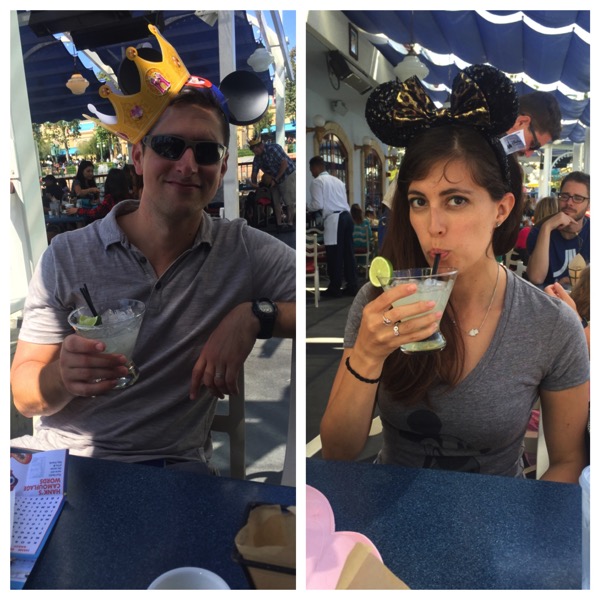 This habanero margarita was everything I'd been wishing for after a full day at the park.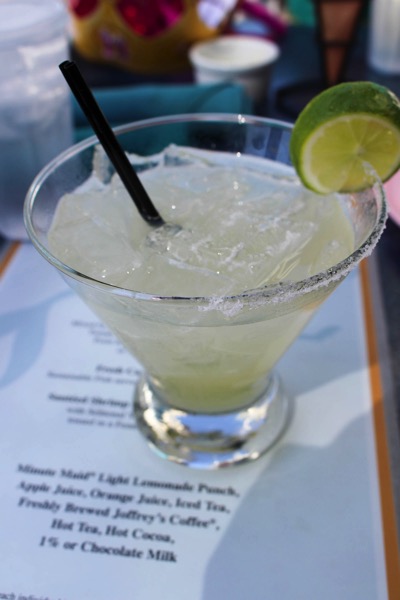 Another new experience was the Disney Frozen Live show at California Adventure. The talent of the actors combined with the production quality blew me away. The background of the stage was a video wall, with projections and special affects that were eerily ice-like. There's a great article about it here. While I'm pretty sure a vast majority of moms including myself are SO OVER FROZEN, I was totally into it. I had to give myself a special pep talk to not cry during "Let It Go." That good.
Quite a few people have asked me for tips regarding Disney with little ones, but I don't really have a ton. The key for our family is to make sure they're well-fed (and that goes for the adults, too. Hanger is real, no matter how old you are!), and that they have a good spot to nap, whether it's back at the hotel, in the Ergo, or stroller. I've found that when Liv was really young, and now with P, it can be tricky to keep them at the park the entire day and keep them happy. This is especially true when it's super hot outside. We like to plan some down time at the hotel, or even just hanging out at the Golden Horseshoe (COLD AC) to take breaks from being outside so much.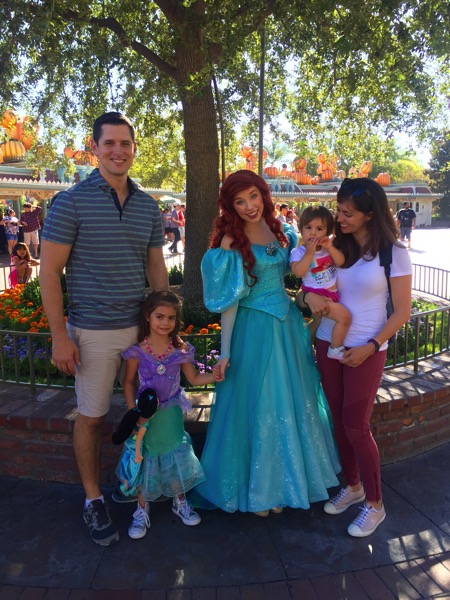 Since P is still taking two naps, when we travel, we go for at least one real nap at the hotel and stick to her bedtime. The Pilot takes P back to the hotel to go to bed at 7, and Liv and I stay out late to ride more rides + watch the parade and/or fireworks.
This is what we did Saturday night, and it was perfect.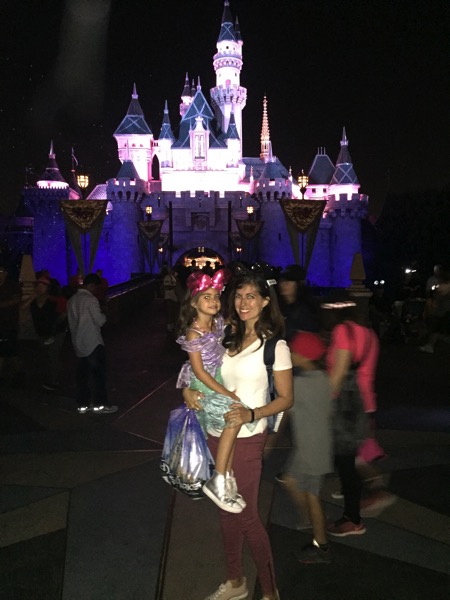 Liv was officially Disney-ed out.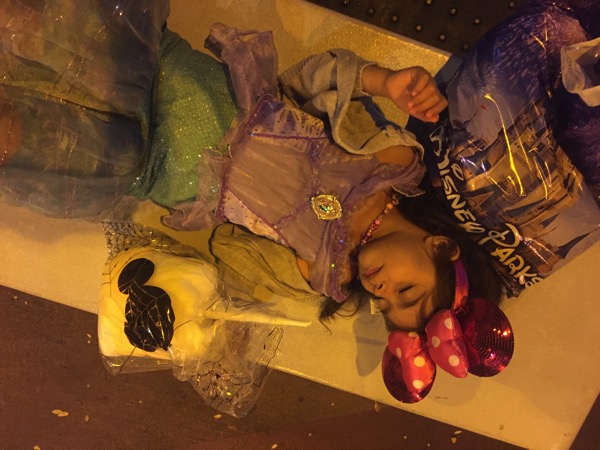 Sunday morning, we all had breakfast together at the hotel,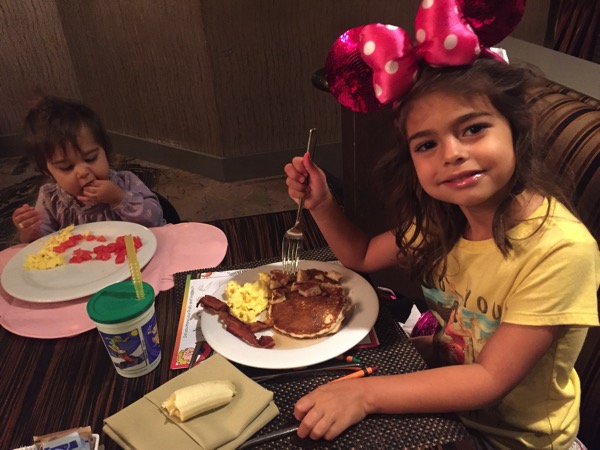 and then Liv and I went to the parks while P took her first nap in the hotel room with the Pilot. (It worked out nicely because he had a ton of Master's homework to finish.) They met up with us when she was awake, and we could eat lunch together and spent the rest of the day out and about. She took a short afternoon snooze in the stroller.
We don't go to the park with any expectations and if we ride one ride, we consider it a bonus haha.
We'll definitely be sneaking in at least one more trip before we move. 😉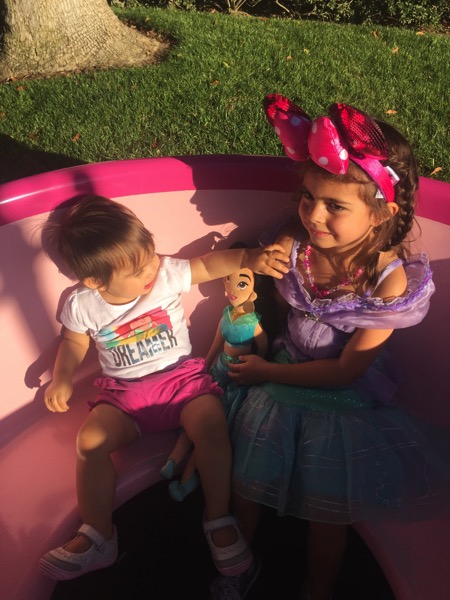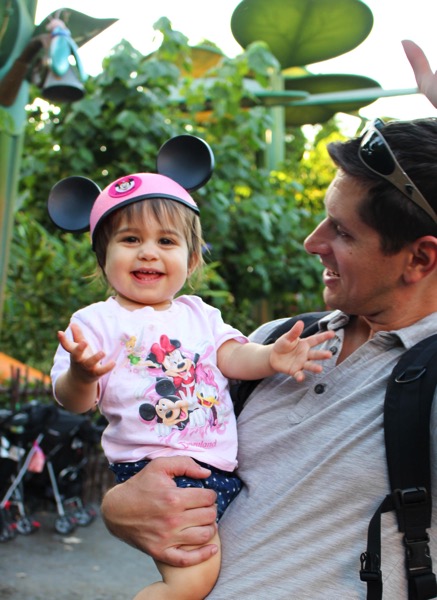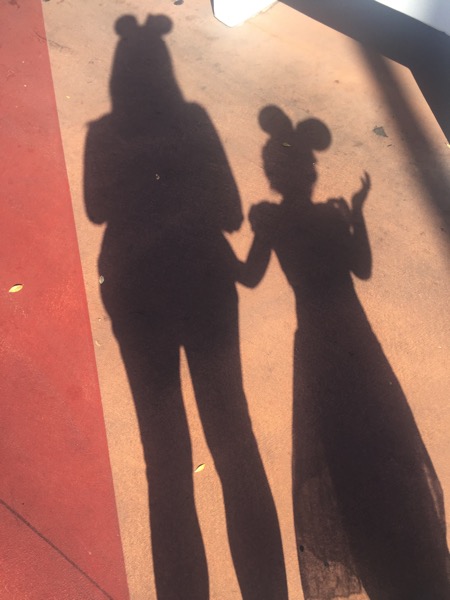 Hope you had a wonderful weekend, too!
Anyone have any Disney secrets or tips to share??
What was your favorite workout this weekend? My only official workout was on Friday (Orangetheory before we left), but got in a lot of steps each day walking through the parks.
Have a happy Monday!
xoxo
Gina
*I finally uploaded P's 11-month pics, so that post will be on the family page later this afternoon!