Hi friends 😀 How's your morning going? Hope it's been lovely!
So, last Friday, the detox was catching up to me and I was needing sweets like no one's biznazz.
I tweeted the call out to the Pilot:

(I set up a Twitter account for him that he's never used, but I tweet to him anyway)
It was more of a "In my dreams, these treats would show up now, but I'm willing to wait until heart day"… so you can imagine how much my mind was BLOWN when I got home and these were in a box on the doorstep: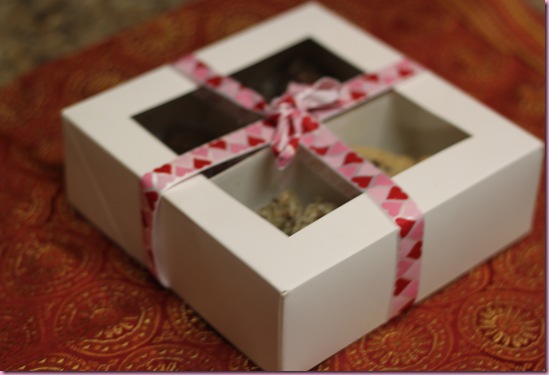 An entire Valentine's goodie package from the Twins! How did they read my mind?!

As you guys know, I'm very good friends with Michelle and Lori (and beg them to bring me treats whenever I see them). Everything they make is gluten-free, dairy-free, soy-free, refined sugar-free, egg-free, corn-free, with attention paid to nutrition and amazing flavor. How do they do it? I have no idea… I just eat it with a goofy smile on my face.
This Valentine's Day box included:
-Chocolate chip cookies (my FAVE)
-Brownie bites
-Mint chocolate chip bites
-Raw cacao truffles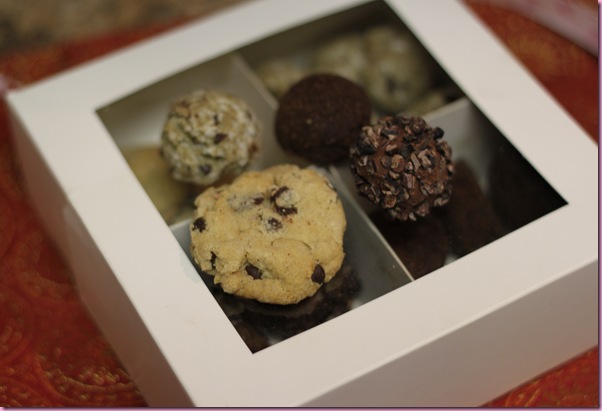 I had one of each, danced around in foodgasmic glory, and then put the rest in the freezer until the detox is over. The amazing thing is that this goodie pack is this week's OpenSky deal- I think it will go up Thursday.  Edited to say: it went up today! This way orders will get there by Valentine's Day. If you'd like the promo, please *follow me on OpenSky* and you'll get the email with the promo. It would be amazing to support two of my friends, while enjoying delicious healthy treats at the same time. This goodie pack is the perfect Valentine's gift for anyone (especially those with certain nutritional needs) or for YOURSELF. Obviously 🙂
___________________________________________________________________________________________________
Getting My Sprout On!! 😀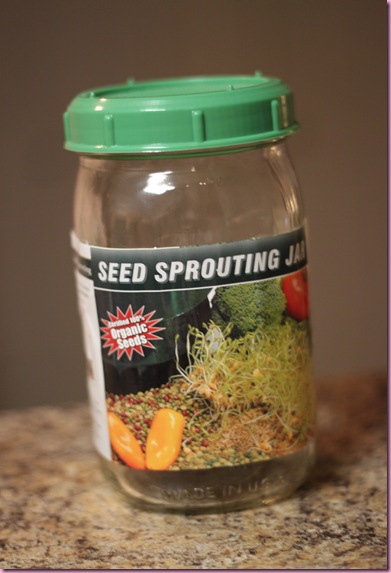 Its been a while since I've made sprouts and thought it would be a fun salad beast and wrap addition.
Sprouting is one of those things that looks intimidating, but totally isn't.
All ya have to do is:
1.Pick up a sprouting jar from your health food store and some sprouting seeds,

2. Place the seeds in the jar, fill with water and shake. Rinse well and drain- repeat a couple of times

3. Prop the jar up at an angle (so the water can drain) in a dark place

(a dish rack works perfectly but since we are without, I just angled it by the stove)

4. Rinse and drain twice a day for 3-5 days until the seeds sprout

5. Enjoy!!
I'll post the finished product so you guys can see what they look like! Alfalfa is working its magic right now in the sprouting jar.
B-fast this morning was something a little autumn-y: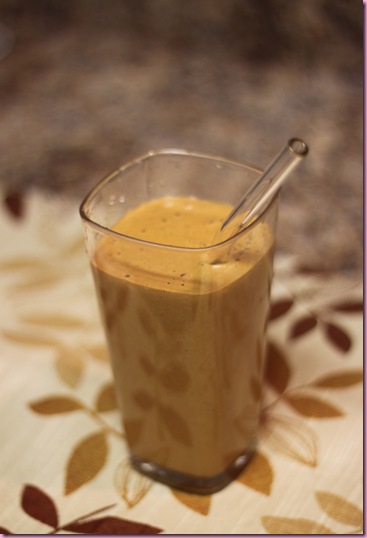 Pumpkin Pie Smoothie 😀

-1 C almond milk

-1/2 C pumpkin

-1 T raw cacao powder

-1/2 avocado

-Protein (Sun Warrior + Dr protein)

-ice

-cinnamon, vanilla, nutmeg
Hit. The. Spot.
I'm off to teach and then getting some groceries- it's looking a little sad in the fridge 🙂
See ya this afternoon with a fun lunch recipe <3
xoxo
Gina
Today's tip: Avocado is a fun change from bananas as a smoothie thickener. It adds a lovely texture plus mega dose of healthy fats 🙂
Something to do: Winter Shape Up warriors, please send me your success stories and a pic to fitnessista at gmail dot com (subject: WSU success) so I can include them in next weeks wrap-up post. If you have a blog, include a link and I'll give ya a shout out, too 😀