Hey hey! How are you? What's going on this morning? This summer has definitely been one full of changes and surprises, so instead of having a set routine, it changes by the week. Livi is doing lots of different camps, I'm teaching and subbing classes, and trying to find some fun activities for miss P. I'd love to get her into a music class out here! (She was doing gymnastics but they canceled the class for the rest of summer since everyone is going out of town.)
Some adventures from lately:
The Pilot had a work event on Friday, and madre and nana had just left. So, to cheer us up a bit, I took the girls to their favorites: the splash pad, and to Bruster's for ice cream. It made us all feel a bit better. 😉 We came home for BBQ leftovers for dinner and early bedtimes all around.
Saturday morning, the Pilot took the girls out for breakfast while I slept it. I was planning on a 10am yoga class, and snoozed until 9:35. It was EVERYTHING. I definitely need to repay the favor next weekend for Father's Day.
The yoga studio is in the cutest building downtown, above a decor and art shop. Everything in here is sooooo cute, and I'm thankful it's closed 90% of the time I'm there because I want to buy all the things.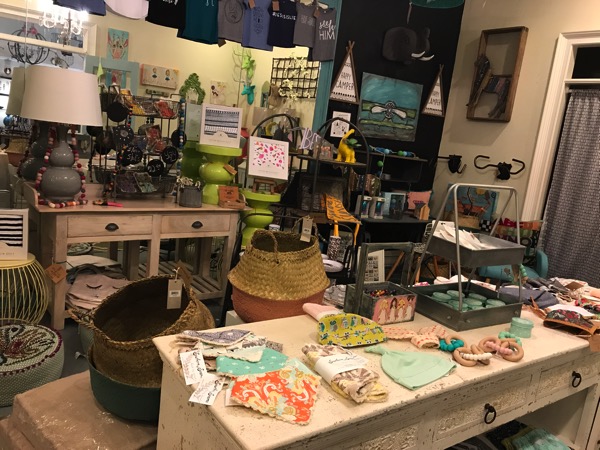 Saturday afternoon we hung out around the house, and then went to the Salty Snapper for dinner.
Salty Snapper is probably the worst name ever for a restaurant. It just doesn't sound appetizing? I also say the name like a pirate every time we pass it. Anyway, we heard it was good, and they have live music so if P shrieked it would be drowned out, so we decided to go for it.
You guys. It was DELICIOUS. It's under the same owners of Friends (which is another fave here, and should have been my cue that the food would be excellent) — dinner was fantastic and the service was great.
Behold, the best salmon I've had in V-town so far: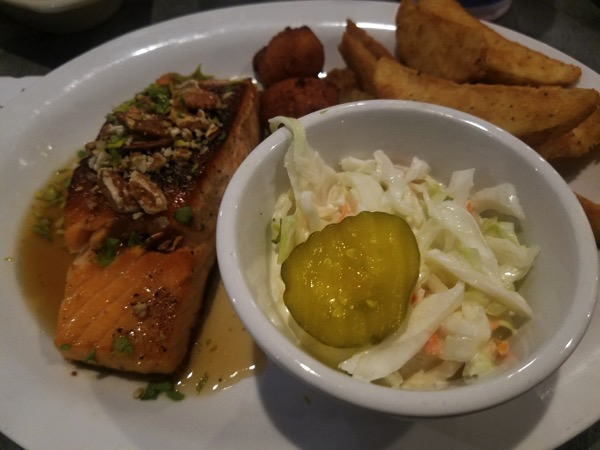 I ate it in about 12 seconds.
We're still trying to get the hang of entertaining P during meals out. Sometimes she's into it and will happily last the entire meal, and other times, especially if she's too hungry or tired, she's not a fan. When that happens, one of us will play with her outside until the food arrives.
Some of the things that help:
-the famous buckle toy, but she can now buckle everything in less than 30 seconds
-ordering both the girls' food and an appetizer the second we sit down
-just going with the flow. I feel like we're always ready to bolt if we need to. One parent will take the girls to the car while the other packs the food into takeout boxes and pays the bill. We'e only had to do this a couple of times, but we always have an evacuation plan
-Eating as quickly as humanly possible. We both shovel our food into our mouths as quickly as possible because who knows how long until the cookie crumbles. I have to remind myself to slow down during date nights because I'm used to eating like I have no idea how long the meal will last
Miss P is SO active and hates being restrained to a small area. We like going out to eat as a family, so we're just trying to slowly teach her the ways…. she's still pretty little. I told the Pilot we would laugh about it one day as I was holding her in my lap, eating salad with my left hand, and she was yelling "OUTSIDE!" and poking me in the eyeball. One day. haha.
We took the girls bowling, which was a lot of fun,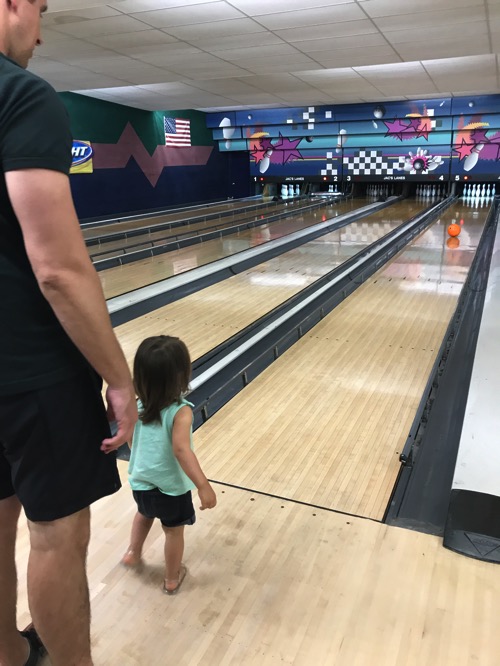 and after they crashed, we had wine, chocolate and watched Netflix.
Sunday morning was coffee and donuts, errands and chores,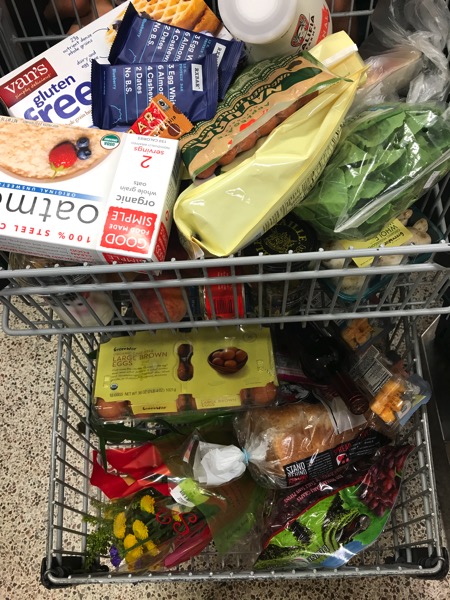 and I taught an afternoon spin class.
As far as meal planning goes, we planned some simple meals:
-Clean out the freezer (I had organic turkey and sole that I wanted to use) with veggies
-Harney Cobb
-Dinner out
-Sunbasket meals x 2 (we switched to the family plan because the girls are eating more, but I don't think the menu options are as diverse)
-BBQ chicken, corn on the cob, salad
-Takeout (Mellow Mushroom pizza)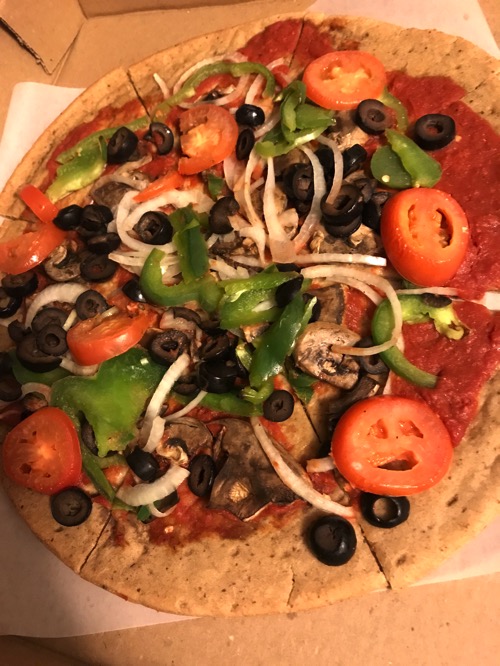 I'm teaching quite the mix this week: Spin, barre, BODYPUMP, Zumba and yoga! Pretty much all the things I love in one week. 😉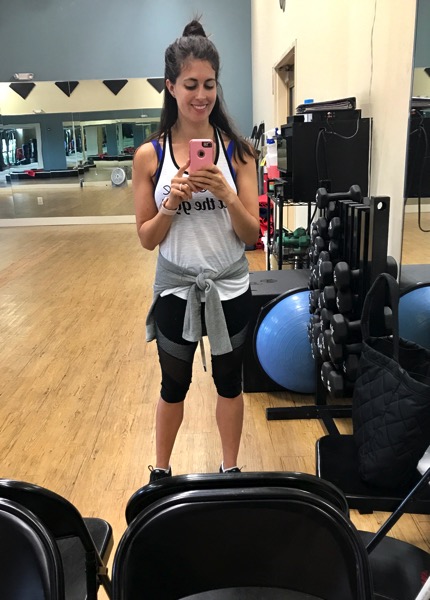 (Shirt is here and pants are from Fabletics)
Tonight, it's girls night, and I'm looking forward to meeting some of the wives here.
Hope you have a happy Tuesday and I'll see ya soon!
xoxo
Gina
Looking for a workout? Try this resistance band loop workout from last week. It looks nice, but it's a burner for sure.