A yoga teacher training update
Hi friends! Hope you're having a wonderful afternoon. I'm so glad to hear I'm not the only one who was feeling meh about Three Wishes. Farewell, book. Starting something new tonight! (I have quite a few on the Kindle I haven't cracked open yet.) I got my Invisalign aligners today -more on that to come, but I am so happy with them so far- and am getting ready for afternoon BODYPUMP. I've had a few requests for an update on yoga teacher training, so I thought I'd do a little post since we're about halfway through the 200-hour program. When I finish, I'll write a final recap and will include details on teacher training if you're local and interested, and also teaching details… because I've decided that I do want to teach.
When I first signed up, I was really excited because it's something I've always wanted to do to deepen my own practice. I desired to learn more about the spiritual aspect of yoga, in addition to the correct alignment for all of my favorite poses. I figured that going through yoga teacher training would help me as a group fitness instructor and trainer, and that I'd be able to take the learning points off the mat and into my own life. So far, that's exactly what has happened.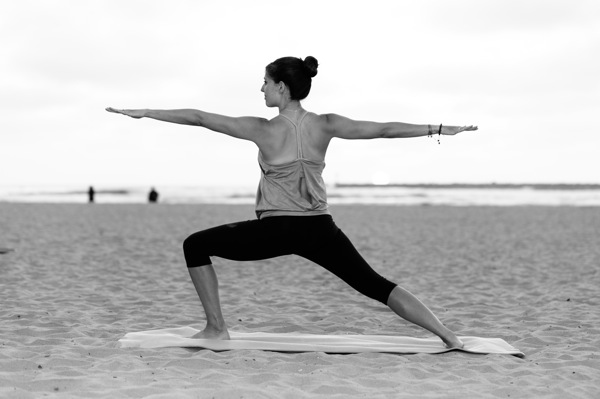 (Photo: Danny Chan)
When I signed up, I received a binder, packed with information and segmented into the following categories:
-What is yoga?
-7 Spiritual Laws of Yoga
-Poses
-Pranayama and bandhas
-Role of Yoga Instructor
-Yoga Techniques
-Yoga and Pregnancy (yesssssss)
-Anatomy and physiology
and we instantly jumped into the history and background of yoga. We are reading two books: The Seven Spiritual Laws of Yoga and Patanjali's Yoga Sutras, in addition to the information in the binder (which is about 200 pages).
Each week, we discuss two of the yoga sutras from Patanjali and how they relate to life and our yoga practice, before diving into the topic for that week. I love that we're breaking down the sutras each week because there are a LOT; it makes it easier to relate to each one and spend some time contemplating and applying. This is a huge reason why I've enjoyed this longer course, instead of doing a quick total immersion training. I've had time to really absorb the information and start to use it as we move along.
I've enjoying learning about the philosophical aspect of yoga, because it's something that's intrigued me as I've practiced over the years. I've gotten hints here and there from practice at various studios, but it was the first time I learned about the limbs of yoga, the 7 Spiritual Laws, the sutras, and the soul questions.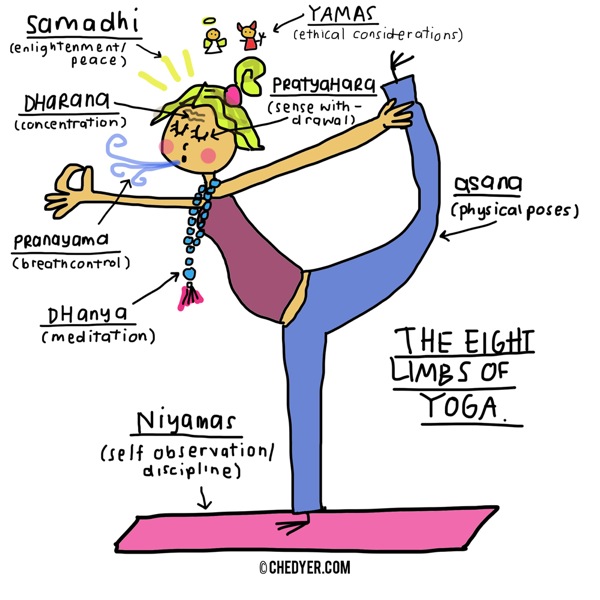 During the first class, which I wrote a bit about, we sat in pairs and had to ask each other, "Who are you?" over and over again for 2 minutes. It was a very challenging exercise, especially since many of us tend to rely on superficial or external categories to define ourselves. (For example: "I'm a wife. I'm a mom. I teach fitness classes." These are all parts of my roles and responsibilities, but at my core, they're not who I am.) Our instructor, who is INCREDIBLE, told us that these questions would become easier to answer as time went on.
As I expected, during YTT, we've all had to peel back and explore different layers of ourselves and make time to listen to our inner consciousness. This can be especially intense if you're not ready for it, as it can be heavy and emotional stuff. Some of the self-discovery has been the most challenging I've done, and the most-needed. I've noticed that I'm far less stressed than I was before starting training, and I tend to not let external factors affect me in the same way.
Currently, we're focusing on anatomy and physiology, and as a personal trainer, I've found it helpful to dig deeper into the systems, glands and organs, and how our practice can affect each of these components.
I've already started to implement what I've learned in my classes, and am excited to see how this changes me as an instructor. As someone who is always searching for opportunities to expand my fitness knowledge, I have to admit that this intimidated me from enrolling in yoga teacher training and has been in the back of my mind for years. Since I'm starting training later -though I've been practicing for a while- I felt like I was "behind" and that there was no way I had time to learn enough to be a *good* yoga teacher. I've learned that yoga is an art and a science. You can always learn and improve, and it's never too late to start. All you need to be a *good* yoga teacher is a genuine love for the practice and desire to share it with others.
As far as teaching goes, I was worried it would take away some of the magic from my own practice, but instead, it's made it deeper and richer. I've taken the law of the day and applied it to my practice (for example, today is Wednesday, is the Law of Least Effort, which means that nature's intelligence functions with effortless ease. Sometimes in order to be the most effective, you have to take a step back and let things fall into place without resistance.) and meditation, and have used the yamas multiple times on my mat and daily life. Yamas are the rules of social behavior, and the first one is ahimsa, which means nonviolence, or "do no harm." This seems like common sense, but if you really dive in and think of the times you're harming instead of helping yourself, it can allow you to reassess and adjust. I've been practicing ahimsa often on my mat, and instead of fighting my way into the more challenging poses, I show myself kindness, patience and sometimes surprise myself. Many times, if you relax into the posture instead of forcing your way into it, you'll be able to achieve a more advanced variation (if that's your goal).
I taught my first practice flow yesterday, and while I was nervous about it, the second I started, it felt right, and SO good. I love that there's extra room for silence and breathing -I talk a LOT in BODYPUMP and Barre- and that I can adjust, and sing (Kirtan is one of my favorite things in the world). I'm teaching my first community class in a couple of weeks, so in the meantime, I'll be continuing to study and practice. 🙂
If you have any questions for my final recap post, please let me know and I'll can be sure to include them!
Have a great night and I'll see ya in the morning <3
xoxo
Gina
Check in with today's workout here.