Hi! How's the morning going? Apologies for the blog down time yesterday! My friends at WP Site Care got it back up and running for me — I highly recommend them if you have a blog and are technology-impaired like yours truly.
I have some fun news: I'll be contributing to the Women's Running blog and my first post went live yesterday! Check it out here.
Yesterday was a pretty low-key day. I was feeling low energy, and knew that a little cardio would wake me up a bit and shake out the post-BODYPUMP soreness. I did a walk-run combo and read the Kindle. I am pretty meh about the book I'm reading right now. It's Three Wishes by Liane Moriarty, and I've LOVED all of her other books so far (The Husband's Secret, Big Little Lies and What Alice Forgot). I guess you can't win them all. This one is filled with cattiness, bickering, and I keep waiting for something exciting to happen, and no luck. I think I'm going to call it quits and start something new. I'm notorious for quitting books halfway through, but I figure why waste your time when there are so many incredible books out there.
Lunch was pretty delicious, due to the return of a classic fave: eggplant bacon!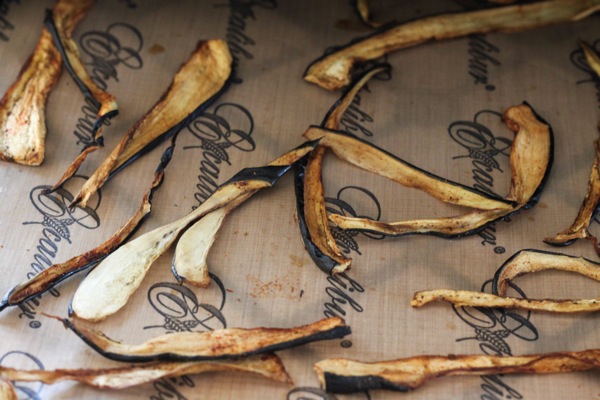 I haven't made this in so long, but my dinner with Jess a couple of weeks ago reminded me how much I love it. It's a versatile side, and easy way to add savory crunch to wraps, salads, or to dip in hummus. I dehydrated some overnight, and after eating half of it while it was dehydrating (always happens), I crumbled the rest onto this salad.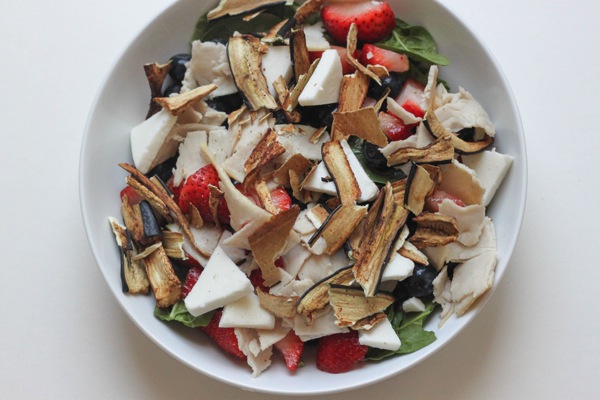 It had spinach, deli turkey (pan-seared for about a minute on each side), strawberries, blueberries, goat gouda and balsamic. Liv also enjoyed it, even though she said the eggplant bacon was "weird" haha.
Today, I have a fun new barre workout to share! I was stoked to film it for you, and then I remembered my broken lens (my macro lens is the only one that works, and I have to hold it together to take a photo). Definitely going to remedy the camera situation today! Leaning towards the T5i because I feel the most comfortable using my Canon T1i.. even though it is tempting to think of carrying a camera that fits in my purse instead of needing an extra carseat.
Here's a printable/pinnable, which should still be easy to follow. Just remember full range, pulse, and hold. 🙂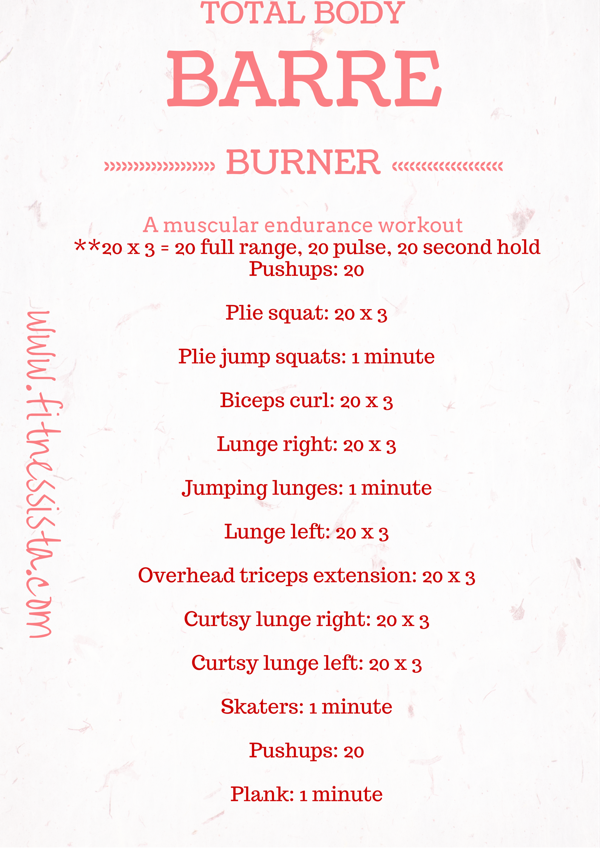 Links to workout moves:
As always, let me know if you give it a try!
Anyone else call it quits on a book lately? Latest favorite lunchtime salad combo?
Hope you have a great day,
Gina
New post up on the Family page.
That magical time of the year is coming: Summer Shape Up is soon! Mark your calendars for June 16: 4 weeks of FREE workout plans, meal ideas, group support and giveaways are coming your way.