My yoga teacher training experience (RYT 200 hour)
Hi friends! How's the day going so far? It's been a fun and busy day one over here! I took a BODYPUMP class, and then Livi and I ran a couple of errands before hanging out at the park. She's starting swim lessons today, and I hope she loves it!
So this weekend was an exciting one because it was the official culmination of our yoga teacher training experience.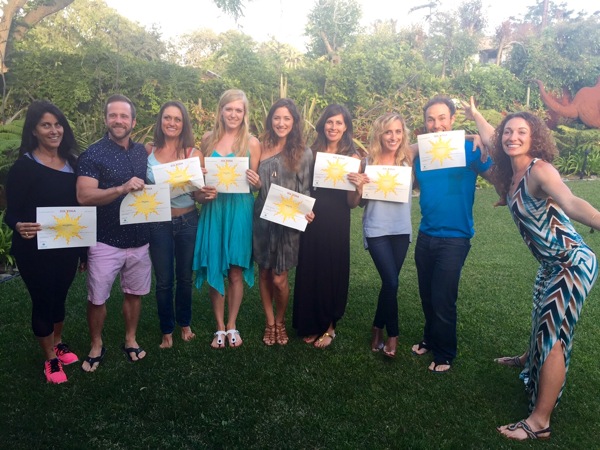 (Mara, Ryan, Natalie, Kristen, Jaz, me, Leigh, Brandon and Crystal)
I started the training back in January with a group of amazing individuals who quickly became close friends. We spent a lot of time together discussing sutras, attending lectures, and practicing asanas. Yoga teacher training is something that I've wanted to do for years, and I'm so thankful that I had the opportunity to complete this training before baby #2 makes her arrival this fall.
I was always a little worried that teacher training might remove some of the magic of yoga. Whenever I end up teaching a class that I love to take, I think about it from an entirely different perspective. This doesn't mean that I love the classes I teach any less, but it changes the dynamic of the experience. Yoga has always been something something special and sacred that's just for me. Well, after our YTT, I love yoga more than I thought possible and it's created a deeper, richer experience in my own practice.
I've written a couple of posts about my training so far, and here is the final one with all of the training deets. 🙂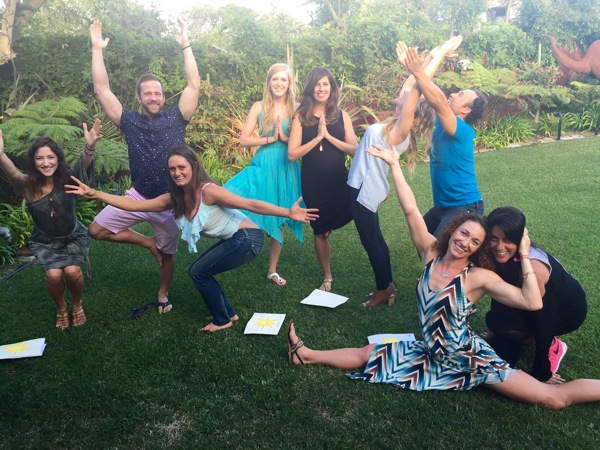 My yoga teacher training was through Sol Yoga at Point Loma Sports Club. When I found out they'd be offering their first yoga teacher training, I immediately jumped on board, as Crystal, the group fitness director would be leading it. She has been teaching and studying yoga for many years, and she also teaches at the Chopra Center. I was excited for the chance to learn as much as I could from her, and also decide through my journey if I'd want to potentially teach classes myself.
How our training was structured:
We met every Thursday night, and many Saturday afternoons. Thursday nights were lectures, while Saturdays were focused on workshops, meditation and asana practice. Each Thursday, we discussed sutras from Patanjali's yoga sutras, and focused on the theme for that night.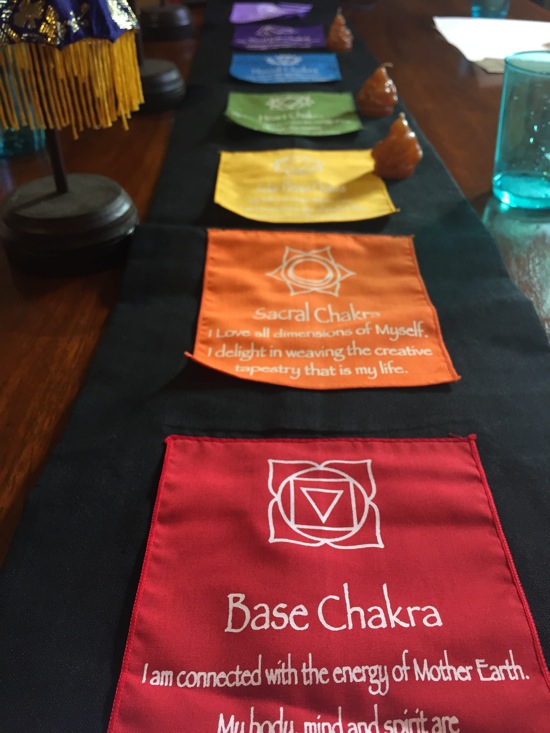 Here are the different topics we studied:
What is yoga?
The Seven Spiritual Laws of Yoga
Poses
Pranayamas and Bandhas
Role of a Yoga Instructor
Yoga Techniques
Yoga & Pregnancy
Anatomy and Physiology
Chakras
Ayurveda
Meditation
Our materials:
"The 7 Spiritual Laws of Yoga"
"The Yoga Sutras of Patanjali"
Our binder, which was packed with handouts and information. It's about 200 pages, and I can tell that I'll refer to it often.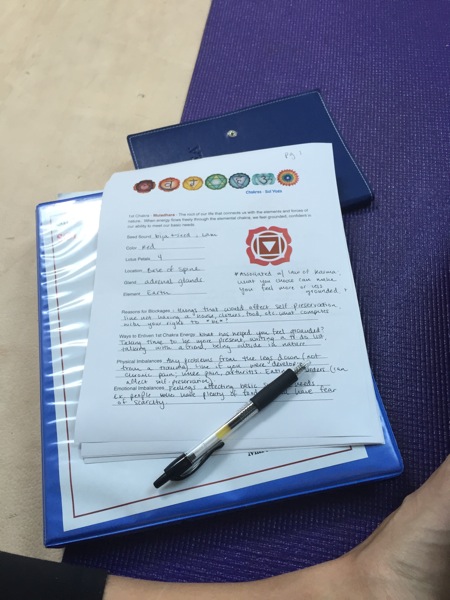 Pros:
-It was a long process, and I think that it really encouraged each of us to really learn and absorb the materials. I feel that because it took a bit longer, I learned and retained more than I would have during a short intensive course.
-It changed me as a person. I finally learned that it means to live yoga off the mat, and have implemented many of the strategies we learned during training in my everyday life. That to me was worth the tuition fee alone. After yoga teacher training, I meditate daily, take extra time to count my blessings, BREATHE through my stressors, and feel like a calm, more focused and centered version of myself. Sure my fiery Latina still comes out, but for the most part, I feel more peaceful and patient throughout the day.
-I learned proper alignment for the asanas. While I've learned many poses from attending classes on and off for the past 10 years, there were still many poses where I was like, "I'm not sure I'm doing this exactly right…." Now I know proper alignment for my favorite poses, and also some tips for setting up the newer asanas.
-Learning my own mantra, which was a magical part of our teacher training and my favorite thing that we did. I wrote a little bit about it here, but each of us received our own personal mantra, based on the sound and vibrations the Earth was making on the day and in the place where we were born. Crystal had a special ceremony for each of us to receive our mantra, and afterwards we meditated on it for 30 minutes. I use my mantra in my own meditations now, and it feels powerful to be using a mantra that was chosen for me.
-The personalization of studying in a small group. Because we were a small group (9 people), we had the ability to ask questions and have our experience tailored to the subjects we wanted to learn. Since this was my first yoga training experience, it was nice to feel like our instructor was accessible. There are trainings with hundreds of students, and while I'm sure they are amazing, this was exactly what I needed for my first experience.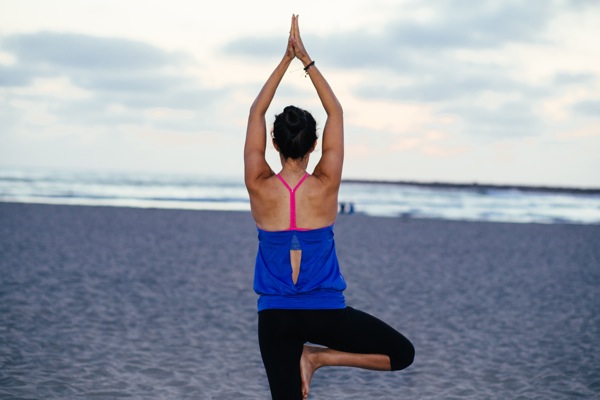 Photo: Danny Chan
Cons:
-It was a long course. I had to miss a couple of weekend meetings (for fitness conferences and travel) and felt like I was missing out! The good news is that Crystal was really flexible and worked to coordinate our schedules so we didn't miss too much if we were out of town.
-While it deepened my practice, I do feel like I analyze yoga more often than I used to. This comes with the territory of learning to teach my favorite classes. Even though I am paying more attention to the phrasing, form cues and verbs instructors use, I feel like my love for yoga wasn't tarnished in the least. My love for yoga became deeper and stronger, and I feel excited to continue to practice as long as I'm able.
All in all, I'm so thankful that I was able to complete this training and to have another certification under my belt. I'm hoping to use my yoga teacher training in my profession one day, whether it's through teaching classes, teaching a yoga class at Liv's school when she's a little older, or who knows? You can add this to my list of random hobbies, but I'd love to explore becoming a doula sometime in the future. I feel like YTT could be beneficial for that, too. I'm just excited for the opportunity to share yoga with others because it's dramatically impacted my life. <3
Let me know if you have any questions about the process!
What goal are you currently working towards??
xoxo
Gina
My teacher training was through Sol Yoga at Point Loma Sports Club. My tuition wasn't comped or discounted beyond the normal member rate; just wanted to spread the word in case any local friends were interested. Their next training will begin March 2016.