Hi guys! Hope you've had a wonderful day so far! I'm so glad ya'll liked the Zumba video! My class is awesome and teaching is such a blasty 🙂
I started my St. Patty's day off with a green breakfast cookie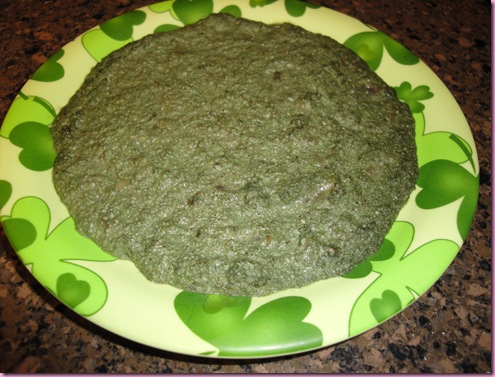 It was my first time using oat bran instead of oats, too, and it tasted lovely despite the green appearance 🙂
-1/2 C oat bran (different chewy texture- me gusta)
-1/2 scoop vanilla Sun Warrior
-1 small mashed banana
-1/2 T maca
-1/2 t spirulina (for the GREEN!)
-T almond butter
-almond milk
Nothing to freak out everyone at the gym like a green breakfast cookie 🙂 One lady was like, "what is THAT?!". Love it 🙂
I do have to show ya'll my dinner from last night because it wasn't one of my wisest moments.
I decided to grill up at boatload of veggies and season them with Asian flavahhh.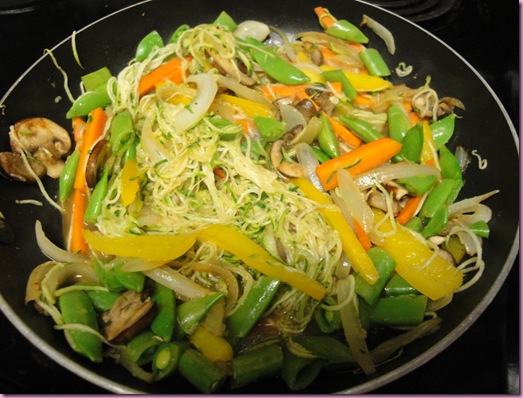 Into the skillet went:
-1 small onion
-handful of portobello mushrooms
-snap peas
-bell pepper
-carrots
-spiralized zucchini (using this spiralizer—you can find it in my OpenSky shop!)
-Nama Shoyu
-cayenne pepper
-garlic
-rice vinegar
As I was skillet-ing away, I was thinking to myself "whoa, this is almost like a fajita, but Asian-inspired. Asian fajitas."
Then it dawned on me.
Stir fry.
Hahaha! I'm a giant goober… and was a little embarrassed with myself for that one (and felt compelled to share that with thousands of friends: you). I promise I'm smart 😀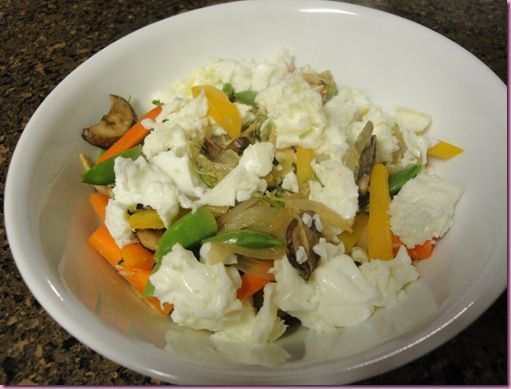 Topped with a 3 egg white puff, it was pretty ahhhmazin.
Also, I broke Lent last night.
Judge me. 😉
My sweet tooth was SO bad. I needed something sweet and something chocolaty, so after 15 minutes of debating I just went for it. The maca- cacao combo was screaming my name and Hot Macao was born.
Hot Macao

-1 1/4 C almond milk

-1 T cacao powder

-1/2 T maca

-7 drops liquid Stevia

-pinch sea salt

-1 t vanilla extract

Whisking continuously, heat all ingredients in a small pot until warm. Bottoms up.
Worth every tantalizing, foodgasmic sip. I think I can be strong until Easter now 😉
This morning, the girls and I went to the gym for back and biceps and then I spent the rest of the day working and running errands.
Crazy awesome news: THE INDIAN RESTAURANT OPENED AGAIN TODAY! Guess where I'll be after Zumba, roti in hand with a big goofy smile on my face? YES.
Have a wonderful night and if you go out, be safe <3
xoxo,
Gina
Something to do: Meet me back here in the morning for a ridiculous OpenSky promo. If you've been needing a foam roller, Thursday is your day of victory 🙂
Something to Read: An Irish Blessing in honor of St. Patrick's Day
May you always have walls for the winds,
a roof for the rain, tea beside the fire,
laughter to cheer you, those you love near you,
and all your heart might desire.

(Source)