back from the land of rice crispy treats
Hey hey! How are you? How's the week going so far? Hope you had a great and relaxing weekend. We were transported from a magical land of entertainment, sweets and excitement, into a mountain of laundry. The best vacations usually go that way.
We had an amaaaaaazing time in Orlando at Disney World this weekend.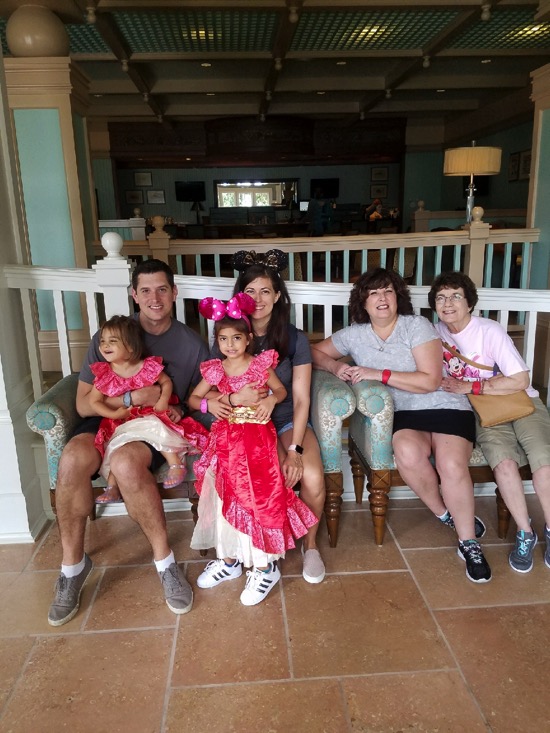 It was our first trip to Orlando as a family -the Pilot and I used to go often years ago, but haven't brought the girls yet- and we were so thrilled when madre and nana made a trip out here to join us. I feel like I'll never be *too old* for anything Disney, and it seems to get better with time. Being there with Liv and P makes the experience even more magical, especially seeing the parks from their little eyes. They're enthralled with all of the activities and characters, and I definitely feel like we've reached the sweet spot for traveling as a family.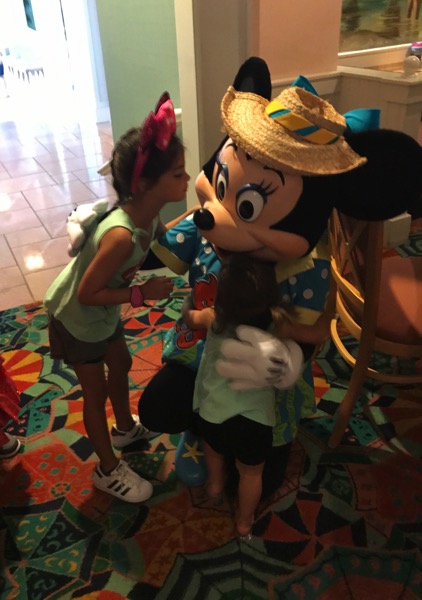 We left Friday afternoon after Livi's cheer camp wrapped up, and checked into the Disney Boardwalk. It was our first time staying on Disney property, and while there are pros and cons -I'll work on a post with all of our tips and the things we learned- we really liked the hotel.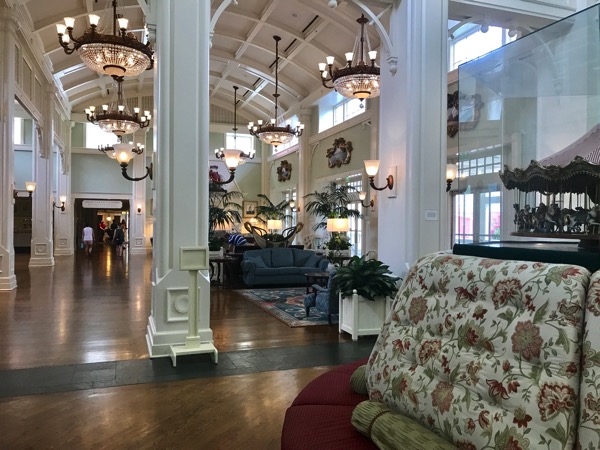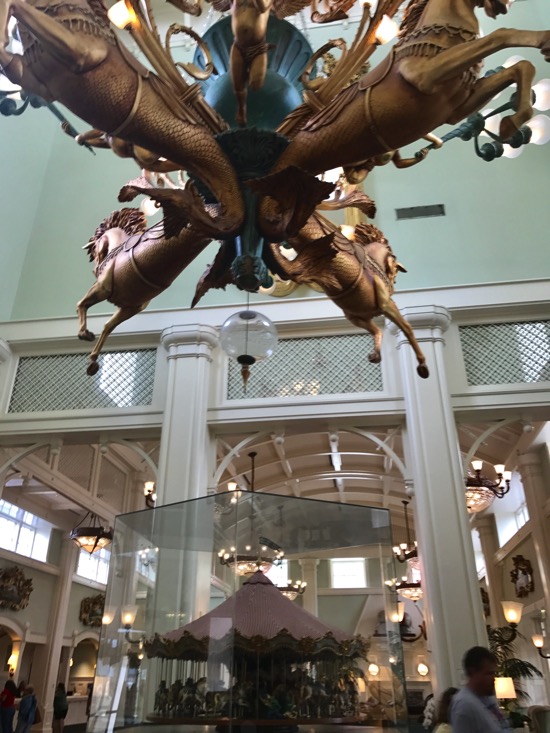 The rooms were clean and cozy, and it was plenty of room for all of us. (We debated booking another room, but since we were only there to sleep, we decided to just roll with it camping-style. It ended up being way more fun that way, anyway. P slept in the crib, the Pilot and I were in one bed, madre and nana shared a bed, and Liv was on the pull-out couch daybed.)
We were greeted by a ton of rain -it rained all three days we were there- so we ended up chilling close to the hotel and grabbed a casual dinner at ESPN. After dinner, we caught the bus to Disney Springs.
Disney Springs
Last time we were in Orlando, Disney Springs was Downtown Disney. It was already massive, but has grown so much since the last time we were there. There are SO many new restaurants and an entire row of shops. It was awesome! You could totally spend half a day there enjoying a meal and exploring. We'd already had dinner, but I was scoping out Sprinkles Cupcakes (so good), Morimoto's restaurant (the street food looked fantastic) and Homecoming for next time. We walked around for a couple of hours, checked out the Lego store,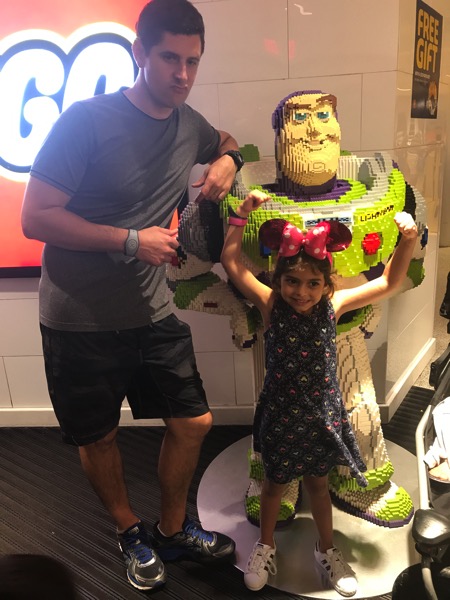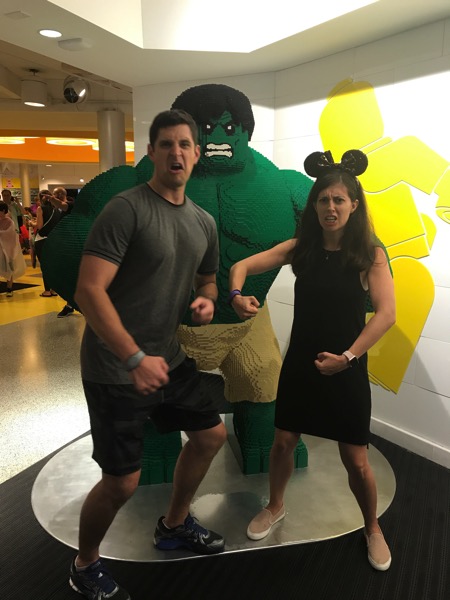 and saw the different shops, until the girls were ready to crash.
Breakfast at Ariel's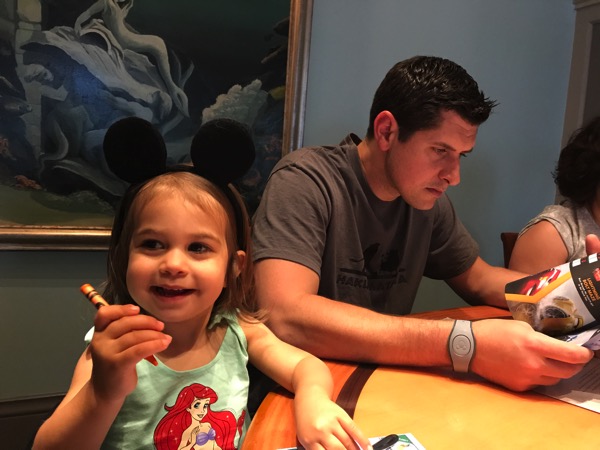 Saturday morning, we got dressed and ready for the day before heading to breakfast at Ariel's Yacht & Beach club hotel. They had something for everyone -lots of delicious egg dishes, pastries, and breakfast staples- and we were fueled for the day. We changed the girls into their matching Elena dresses,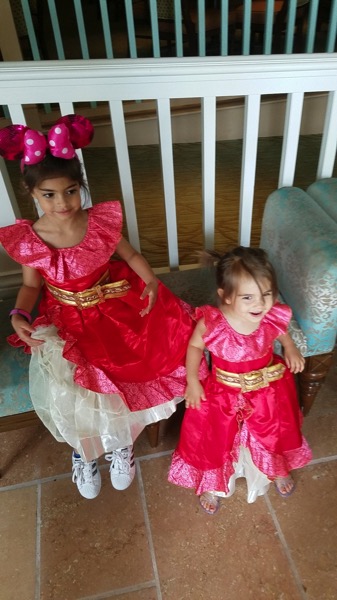 and made our way to Magic Kingdom.
Magic Kingdom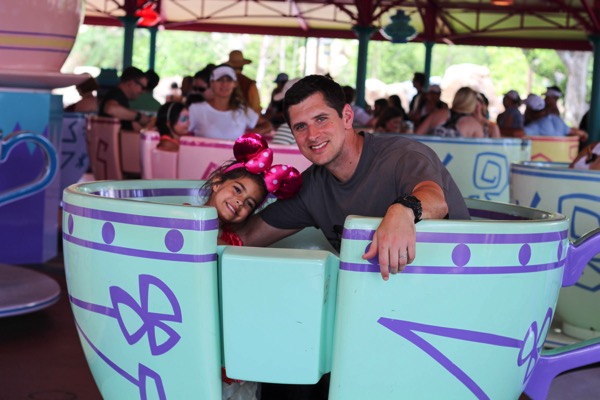 I have to admit that it was a little bit weird to be at Magic Kingdom, which is so similar to Disneyland, but different enough that I had no clue where anything was. It was packed, too! We have a pretty low-key way of exploring the parks and vacationing in general, so we just got a feel for the layout of the park and surprisingly, we ended up doing a lot! The rides we went on: Small World (P lost her mind; she loved it), Dumbo, teacups, and Buzz Lightyear.
We ate lunch in Tomorrowland, but the food highlight of the day was hitting up the desserts on Main Street.
You know I finally got my rice crispy. 😉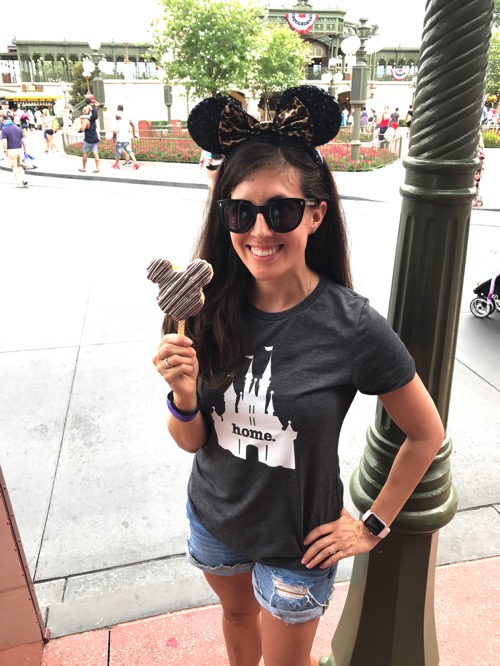 Hollywood Studios
We made our way to Hollywood Studios since we had reservations for character dinner. Reservations and Fast Passes fill up quickly, so if you're planning a trip, it's worth taking the time to think of must-dos and dining options. When I planned our trip, a lot of spots were already booked up!
We had a little bit of time before our dinner reservations, so we watched the Voyage of the Little Mermaid show. (Liv told me she wished it was longer; she really enjoyed it.) After the show, we walked over to Hollywood & Vine for character dinner.
Liv loves seeing all of the characters, but when she was P's age, she was understandably apprehensive of people wearing huge heads and giant furry costumes. P had zero fear. She ran up to Mickey screaming and laughing, and wouldn't stop hugging and kissing him. I actually ended up having to hold her back at the table until it was her turn for the characters to come around because she couldn't wait to wrap her arms around them. It was hilarious and adorable.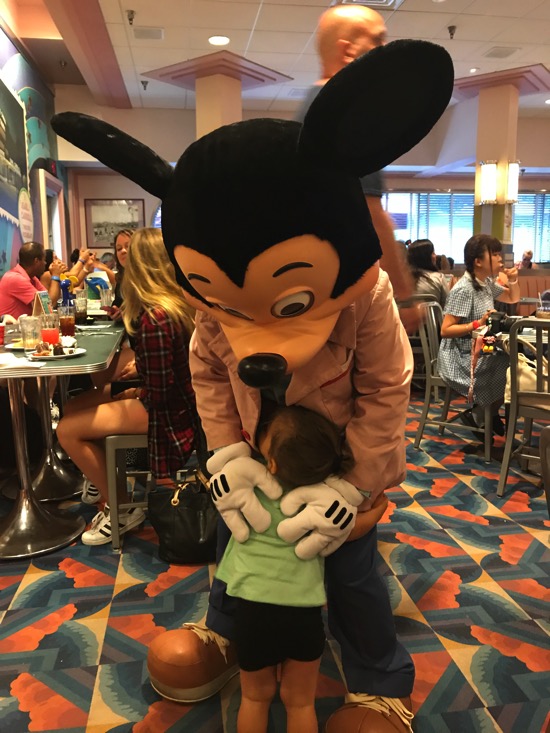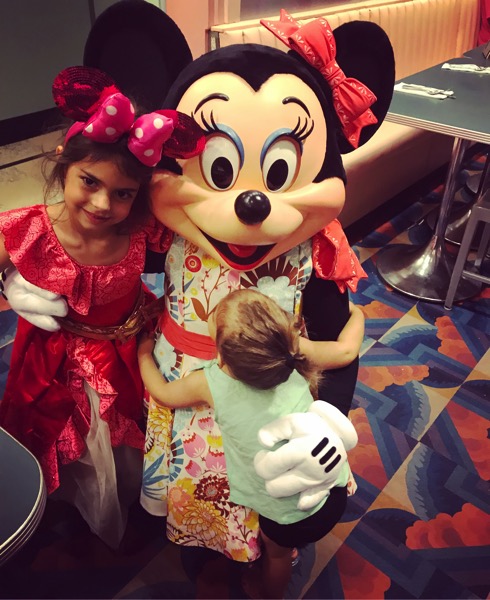 The food was surprisingly great, too. They had so many healthy options (I had salmon, salad, buffalo grilled chicken, and plantains), and sangria.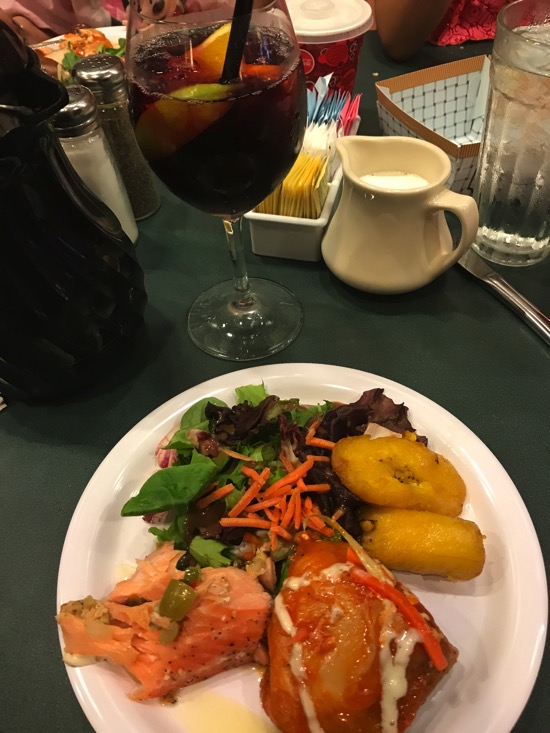 (I went back for more doubles of everything- so good)
There was also an entire kids' station with chicken, veggies, mashed potatoes, little hot dogs, grilled cheese, and was just their height, too.
By the time we finished dinner, it was pouring, so we hopped on the boat back to the hotel. After we dried off and put the girls to sleep, the adults enjoyed relaxing in the room with some Moscow mules. 🙂
Animal Kingdom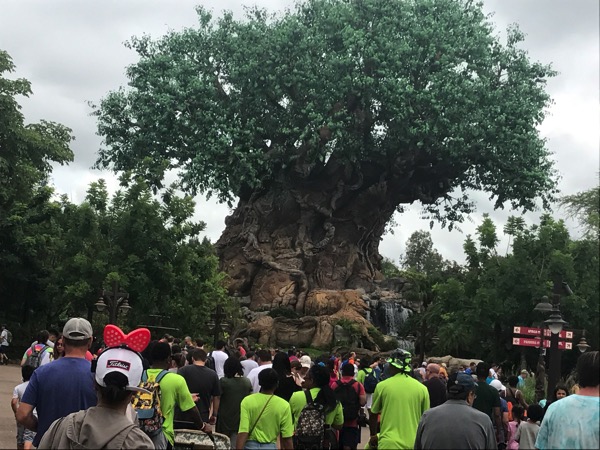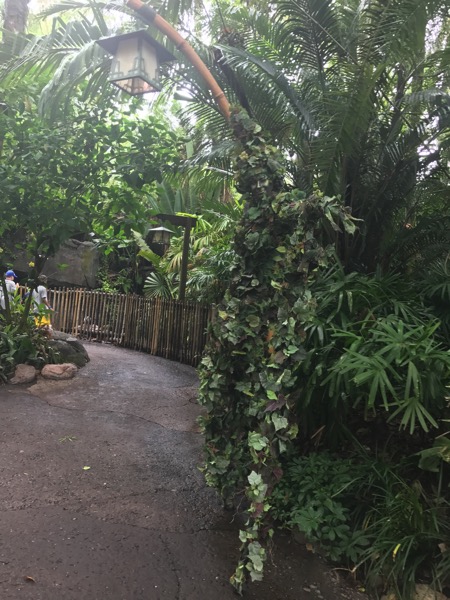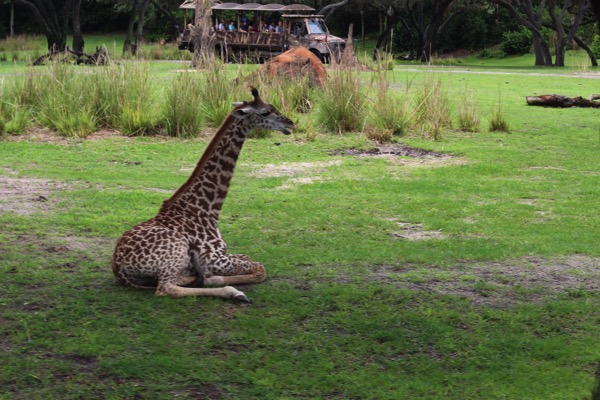 Sunday morning, the Pilot and Liv grabbed some snacky foods from the hotel for everyone to share, and we rode the bus to Animal Kingdom. I haven't been to Animal Kingdom in years -and spent the last time we were there sobbing on the dinosaur ride haha- and forgot how lush and green it is. I feel like it's based more on experiences (shows, entertainment, animal sightings) than just rides, and it doesn't feel as crazy and busy. We had Fast Passes for Killamanjaro Safari, so after grabbing coffee at Starbucks, we headed there first.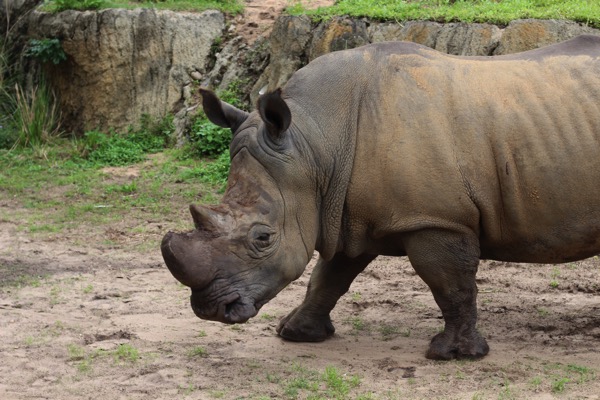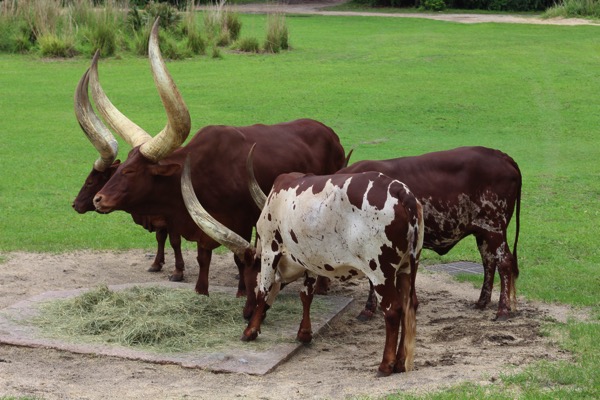 We were able to see so many animals: crocodiles, giraffes, hippos, elephants, lions, rhinos, wild African dogs, and deer, within a close distance. After the ride, we watched the Lion King show, which everyone LOVED. The performers were incredible, and "Circle of Life" gave me serious goosebumps. They called Livi up with a handful of kids for the finale, and she got to shake a shaker and do the parade around the room.
After the show, we walked over to the new Pandora land, which was seriously mind-blowing.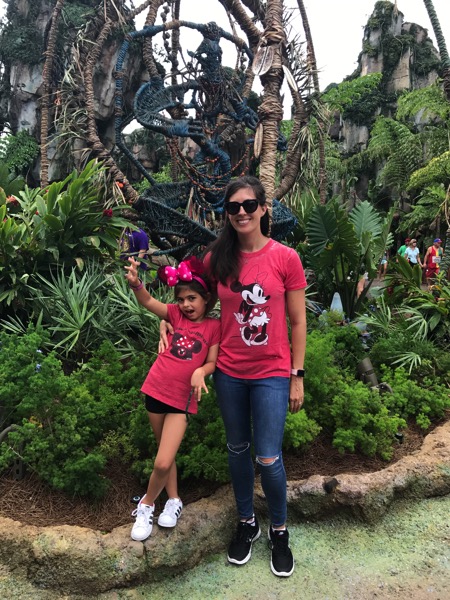 The pics I took don't really do it justice; it's hard to tell how vast and vibrant it is until you're there in person. We had Fast Passes for the new Na'vi River Journey ride, which is a gentle boat ride through the land of Na'Vi. This animatronic is supposed to be the most lifelike one in the world, and I believe it. She was gorgeous and moved just like a real living being. A very tall, blue, illuminated being.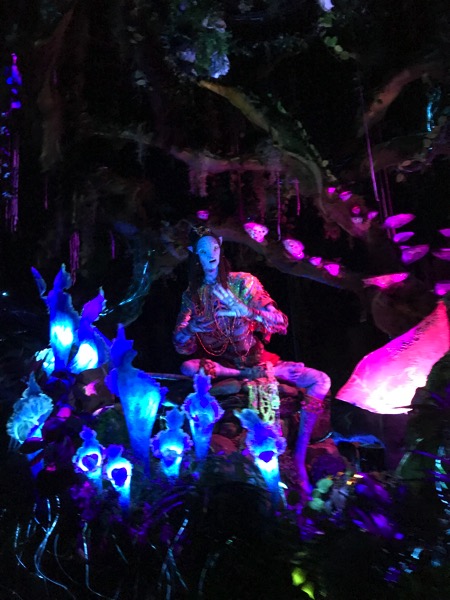 We didn't end up getting to use our later Fast Passes for the Flight of Passage ride -if you want a full spoiler, check out this YouTube video– but the girls were dangling by a thread. After full days of activities and stimulation, they were ready for some car naps, and it was time to hit the road before it started pouring. I know we'll be back soon, though!
Highlights:
P's obsession with the characters.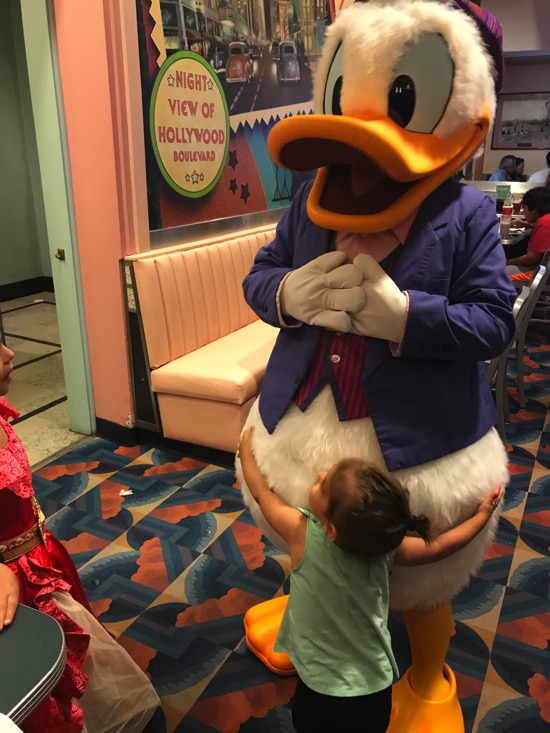 When Donald walked away, she ran after him, trying to hug him until I could catch her.
This picture was taken after I had to hold her arms down because she kept trying to dive onto Daisy so she would hold her.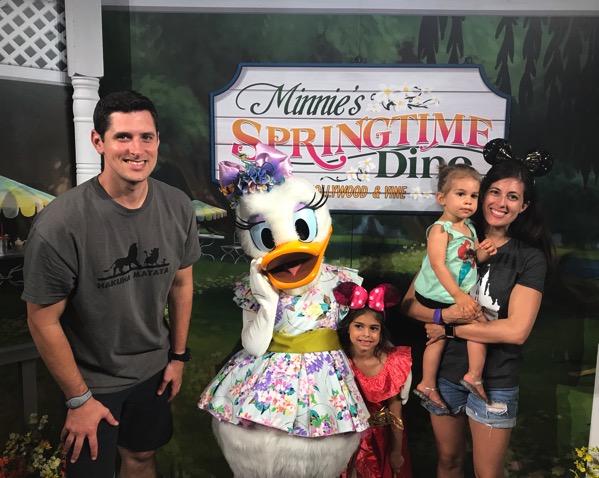 (I wanted to get the Pilot a shirt that wasn't too over the top and found this one on Etsy, too)
Lunch at the Satu'li Canteen in Pandora. The food there was the best "quick" park food I've had. I could eat one of their bowls every day: you pick your protein (chicken, tofu or beef), your base (rice and grains, sweet potato + red potato, or kale and romaine salad) and your sauce (I think it was a herb yogurt dressing, a balsamic and a chimmichurri). The bowl is topped with a crunchy veggie slaw and SO delicious; very hearty and satisfying.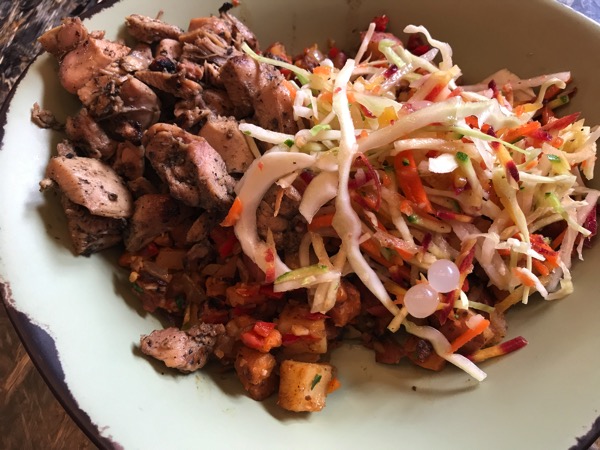 Watching Livi giggling at breakfast with her nanas.
The fact that both Small World rides do indeed have a scary clown. Why did they need to put that in there?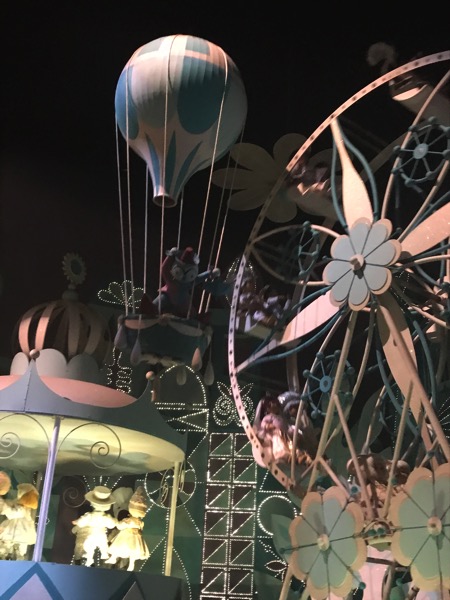 This. I was like, "I'm not super hungry, so I'll just have some and save the rest for later or tomorrow" and then I had a stick in my hand.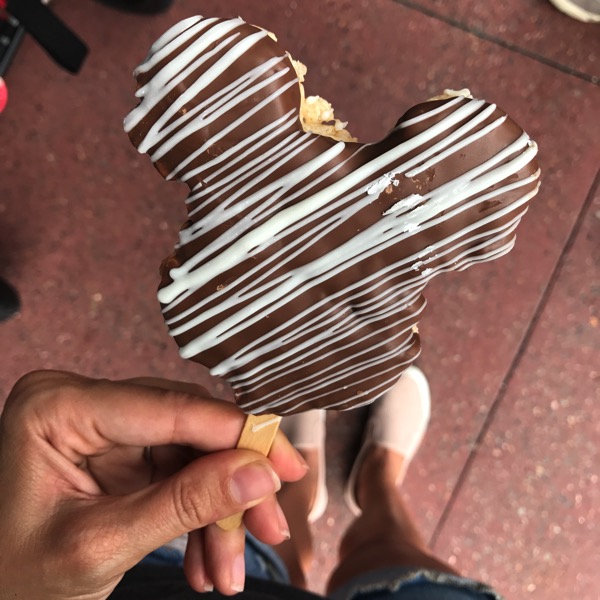 Laughing in our ridiculous ponchos. A little rain didn't stop the party.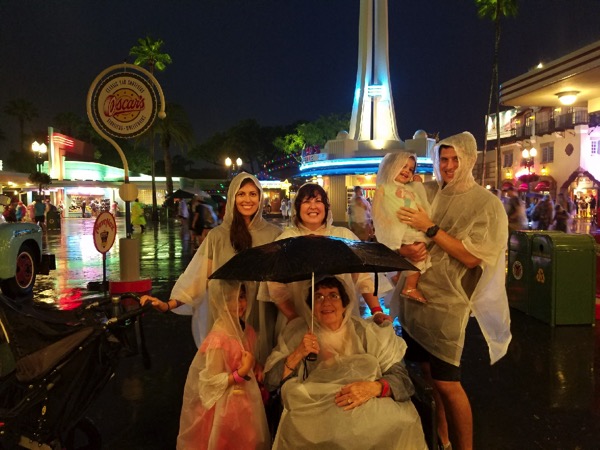 Having madre and nana there with us. It makes my heart happy any time we get to be together, and everything is just so much more fun when they're around. 🙂
Have you been to Disney? What's your absolute favorite part? If you'd like to share your top Disney tips below, I'll include them in my post with tips and the things we've learned.
xoxo
Gina
Looking for a workout? Here ya go!