Back to basics barbell workout
Hi friends! How's the day going? I'm off to hand therapy this morning and excited to whip up a St. Patrick's Day feast. 🙂 Would love to hear what you're up to!
Since I started teaching BODYPUMP, I've rekindled my love for barbell training. Not only does it enable me to lift heavier weights than I would with dumbbells (like during squats!), but I also notice a visible change in my muscles when I change up my strength training. One downside of barbell training is that it emphasizes bilateral movements, meaning you're working both sides at once. Essentially, you could use your stronger side and let the weaker side slack off a bit -especially when you're feeling fatigued- so it's something to be mindful of when you're using barbells, or any machine that enables you to work both sides at once.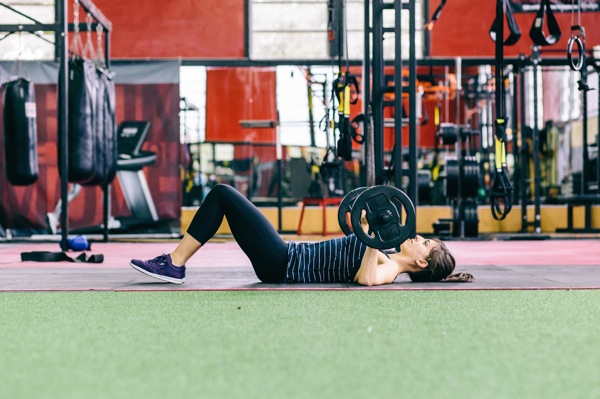 Today's new workout includes some of my favorite barbell moves. If you've noticed that you've been using the same mode of strength training for a while, this is a quick and effective way to change things up. Remember, change creates change. You need to tweak little things in your routine if you want to prevent plateaus and keep things exciting!
Here's the workout:

Form cues and tips:
1) Deadlift: place your feet underneath your hips with the slight bend in your knees. Hold the barbell just outside your thighs, pull back your shoulder blades to give you a straight spine, and tighten your core. As you come down, stop the barbell just below your knees, making sure to keep a flat back the entire time. Also, try to avoid swinging your hips; keep them as steady as possible. Exhale to rise back to standing.
2) Biceps curl: keep your elbows close to your torso, a tight core, and a slight bend in your knees. Lift up through your chest as you flex at the elbow, bringing the weight all the way up (aiming towards your shoulder). As you release, try to resist the weight, and go for a nice full extension at the bottom of the movement.
3) Squats: place your feet just under your shoulders with toes slightly angled out. Keep your chest lifted and a tight core as you sink back and down into your squat. Pretend like there is a chair behind you, and you're going to tap your booty to the chair. The weight should remain in your heels, and try to keep your elbows just under the bar with a nice wide grip.
4) Lunges: take one huge step forward, and keep your feet in line with your hips. Try to keep your torso perpendicular to the floor as you sink down into your lunge. As you lunge, watch the front knee to make sure it stays stacked above the front ankle. As you rise, actively think about trying to squeeze your legs together.
5) Chest press with leg lift: start in a supine position with your shoulders pressing into the floor, a tight core and feet hip distance apart. Take a wide grip on the barbell. As you lower it down towards mid chest, your elbows will come wide (90 degree angle) and stop in line with your torso. As you exhale to press the barbell back up, lift your legs off the floor, maintaining the same 90 degree angle with your legs. Gently lower your legs down as the weight comes back down.
6) Triceps press: stay in the supine position, but take a narrow grip on the bar with hands just above your shoulders. Bend your elbows in towards your torso (keep them super close to your body) and squeeze your triceps to bring the weight back up.
Please let me know if you give it a try! What do you usually use for strength training? Favorite barbell exercise?
Hope you have a great day!
xoxo
Gina
*If you're looking for cardio to combine with the above workout, check out this HIIT the Hill workout and this orangetheory-inspired treadmill and rowing workout