Bellydance cardio (video)
Hiiiiii 🙂 How's your week going? Still enjoying the sights, food and Stitch Fix adventures in San Francisco. Head back for a fun giveaway later today! 🙂
Swans, chillin':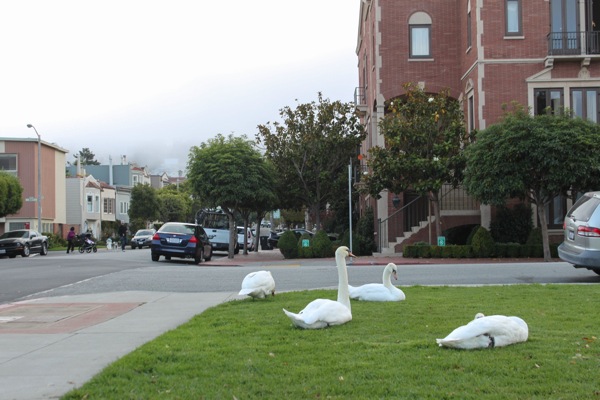 Last night's dinner was at Bistro Aix, which was INCREDIBLE. We shared some amazing appetizers (wood-fired pizzas, salads, calamari, salmon), and I chose the ahi tuna for my entree: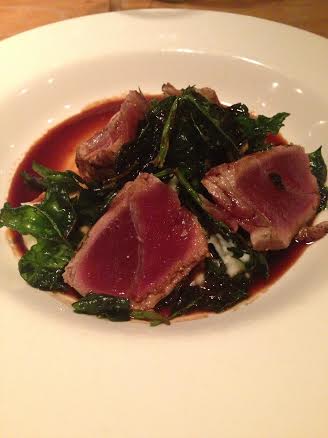 They also had the magical wine glasses that kept refilling 😉
We're off to check out the warehouse today, and see the fixes being put together!
Today is an exciting day because our new YouTube videos are ready to start launching. Sasha and I had a filming day with Grant a few weeks ago to get some new YT videos for our channel. We asked Grant to do it because he did such an incredible job on our DVD, and let's be real, my Flip cam and rough editing weren't doing anyone any favors. 😉 We filmed quite a few new workouts to share, and will be posting one each week from now on. The good news is that in addition to the workouts I post on my blog, you'll be able to expect at least one workout video (either on my personal channel or our Sage channel) each week. Wahoo!
We're starting the party with a bellydance cardio video that Sasha put together. Sasha is kind of a bellydance goddess -when Livi and I went to see her perform, I told her Sasha was a bellydance princess because of her sparkly costume and makeup. Now, whenever Livi sees Sash she says, "Sasha princess!"- and it's something that I've been trying to improve over the years. I remember the days when I used to do the Shimmy workout on FitTV. It was a hot mess and the Pilot and I would be cracking up. I'm lucky that Sasha has been able to teach my some of her moves, and I've had a little help from assisting the bellydance class at work. It's a lot of fun in addition to being a super challenging core workout.
The video:
The beauty of doing choreographed dance cardio routines on YouTube is that you can pause, repeat and practice as much as you'd like.
Feel free to combine this one with our last bellydance video, or any of our barre or ab burners for a short workout. I find that dancing to a single song is enough to elevate my mood and make me feel centered. It's a great work break 🙂
Hope you enjoy!
xoxo
Gina
Something to talk about: Would you like full workout videos for Winter Shape Up? They wouldn't be DVDs, but I'd upload them to YouTube. Let me know what you think! I'm trying to get everything together before Thanksgiving so I can work on the documents. I'm thinking Winter Shape Up will begin Monday, January 20th. Mark your calendars 😉