Bitsy's Brainfood (+ an awesome giveaway)
This post is sponsored by Bitsy's Brainfood and includes an awesome giveaway, including a Target gift card. Read on for more details!
I'm always looking for quick and healthy snack options for Liv, but her tastes and preferences are constantly changing. Some days she's crushing crudités and hummus, and others, I'm trying to figure out if she's eaten a single vegetable. It all balances out, right? I love to make her snacks at home, but for treats and portable options, I'm pretty particular about what I'll purchase to have on hand.
We were excited to see that Bitsy's Brainfood kindly sent us a box of their snacks to try out, plus two cute shirts.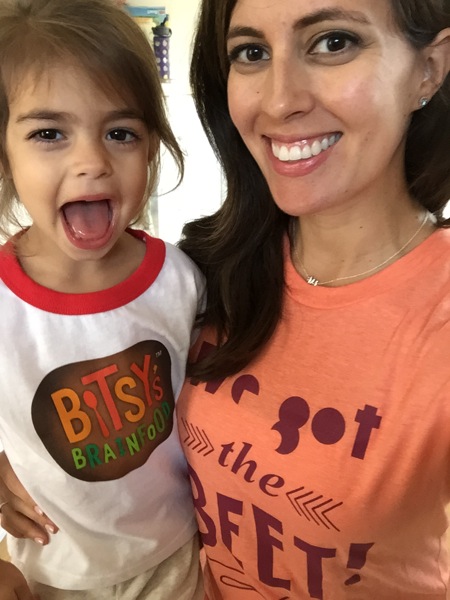 (Mine says "We got the beet.")
Bitsy's Brainfood was started by two moms who believe that healthy bodies and minds are connected, and that learning to eat healthy should be enjoyable. They were shopping for snacks for their kids, and realized that the snack aisle wasn't healthy, and the healthy aisle wasn't fun. It was their lightbulb moment to combine the two, and create snacks to nurture growing bodies, minds and imaginations. They want to empower children to make healthy choices, which is why they don't hide the fact that there are fruits and veggies in the snacks.
They sent two cereals (Fruit and Veggie 1,2,3 and Green Berry Blast, which is gluten-free) and some cookies (orange, chocolate, beet; zucchini, gingerbread, carrot; and sweet potato oatmeal raisin). Livi scoped out the bag, and was really interested in Bitsy, who looks like she could be related to Fancy Nancy, a character from some of Liv's favorite books.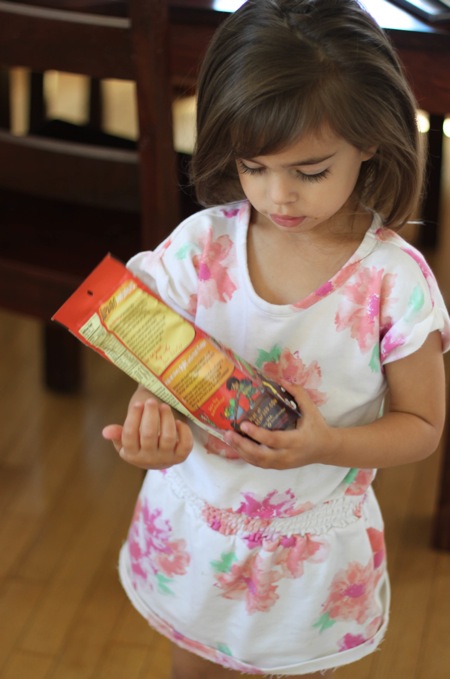 Some of the things I love:
-That they aren't trying to "trick" kids into eating healthy. By teaching kids that fruits and vegetables are indeed in their food, and they are delicious, they're giving them the options and knowledge to make healthy choices later on. It's important for me to teach Liv that we need a balance of nutrients to grow strong and feel energized. Some foods are delicious, but not necessarily nutrient-dense, but too much could slow us down.
-They're made with whole grains
-They're nut-free, which is important because many schools and youth facilities are nut-free
-The snacks are fortified with vitamins, minerals and healthy fats, including DHA + EPA. I was excited to be reading through the label when I saw Omega 3 oil, as it's something I add to our smoothies, and pea protein
-They're colored with fruit and vegetable powder; no artificial colorings
-No genetically-modified ingredients, and are certified USDA organic
-You can find them at Target! Check out the store locator to find out if Bitsy's Brainfood is near you.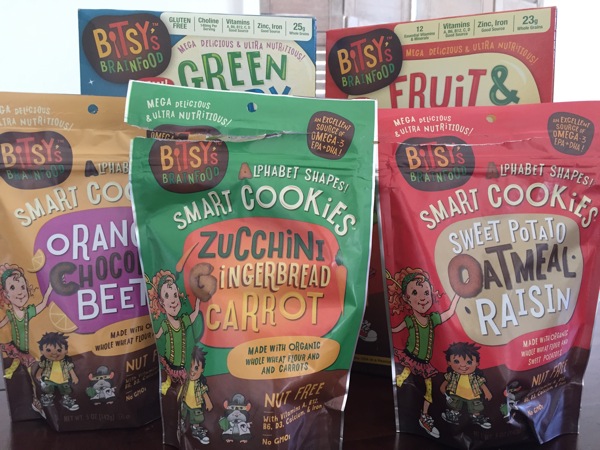 What Liv loves:
-The taste. She LOVES the cookies and especially loves the Sweet Potato Oatmeal Raisin. As far as the cereals go, we don't do a ton of plain cereals for breakfast, but I've been including them in parfaits with fruit and yogurt. She really enjoys the crunchy bits of the cereal in the parfaits. I've also been known to down a mug full of the Green Berry Blast cereal with some almond milk after spin class. 😉
-Learning! She is really into learning letters and sounds right now, and the cookies are shaped by letters. We'll put them together to spell short words and go over the sounds that each letter makes. It's pretty awesome to infuse reading and learning into snack time.
And now, it's giveaway time:
Bitsy's Brainfood kindly offered to send a lucky reader the same package they sent me, plus a $50 gift card to Target!
Just enter via the widget below:
a Rafflecopter giveaway

I'll pick a winner this Sunday night at midnight EST and announce in Monday morning's post.
xoxo
Gina
This post is sponsored by Bitsy's Brainfood and as always, all opinions are my own. Thank you so much for supporting this blog and the companies who help to support our family.