Hi friends! How's the morning going? A little later to the blog today because I had a doc appointment. It feels like the week has been full of those, but it's Thursday already so not complaining. 😉
Popsicles and bubbles on the porch: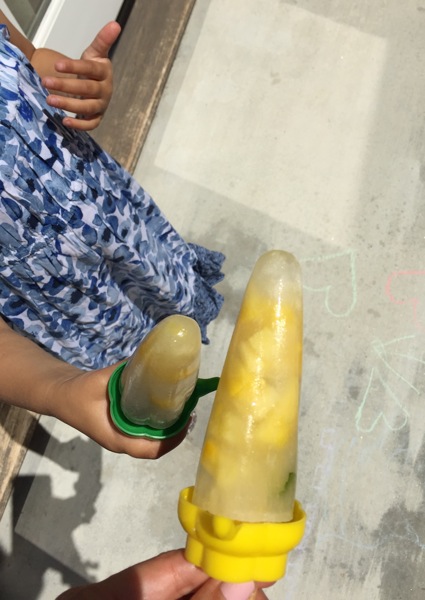 (Just coconut water, pineapple chunks and mint. Fast to make and super refreshing)
Yesterday afternoon, I was feeling pretty zonked and kind of out of it. Liv and I came home and there was a Stitch Fix
(<— referral link) box waiting on the porch. It still feels like Christmas when that happens, and was a nice little pick-me-up.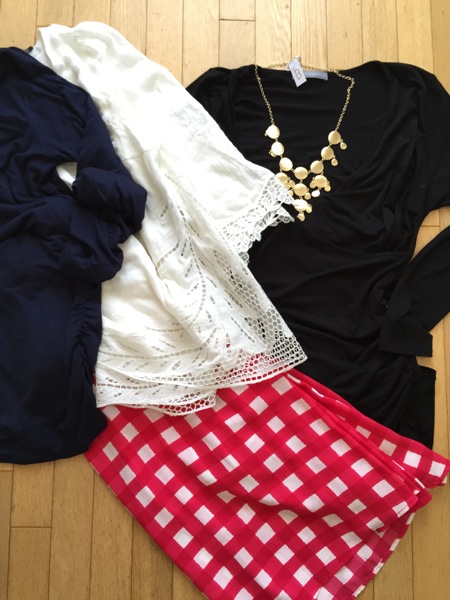 I had a few boxes that were kind of "meh," and the last box I received was awesome. So was this one! I'm still on the fence on a couple of pieces, but I thought I'd share the goods and maybe you can help me decide?? It was also my first time receiving two maternity pieces. Usually in stores, I have a hard time finding maternity clothes that fit well -I feel like they're all designed for tall people, but thankful for the awesome lines at HM and the gap– but I was excited that these all fit.
Here's what was in the box:
1) Brixon Ivy Diaz Embroidery & Crochet Detail Cotton Top (similar here)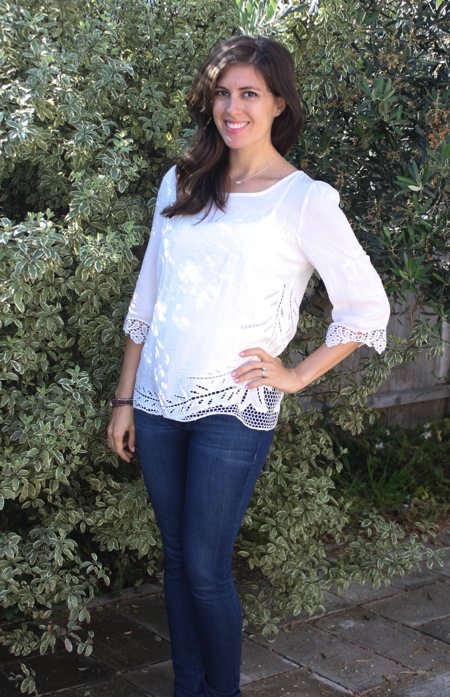 Keep! I love boho and embroidered tops for summer, especially with jean shorts and sandals. My jean shorts are MIA -I have no clue where they are- so hopefully they show up sometime soon haha. I can tell this one will be getting a lot of wear.
2) Loveappella Firenze Long Sleeve Maternity Top (similar here)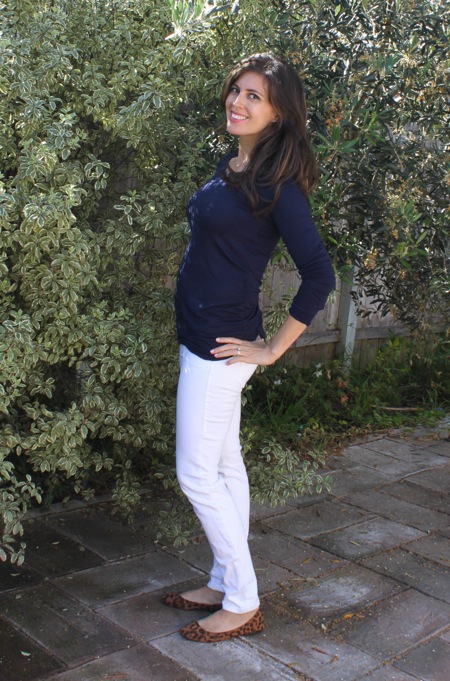 Keep! At first, I was like, "Well this is just a plain ruched-side maternity top," but then I thought about how much I use and wear solid tops. I also happened to have the exact outfit as one of the style cards (white jeans + cheetah flats) and really liked the combo. The style cards are really helpful when I get an item to try on and am not quite sure how to mix it with pieces I already own.
3) Loveappella Mikah Maternity Dress (similar here)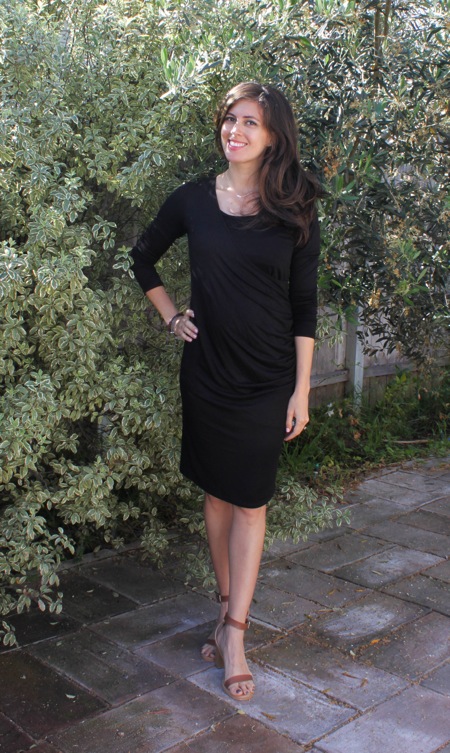 Keep! This is definitely a little dark for spring and seems like to much fabric happening for now (key words "for now" haha), but I love that it's a classic black, casual dress that can be dressed up or down. It's also nursing-friendly, so I can see myself getting a lot of use out of it this fall.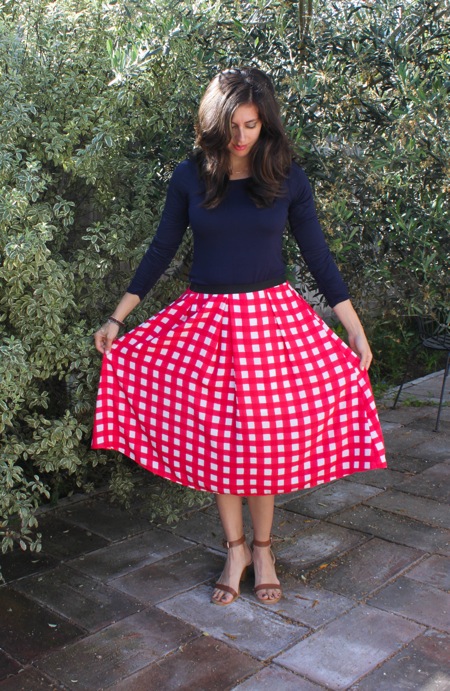 I have no idea.
It feels like a DREAM -so light and comfy- but I'm not sure how flattering it will be as things progress. I had been wanting a midi skirt, but feel like the print might be a little too much happening.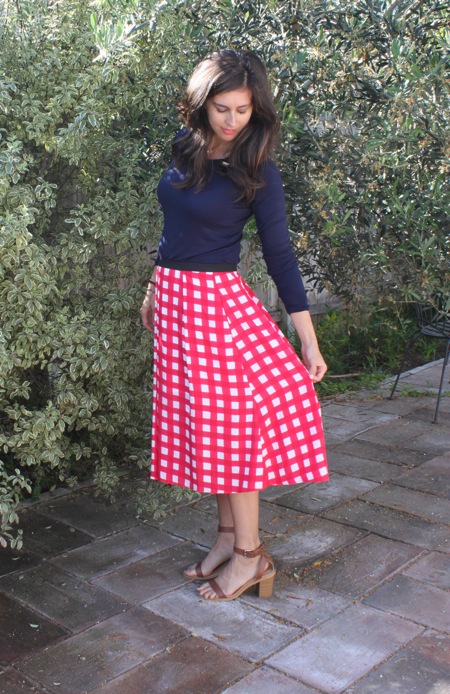 5) Bancroft Leighton Metal Bauble Necklace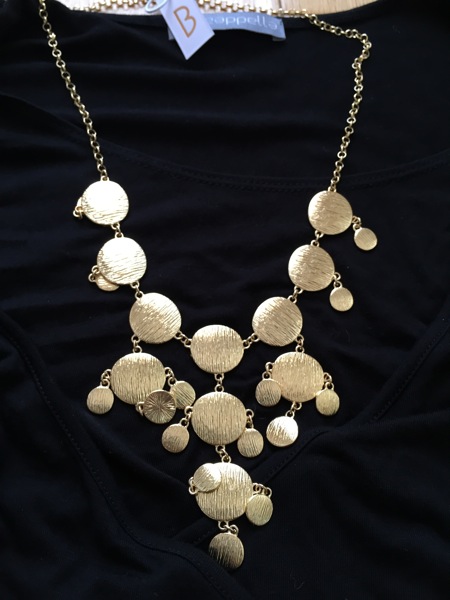 Return. I like the classic gold, but tend to prefer smaller and daintier necklaces.
All in all, I think it was a great fix! I think one of the best things about Stitch Fix is that I receive pieces that I would never find or think to try on my own. It's definitely been good for stepping out of the comfort zone a bit!
If you're curious about giving Stitch Fix
a try, here's my first post ever and some past fixes:
Some tanks and a dress I'm still loving
Some tips for getting the most out of your fix:
-Request specific pieces. If I see them post something on Instagram (or another blogger receives something I love), I'll make note of the title and ask for it or something similar in an upcoming fix. In the past, I've been really specific, like "black maxi dress, denim jacket, printed shorts" etc.
-Pin clothes that you love. I pin outfits and style ideas on my Style board, and linked to it in my Stitch Fix profile. If I'm looking for something similar to an item I've pinned, I'll include the link in the request form.
-Give detailed feedback. If you don't love something they send, make sure to indicate why in the comments section. I'll be specific if I wasn't feeling a certain print, fabric of style.
Have you tried Stitch Fix or anything similar? Preggo + patterned midi skirt = yay or nay? Any spring or summer pieces you've found that you love, or trends that you're happy about? I was pretty stoked to see espadrilles come back in! I have my eyes on these ones.
Hope you have a lovely night!
xoxo
Gina
In full transparency, I paid for the above items using Stitch Fix credit from referrals to the brand over the past couple of years. Thank you sincerely for your support! I'm so happy that many of you have tried it and love it as much as I do <3