Boot Help and Maternity by lulu
I'm not usually an impulse buyer. I buy things on super sale, and the more expensive investments, I'll ponder and research for a little while before making the splurge. Huge purchases (like electronics) give me anxiety.
Boots usually don't.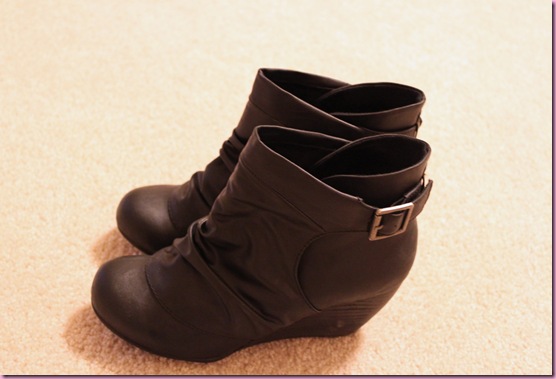 Those, however, were an impulse buy.
I really wanted a pair of heel booties to wear this season –I think they look so cute with tights and dresses- but as soon as I walked into Aldo and saw all of the very high, spiky booties, I thought about the fact that I could fall, and also would have elephant ankles within 10 minutes of wearing said booties. I decided to go the safer route and try a wedge, since they still give me height and are much easier to walk around in.
I tried on the booties, looked at them in Aldo's super long mirror that makes you look at least 6 ft tall, and was in love. I bought the wedge shoes and was so happy…
Until I saw pictures of myself actually wearing them.
Somehow, they managed to take a foot off my height, and with black tights and a sweater dress, it was just frumpy and wrong. The booties have stayed in my closet since then, and I've been wearing my mid-calf black boots (the EXACT same style, just taller) or my Tom's instead.
Tonight, I decided to bust out the booties and think I made it work?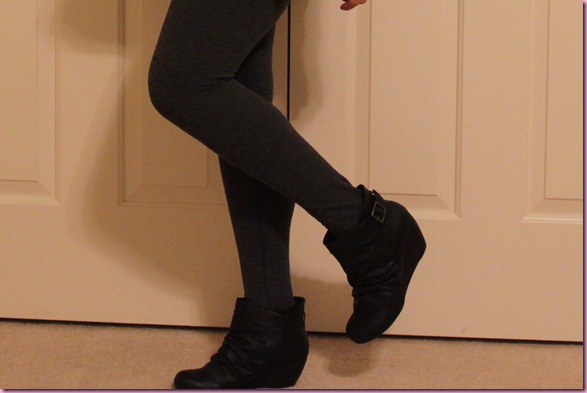 Thank goodness for Wunder Unders is all I can say. I think by going with grey, it helped break it up a little.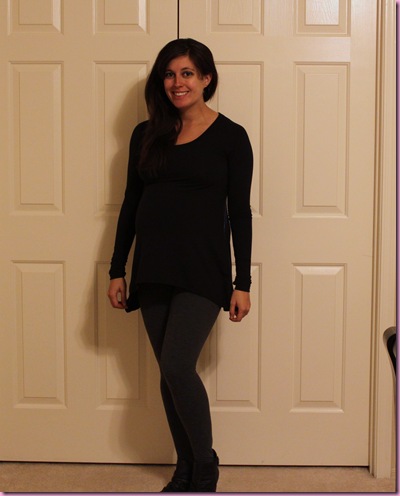 (face says: I feel like a goober in these booties)
Let's be real, though. I ditched the booties and put on my TOMs pretty much immediately after taking that picture.
As far as the clothes go, I still feel a thousand times better that I got a couple of pairs of maternity jeans and some tops/dresses, and am still wearing lululemon stuff. I've waxed poetic about it fairly often, but I really am grateful that my lululemon stuff has fit me this entire time. Buying an entire new workout wardrobe for work would have been costly and annoying, and it's the only thing that has stuck with me for the past 35 weeks without looking too rough.
Here's what I'm wearing in the photo above:
–Wunder Unders (LOVE these during the winter)
–Rehearsal long sleeve. The fabric is super soft and bonus: thumbholes
So friends: what do you think about the booties? Give them to a very tall friend, or find another way to make it work?
When was the last time you made an impulse buy?