Hi friends! How's your Friday going?? Hope you're having a great day! We're enjoying some much-needed rain, and a snuggly day here at home.
The other day, I was so excited when a Stitch Fix (<— referral link!) box arrived on the doorstep. In my last SF post, I mentioned that I had a few meh boxes, and the last few have been amaaaaazing. Since I always love to see what friends get in their fixes, I thought I would post the latest goods. If you're curious to learn more about Stitch Fix, here is my first post ever and my most recent fix. It's an awesome way to try new styles that you wouldn't pick for yourself, and also try on in the comfort of your own home.
Just like last fix, this one included some fun transitional pieces and a couple of maternity items.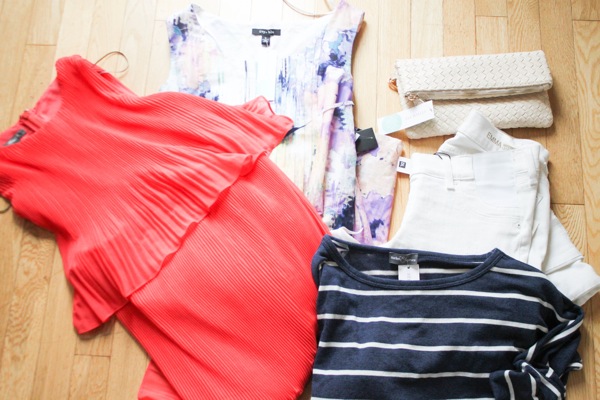 Stitch Fix Maternity
Market & Spruce Corinna Striped Dolman Top and DL1961 Victoria Maternity Distressed Skinny Jean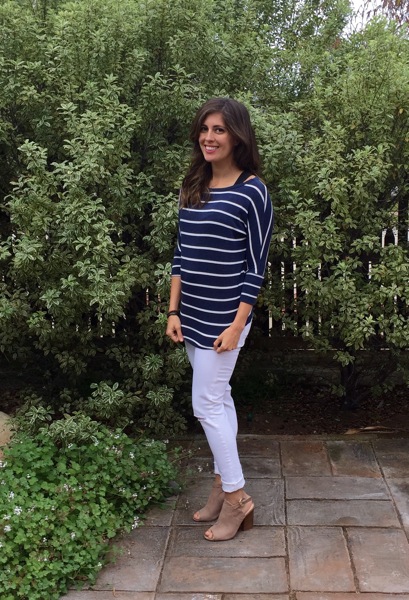 I wasn't sure if I was going to like the top, because it's a basic comfy, striped shirt. Then I realized how much I wear and love basic, comfy shirts it and knew it would get a lot of use. The white jeans were an instant keeper. I've been wearing my Joe's all the time, and while they still fit, the button is a little painful by the end of the day. The elastic waistband on this pair is pretty dreamy. 🙂 Verdict: KEEP and KEEP.
Adelade Woven Fold-Over Clutch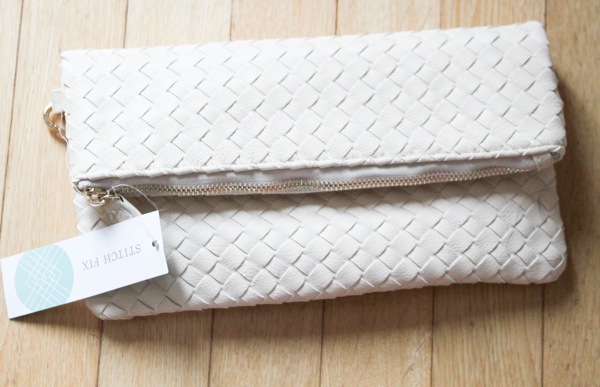 This clutch is perfect for some summer weddings or date nights, as all of my clutches were more wintery/black and outdated. I'm excited to have a fresh one in a spring/summer color! Verdict: KEEP.
Muse Maternity Ethel Maternity Dress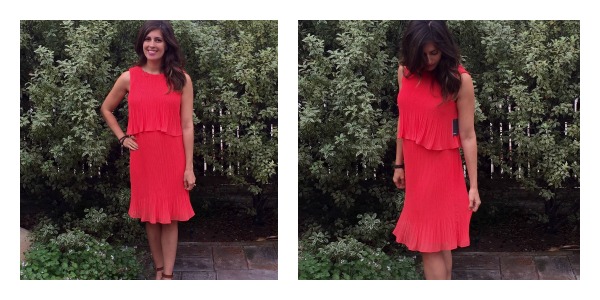 (here's a gorgeous dress in the same vibrant color)
Right away, I LOVED the color and pleats on the dress, but wasn't sure how flattering it would be. This is why I'm so glad Stitch Fix gives you the option to try on at home. In the store, I probably would have admired the color and put it back on the rack. I love the color, and while it's a little long, I decided to keep it. I think as my belly grows, it will be just the right length.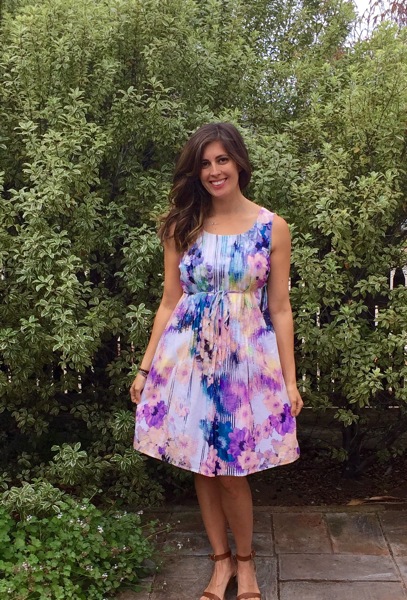 I wanted to go crazy for this dress, because it has such a lovely, unique pattern. It's a super light cotton, and would be perfect for dressing up or down this summer. When I tried it on, it felt bulky/frumpy (too much fabric). Verdict: Return.
Have you tried Stitch Fix? How was your last one??
Mama friends: where's your favorite place to find maternity pieces? I'm trying to stick with a majority of items that will transition with me over time -that I might be able to use again later- but definitely need to grab some plain tanks and t-shirts.
Hope you have a lovely night!
xoxo
Gina
In full transparency, I paid for the above items using Stitch Fix credit from referrals to the brand over the past couple of years. Thank you so much for your support! I'm thrilled that many of you have tried it and love it as much as I do <3