Chef Kyle's Perfect Thanksgiving Turkey
+ 3 tips to make it the most delicious roasted turkey you've ever had, even for a newbie like me.
For my entire life, I was pretty much out of the kitchen for Thanksgiving. Even when I finally got into cooking, shortly after marrying the Pilot and just before starting this little blog, I was pretty much the "I'll bring a side dish" kind of person. My family takes Thanksgiving seriously, and my nana and aunts do the entire thing. At my dad's house, there's an entire feast of everything you wish for, and at least 6 different types of homemade pie even though you're in a coma from drowning in main course delights.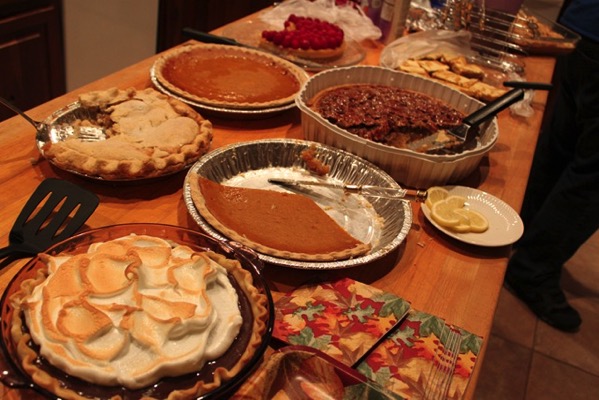 Then there's my mom's house. She makes the entire feast and we go over there for round 2. I'll usually make a side dish or dessert, but the main parts of Thanksgiving are already done by others in the family… and done quite well.
Thanksgiving is my favorite holiday. I love everything about it: getting to see pretty much my entire family in one day, spending time together, and eating amazing food. Also, the golfing and the poker. (Does anyone else have random Thanksgiving traditions?? I'll usually go for a run or workout in the morning, eat breakfast at my mom's, go to my uncle's house with dad's side of the family to eat, the guys take off to go golfing and the girls stay back to chat, we all play poker until it's late, then we go to my mom's for round 2 of eats and late-night shopping.)
As much as I love Thanksgiving, and looooooooove Thanksgiving food, I've never been super into the turkey. My Thanksgiving plate is precious real estate (there's so much to choose from!), and while turkey is really good, it's never been one of those "omg I'm obsessed with this" kind of things. And then, I had turkey that my brother Kyle had cooked. I had to stop myself from repeatedly going back to the platter like a creeper.
"Wait, what did you do to this? Why is it so good?"
"Dude, I just brined it in some beer and citrus."
Apparently beer and citrus is the combo if you want to make an amazing turkey.
His recipe was foolproof, even for a turkey noob like me.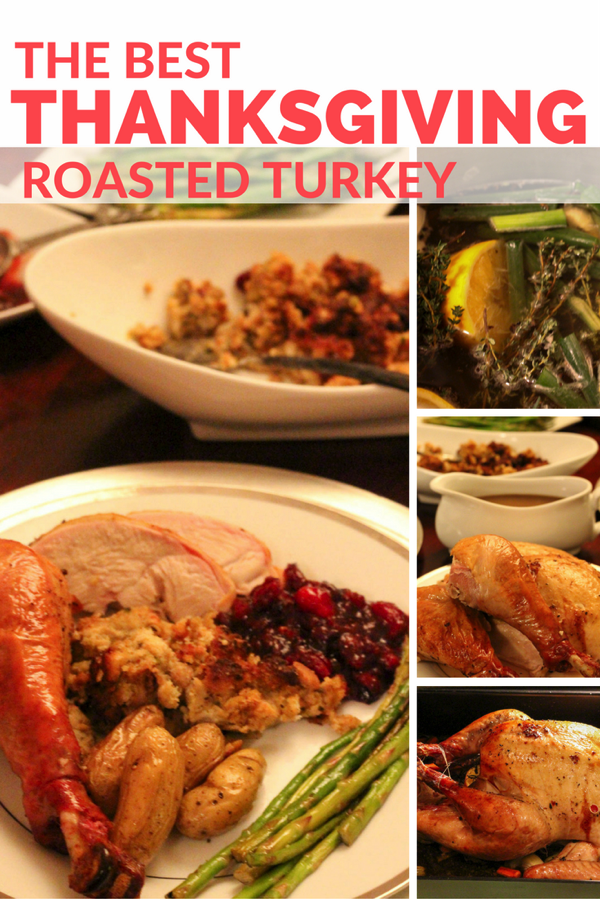 I made a turkey feast here at home last year since we stayed in town, and there was even a point where I tried to poach the turkey in the brine. Nope. Not how you do it hahah.
This year I did it right.
Brining the Turkey Makes the Difference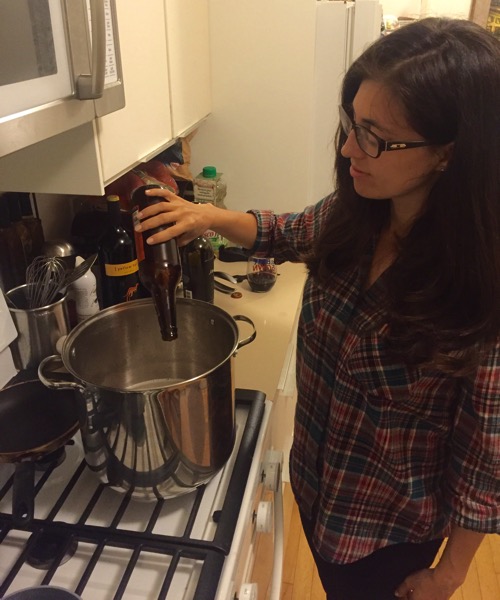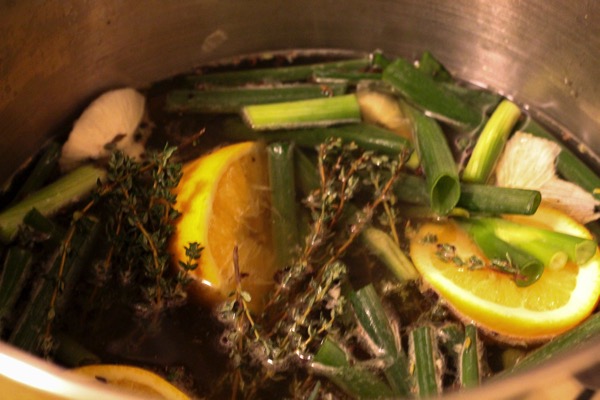 (For my fellow turkey newbie friends: you make the brine, let it cool, and submerge turkey in said brine in the fridge overnight.)
Here's the recipe for the best Thanksgiving turkey ever, just in case you find yourself on turkey duty this year.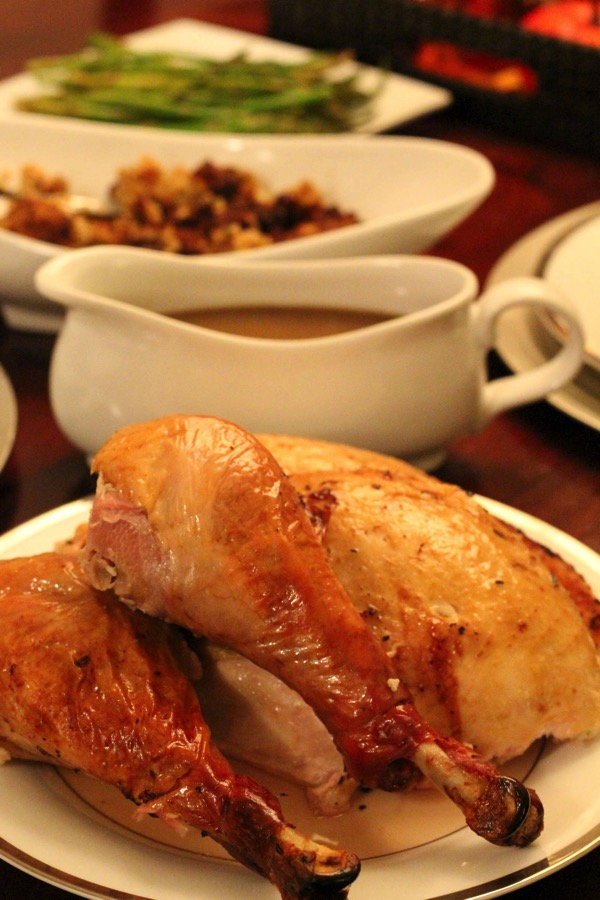 The best and easiest Thanksgiving turkey
A delicious, moist, flavorful turkey recipe, infused with beer, citrus and fresh herbs.
For the brine
Equal parts beer and water

2

–

3

bay leaves

2

–

3

oranges, halved
Fresh thyme
Fresh sage
Salt and whole peppercorns

2

heads of garlic, halved lengthwise
Sugar to taste
A bunch of scallions, rough chopped
For the turkey
A whole turkey! You can also do this with turkey breasts

1

bunch of carrots, peeled and roughly chopped

1

sweet onion, roughly chopped

1

bunch of celery, roughly chopped
Butter
To stuff the turkey: oranges, garlic, fresh thyme, fresh rosemary
Instructions
1. In a huge stovetop, combine equal parts beer and water, and then salt and sugar to taste. You will use a decent amount of salt and sugar. Season to taste so that it tastes noticeably salty and sweet.
2. Stir in the scallions, garlic, bay leaves, thyme, oranges (squeeze the juice out of each half into the mixture before adding the orange), 2 tablespoons of peppercorns. Bring the liquid up to a boil, then immediately remove from heat and let cool completely.
3. In a brining bag or large pot, add the turkey. Make sure the remove the neck and gizzards that are inside. Pour the brine on top, and seal completely or cover. Store in the fridge overnight. Make sure the turkey is fully submerged.
4. The next day, preheat the oven to 350 and grease a large turkey roasting dish with butter or nonstick spray. Place the carrots, celery and onion on the bottom, and season well with salt and pepper. Drizzle with olive oil.
5. Place the turkey on top, and secure the wings under the bird. Fill the turkey with oranges, halved garlic, fresh thyme (almost and entire bunch) and fresh rosemary.
6. Melt 1-2 sticks of butter, and drizzle over the turkey. Season liberally with salt and pepper. Tie the legs together and cover the dish with foil before placing in the oven.
7. Check the turkey after 1 hour to start basting. Using a turkey baster, cover the turkey in the juices every 20 minutes until it's finished cooking. Watch it to make sure it doesn't burn, and start checking the temperature in an hour or so, depending on how large your turkey is.
8. When the internal temperature reaches about 140, remove the foil to let the turkey brown as it finishes cooking. Remove the turkey from the oven when the internal temperature is at least 155 degrees.
9. Allow the turkey to rest for at least 10 minutes before carving. After carving, use a spoon to over it in the juices from the pan and the vegetables.
Notes
3 tips for an awesome turkey
-Brine it. Don't skip this step! It makes it so much more flavorful and keeps it from drying out
-Baste the heck out of it. This keeps it from burning and makes it taste amazing
-Use a meat thermometer to make sure you don't overcook/undercook.
Please let me know if you give it a try! If anything, you've gotta make it for the leftovers. The turkey, stuffing and cranberry sandwiches are bomb dot com.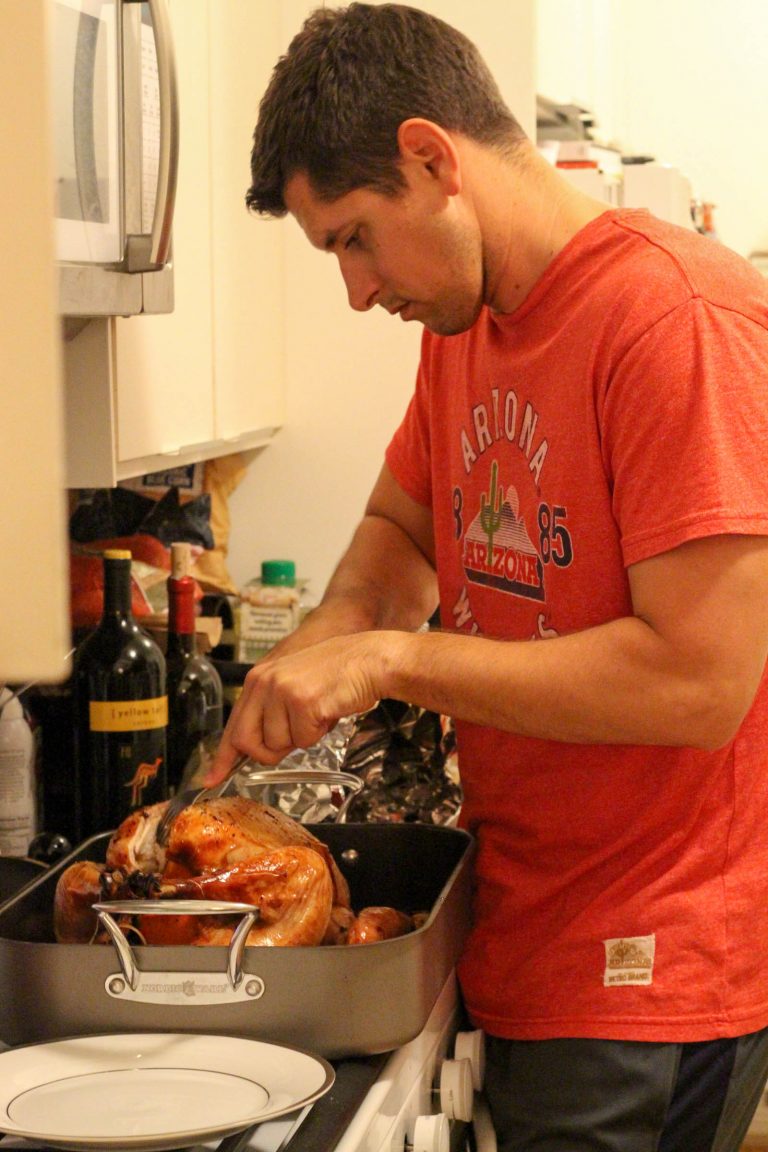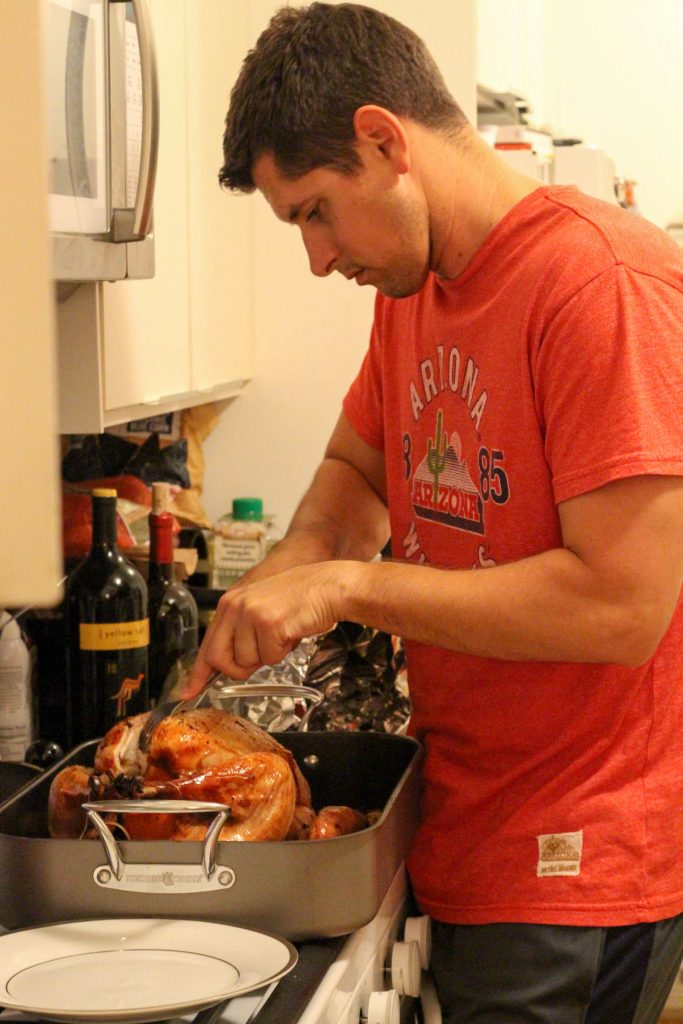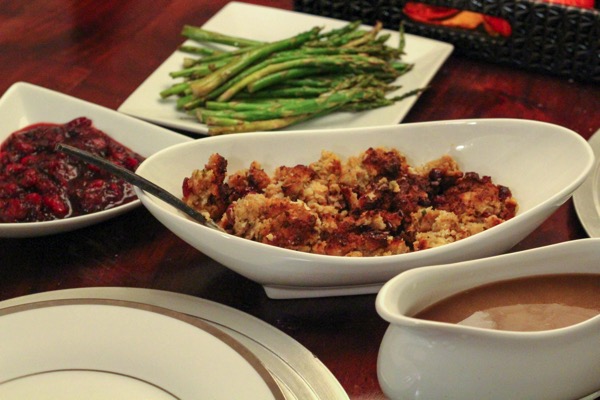 I have so many things to be thankful this year, and am always thankful for this little blog. It allows me the opportunity to connect with you lovely friends, and also eat a Thanksgiving feast over a week early.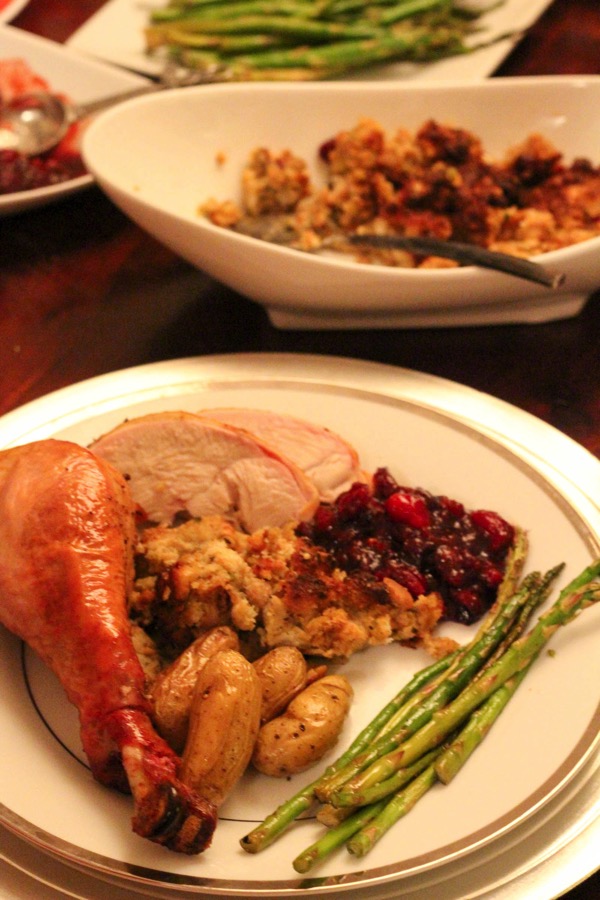 If you're a side dish or dessert kinda friend (I'm right there with you), here are some ideas:
An awesome and secretly healthy sweet potato casserole
Honey-Dijon roasted root vegetables
Desserts:
Flourless pumpkin chocolate chip bars
I'd love to hear about any random holiday traditions!! Also: fave Thanksgiving food?
xoxo
Gina