Coconut Curry Meatballs with Sweet Potato Noodles
This dinner recipe comes together in less than 30 minutes and is a total crowd pleaser. Coconut curry meatballs with sweet potato noodles is gluten-free and dairy-free, with aromatic flavors that make the entire house smell amazing. The meatballs are delicious on their own, atop rice or vegetable noodles, and can be enjoyed the next day in a sub or pita with salad greens.
Friday night felt like a Food Network episode. "What is she going to make with a container or ground meat, a bunch of fresh basil, and a can of coconut milk?
This.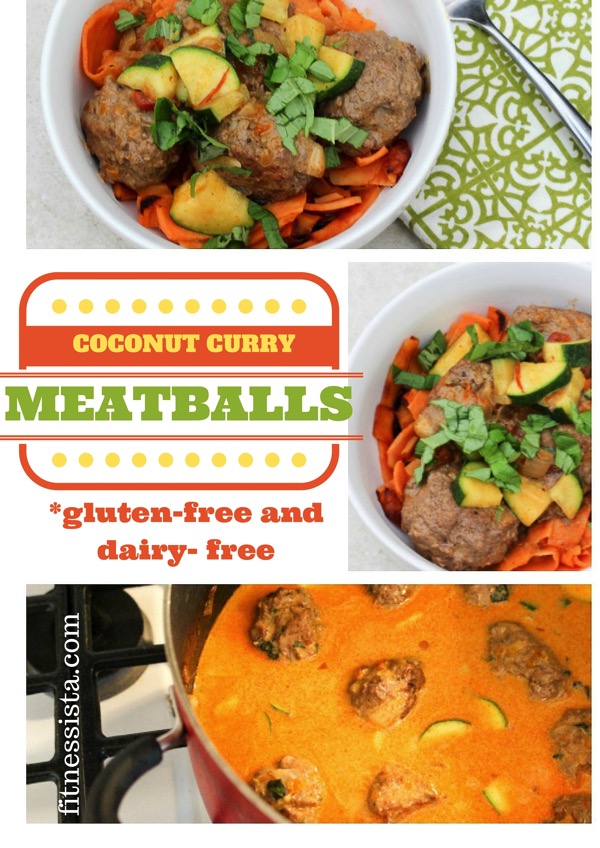 The good news is that unlike a Food Network episodes, no tears, loud alarms, or cooking interviews occurred. Just me, a glass of wine, a sleeping baby, and a coloring preschooler. It was pretty peaceful, and dinner was ready when the Pilot got home from work.
Coconut Curry Meatballs
First I added chopped basil, coriander, garlic, salt and pepper to the meat, rolled into balls with the melon scooper, and browned it on the stove. After removing the meatballs to a plate to keep warm, I made the sauce with curry marinade, coconut milk, zucchini, onion, ginger and garlic.
Next I added the meatballs back to the pan to heat through, then served on top of sweet potato noodles with some fresh chopped basil.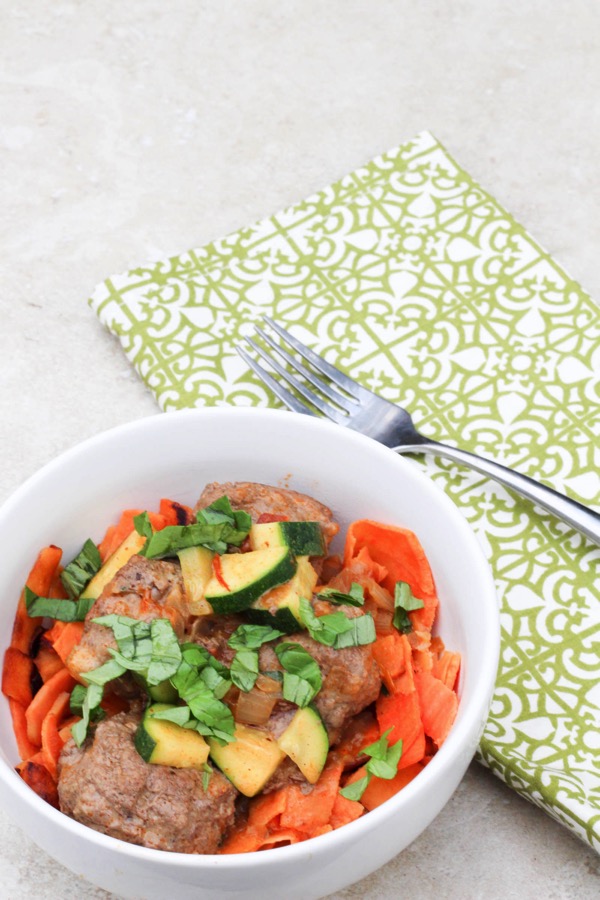 Thank you to Trader Joe's for making life easier with these pre-noodled sweet potatoes. You could also use a spiralizer, a vegetable peeler, or serve on your favorite rice or pasta of choice.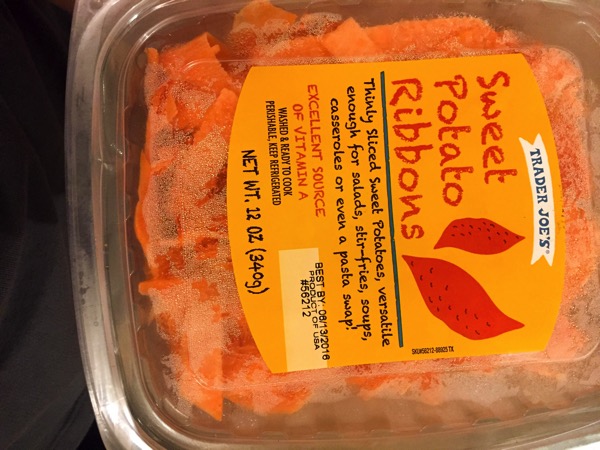 Here's the recipe if you'd like to give it a try!
Coconut Curry Meatballs with Sweet Potato Noodles
A delicious and quick protein-packed dinner recipe. Feel free to customize using your favorite ground meat, or any pasta/rice you enjoy!
Prep Time:

10

Cook Time:

15

Total Time:

25

Yield:

4

1

x
1

lb. ground meat of choice (turkey, chicken and beef work well)

1

heaping tablespoon fresh basil (+ more to garnish)

1/4 teaspoon

ground coriander

4

cloves garlic, minced

1

inch piece of ginger, finely grated

1/2

sweet onion, finely minced

1

can full-fat coconut milk

1/2 cup

– 3/4 cup curry sauce of choice (I used Trader Joe's curry simmer sauce)

2

zucchini, chopped
Lime, cut into wedges, for serving
Sweet potato, cut into "noodles" or zucchini noodles, rice, or pasta of choice, for serving
Instructions
1. In a large bowl, combine the meat with the chopped basil, half of the chopped onion, coriander, 2 cloves of minced garlic, salt and pepper. Mix well. Using a melon ball scooper, form into ball shapes. (You might have to use your hands and get a little messy.)
2. Preheat a large skillet to medium and add some oil to the pan. When the oil starts to sizzle, start browning your meatballs until cooked completely. This will take about 10 minutes. While the meatballs are cooking, start to cook your rice or veggie noodles in a separate pot.
3. When the meatballs are finished, transfer to a large plate lined with paper towels.
4. In the same pan, add the rest of the onion, the zucchini, garlic, and ginger. Season with salt and pepper. Cook 3-5 minutes, until fragrant. Stir in the curry sauce to coat the veggies and scrape the pan.
5. Reduce the heat to low and stir in the coconut milk. Mix well, and then gently add the meatballs back into the sauce to warm.
6. Serve immediately on top of your veggie noodles, rice or pasta.
7. Garnish with fresh basil and lime wedges.
What's your favorite one-pot meal?
This chicken one
is another fave. I need to bring it back! We also love the
Italian Wonderpot.
xoxo
G