Family Page Q & A- Part 2
Hey guys!
After answering some Family Q & As last week, here's part 2 🙂 I'll be answering all of the fitness-y/nutrition/body questions in my 2 month post-delivery body update (will be up tomorrow or Thursday).
Hope you're having a great day!
<3

Hey Mary,
It was definitely more challenging to come up with fitness content, especially since this is a fitness blog and that wasn't a part of my life at all for 5 weeks. The good news is that I had some amazing guest posts lined up, pre-written posts, including most of the Winter Shape Up, and took some days off when I really had nothing to say except "Hey guys! What have you been up to? I've been staring at my beautiful baby for 2 hours and on the couch for 4 days with my boobs out, trying to figure out breastfeeding. Did you get in your cardio today?" Haha. I didn't take an official break from the blog so I could evaluate how and if it would still fit into my life with Livi here, and while it took a dramatic jump down the priority totem pole, I'm very happy to still be blogging and hanging out with all of you guys 🙂 I can workout again, which has helped me get back into the fitness mindset (even though I still have hardcore baby brain), and teaching fitness always helps me come up with new content.
Now I'm trying to assess how much I want her to be a part of the actual blog and family page. I don't talk much about her on the main page (even though she's the only thing I think about) because I want to be respectful to those who aren't interested in hearing about babies, and over here on the family page, I just don't feel comfortable having blog posts loaded with pictures of her- just a few here and there.

Hi Laura,
I'm so excited for you and the little one on the way! <3
Harder than I expected: the first four weeks. I was excited and expecting the hard work ahead, and it still kicked my ass. Nights and days blurred into one, and with the sleep deprivation, breastfeeding issues and wacko hormones, it made things extremely challenging to the point where the actual childbirth seemed easy in comparison. I cried. A lot. So much of it was out of the most intense happiness I'd ever experienced –just looking over at Tom or Livi was enough to set the waterworks off because I knew how truly blessed I was- and many times it was for no reason at all. Postpartum depression isn't something to be taken lightly, and I'm thankful I didn't end up having it, but it's common to feel unlike yourself as the hormones stabilize. Crying is totally normal, but be sure to talk to your doc if it lasts more than a couple of weeks. It has also been hard having Tom work the schedule that he does –lots of flying during the week, so it's Liv and myself all day and night- but when he's home, he's home. He is such an incredible dad to Liv and partner <3 Support is so important and I'm so thankful to have been surrounded by family, friends and fellow new moms.
It was also very hard for me to stay at home at not be able to workout for the first 4 weeks. I get antsy if I stay home for too long, enjoy being on-the-go, and thrive off of exercise endorphins- it's always been my stress relief and "me time" for the day. At the same time, staying home and taking it easy gave me the chance to recover from the birth, enjoy every second with my little love, and slooooooow down. Before, I would rarely crawl back into bed to get a late start on the weekday. Now, almost every morning is snuggle time in bed with Liv, and I love it so much.
With as challenging as it is, being a mom is the best thing ever, and it's the most intense love you'll ever feel. Hang in there during the first couple of rough weeks and just remember that you're doing a great job <3
Easier than I expected: the mommy stuff, like comforting her and figuring out her cues. Even though we knew each other for 9ish months, it's still hard to believe while you're pregnant that your baby will come out and know you who are, and I wondered if I'd be able to give her everything she needed. We clicked right away, and intuition kicks in. It still amazes me that she'll wake up from sleep and start crying, I'll pick her up to snuggle her, and she stops. Getting into a routine has also been easier than I expected. We don't have a schedule based on times, but we do EASY (per The Baby Whisperer) and she picked up the Eat, Activity, Sleep routine fairly quickly.

Hi Jamie 🙂
I think that's a great idea! You'll get to the point where she's a little bigger and you won't have to prop her up- Liv fits in the crook of my arm now and latches on from there. I like to use the Aden + Anais blankets as a cover- a little less obvious than the Hooter Hider, but I do have to say, I think this is awesome: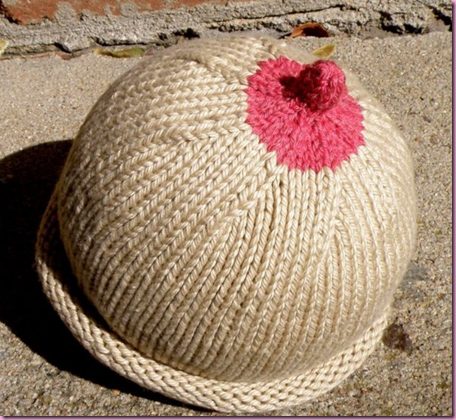 Source
Haha.

She looks exactly like the baby in my dreams. It still blows my mind that the big eyes, dark hair and beautiful face from the dream are the exact same features I get to stare at every day 🙂