Hey guys! Hope your morning is going well <3
I'm really excited for this week's Focus On post because it's a class that I used to teach and is one of my workout loves. The only reason I stopped taking classes was because LA Fitness forced their instructors to only use LA Fitness music and it killed my favorite instructor's class. Should "Hey There, Delilah" ever be played during spin class? Unless it's during a cooldown, I'm going to go ahead and say no.
Anyway..
Spinning is a ridiculously awesome workout.
The first time I tried it, in college, my roommates had to come down and help me walk up the stairs because I was SO sore the day after my first class. Don't let that scare you- I pushed myself during my first class and it definitely works different muscles than you may be used to. Also, if you don't ride a *real* bike (like me!), it's a great option to get in a similar workout.
What it is: A cardio class utilizing a spin bike. The pedals and wheels spin, but the bike stays stationary. There is a knob for you to adjust your resistance and make the workout more challenging or easy to handle, depending on the instructor's directions and your preferences.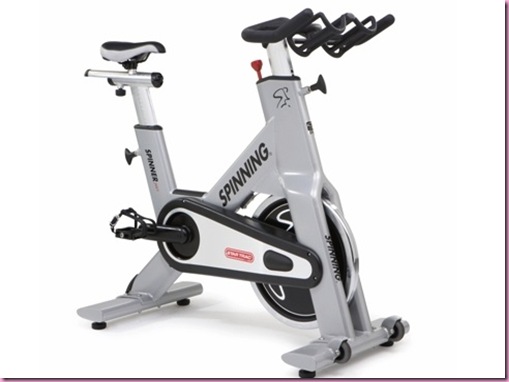 Source
What to expect: Usually a 60-minute class (give or take 15 minutes) in which the instructor will lead you through a warm-up, cardio workout and cooldown. Different instructors will use different ways to gauge how hard you're working. Some will use levels ("On a scale of 1-5 right now, you should be at a level 3"), resistance ("turn the knob twice"), cadence (how fast your wheels are spinning. Many spin bikes have an attachment on them which will keep track of your time and RPM), and all instructors will focus on your position (seated, standing or climbing). Speed will also be emphasized throughout the class through slower hill climbs (with heavy resistance), steady state or sprinting (speed intervals). When I would teach, my classes would be music-guided. I knew my playlists well and had designated songs for sprinting, hills, jumping, tempo work, etc.
Prepare to sweat! In a great class, I'll have sweat dripping down my forearms and shins. Seriously sweaty-town.
Some gyms pay attention to ambience big time to help you get in the "zone." In Orlando, the spin class I would take was in a long hallway, with black lights and glow-in-the-dark stars everywhere. It was pretty amazing.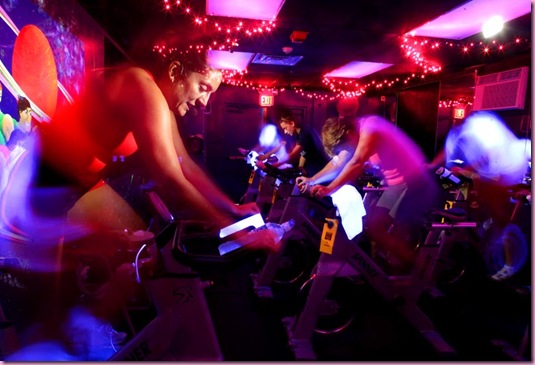 Source
For your first class, get there early –many classes will be packed beforehand or even have a sign-up sheet to reserve a bike- and let the instructor know it's your first time. He/she will help you with your bike setup to make sure the seat and handles are in the proper position for you.
A couple of tips:
-Don't go too cray cray if it's your first class. Chances are that, like with any new workout, you will be sore no matter what, so use this as a chance to get a feel for what the class is like and what you think about the instructor (if you want to take their class again). Go easier on the resistance.
-Never lock your knees. Even when you're pedaling and your leg is fully extended, make sure to have a slight bend.
-Always make sure to have some resistance on the bike. By doing so, you'll protect your knees and also make sure you're getting a workout. No resistance = no effort at all. If you're standing (position 2), definitely add enough resistance to support your body weight. You don't want your legs flailing about with no resistance.
-When you're standing, keep the weight in your legs instead of your hands- no need to hold onto the handlebars for dear life.
-Pedal using your heel first (no toes down) and keep your knees straight (no crazy noodle legs).
-Your booty may hurt a little if you're not used to the seat. Many gyms have gel seats you can attach to the top to make it more comfortable, or you can pick up your own and take it to class with ya. You'll get used to the seat eventually, though.
What to wear:
-Longer shorts (bike shorts or even athletic shorts that are a little longer) or cropped pants. I made the mistake of wearing Soffe shorts way back in the day and said hello to a lovely scar on my inner thigh from chafing. I wouldn't rock pants to spin class, though- it gets hot and schweaty FAST.
-Tank or technical tee.
Something I might wear to a spin class: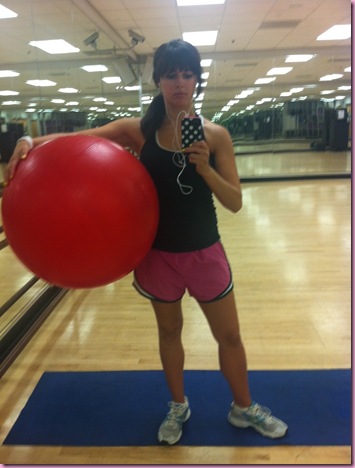 -Sneaks with a thicker sole, as thinner soles can be painful on your arches when the medal pedals are in the middle of your foot. You can also be fancy and buy the clip-on shoes if you're hardcore, but they're not a necessity. I'd recommend taking classes for a while before investing in those.
-Bring: a small towel and a water bottle.
Pros:
-Customizable. You work as hard as you want to. No need to ask for modifications- if you want to back off on speed or resistance, it's your choice. You truly can make it your own workout.
-Great, sweaty cardio if you want to push yourself 😀
-No impact. This is a great exercise option for those who don't want to be pounding their joints. It's more gentle on joints than running or aerobics would be, but of course, if you have joint or knee considerations, double-check with your doc.
Cons:
-Can be monotonous. If you go to the same class, with the same instructor, it can get redundant after a while. It's a great idea to change up the class you go to and keep the body guessing. [If you know that a certain song is coming up next, chances are that your legs will remember, too, and kick into cruise control]
-The instructor and music make the class. Like with any class, the instructor and music make all the difference in the world. If you take a class you don't like, try another one before giving up on spin altogether.
Are you a spinning fan? What's your favorite song to spin to? My all-time fave is "Explosive" by Bond.