Hi 😀 What's up friends? Hope you've had a fabulous afternoon. Happy birthday to three of my real-life blog friends today: the Twins and Caitlin! <3 Today I'm bringing you a Focus On post that answers the question: What is TRX? Read on for more, but first a little about my day.
Some fun goodies came in the mail today: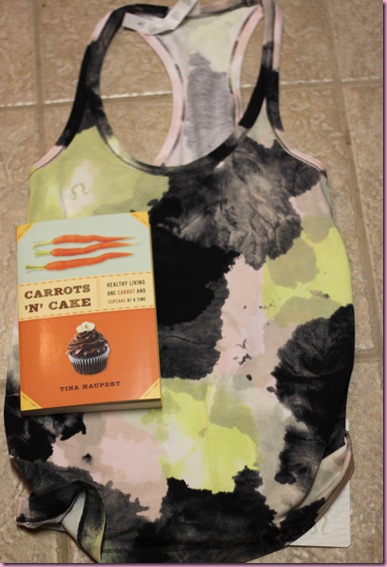 A new lulu tank and the Carrots 'N Cake book. As far as the tank goes, even though I don't work there anymore, you can bet your booty I still shop there (but miss my discount), and the book was a gift from the publisher. I am so excited to read it!
Bella tried to call dibs so she could read about her friend Murphy: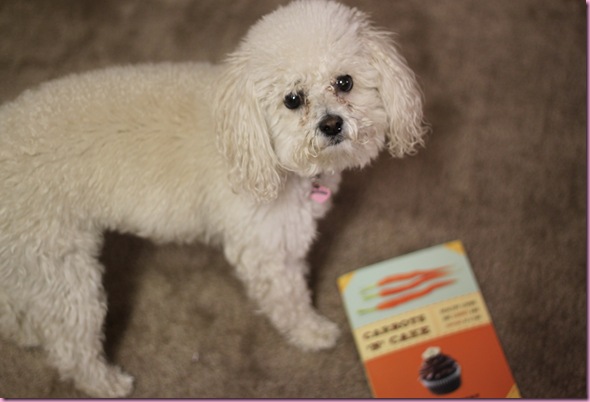 but I told her she'd have to wait 😉
And then I told her it was bath time, and she promptly hid under the bed.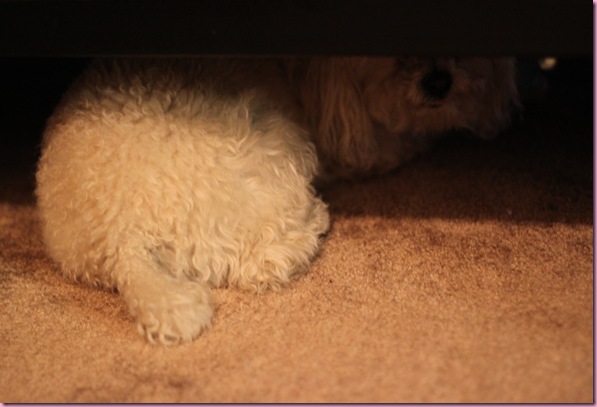 Just look at this defiant little face.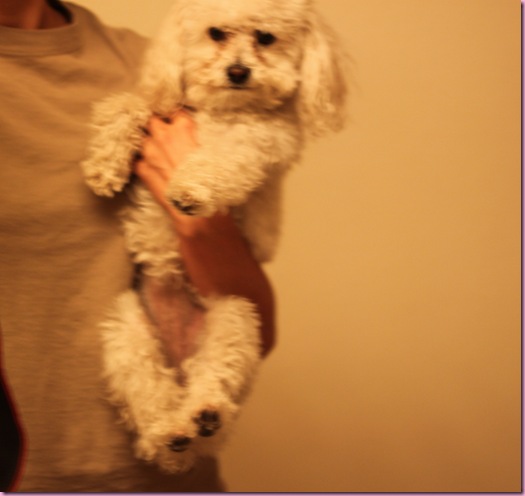 (blurry, but I had to post it)
Afterwards, she did her post-bath frenzy and is now sleeping prettily on the couch 😉
For snack, I enjoyed a protein muffin, switched up a little bit.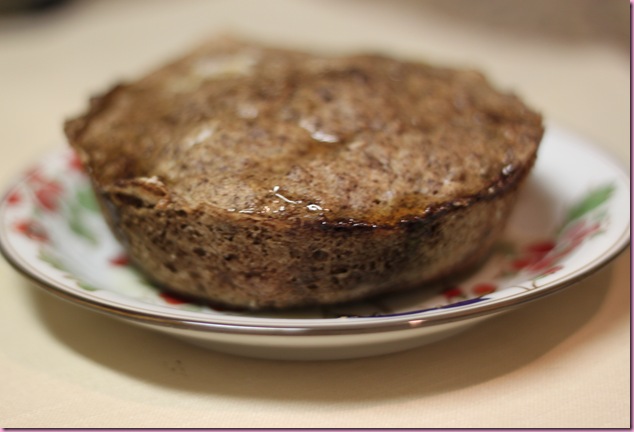 (these things are SO giant! I lurve it)
Since I didn't have any applesauce, or yogurt, or pumpkin, I used something totally random instead: cooked quinoa! I figured if it worked, great, and if not, NBD, but wanted to see what happened.
I liked it even better this way!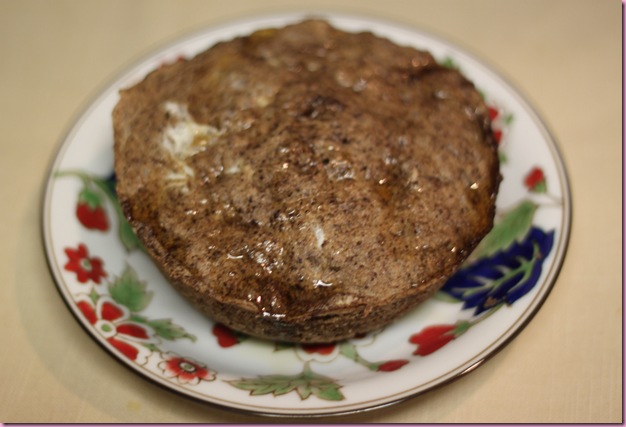 A few of you have said that Deb's original recipe has a sponge-y texture. By adding the quinoa, it made it more cake-like. I love it even more now.
(PS. Drizzle some maple syrup on top. You will foodgasm your face off)
For dinner, I've got some carrot-bean-beet burgers in the oven,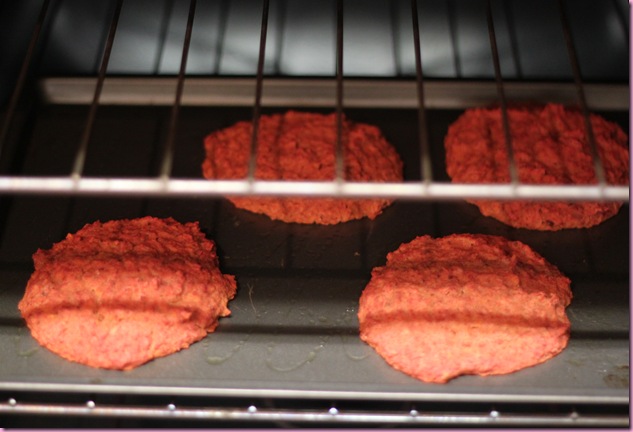 and am about to pack my lunch and snacks since I start work tomorrow! Kinda stoked 😀
Since I have to work early, there will be a special Pilot post (seksi pictures? I hope) waiting for ya 🙂
Off to Zumba and on to TRX Suspension Training!
What is TRX Suspension Training?
What it is: TRX (Total Body Resistance Exercise) is a full-body workout, utilizing the TRX system, which is suspended from the ceiling or a door frame.
Here's a pic of what the equipment looks like: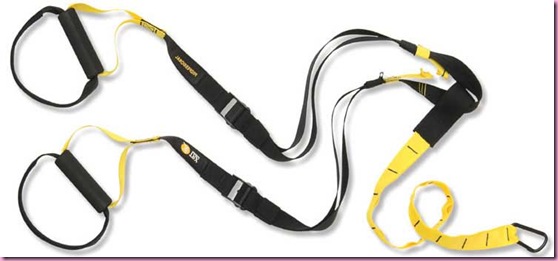 Source
Many gyms have TRX systems in the weight or cardio areas, and they're one of those things that I had NO idea what to do with until recently.
What to expect: To be SORE! The TRX system will work your body in an entirely different way than you may be used to. The suspension forces you to utilize your core for many of the movements, and by using this tool, you'll be doing twists on standard strength exercises. There are a lot of compound exercises that can be done with the TRX, too. For example, you can hold onto the handles, squat, and row at the same time—working your back, quads, hamstrings, biceps and core.
Planks on the TRX are WICKED, too.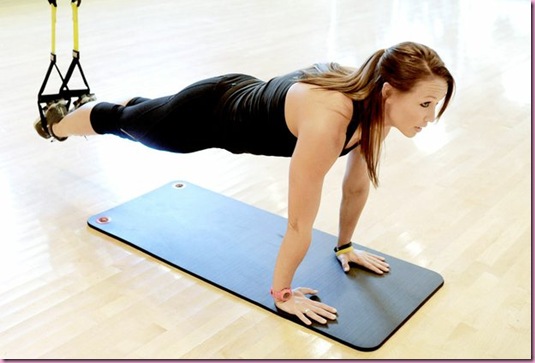 Source
Quite a few gyms offer TRX classes, or you can purchase the system to have at home, as well as at-home DVDs. (Has anyone tried the DVDs??)
What to wear: Standard gym gear. I recommend crops or pants (to prevent flashing other participants—if you're at home, wear whatever floats your boat), a tank or fitted shirt, and sneakers.
Pros:
-Versatility. There are over 300 different things you can do with it. In contrast to the cost (which is around $120), I think that it's a worthy investment. If you can try out a class before purchasing your own, I highly recommend it. This way, you'll know if you like it and will also have an idea of proper form.
-Convenience. Easy to remove and take with you if you move or travel. It's a very lightweight piece of equipment.
-Workout quality. If you have a great instructor, you will get a great workout.
Cons:
-The same cons that can come with working out at home. Some of us need a gym environment to push ourselves (if this is the case, seek out a class!), and others can work out at home no problemo. See what mold you fit into before investing in your own system.
Want to learn more? Here's an awesome informative video:

TRX Workouts
Looking for a plan? Here are some of my TRX Workouts:
Has anyone tried TRX before? What was your experience like?
Random ?: Since I have egg whites a couple of times each day, any ideas on what to do with the yolks? A few of ya left some for me on my last post- thank you! I feel wasteful throwing them away, but have yet to see organic egg whites in a carton.
xoxo
Gina