Hi! What are you up to this morning? Hope you're enjoying the day so far!
Thank you so much for your eclectic music suggestions to diversify my spin playlist. I added this swing song, this old one I forgot about, and finished it off with the Zac Brown Band live version of "Devil Went Down to Georgia." It was so fun to change things up a bit, and I think class enjoyed it, too.
Today, I'm excited to share a new workout featuring one of my very favorite tools: the TRX. It's extremely versatile and travels well. I'll often see people working out with them near the bay, simple strapped over a sturdy tree branch. The TRX is a great investment if you want to add in a strength component to your home gym and don't want to purchase multiple weights. While it is bodyweight only, there are a lot of options to make it more challenging. I've been utilizing the TRX is my training sessions and personal workouts more frequently over the past couple of years; I've become a huge fan.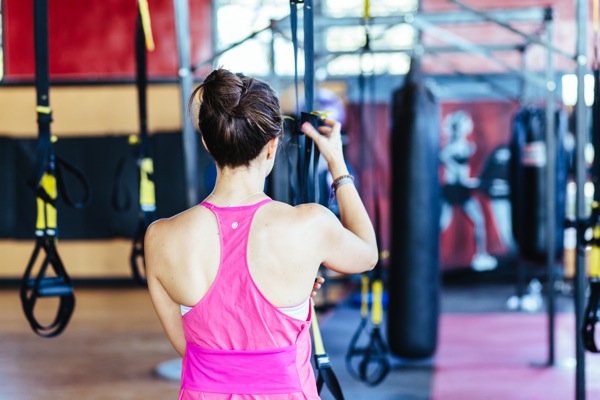 Here's a circuit I put together for ya. It's meant to be completed 2-3 times total with little to no rest in between each exercise. Complete all of the reps for one exercise before moving to the next. Please let me know if you give it a whirl!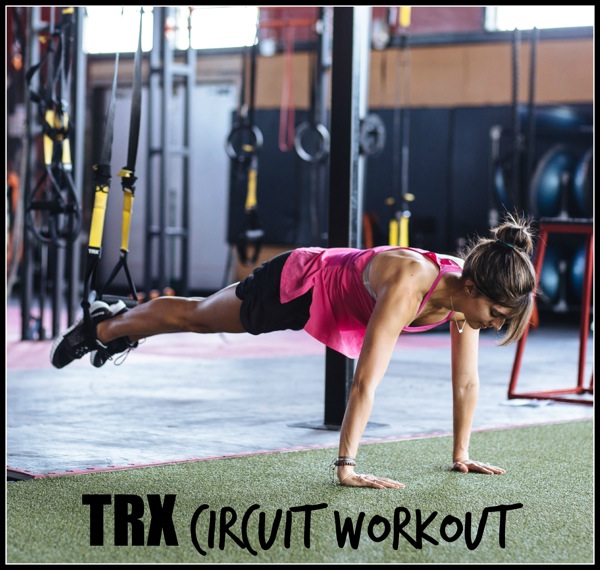 Form cues/tips:
1) Single arm squat (optional row): step away from your anchor point and extend your arms completely. Lean back slightly, and place your weight into your heels. Lift your chest and tighten your core. Now, drop one handle of the TRX and sink down into a squat. As you rise, you have the option to "row" the handle in towards your torso to work your back (this portion of the movement is not pictured).
2) Reverse biceps curl: instead of an underhand grip, overhand grip the handles. Step away from the anchor point (facing it), and fully extend your arms as you lean back slightly. Contract your biceps to bring your arms to a 90 degree angle biceps curl. Remember to keep your hips in line with your torso.
3) Triceps extension: for this one, you'll set it up almost exactly as your reverse biceps curl (as far as stance and hand position go). Now, bend your elbows to bring them in towards your torso. Extend your arms (squeezing your triceps) as you push your body into a full upright position. Carefully lower back down to repeat.
4) Single lunge: place one foot into the strap and walk (or hop) forward. As you sink down into your lunge, keep your chest lifted, shoulders dropped and a tight core. You may notice that your knee shoots forward as you try to maintain balance, but be careful to avoid extending your front knee past your front toes as you lunge.
5) Push-ups: come onto the floor and place one foot at a time into the TRX straps. Make your way into a plank position, as keep a straight spine (hips down) as you bend your elbows out into a pushup. If this is too much, try it with one foot in the strap for a while until you get the hang of it.
6) Hamstring curl: start supine (on your back) and place both feet into the straps. Ground into your shoulders and squeeze your glutes to lift your hips off the floor. Bend your knees in, then extend back out. That is one rep.
7) Plank with knee to elbow: start in a plank position with both feet in the straps and hands stacked under your shoulders. Press down through your knuckles to ground your hands into the floor. Contract your oblique and exhale as you bent one knee to bring it towards the elbow on the same side. Come back to plank, and repeat on the other side.
*As always, check with a doc before making any fitness changes. Honor your body and modify as needed.
If you could only have ONE fitness tool to use, what would it be? Please let me know if you have any video requests for this week, too.
Hope you have a great day! See ya later this afternoon with spring capsule wardrobe fashion-y fun.
xoxo
Gina
All photos by Danny Chan
More TRX: