So excited to share my review of the Gabb Watch today! This post is not sponsored, but I reached out the Gabb to see if they'd hook you up with a discount code. This link and the code FITNESSISTA will get you $50 off during their spring break sale. (Ends on 3/16)
Hi friends! How was the weekend? I hope you had a wonderful one! The girls and I explored a farmer's market, went to an event with friends, and Liv had her first dance competition. She rocked it! I also got the finishing touches on things for our 6-week Total Body Reset group, which starts today. SO excited about this!
For today's post, I'm excited to share a review of the Gabb watch. We got one for Liv for Christmas, and now that she's had the chance to use it for a few months, I thought I'd share my full review. As someone who loves smartwatches and is a huge fan of my own Apple Watch, I was kind of on the fence about the idea of smartwatches for kids. (If this works for your family, that's great! It's just not the right fit for our family.)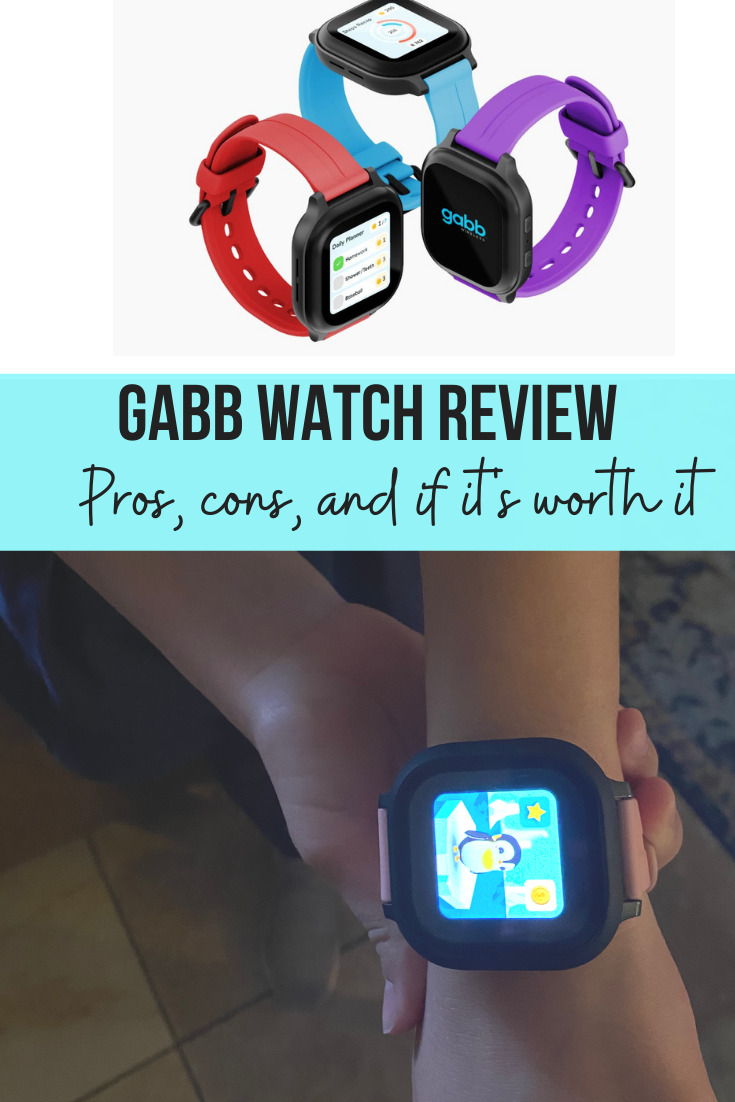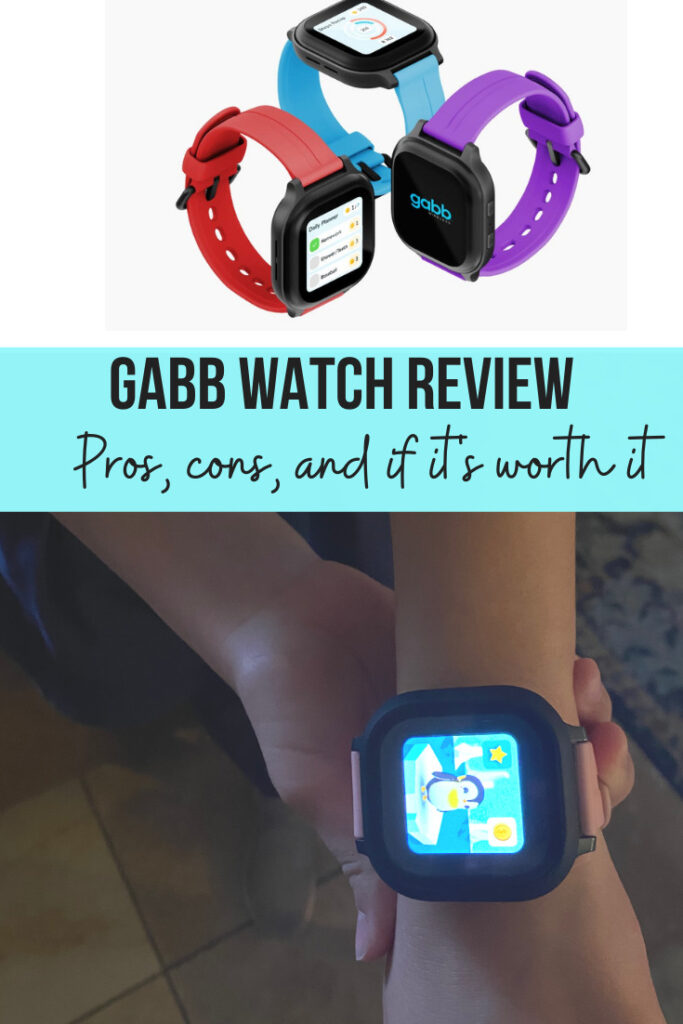 I'm not comfortable with the kids having full access to social media or the internet, so I wanted an option that would allow Liv to call us or an emergency contact if she needed us, but without the distraction of games, social media, etc.
Today's post is dedicated to the amazing Gabb watch, what you need to know about it, and I'll share all of the things I like about it.
Gabb Watch Review
The Gabb Watch combines the features of the Verizon GizmoWatch 2 and the Xplora X5 Play. It has GPS tracking, the ability to call and text a small specified amount of numbers (10), and is a great in-between option for kids who may not be ready for a cell phone.
Gabb Watch Features
GPS tracking
Using the GPS tracking through the MyGabb app, I can see exactly where Liv is located. It isn't too much of a concern because she's so young, but it's nice to have this ability.
Customized safe zones
This is another feature we don't quite *need* yet, but could be especially helpful for older kids. You can customize safe zones within the app (like school, dance, etc) and receive notifications when they enter or leave designated safe zones.
SOS
Emergency and SOS call capability in case of emergency.
Pre-activated
This is AMAZING. You take it out of the box and it's ready to go! You simply plug it in, connect the app, and follow the steps. Also, because we ordered about a month before Christmas, it gave us the opportunity to have our plan automatically activate on Christmas Day, so we weren't paying for an unnecessary month.
Step Counting
The girls both have Fitbits (and love them!) so Liv still gets to see her steps for the day, even though she's no longer wearing her Fitbit.
Text messaging
The text messaging is SO easy! There are pre-programmed texts ("I love you," "I'm on the way home," "Call me," etc.) and emojis. I receive a lot of emojis lol.
Voice messaging
Liv can send short voice messages to any of her contacts, which is especially helpful for school events. Once, I was planning on staying for mass at her school and she sent a quick voice message to say her class wasn't going that day.
Unlimited calls and text
There's no need to worry about using too many call minutes or tracking the amount of texts sent/received. It's all unlimited under the plan.
"Lock Mode" scheduling
You can lock the watch during school hours, but the guardian and child are able to contact each other, even while the watch is locked.
Sweat, dirt, and sand resistant
You don't have to worry about the kids playing outside or getting sweaty while wearing the watch. While it is sweat-resistant, they don't recommend submerging the device for a prolonged amount of time. They don't recommend wearing it while swimming or bathing.
Gabb Watch Monthly Plans
The Gabb phone is on its own network, so you can't add it to your existing cell phone plan. It doesn't require a long-term contract and you can stop or start service at any time.
Here are the plan options (all prices below do not include taxes):
$9.99 per month – 2 year contract
$12.99 per month – 1 year contract. This is the option we chose because I wanted to make sure we liked it!
$16.99 per month – no contract
You can also add a warranty option for an extra $4.99 per month to cover drops and spills. We decided to test our luck and didn't opt for this.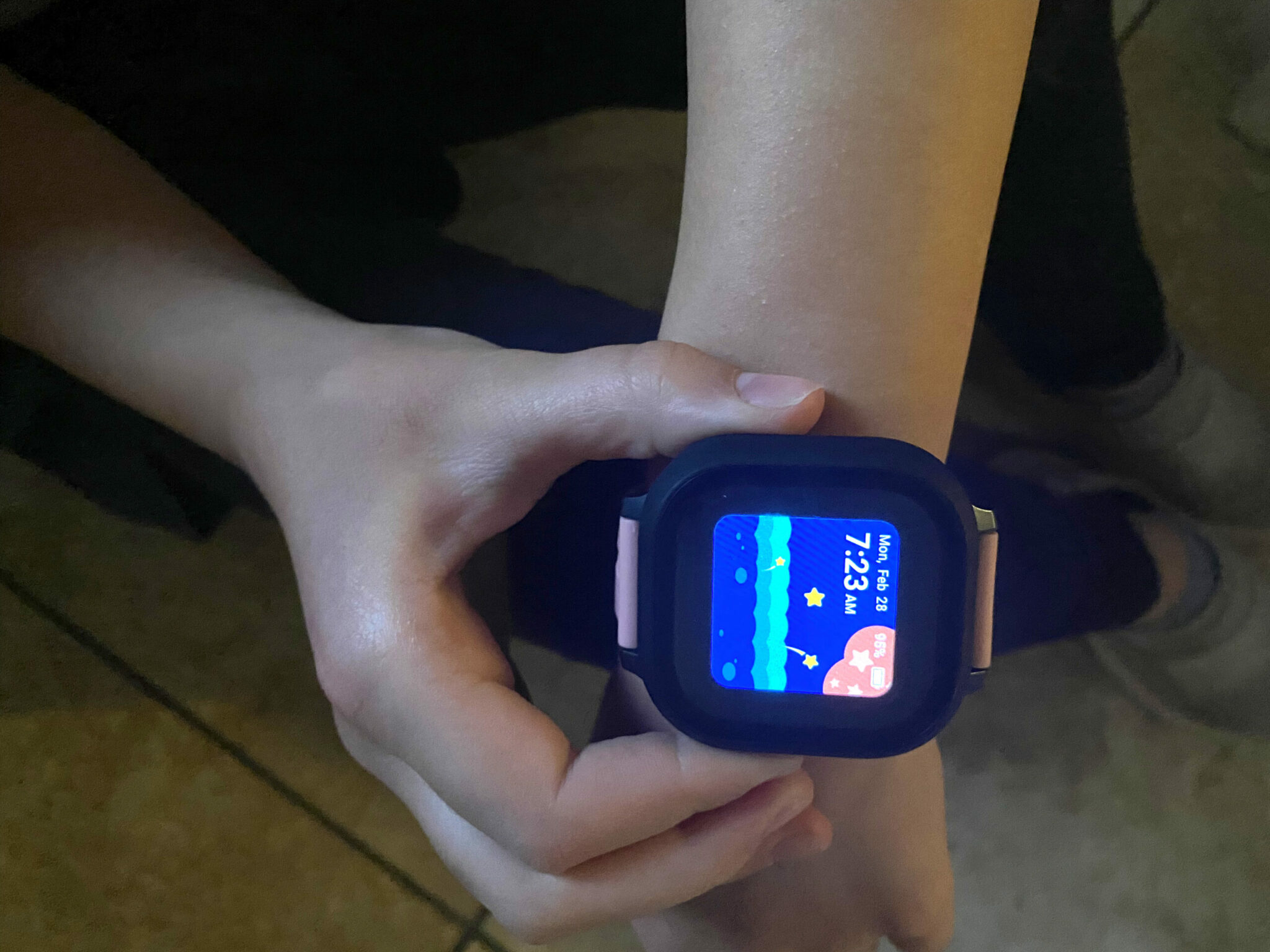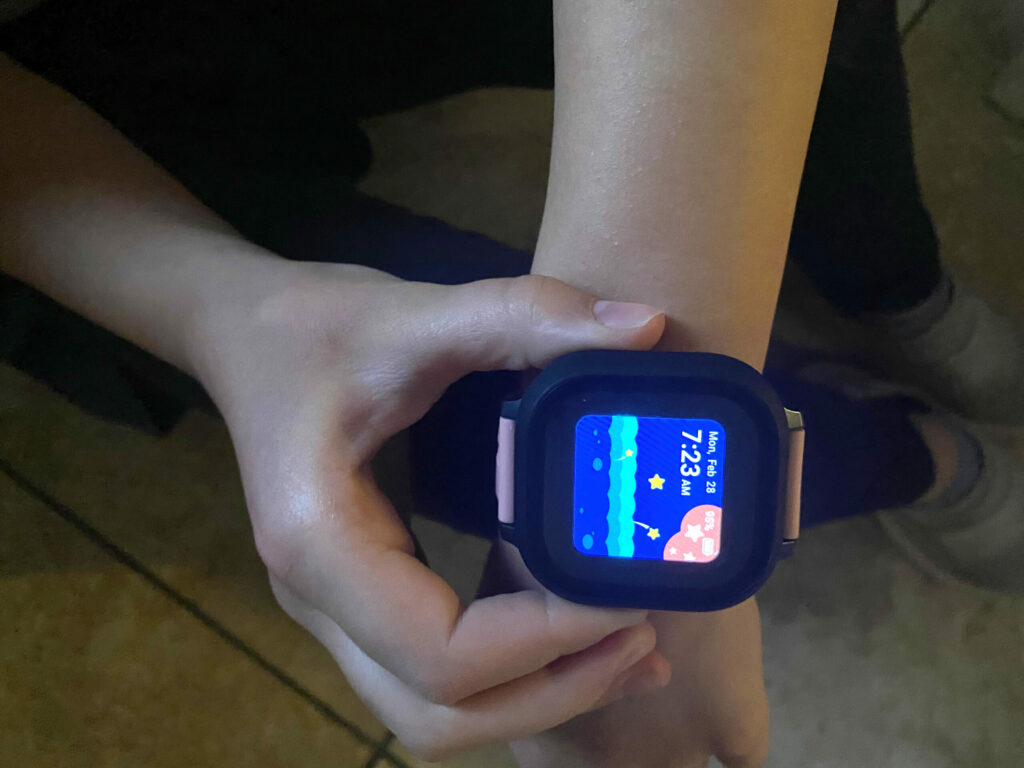 My Review Of The Gabb Watch
This watch has brought us peace of mind, especially now that Liv is older and spending more time with friends and at the dance studio. Before Christmas, there was an incident where she was injured at the gymnastics studio and I WISH she would have had a way to contact me. After that event, I spent a lot of time doing research to see what the best option would be. I knew an iPhone was a no-go – I'm not ok with her using the internet unattended or having access to social media, particularly because I work in the industry- so I wanted to find a safe option that enabled her to call us in case of an emergency.
In the past, she had a Gimzo watch, but stopped wearing it because it was ENORMOUS. I ended up canceling it years ago, and feel like it didn't have nearly as many features as the Gabb watch. The Gabb is smaller and fits better on a child-size wrist, and has extra features we love, particularly voice messaging. I know we haven't even used the watch to its full extent, but it's been an excellent addition for us.
A huge benefit is that the watch cannot receive calls from any numbers that are not on the 10 pre-designated call list.
This means I don't have to worry about her getting spam calls or receiving calls or texts from someone we don't know.
The watch doesn't have games, but it allows you to earn coins and have virtual pets, kind of like a Tamagotchi. You earn coins by taking care of your virtual pet, and she's currently saving them to buy a virtual unicorn. 🙂
You can swap out the watch bands and also order a screen protector when you checkout. We ended up doing both.
I asked Liv about her favorite feature and she said, "That I can call you if there's an emergency. And it makes me feel like I don't need a phone, because I begged you for years." We'll probably upgrade to the Gabb phone in a couple of years, but for now, the watch is perfect.
If you have any questions about our experience, please let me know!
If you decide to get a Gabb phone or watch for your kiddo, use this link and the code FITNESSISTA for $50 off through March 16.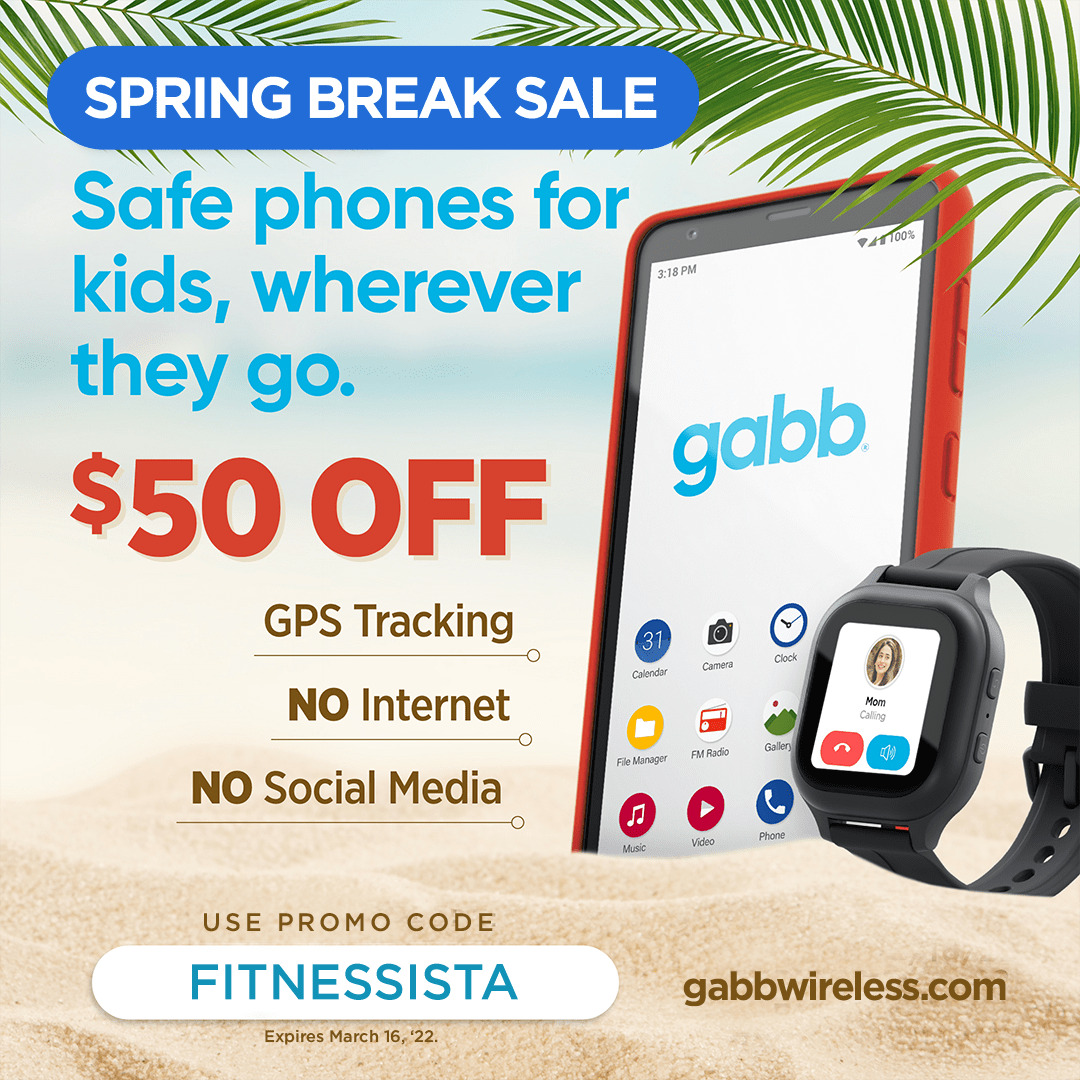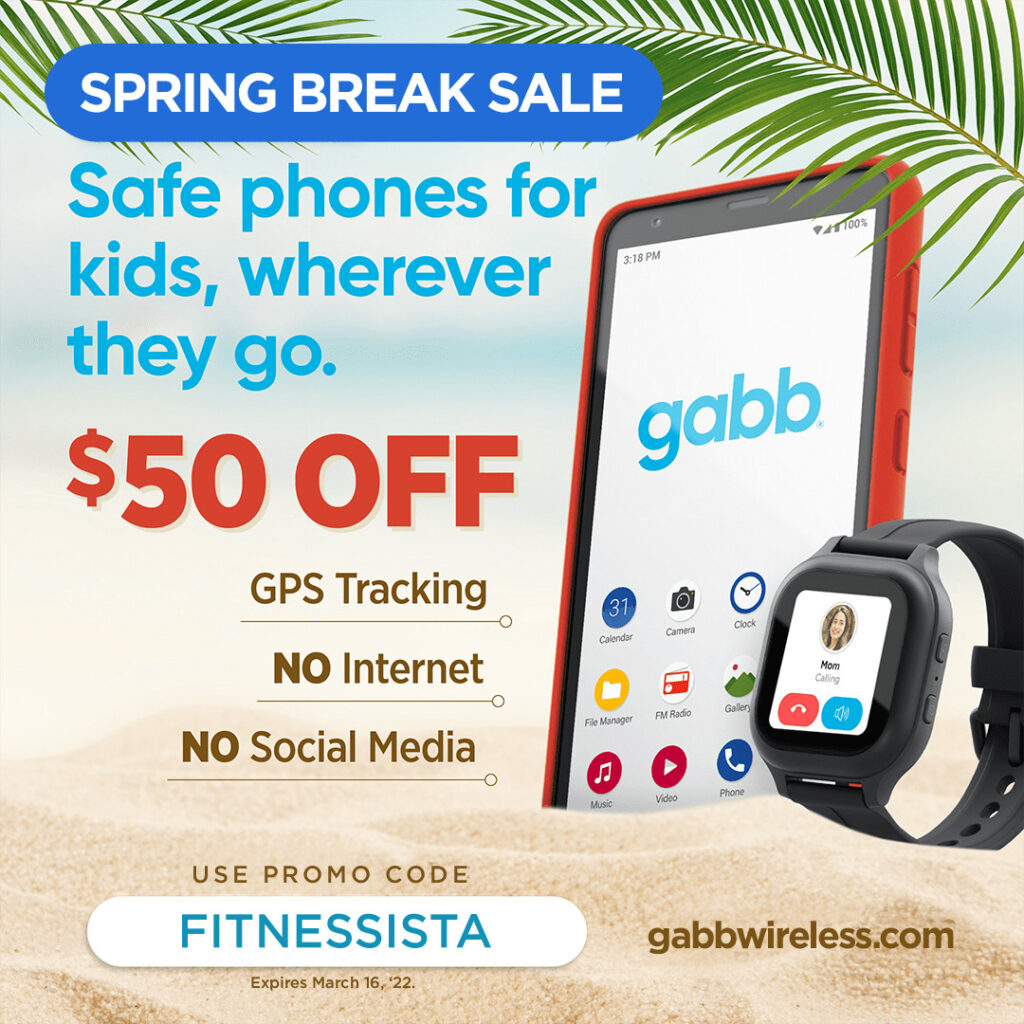 Tell me, friends: when did you get your first phone? What type was it? I got a pink sparkly Nokia when I was 16.
xoxo
Gina