Gift guide for your fitness-loving friend
Hi friends! How's your day going? Livi is taking her afternoon snooze, and then we're off to get our family Christmas photos taken, and then to Kyle and Meg's for Friendsgiving. It should be a blast!
Today, I'm also bringing back an annual feature on the blog that I'm always excited about: holiday gift guides! I think this mainly stems from the fact that I'm a notorious late shopper -I like to do a Christmas Eve blitz haha- and it forces me to think of gift ideas for those I love.
The first gift guide could very easily be for many of you: fitness-loving ladies (and dudes). You could even just forward this along to a significant other 😉
Just a head's up: I'm not affiliated with any of the companies below (with the exception of #13!)– just sharing some products I think are awesome. Occasionally I will include Amazon affiliate links or ShopStyle links within my blog, which have no affect on the purchase price and I'll earn a very small commission. Thank you so much for supporting this little blog. <3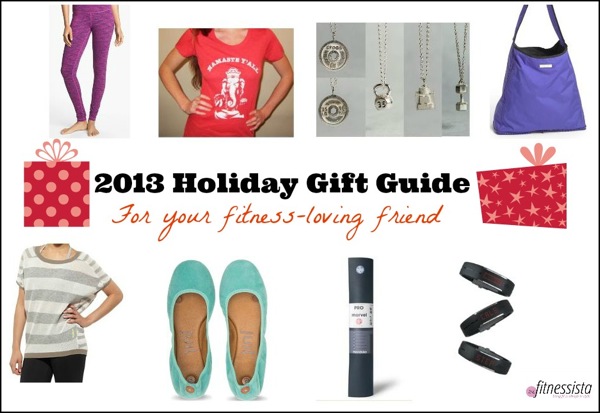 1. Polar loop. I haven't tried this one yet, but it looks amazing! The loop is like a small wristband which tracks your activity level, steps, and calories burned throughout the day.
2. Printed tights. Printed leggings are hot right now, and it's key to find a comfy, functional pair. I tend to like the ones with less intense patterns, like these adorable Zella leggings.
3. iTunes gift card. Fitness fanatics are always looking for ways to spice up their playlist, so you could gift them with an iTunes card, or create a Spotify playlist you know they'd love.
4. Class pass to their favorite fitness or yoga studio. This one is similar to #3, but if you know of a class or studio they love, an amazing gift is to get them a class pass or unlimited month. They'll think of you each time they use it!
5. Funky yoga tee. Funky Yoga is one of my favorite brands right now– I always get compliments when I wear their cheeky shirts, and I especially adore the soft fabrics they use. Surprise your favorite yogini with a funky tank or tee.
6. Juil ballet flats. Juil shoes contain copper points, which help facilitate the technique of grounding, which brings us closer to the earth. By doing so, it's possible to feel stress relief and more energized throughout the day. The flats are new -I have a pair of the flip flops and love them- and the colors are gorgeous.
7. Fitness-inspired necklace. (<– fixed the link!) Etsy shopowners have a ton of fantastic options -how cute is the little kettlebell?!- so just search for whatever you're looking for. A necklace can be a kick of motivation when she needs it, and a great conversation piece while wearing it out and about.
8. Supportive yet beautiful tank. Can never have too many 🙂
9. Sweater that goes from the gym to drinks.
10. New sneaks. This is a great one if your friend or family member has a tried a true sneaker they love, or an activity they particularly adore (like specialty Zumba or CrossFit sneaks).
11. An awesome yoga mat. Manduka = the best.
12. New gym bag packed with mini essentials. It would be a great idea to throw in some travel shampoo and conditioner, dry shampoo, facial cleansing wipes and a pair of socks.
13. Soli Beat! <— had to include it! Thank you so much to those of you who have ordered and love Soli Beat! If you've been wanting to try it, we'll have our last flash sale of the year this Friday-Monday. I'll post the discount code on Friday and will also email it out to newsletter subscribers. If you already have Soli Beat and would like to submit a short testimonial for our web site, please send me an email: fitnessista at gmail dot com. Thank you!! <3
14. Road ID. An Road ID is an awesome gift for the outdoor fitness enthusiast. It's customized with emergency contact info and they offer a variety of fun colors and patterns.
15. Sparkly headbands and hair ties. These are great stocking stuffers!
16. Adjustable weight kettlebell.
17. Running jacket. A windproof and water resistant jacket is always a lovely gift for your running friend 🙂
Any gift ideas you can think of for a fitness-loving friend? I'm excited to read your comments– you always have awesome ideas to share. What's on YOUR gift list this year? Experiences and memories truly make the best gifts of all, but if you could pick something to put in a package, what would you choose?
Hope you're having a wonderful day!
xoxo
Gina