Guest Post: Running with Sara
Hi Fitnessista Readers!
My name is Sara and I have recently started up a blog about my passions, exercise ('counter-eating') and food (eating). Not necessarily in that order…. www.eatmanhattan.wordpress.com I am absolutely thrilled to be guest posting for Gina about Half Marathon-ing/running/training plans…
I want to start off by saying, about 2.5 years ago, I could barely run a mile. Literally. After binge drinking and eating college, I had packed on about 30 lbs onto my 5'9" frame. Formerly a lean and fit high school 3 season varsity athlete, I felt horrible, hated the way I looked, and was generally out of shape and unhappy. I decided to make a change right before my 25th birthday when I had naturally shed some of the weight (cutting out 4 of the 7 nights a week of drinking and the late night pizza/fries/etc. was pretty much the key here…).
I had about 20 lbs to go and decided, on a whim, that I should become a runner and lose the last 20 or so lbs that way. Bear in mind I was the girl who dry heaved after running a mile for Varisty Field Hockey. Swore up and down I would never run unless being chased by the police someone…I was NOT A RUNNER.
So what's the point here? If I can do it? Anyone can. I started tacking minutes and quarters of miles onto my runs. I shared my successes with my boyfriend who congratulated me as the miles grew longer and longer and easier and easier. I challenged myself to increase my speed as I ran….I didn't have a formal plan, I just…RAN…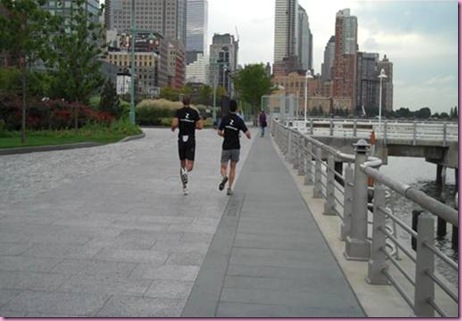 Down the Hudson River for starters….Miles behind those guys in the black t-shirts….
Then it came time to formally train for a half marathon and I froze psychologically. I could run about 4 miles at a 10 minute mile. I didn't think there was any way I was getting any further. But a coworker I had just met had a half marathon plan posted up on her cubicle. I casually questioned her about it and quickly directed to my savior…Hal Higdon. Lurveeeee <3
His half marathon training plan, followed loosely to some degree, has helped me through 3 half marathons (PR-ing at each race, (1) 2:15 (2) 2:03 (3) 1:53) in less than 2 years.
As I prepare to run my 4th on May 22nd, this is what I have learned and would like to share with you:
· If you miss a workout do not get discouraged. When I did this, I would psychologically assume it would "kill my training" in the long run. Absolutely not the case. I missed many workouts due to conflicts/work/drinking/life during all three of my training periods and have shaved time off my half marathon each and every time.
· Going back to first point, be realistic. You do not have to do as much work as the plan says. Cater it to your time, ability and desire. DO THE BEST YOU CAN.
· Much of running is psychological. Treat yourself WELL. Support yourself; get excited for small victories (tacking on an additional .2 miles, sprinting at the end, coming in a few seconds faster etc.) and stay positive.
· Try to find a buddy. Whether they are running with you or simply 'cheering for you', having someone support your cause will make your run infinitely more successful. Share your successes with someone. Loved one, coworker, friend, ME!! (Seriously, email me, I'm happy to cheer you on!!) It makes everything just that much easier and sweeter.
· Make sure that you are running with the right equipment. Good shoes are non-negotiable. When I started running in my 5 year old New Balances, I developed knee problems and shin splints right away. Get fitted for shoes and wear comfortable, breathable clothing.
· If you run with music (I don't) switch up your playlists. Make them fun and enjoyable. Go a little crazyyy! Gina posts amazing play lists here, so use some of hers.
· Try not to take it too seriously. It's just running. And no one too scary is chasing you J
Whether or not you're a runner, how do you 'SUPPORT YOURSELF' when you work out???