Guest Post: Injury Recovery with Julie
Hello, Fitnessista readers! This is Julie from Savvy Eats, and I am honored to be guest posting for Gina while she is off soaking up some Bahamian sun!
Like Gina, I recently broke up with running. After taking almost 8 full weeks off because of an IT band injury, I realized I wouldn't be going back. Running just isn't for me. But, I learned a lot in those 8 weeks about dealing with an injury, both mentally and physically. Here are the most important things I learned about keeping your spirits high and your body safe and healthy.
Look at this as a chance to EXPLORE.
Okay, you can't run (or bike or whatever it is that your injury won't let you do). But you can still do something. During my time off from running, I discovered a love for weight lifting; I can feel strong and work up a sweat, without making my injury worse! Look at this as an opportunity to try something new that won't aggravate your injury.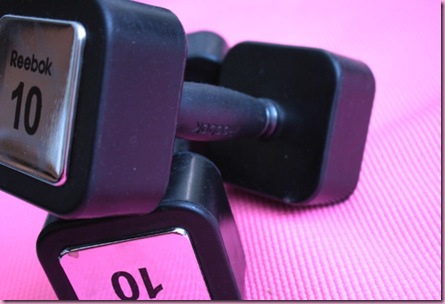 You can still have FUN.
Three days before the Disney Princess Half Marathon, I went for what was supposed to be an "easy" 2-mile run to check in on my IT band. About an hour later, I was wincing with every step, and could hardly make it up the stairs. I decided I had to pull out of the race, even though I had been training for almost a year. But since I had already bought my ticket to Orlando, I decided to go along and cheer on my friends.
Yes, watching my friends walk off to the starting line was hard. But I put myself on the monorail to go to the first viewing spot, and cheered for all of the runners. I ended up having a lot of fun encouraging all the racers, and seeing all the fun costumes! And celebrating with them on the beach later helped, too. 😉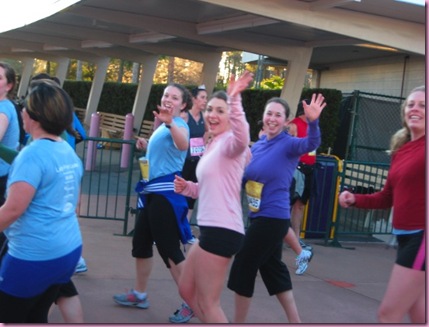 Remember: A few days now, or many days later?
This was my mantra during those 8 weeks off. I couldn't even bike for 6 of those 8 weeks, and I was going NUTS. I continued to remind myself of this: I had two options. One: take a few days (or weeks) off now. Two: seriously injure myself and be forced to take an even longer amount of time off or worse, possibly need surgery?
You may need to see a doctor or sports specialist.
I actually ended up seeing two sport medicine doctors in those 8 weeks off running. The first was at the free drop-in clinic on campus, where they suggested I take a week off before trying that "easy" 2-miler I talked about earlier. When I had trouble walking after that short run, I went to the second doctor to make sure the problem was really stemming from my IT band, and not a torn meniscus, stress fracture, or something similar.
If your injury is minor, you may simply need a few days of icing, foam rolling, and stretching. But if it lasts more than a few days, or the pain is getting worse, please go see a doctor or sports specialist. Trust me, it is worth the expense; they will be able to tell what is really wrong, and suggest ways to speed up recovery.
Have you ever discovered a love for a new fitness activity after being injured??