Guest Post: Sweet Tater of My Dreams
Hi friends!
I'm here chilling at the Phoenix airport 🙂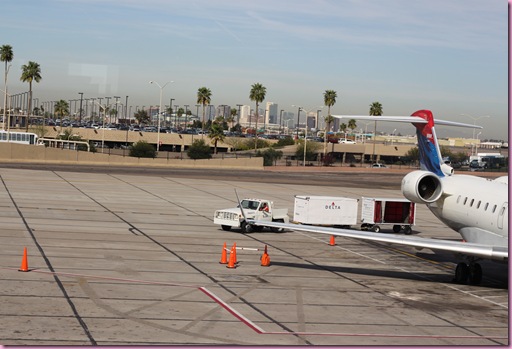 A little later than usual posting today—I had to wake up early as ballz, took the shuttle to Phoenix –roomies ended up going late last night, so I waited until this morning to go- and met my nana and madre at the "love" Starbucks before catching the shuttle 😀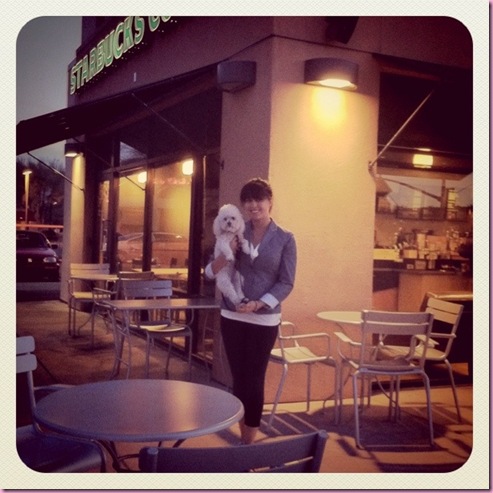 (J Crew denim blazer, wunder under crops, white tee = comfy travel outfit)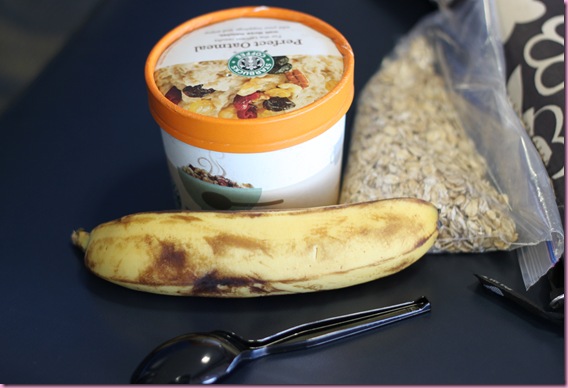 I'm about to eat a little sumthin' sumthin' and board the plane, but just wanted to say hi and post this very special [foodgasmic] guest post from my friend Mara.
**Craniums up: my blog schedule is going to be a little unique over the new few days with some very exciting re-caps thrown in 😉 It will be similar to our honeymoon posting schedule– so you can expect one awesome guest post and one post from myself each day 😀
See ya in Georgia!
xoxo
Gina
____________________________________________________________________________________________
Hi Fitnessista readers! I'm Mara, and I write a little blog called What's For Dinner? which follows my adventures in cooking and baking. I've been a visitor here at The Fitnessista a couple other times, and I'm always so excited when Gina asks me to to post for her.
See, my husband isn't exactly the most adventurous of eaters. Generally, I "play it safe" with a lot of my recipes, and leave out the things he won't eat. Among the things he won't eat are:
mushrooms
onions
zucchini
eggplant
large pieces of tomato
pickles
squash
dark chocolate
What's really fun about doing a post for Gina is that it's an excuse to cook something that I wouldn't ordinarily make for just my hubby and I. I know that all of us Fitnessista readers have a love for food combinations that are not only healthy, but delicious. So, I told my husband that while our main dinner meal would be something I knew he'd like, the side dish? The side dish was going to be something more interesting because it was for Gina's blog.
I put together a few of my favorite (and Gina's favorite) ingredients:
And, I put them together in a most unexpected way. Usually, people associate "twice baked potatoes" with the rich and cheesy football-sized spuds that come with a meal at a fancy steak house. I took the twice baked potato into a whole new realm: meal-sized, Gina-fied eats.
Fun-Filled Fitnessista Spuds
Ingredients
3 large sweet potatoes (or 4-5 smaller ones)

4 ounces soft goat cheese

2 large onions

1 clove garlic

1 tablespoon olive oil

1 teaspoon grated fresh ginger

1/2 teaspoon ground cumin

1/2 teaspoon salt

1/2 teaspoon pepper
Instructions
Pre-heat the oven to 375 degrees F. Pierce the skin of the sweet potatoes, place them on a baking sheet, and bake until soft, about an hour. (Another option is to microwave the potatoes until cooked, but make sure to pop them in the oven so the skins get crispy.) While the potatoes are baking, peel the onions and slice very thinly. Slowly caramelize them in a pan in the oil. Salt the onions, and keep the heat low until the onions are very soft and browned. This may take up to about 30 minutes.
Remove the potatoes from the oven and slice about 1/2" off the longer side of the potato. Using a spoon, scoop the flesh into a mixing bowl, making sure to leave about 1/4" of the potato in the peel so it holds its shape. Set the skins aside. Using a hand blender or food processor, gently puree the potato flesh until smooth. Mix in the goat cheese and spices. Stir in the onions and pepper, and then fill the empty potato skins. Bake a second time on a baking sheet at 375 until the top of the potatoes are lightly browned and very hot.
Avoid eating directly off the baking sheet as you will burn your tongue.
Not that I tried or anything.
The best part about these? The husband ate them… onions and all.
Have you ever made a traditional dish "your own"?