and I liked it 😉
Hey friends 😀 How are you?
So after my 10am appointment, since it was just down the street, I magically found myself at Whole Foods. Yesterday I had a taster of "all the greens"- a juice made with kale, spinach, celery, cucumber, cilantro (!), garlic and ginger… and couldn't get it out of my brain, even though it contained celery which I usually despise.
So that's what today's green juice was: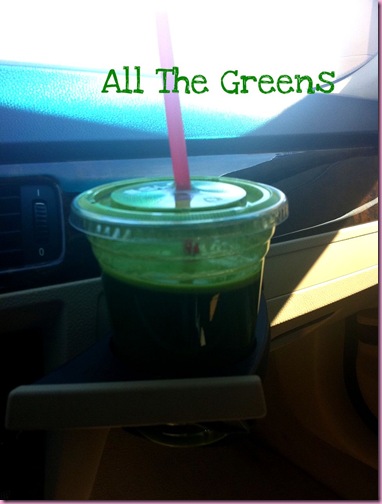 AMAZING. Slightly spicy and I could feel my blood slurping up all the nutrients 😉
Since my fridge is sad, I also grabbed some hot bar for lunch.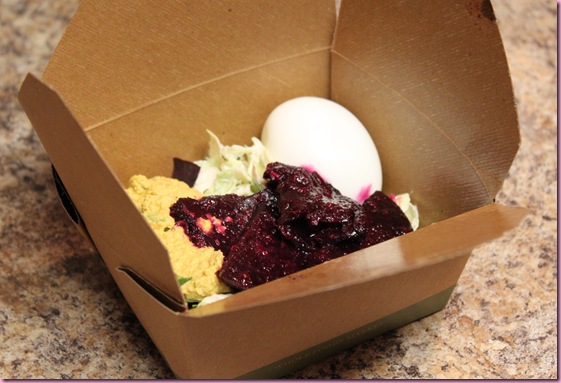 Our hot bar is pretty tiny, but I was pleasantly surprised to see lots of raw food options. Nut pates, flax crackers, it was pretty amazeballz.
I grabbed some swiss chard topped with a sunflower seed pate, beets, cabbage slaw (which I'll be re-creating asap), an incredible edible + a slice of brown rice bread from home.
It was perfect 😀
I'm not sure if I've blogged about this yet (but I get frequent email questions about it), but something that we've had a ton of success with is Angel Eyes. It's a powder that you sprinkle onto your dog's food (or in Bella's case, a little yogurt) if they have staining around their eyes and mouth. It has incredible reviews on Amazon, but I was always a little apprehensive about giving it to Bella, even though she used to have a ton of staining around her eyes and eye goobies.
When she was a baby, it wasn't so bad…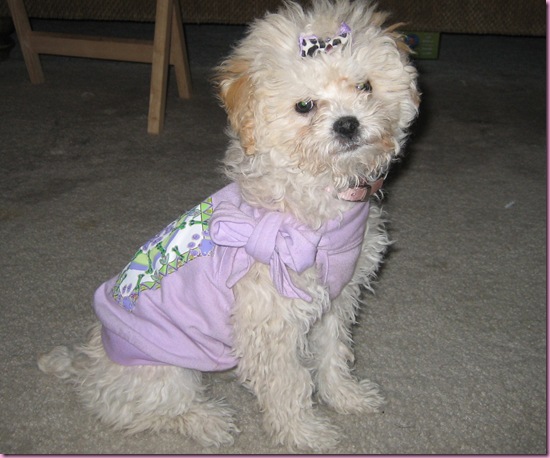 but as she got older, it started to worsen.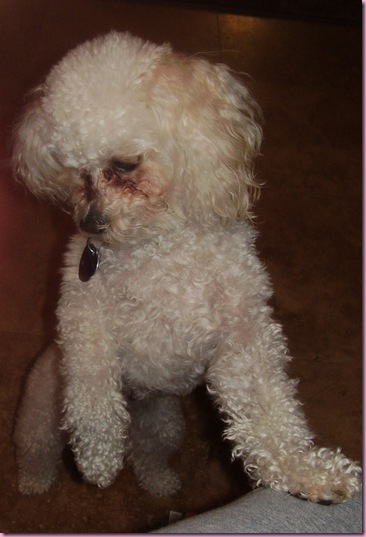 It was no prob to me that it looked kinda icky (even though my brother called her "scary eyes") –she's always been beautiful and sassy- but after one trip to Tucson, it dried out around her eyes and got infected.
So I asked the vet about Angel Eyes, which he assured me is totally safe.
It's worked WONDERS: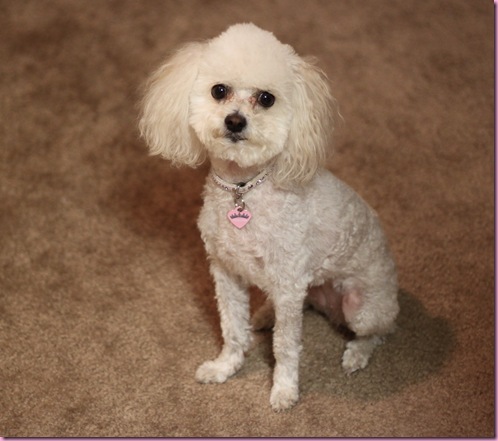 You gradually decrease the dosage since it is a type of antibiotic, but as long as you follow the directions and talk to your vet first, I think it's a great product.
While at TJs to pick up Bella's plain yogurt today (to mix the Angel Eyes into), I also picked up these little gems: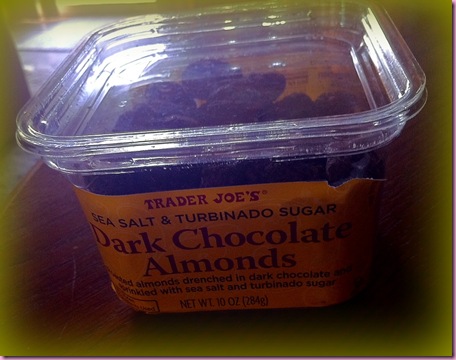 Dark chocolate almonds with sea salt?
I have no words.
I had about 47 and then accidentally-on-purpose left them at my madre's house so they can enjoy them 🙂
We're actually going to leave for Phoenix in the morning now, since my bro is getting his car and it's taking a while. Instead, I'm going to take an acupuncture nap 😀
See ya in the morning!
xoxo
Gina
Thanks so much for your feedback on Luon for a Cause- looks like it's a go! If you'd like to donate, please send me a pic and description of your gently-loved lululemon items to fitnessista at gmail dot com subject: Luon for a Cause. *Make sure to specify if you're US or Canada, and which country you'll be able to ship to.
Something to think:
Symptoms of Inner Peace

Be on the lookout for symptoms of inner peace. The hearts of a great many have already been exposed to inner peace and it is possible that people everywhere could come down with it in epidemic proportions. This could pose a serious threat to what has, up to now, been a fairly stable condition of conflict in the world.

Some signs and symptoms of inner peace:

A tendency to think and act spontaneously rather than on fears based on past experience.

Am unmistakable ability to enjoy each moment.

A loss of interest in judging other people.

A loss of interest in interpreting the actions of others.

A loss of interest in conflict.

A loss of the ability to worry. (This is a very serious symptom.)

Frequent, overwhelming episodes of appreciation.

Contented feelings of connectedness with others and nature.

Frequent attacks of smiling.

An increasing tendency to let things hapen rather than make them happen.

An increased susceptibility to the love extended by others as well as the uncontrollable urge to love them back.

Author currently unknown