Brittany: Healthy travel tips
Hi friends! I'm on vacation right now, but have some fun plans for the blog until I'm back in blogging action. Today's guest post is from the lovely Brittany, who recently got married! We've been friends for quite a while, and I'm so excited to have her guest posting today. Read on for some of her healthy travel tips! xo, G
Hi Fitnessista readers! I'm Brittany the lady behind Eating Bird Food, a blog that features healthy and delicious recipes, workouts and and a glimpse into my daily life. I'm a full-time marketing manager for an online grocery store as well as a health coach, newlywed and mom to a cute little yorkie named Olive. Through EBF I try to show that living a healthy lifestyle doesn't have to be boring, difficult or bland and that small changes can create a big impact!
Gina and I have been blog friends for quite some time and her blog is one of my all time favs so naturally I'm pumped to be guest posting for her while she's away 😉
I thought I would share some of my favorite ways to stick with healthy eating and working out while traveling. I'm all about relaxing, enjoying vacation time and indulging. (I did a lot of indulging on our honeymoon two months ago and came back with a few extra pounds to show for it — all those piña coladas were totally worth it.) That said, I think it pays to keep these tips in mind, especially if you travel a ton for work and are trying to stay healthy, lose weight or maintain weight loss.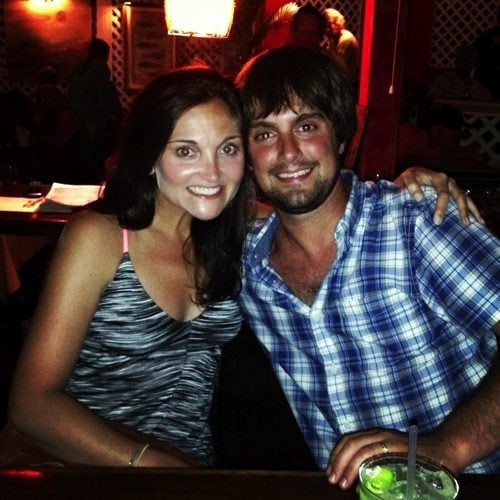 On our honeymoon in the US Virgin Islands this past June
Overall, I think a lot of people have trouble sticking with health goals while traveling because let's face it, we are surrounded by fast food restaurants and convenience stores that are full of items that are obviously unhealthy and non-nourishing to us. Have you ever tried to find something healthy to eat at an airport? It can be a big challenge!
My number one word of advice is to plan ahead. Eating healthy and working out on the regular takes a bit of planning and it takes even more when you're traveling! Here are some of my go-to tips when I'm going on a trip.
Before heading out:
1.) Pack snacks or meal replacements. A few great ideas: fresh fruit like bananas, apples, and oranges (they're super portable), oatmeal packets (all you need to add is hot water), nuts and dried fruit, nut butters (some brands offer individual packets), protein bars or fruit and nut bars (Health Warrior Chia bars are my fav at the moment), raw veggies or sandwiches made at home prior to traveling. If you're flying and feel like being a rebel you can even bring overnight oats – I've never had them make me toss them when going through security. If you're driving you can bring a small cooler packed with perishable items like hard boiled eggs, pre-cooked meat or seafood, salads, etc.
2.) Pack a water bottle and keep it full. Staying hydrated is SUPER important when you travel.
3.) Check to see where the closest grocery store is to where you'll be staying. On your first day of a trip go buy some fresh veggies, fruit and other items you can prepare in your hotel room. Yogurt is also great if you have a mini fridge in your room. I pretty much always look to see if there is a Whole Foods nearby where I'm staying. 🙂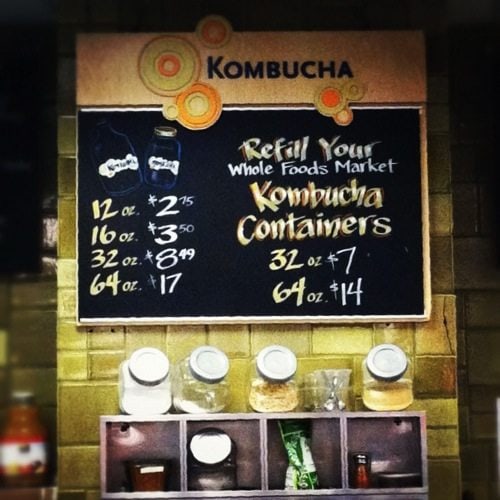 Austin, TX Whole Foods — kombucha on tap
4.) Research the area you'll be staying online. Use Google maps or your phone to search for restaurants nearby your hotel, check out their menu online and see which restaurants offer healthy options that look good to you.
5.) Bring your workout gear. At the very least, bring sneakers so you can walk around the area you're visiting. You'll get in a workout and get to see the city by foot. Most of the time I wear workout gear, including my sneakers, on the plane or car. This way I'm comfy and they don't take up a ton of space in my suitcase.
6.) Pack your daily vitamins. Keep your immune system up by not skipping on your vitamins. This is particularly important if you're flying (there might not be snakes on a plane but there will be lots of germs).
While you're traveling:
7.) Eat as healthy as possible when eating at restaurants. Choose options that will be filling with a mix of protein, whole grain carbs and healthy fat. Make modifications to dishes to make them a bit healthier by asking for no cheese or for your protein to be cooked without oil/butter.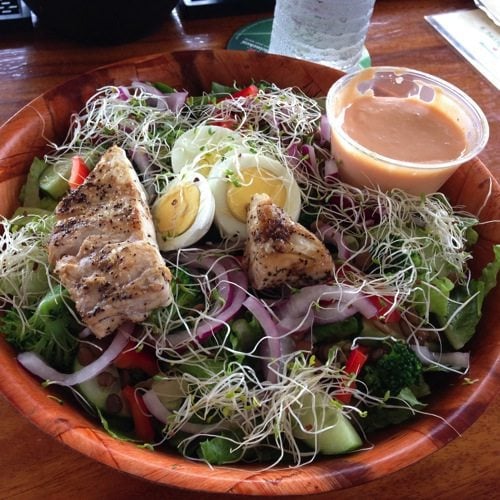 Build your own salad at Eat @ Cane Bay in St. Croix
8.) Remember that quick/ fast food isn't always bad. Many big cities have lots of healthy and fast options, but if you're options are limited there's always Starbucks. They are EVERYWHERE and they actually have some pretty healthy options. Check out their cooler for things like veggie trays, protein plates, fruit cups and salads (great for snacks and lunches); order oatmeal with nuts and dried fruit or check out the mixed nuts or KIND Bars they usually offer at the counter. Just stay away from the pastry case and the high calorie coffee drinks.
9.) Limit your alcohol. The calories from alcohol are empty and alcohol can also impair your judgment when making good food choices. I totally get wanting to indulge (I'm right there with ya). If you do try to stick with the healthier options like a glass of red wine or a vodka with soda water and a splash of lime and drink a glass of water for every alcoholic drink you consume.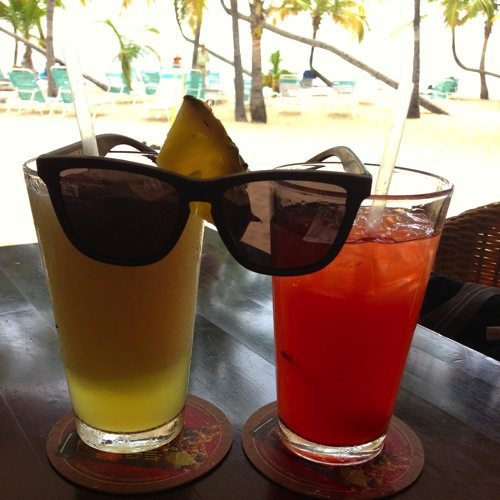 Fun drinks while honeymooning
10.) Get moving. Wake up early enough to get in a quick workout before everyone else gets up OR incorporate activity into your day. Go for a hike with your family, take a bike ride, walk on beach. Being physical can help remind you to eat healthfully and it will make you feel better throughout the day. Need workout ideas? Check out these posts: Take Your Workout With You & Great Travel Workouts.
His and her morning routine: I got in a little workout and stretching while Isaac drank a mango daiquiri 🙂
At the end of the day, enjoy yourself! Do your best to eat healthy and stay active but don't make yourself crazy. Sometimes you won't have control over the situation (i.e. your client picks a restaurant that only serves fried food) and that's okay. Also, don't deprive yourself or get down on yourself. You're likely to have a few indulgences or unhealthy meals while traveling. Enjoy them, don't feel guilty and just hop back on the healthy train when you get home! If you need healthy recipe ideas for getting back on track, feel free to stop by my blog.
Do you have any tried and true healthy travel tips? I'd love to hear them!