Hi friends <3 Hope you're having a great morning and enjoyed a wonderful weekend.
In the spirit of keeping it real…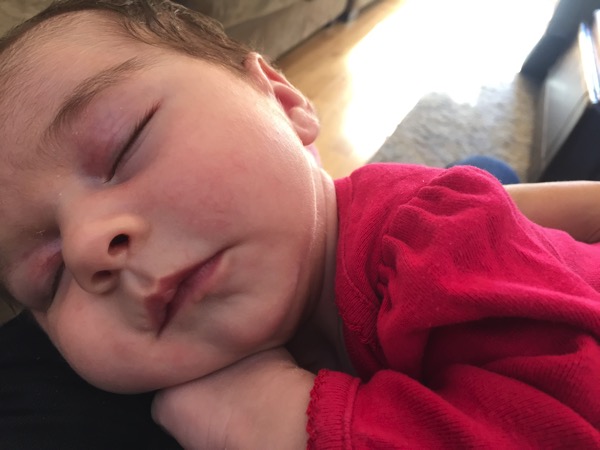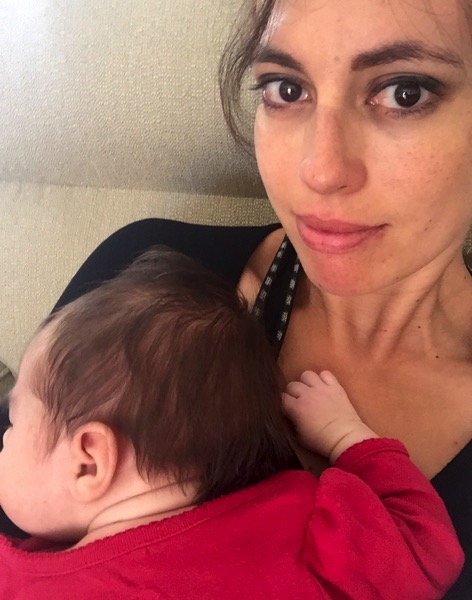 (Sweet snuggly baby, blotchy eyes from crying, and a cold sore because my immune system is officially giving me the middle finger)
I promised myself and you guys that I would share the good and not-so-fun parts this time around regarding the newborn stage. I remember last time, around this same point in time, I saw the carefully curated photos of new moms on other blogs and it made me feel worse than I already did. How were they perfectly coiffed, not wearing pajamas, showered, and their kids looked happy and equally picture-perfect? Well the second time, I found that it IS a little bit easier to get dressed and showered each day -you figure out the logistics for that kind of thing, and getting a tiny baby dressed doesn't make you feel like you will break them like it once did- but some things, no matter what, just aren't easy. New challenges can make the experience seem even more daunting and trying the second time around.
I mentioned last week that P has reflux, but I didn't really go into details or any of the other things that have been going on. When we were in the hospital, she had jaundice and started losing weight which is why I had to supplement so early. She was on blue light therapy for jaundice, and that's why we were in the hospital for longer than anticipated. They eventually let us go home when we could borrow our own blue light to continue the phototherapy treatment here. When we supplemented in the hospital, she started violently spitting up. I had to call the nurses to help me because while I've seen a lot of babies spit up (and have four younger brothers), this was unlike anything I'd seen. They brushed it off as "normal spit up" -the jaundice was their main concern- and we were finally able to go home.
Over the past couple of weeks, the spitting up has been a part of life, and we learned ways to manage it. We elevated the head of her bassinet, started giving her small amounts of the supplemental formula at a time, switched to hypoallergenic formula, burped her frequently, kept her upright as much as possible, and I cut dairy completely out of my life.
We've had 6 pediatrician appointments (including one for her belly button, which wasn't sealed completely and another to have her tongue tie fixed), a heel prick at the hospital to check her bilirubin levels (which decreased quickly, thankfully), and a major scare regarding the spit up.
Last week, she choked on her spit up, couldn't catch her breath, and it scared the life out of me. It was during nap time, and I was watching her on the monitor. All of a sudden, it sounded like she was underwater. I ran into the room to pick her up, and she was entirely silent, skin bright red, and eyes wide. The spit up was so thick that she couldn't clear it from her throat, and I had to firmly pat her on the back to dislodge it. I had 9-1-1 on the phone, and it was one of the most terrifying moments of my life.
We haven't been sleeping much at all, which is expected with a newborn (especially one with reflux), but since the incident, I've laid awake in bed each night, fully ready to act in case something similar happens. Similar events have happened two more times, but less severe and she was making noise (able to breathe) during the episodes. We went to the pediatrician the first night it happened, and she said it was reassuring that it was associated with something (the spit up was stuck; she didn't stop breathing for no reason), and gave us a prescription for Zantac. The first day I was convinced it was working, but now she just seems to cry and spit up even more. It breaks my heart because she's so uncomfortable. When she hasn't recently eaten anything, she is the happiest, sweetest baby. Otherwise, she's sobbing and grunting. I'm just hoping we can get this under control for her.
For this reason, we're staying in San Diego this week instead of heading to Tucson for Thanksgiving. We've been looking forward to seeing the fam for months, but it's the right choice. We couldn't think of something happening on the freeway, especially during the span of time where there isn't cell phone service.
As for how I'm feeling, I've been trying really hard to fight the PPD and anxiety I experienced last time, but with everything going on, it's been a lot to deal with. Sometimes I feel completely normal, and other times, mostly when I see how miserable P is, I start crying and have a hard time stopping. I just feel so bad for her, and wish there was more I could do to help her. I'll be talking to someone about it this week just to make sure I can stay on top of things and won't end up feeling how I did last time.
It's a week for giving thanks, and I'm thankful that she's otherwise very healthy, and while we won't be in Tucson, we'll all be together this week. There are so many things to be thankful for, and this is just a bump in the road in the grand scheme of things. I'm also thankful for all of you, and for your support and advice the past 4 weeks.
xoxo
Gina